You've just said "Yes!" The love of your life proposed, and you are floating on cloud nine. But then, reality strikes. As you begin to plan your dream wedding, you start seeing the dollar signs pile up. Let's take this journey together to understand why weddings are so expensive.
Historical Context of Weddings
Let's journey back in time for a moment. Picture a modest home with a simple feast laid out, family and friends gathered to celebrate the joining of two lives. This was the essence of weddings in the early days, far removed from the grandeur we're familiar with today.
An Evolution through the Ages
Over the centuries, wedding celebrations have evolved considerably, influenced by various cultures and traditions worldwide. The Romans, for example, emphasized the legal aspect of the union, while in the Middle Ages, the Church's influence was significant, shaping the ceremony and customs that still linger in modern weddings.
Societal Shifts and the Age of Extravagance
Fast forward to the Victorian era, a time when weddings began to take on a more luxurious and elaborate nature. The white wedding dress, which has become a mainstay of Western weddings, can be traced back to Queen Victoria's choice to wear white for her wedding. This was a distinct departure from the typical colors and styles of the time.
With the advent of the 20th century and improvements in economic conditions, weddings increasingly became displays of social status and wealth. People began to invest more in the celebration, adding elaborate decorations, multi-course meals, and lavish wedding gowns into the mix. Hollywood and royal weddings further fueled these expectations, glamorizing the concept of a "fairytale wedding."
The Cost of Tradition
Today, many wedding traditions come with a hefty price tag. These traditions, often seen as an integral part of the wedding experience, include everything from the engagement ring and wedding dress to the reception venue and food. And each element has evolved from a simple gesture to a significant expense.
For example, the simple act of exchanging rings, a tradition dating back to ancient Egypt, has ballooned into the multi-billion dollar diamond industry. The bride's dress, once a best dress that could be worn again, is now often a one-time, extravagant purchase.
And let's not forget the reception. What used to be a homemade feast is now a catered event at a rented venue, complete with professional entertainment and a carefully curated menu.
So, when we ask ourselves, "Why are weddings so expensive?" part of the answer lies in this rich tapestry of history, societal evolution, and deep-rooted tradition.
The Engagement Ring
Engagement rings, those beautiful, often diamond-laden pieces of jewelry, carry a history as multifaceted as the gems they often bear. They represent the promise of commitment, but they are also one of the first significant expenses when planning a wedding.
A Tradition Rooted in History
The tradition of presenting an engagement ring dates back to ancient Rome, where women were given a gold ring to wear in public and an iron ring to wear at home. This practice signified the man's intention to marry and demonstrated the betrothal's binding nature. The inclusion of diamonds, however, is a much more recent development.
The Impact of De Beers
Fast forward to the 20th century, and enter De Beers, a major player in the diamond mining industry. In the late 1930s, De Beers launched a marketing campaign with the slogan "A Diamond is Forever." The campaign aimed to create a direct correlation between diamond rings and eternal love. This brilliant marketing strategy, combined with the depiction of diamond rings in Hollywood films, successfully ingrained the concept of diamond engagement rings in societal norms.
The "Two Months' Salary" Rule
In the 1980s, De Beers struck again, introducing the "two months' salary" guideline. This campaign suggested that a prospective groom should spend the equivalent of two months of his salary on an engagement ring. This arbitrary standard reinforced the notion that the value of the engagement ring—and by extension, the value of the love and commitment it symbolized—was directly proportional to its cost.
More Than Just a Price Tag
Despite being significantly influenced by strategic marketing, the engagement ring's significance transcends its monetary value. It's seen as a symbol of commitment, a promise of a future together, and often a family heirloom passed down through generations. It's not merely a shiny rock on a metal band—it's a testament to the love shared between two people, making it a cherished possession and, subsequently, a major part of the wedding budget.
The Venue and Decor
Choosing the right venue sets the stage for your big day, creating the atmosphere and serving as the canvas on which the rest of your wedding elements are painted. Similarly, decor transforms a location into a dreamy, personalized space. But creating this magic can contribute a significant portion to the overall wedding cost.
Location, Location, Location
Firstly, the choice of the venue itself has several cost implications. These may vary widely based on factors such as:
Geographical location: A wedding in a city like New York or San Francisco would naturally be more expensive than one in a smaller town, reflecting the cost of living and real estate prices.
Type of venue: Venues can range from rustic barns and vineyards to grand hotels and historic mansions. Each comes with its own price tag. A vineyard in Napa, for instance, with its picturesque landscapes, will cost more than a local community hall.
Popularity and demand: Venues that are highly sought after or have a particular charm or uniqueness about them tend to be more expensive. Also, the time of the year can affect the cost. Peak wedding season usually sees higher venue prices due to increased demand.
The Magic of Decor
While the venue provides the backdrop, it's the decor that truly brings your wedding to life. It involves transforming an everyday space into a reflection of you and your partner's taste and style. This could mean:
Floral arrangements: From the bridal bouquet to table centerpieces and floral arches, flowers play a significant role in weddings. However, the cost of flowers can quickly add up, especially if you have your heart set on a flower that's out of season or rare.
Lighting: The right lighting can set the mood and make everything look more beautiful and magical. From fairy lights to chandeliers and lanterns, these details, while seemingly minor, can significantly impact the overall ambience and cost.
Furniture and accessories: Items like chairs, tables, tablecloths, dishware, and other decor elements may need to be rented, especially for outdoor or unconventional venues. Each of these items adds to the overall expense.
Theme and design: If you choose a specific theme for your wedding, such as a beach or vintage theme, creating that atmosphere with props and decorations will incur additional costs.
The Wedding Dress and Attire
When it comes to a wedding, one of the highlights is undoubtedly the wedding dress. From classic silhouettes to modern designs, every bride dreams of finding that perfect dress for her big day. But the path to "the one"—the dress, that is—can be a costly journey.
The Bridal Gown: A Significant Expense
The wedding dress, a centerpiece of the celebration, is often a major investment for a few reasons:
Designer label: High-end designer wedding dresses come with a price tag reflective of the brand's reputation, the quality of materials used, and the intricacy of the design.
Custom fittings: Many brides opt for custom-made dresses tailored to their specific measurements and preferences. The uniqueness, time, and labor involved in creating such a gown make it a costlier option.
Alterations: Once the dress has been chosen or made, alterations ensure it fits the bride perfectly. Whether it's adjusting the hemline, taking in the waist, or modifying the neckline, these adjustments can add up.
Accessories: We can't forget about the veil, shoes, jewelry, and other accessories that complete the bridal look. These can vary widely in cost, but like the dress itself, they are an important part of the overall attire.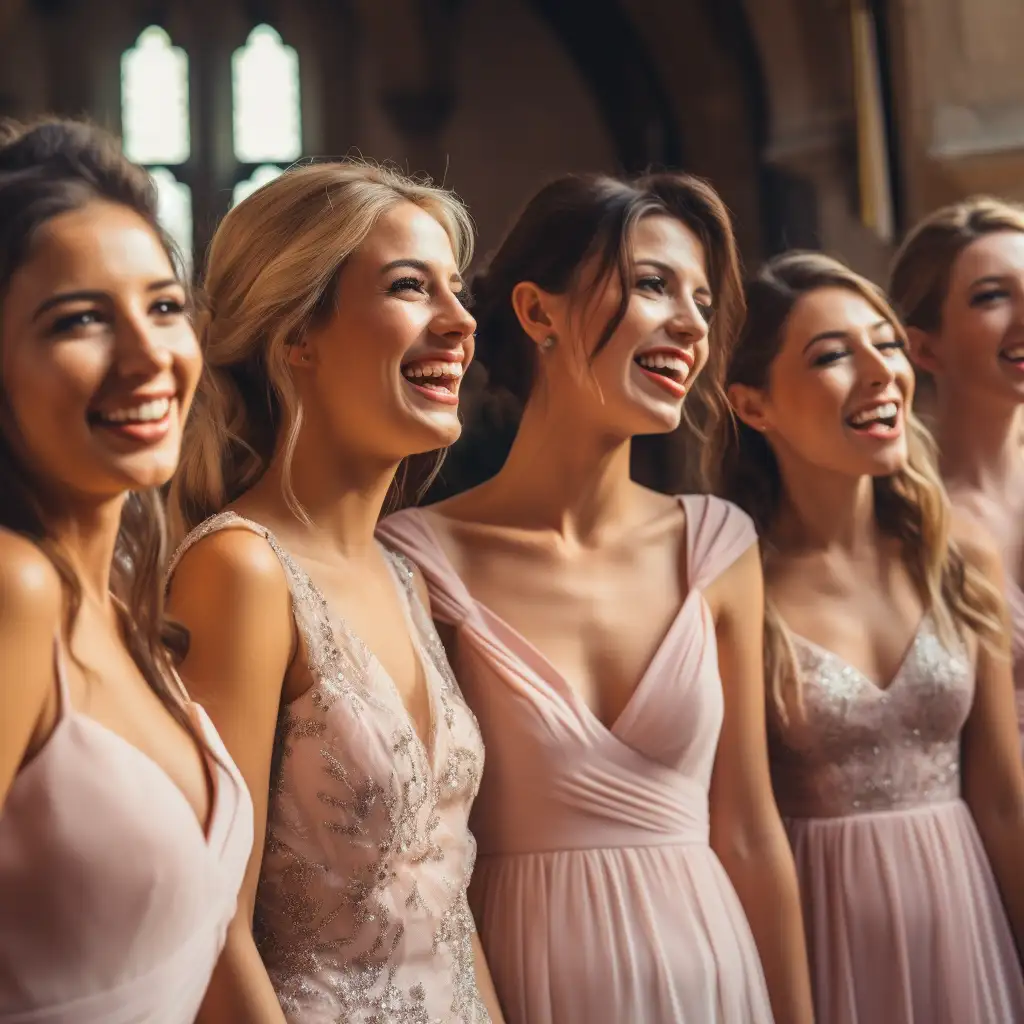 Don't Forget the Groom and the Bridal Party
While the bride's dress often takes center stage, the groom's suit, bridesmaids' dresses, and groomsmen's outfits also factor into the overall wedding attire cost. Whether you're going for a formal black-tie look or a more casual style, purchasing or even just renting these outfits can be quite an investment.
Groom's attire: A quality suit or tuxedo, along with shoes, tie, cufflinks, and other accessories, can quickly add up. Plus, like the bridal gown, the groom's outfit may require alterations for a perfect fit.
Bridal party outfits: Bridesmaid dresses and groomsmen suits not only need to complement the wedding theme but also should flatter various body types. If the couple chooses to shoulder this expense, it significantly increases the cost.
Photography and Videography
What's a momentous occasion without capturing it in a tangible form to revisit in the years to come? Photography and videography are the windows through which you can relive your special day. They not only chronicle the grand moments but also encapsulate the raw emotions and minute details often forgotten over time.
The Art of Capturing Moments
The job of a wedding photographer and videographer extends beyond just clicking a button. They play multiple roles—storyteller, director, artist—and each of these roles adds to the cost:
Expertise and experience: Professionals have honed their craft over many weddings, learning to anticipate moments and to be at the right place at the right time. They know how to make people feel comfortable in front of the camera, capture emotions authentically, and tell a compelling story through their images and films.
Equipment: Professional-grade cameras, lenses, tripods, lighting gear, and sometimes drones, add to the quality of the photos and videos. Moreover, backup equipment is crucial to ensure nothing is missed due to technical glitches.
Post-production: A significant part of the magic happens after the wedding. Editing photos, arranging them into an album, creating a wedding film—these tasks require hours of meticulous work and technical skills. Software subscriptions and updates also add to the overall cost.
The Value of Memories
Despite the cost, many couples consider photography and videography a worthy investment. These captured moments form the lasting keepsakes of the day, providing a way to relive the joy, tears, and laughter of their wedding anytime they want. Moreover, they serve as a beautiful testament to their love story for future generations.
The Food and Drinks
A wedding is as much a feast for the palate as it is for the eyes and the heart. It's an opportunity to treat your loved ones to a delightful culinary experience that they will remember. However, providing food and drinks for a crowd is a substantial undertaking that significantly impacts the wedding budget.
Catering: A Delectable Expense
The cost of catering can vary dramatically based on several factors:
Number of guests: This one's simple math—the more guests you have, the more you'll need to spend on feeding them. Every additional guest means an extra serving of each course, more table settings, and likely, a larger venue.
Type of meal: Are you planning a buffet or a sit-down dinner? Buffets might seem less expensive because they require fewer servers, but waste can be higher if guests' eyes are bigger than their stomachs. Sit-down dinners, on the other hand, offer portion control but may require more staff.
Cuisine: The type of cuisine you choose also affects the cost. A fancy five-course gourmet dinner will naturally cost more than a simple, comfort food menu. Also, special dietary requests or allergies may add to the expense.
Drinks: A Toast to Your Union
Drinks, especially alcoholic ones, can constitute a significant portion of the wedding budget:
Open bar or cash bar: An open bar, where guests can order drinks at no cost to them, is a more expensive option. A cash bar, where guests pay for their own drinks, can reduce costs but may not be as well received by guests.
Type of alcohol: Serving fine wines, premium liquors, and a variety of craft beers will cost more than offering a selection of house wines, standard liquors, and a couple of beer options.
Champagne toast: A wedding tradition, the champagne toast, adds to the cost. You'll need enough champagne for all guests, and the price per bottle can vary widely based on quality.
Entertainment and Extras
While the more practical aspects like the venue, the food, and the attire take up a large chunk of the budget, the entertainment and the little extras add the sparkle and personal touch that make your wedding uniquely yours. Let's take a look at these elements and how they influence the overall cost.
Setting the Mood: Music and Entertainment
A wedding without music and entertainment is like a celebration without joy. It's what gets your guests up from their seats, onto the dance floor, and helps them let loose:
DJ or live band: A DJ might be a more cost-effective option and could provide a wider variety of music. On the other hand, a live band can add a level of energy and sophistication that's hard to match, but at a higher cost.
Performance artists: You might want to include extra entertainment like a magician for the cocktail hour, a fire dancer for an outdoor reception, or a photobooth for some fun memories. Each of these will add to the cost but will also add to the experience.
The Extras: Personal Touches and Convenience
Sometimes, it's the little things that leave a lasting impression. These are the details that your guests will remember and talk about long after the wedding:
Wedding favors: Whether it's personalized trinkets, mini bottles of champagne, or donated gifts to a charity in the name of your guests, wedding favors can add a considerable amount to the overall wedding bill.
Transportation: Booking a dreamy horse-drawn carriage for your grand exit or arranging shuttles to transport your out-of-town guests between the hotel and the wedding venue also come at a cost.
Accommodation: If you're planning to cover the hotel stay for your bridal party or out-of-town guests, this can significantly increase your expenses.
The Wedding Planner and Day-Of Coordinator
Organizing a wedding isn't just a monumental task—it's a series of small tasks, decisions, and details that come together to form the big picture. Having experienced professionals by your side can make this process smoother and more enjoyable. But, as with all skilled services, this assistance is a considerable investment.
The Magic Behind the Scenes: Wedding Planner
A wedding planner is your guide, your confidant, and your troubleshooter. They're the ones who take your ideas and turn them into reality:
Planning and coordination: From scouting venues to negotiating contracts with vendors, a wedding planner's job is to ensure that every detail aligns with your vision and budget.
Experience and knowledge: They bring a wealth of knowledge about local vendors, trends, and etiquette. This expertise can save you time and help avoid potential pitfalls.
Stress relief: Perhaps one of the biggest benefits of a wedding planner is the peace of mind they provide. They handle the hard work and problem-solving, allowing you to enjoy your engagement and look forward to the big day.
Orchestrating the Perfect Day: Day-Of Coordinator
A day-of coordinator manages the logistics on the actual wedding day, ensuring everything runs like a well-oiled machine:
On-the-day logistics: The day-of coordinator oversees the schedule, coordinates vendors, and manages setup and teardown. They handle any day-of issues that may arise, keeping stress away from the couple.
Guest management: From making sure that guests are comfortable to ensuring that everyone is in the right place at the right time, the day-of coordinator is there to ensure a smooth guest experience.
Emotional Factors and Social Pressure
Weddings, with their deep emotional significance and societal implications, often spark a range of feelings and pressures that can influence decision-making. Sometimes, these feelings and pressures can steer couples towards higher expenditures than initially planned.
The Pursuit of the 'Perfect Day'
The emotional charge that surrounds a wedding often triggers a desire for everything to be 'just perfect':
The dream factor: Many of us have imagined our wedding day for years, even decades, before it actually happens. This can lead to a willingness to pay a premium to bring those long-held dreams to life.
Emotional value: We're more likely to overspend on items with high sentimental value. This could be anything from the wedding dress that makes you feel like royalty, to the photographer who can capture the moments that make your heart flutter.
One-time occasion: The sentiment that a wedding is a 'once in a lifetime' event can also push us to stretch our budgets further than we might for other occasions.
Social Pressure and Expectations
The societal implications and expectations surrounding weddings can significantly inflate the budget:
Keeping up appearances: Many couples feel a certain pressure to 'keep up with the Joneses'. In this era of social media, where every detail of a wedding can be shared and scrutinized, the pressure to impress is even greater.
Family expectations: Family members, with their own desires and expectations, can also influence the wedding budget. It might be the pressure to invite distant relatives, the insistence on a specific (and pricey) tradition, or the desire for a grand celebration that swells the guest list.
Ways to Save on Your Wedding
The cost of a wedding can certainly seem daunting, but remember, you have control over how your money is spent. You don't have to compromise on your dream wedding; instead, think of it as fine-tuning the details to create a celebration that's both beautiful and budget friendly.
Prioritize What Matters Most
Identifying the elements that truly matter to you can help guide your budgeting decisions:
Must-haves vs. nice-to-haves: Take some time with your partner to discuss what elements of the wedding are most important to you. This might be a certain venue, a particular type of cuisine, or having certain people present. These are your must-haves. Anything outside of these can be considered nice-to-haves and can potentially be altered to fit the budget.
Experiences over things: Often, it's the experiences, not the things, that leave lasting memories. Focusing your budget on creating memorable experiences—like unique entertainment or a special honeymoon—can be more rewarding than spending on material things.
Consider Cost-Saving Alternatives
There are countless ways to save money without sacrificing the quality of your wedding:
Venue: Opting for a smaller, more intimate venue can significantly reduce costs. Alternatively, consider non-traditional venues, like a local park, a family member's backyard, or a city-owned property. These can often be booked for a fraction of the cost of traditional venues.
Menu: Choosing a simpler, yet delicious, menu can go a long way in saving money. Additionally, consider limiting the alcohol options to wine and beer, or offer a signature cocktail instead of a full bar.
Attire: While the designer label might be tempting, what's most important is how your wedding attire makes you feel. Consider buying a second-hand dress, renting your attire, or even having a dress custom-made by a local designer. These can all be budget-friendly alternatives to buying new from a high-end designer.
Why Are Weddings So Expensive? – Conclusion
As we've seen, a multitude of factors contribute to the cost of a wedding. But remember, the price tag doesn't define the joy and the memories you'll make on that special day. Despite the costs, it's entirely possible to have a beautiful wedding that reflects you and your partner's love and style. After all, love isn't measured in dollars, is it? So, here's to creating a day to remember, without breaking the bank.
FAQs
Q: Is it possible to have an affordable wedding without compromising on quality?
A: Yes, it is possible to have an affordable wedding without sacrificing quality. Setting a realistic budget, prioritizing essential elements, and being flexible with dates and venues can help manage costs. DIY projects, opting for off-peak seasons, and negotiating with vendors can also help reduce expenses.
Q: Are there any hidden costs associated with weddings?
A: Yes, there can be hidden costs that couples may overlook during the planning process. These can include taxes, gratuities, overtime charges, alterations for attire, marriage license fees, transportation, and accommodations for guests. It's essential to carefully review contracts and ask vendors about any potential additional fees.
Q: Is it necessary to have a lavish wedding to make it memorable?
A: Not at all! The cost of a wedding doesn't determine its memorability. What truly makes a wedding memorable is the love and joy shared between the couple and their loved ones. Focus on personalizing the celebration and creating meaningful moments rather than solely emphasizing extravagant elements.
Q: Are there any alternatives to traditional expensive weddings?
A: Absolutely! Couples can explore alternative options such as elopements, intimate gatherings, destination weddings with a smaller guest list, or even themed weddings that align with their interests. These alternatives can often provide unique and memorable experiences while being more budget friendly.
Q: Should couples consider hiring a wedding planner to help manage costs?
A: Hiring a wedding planner can be beneficial in many ways, including managing costs. Experienced wedding planners have extensive knowledge of the industry, vendor connections, and negotiation skills that can help couples get the best deals while staying within their budget. They can also offer creative solutions to make the most of the allocated funds.
Q: What are some creative ideas for saving money on wedding decorations?
A: Couples can save money on decorations by utilizing their creativity and thinking outside the box. Some ideas include incorporating DIY elements, using seasonal or locally sourced flowers, repurposing decor from other events or borrowing items from friends and family, and opting for minimalistic or eco-friendly decor styles.
Q: How can couples navigate the financial aspect of weddings without causing conflicts or stress?
A: Open and honest communication is key. Couples should have an open discussion about their financial expectations and set a realistic budget together. It's important to prioritize and compromise, understanding that some elements may need to be adjusted to fit within the budget. Regular check-ins and involving both partners in decision-making can help reduce stress and conflicts.
Q: Are there any strategies for saving money on wedding attire?
A: Yes, there are several strategies for saving money on wedding attire. Consider purchasing a pre-owned or sample wedding dress, renting attire instead of buying, or opting for a simple and elegant off-the-rack dress instead of a custom-made one. For grooms, renting a tuxedo or suit can be a cost-effective option. Also, keep an eye out for sales or discounts at bridal boutiques.
Q: How can couples save money on wedding invitations and stationery?
A: To save money on wedding invitations and stationery, consider going digital and sending e-invitations or using online invitation platforms. DIY printable invitations are another cost-effective option. Simplify the design to reduce printing costs, or explore affordable printing services or local print shops. Additionally, consider skipping save-the-date cards or opting for postcard-style invitations to save on postage.
Q: Are there ways to reduce the cost of wedding photography and videography?
A: Yes, there are a few ways to reduce the cost of wedding photography and videography. Consider hiring a talented but lesser-known photographer or videographer who may offer more affordable rates. Choose a shorter coverage period or have them capture key moments instead of the entire day. Alternatively, you can ask guests to share their photos and videos or consider hiring a student photographer or videographer who may offer discounted rates.
Q: Can couples save money on wedding flowers and floral arrangements?
A: Absolutely! To save money on wedding flowers, choose locally sourced or in-season blooms, as they tend to be more affordable. Opt for simple and elegant arrangements, and focus on using flowers sparingly in key areas instead of elaborate displays throughout the venue. Additionally, consider alternative options such as using potted plants or non-floral elements for centerpieces and decorations.
Q: What are some cost-saving ideas for wedding catering?
A: Couples can save money on wedding catering by considering alternative catering options such as food trucks, buffet-style meals, or family-style dining instead of plated dinners. Opting for seasonal and locally sourced ingredients can also help reduce costs. Additionally, consider limiting the number of courses or offering a signature drink instead of an open bar to save on beverage expenses.
Q: How can couples save on wedding cake expenses?
A: To save on wedding cake expenses, consider ordering a smaller cake for display and a larger sheet cake or cupcakes for serving guests. This way, you can have an impressive cake for photos while still providing enough dessert for everyone. Another option is to explore local bakeries or even talented home bakers who may offer more affordable pricing compared to traditional wedding cake designers.
Q: Are there ways to cut costs on wedding music and entertainment?
A: Yes, there are ways to cut costs on wedding music and entertainment. Instead of hiring a full band, consider a smaller ensemble or a DJ who can provide a diverse range of music. Look for talented local musicians or bands who may offer more competitive rates. Another option is to create a playlist and use a sound system to play recorded music or ask talented friends or family members to perform during the ceremony or reception.
Q: What are some tips for managing the overall wedding budget effectively?
A: To manage the overall wedding budget effectively, start by setting a realistic budget from the beginning and tracking all expenses meticulously. Prioritize essential elements and allocate funds accordingly. Consider using budgeting tools or spreadsheets to stay organized. Regularly review and adjust the budget as needed and be open to making compromises along the way. Communication and collaboration between both partners are crucial for successful budget management.
Q: Is it advisable to take on debt for a wedding?
A: It is generally not advisable to take on debt for a wedding. Starting a marriage with unnecessary financial stress can put a strain on the relationship. It's better to plan and save within your means or explore alternative options that align with your budget. Remember, the focus should be on the celebration of love, not on excessive spending.
Key Takeaways
The evolution of weddings over time has led to an increase in costs, influenced by historical traditions and societal shifts.
The engagement ring, once a simple symbol of commitment, has become a significant expense due to marketing campaigns and societal expectations.
The choice of wedding venue can greatly impact the overall cost, considering factors such as geographical location, type of venue, and popularity.
Wedding dresses are often a major investment due to designer labels, custom fittings, alterations, and the cost of accompanying accessories.
The attire for the groom and bridal party, including suits, dresses, and accessories, can contribute significantly to the wedding attire cost.
Photography and videography are essential for capturing and preserving precious wedding memories, but their quality and expertise come at a price.
Food and drinks are a substantial part of the wedding budget, with factors like the number of guests, type of meal, and choice of alcohol impacting costs.
Music and entertainment play a crucial role in creating a memorable wedding experience, with options ranging from DJs to live bands and performance artists.
Emotional factors and social pressure can influence spending decisions, as couples strive for a "perfect day" and navigate societal expectations.
COPYRIGHT NOTICE
Please be advised that all images, designs, and creative content on this page are the exclusive property of TheIDoGuide.com and are protected under international copyright laws. The images may not be reproduced, copied, transmitted or manipulated without the written permission of TheIDoGuide.com.
Unauthorized use, distribution, display, or creation of derivative works of any images contained on this site, is strictly prohibited and can lead to legal penalties. We actively monitor for, and enforce, our copyright interests.
If you wish to use any of our images, kindly contact us to seek permission. Respect of copyright is not merely a legal requirement but also an acknowledgement and support of the hard work and creativity that goes into producing them.
Thank you for your understanding and cooperation.
© 2023, TheIDoGuide.com. All Rights Reserved.