A micro wedding is a scaled-down version of a traditional wedding, typically consisting of a smaller guest list of around 20 to 50 people. It focuses on creating an intimate and personalized experience, allowing couples to prioritize quality over quantity and make their special day more meaningful and memorable.
Isn't it intriguing how something as timeless as a wedding, a ritual that binds two hearts, is also capable of evolving with the times? Enter the era of micro weddings, a celebration that favors intimacy, personal touch, and mindfulness over scale. But before we delve any deeper, let's strip down this trend to its bare essentials.
Defining Micro Weddings
When you think about a wedding, what's the first image that comes to mind? A grand ballroom filled with hundreds of guests, a bride in a white dress and a groom in a black tuxedo, a large wedding party, and a reception that lasts into the wee hours of the night. While this is a common portrayal of weddings, it's not the only way to celebrate love.
A micro wedding, as its name suggests, is essentially a wedding on a smaller scale. But what does that mean, and how does it differ from a traditional wedding?
Small, but Perfectly Formed
A micro wedding is not just a truncated version of a conventional wedding. It is its own unique event, designed around intimacy and personalization. It features your closest circle of family and friends, typically no more than 20 to 50 guests. The guest list is intentionally kept small, allowing you to spend quality time with each of your guests, making them feel more a part of the celebration.
It's a Real Wedding
Micro weddings are not elopements, where only the couple and a witness are present. Nor are they 'big parties' thrown in celebration of the union. They are fully-fledged weddings, complete with vows, rings, a cake, and a reception. The key elements that make a wedding are still present, but everything happens on a smaller scale.
More Than Just a Trend
Micro weddings might seem like a recent trend, but they represent a shift towards a more focused and meaningful celebration. They give you the space to break away from conventions and traditions that don't resonate with you, enabling you to create a wedding that truly reflects your personalities, tastes, and values.
The Power of Flexibility
With fewer guests to accommodate, micro weddings offer greater flexibility. You might choose to get married in your own backyard, at a local park, or even in a destination you love. The savings from a reduced guest list can be redirected towards things that matter most to you – whether that's gourmet catering, live entertainment, a dream dress, or an extended honeymoon.
The Anatomy of a Micro Wedding
Organizing a micro wedding is an opportunity to let your imagination run wild, and to turn dreams into reality in a more intimate, personalized setting. Here, we dissect the essential components of a micro wedding, revealing the incredible potential within each element.
Planning Process: Where Thought Meets Action
The planning process is where the magic happens. Each step you take in planning a micro wedding is a thoughtful journey that brings you closer to a celebration that is uniquely yours. From deciding on the wedding theme to choosing your wedding attire, each decision reflects you and your partner's tastes, personalities, and love story.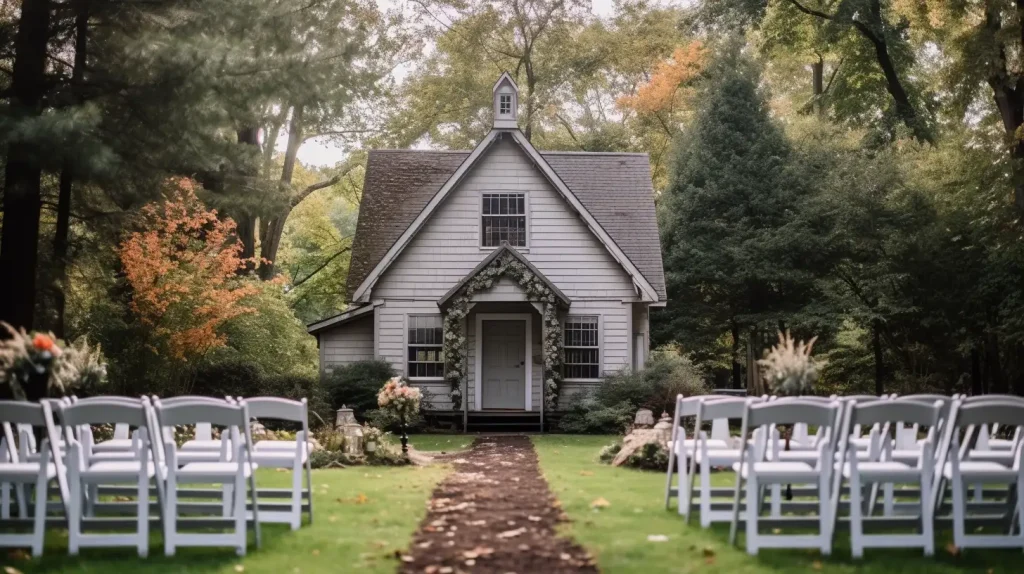 Venue Selection: Creating the Perfect Backdrop
The venue for a micro wedding can be as conventional or as creative as you like. Maybe it's your favorite restaurant, a place where you and your partner have shared countless meals and memories. Perhaps it's a beautiful park where you took your first walk together. It could even be your own backyard, transforming a familiar space into a magical wedding wonderland. The choice of venue is a chance to add another layer of personal touch to your special day.
Guest List: Crafting a Circle of Love
The guest list of a micro wedding is perhaps one of its most defining elements. This isn't an occasion for distant relatives or acquaintances. It's a gathering of your closest family and friends, the ones who have been there for you through thick and thin. Each name on your guest list represents a unique bond, and the love and support they've offered you. This intimate gathering ensures that your day is filled with the faces you cherish the most.
Decoration: Designing Your Dream Day
Decorations play a critical role in setting the tone and atmosphere of your wedding day. With fewer guests and a smaller venue, there's more room to let your personal aesthetic shine through. Whether it's rustic charm, chic minimalism, or vibrant bohemian flair, your décor can reflect your personality. You can work closely with decorators to curate every detail, from the flowers and centerpieces to the lighting and seating arrangements, creating an ambiance that's truly you.
Essentials of Micro Wedding
Just as with any event, a micro wedding comes with its own set of essentials that make it a memorable celebration. From budgeting to selecting entertainment, here's what you need to know about the key elements of a micro wedding.
Budgeting: Where Every Penny Counts
The first, and often most daunting, part of any wedding planning is determining the budget. For a micro wedding, this task becomes more manageable, and potentially more flexible. With a smaller guest list, you can allocate your funds more effectively towards aspects that matter most to you. Perhaps you'll splurge on the wedding dress of your dreams or hire the best photographer in town. Regardless of your decisions, every penny is spent thoughtfully to create a day that's uniquely yours.
Food and Drink: Feeding the Soul
With fewer mouths to feed, a micro wedding allows you to truly spoil your guests when it comes to food and drink. You could indulge in a five-course meal catered by your favorite chef, or perhaps offer a buffet of your favorite gourmet dishes. For drinks, consider personalizing the menu with your signature cocktails. The goal here is to choose quality over quantity, creating a memorable dining experience for you and your guests.
Entertainment: Making Every Moment Count
Entertainment in a micro wedding doesn't have to mean a packed dance floor or a live band (unless you want it to). Instead, consider meaningful activities that reflect your personalities and interests. You might have a live painting session, a DIY photo booth, or a private concert. With a smaller crowd, the entertainment can be more interactive, allowing each guest to participate and feel a part of your special day.
Photography: Capturing Moments to Cherish
Finally, let's talk about photography. With fewer people and a more relaxed schedule, your photographer will have more opportunity to capture candid, intimate moments. These will be your memories to look back on for years to come, so invest in a photographer who understands your vision and can translate it into beautiful, timeless photos.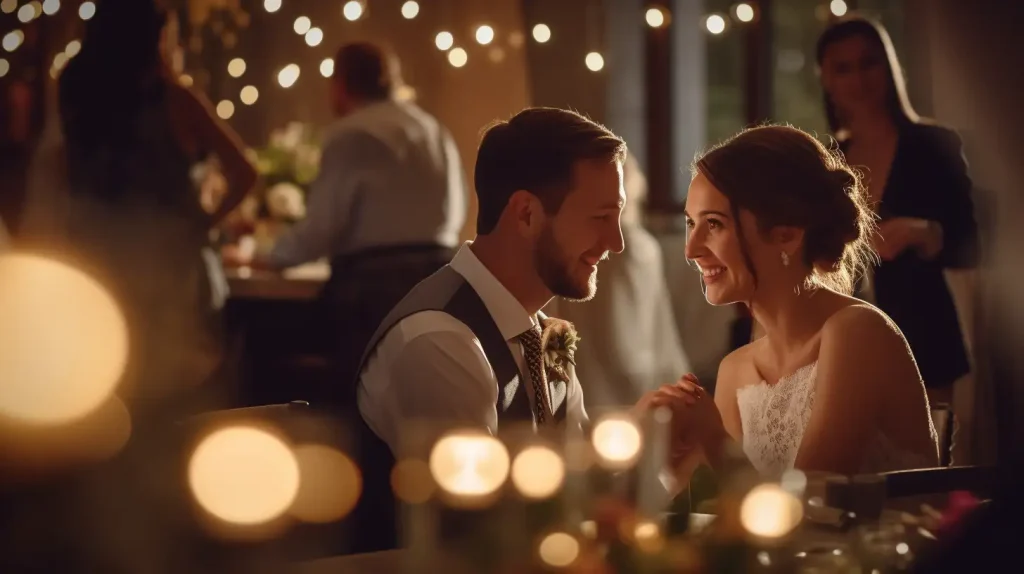 Micro Wedding Etiquette
Navigating the etiquette of a micro wedding may seem like a daunting task, but fear not. Let's break it down into manageable pieces and shed light on how you can keep things respectful, considerate, and ultimately, celebratory.
Communication: Clarity is Kindness
The first rule of micro wedding etiquette? Clarity. When inviting your guests, ensure they understand what a micro wedding entails – explain the intimate nature of the celebration and why you've chosen this path. This will help set expectations right from the start and reduce potential misunderstandings.
Plus-Ones and Kids: Your Wedding, Your Rules
Micro weddings are inherently intimate and personal. This means you have every right to decide who shares this special day with you. When it comes to plus-ones and kids, it's entirely your call. If you decide to exclude them, be clear but polite in your communication. Remember, this is your day, and you're allowed to shape it in a way that feels right for you.
Gift Expectations: Shifting the Norms
In traditional weddings, gifts often revolve around household items to help the newlyweds start their life together. However, as many couples these days live together before tying the knot, this norm is slowly changing. In the context of a micro wedding, it's completely okay to shift expectations around gifts. You might want to suggest non-traditional gift ideas such as experiences, like a cooking class or wine tasting. Or perhaps you'd prefer donations to your favorite charities. It's all about aligning the gifting process with your values and preferences.
Micro Wedding Trends
The rise of micro weddings has not only shifted the wedding landscape, but it has also sparked a range of creative trends that showcase the unique potential of these intimate celebrations. Let's delve into some of the most popular micro wedding trends that are taking the wedding scene by storm.
Destination Weddings: Celebrating Love in Unique Locations
The idea of having a wedding in a unique, exotic location has gained a lot of traction, thanks to micro weddings. With a smaller guest list, it's logistically easier to plan a wedding in a remote beach villa, a cabin in the woods, or even a castle in Scotland. These unique settings not only offer a breathtaking backdrop for your nuptials but also provide an unforgettable experience for your guests.
Eco-Friendly Celebrations: Love for Each Other and the Planet
Another trend emerging within the micro wedding scene is the push for more sustainable celebrations. Couples are becoming more conscious of the environmental impact of their special day and are choosing to go green. Think locally sourced food, minimal waste, digital invites, upcycled décor, and sustainable favors. By reducing the scale of the celebration, couples have more control over the environmental footprint of their wedding, ensuring their big day aligns with their values.
Unconventional Themes: Letting Your Personality Shine
Micro weddings provide the perfect platform for couples to express their personalities and interests. Traditional themes are making way for more unconventional ones, tailored to the unique love story of the couple. Are you both big Harry Potter fans? Why not host a magical Hogwarts-themed wedding? Maybe you both love the Roaring 20s? A Great Gatsby-themed wedding could be right up your alley. The smaller scale of micro weddings means the themes can be as quirky, original, or eccentric as you desire!
Embracing the Concept: Is a Micro Wedding Right for You?
Making the decision to have a micro wedding is deeply personal and should be based on your values, desires, and circumstances. While the idea may sound appealing, it's essential to consider if it truly aligns with your vision for your special day. Let's walk through some key factors to consider when deciding if a micro wedding is right for you.
Evaluating Your Priorities: Quality Over Quantity
The essence of a micro wedding lies in valuing quality over quantity. If you're the kind of person who prefers intimate gatherings over large parties and cherishes deep, meaningful connections, a micro wedding might be a perfect fit. This type of wedding allows you to spend quality time with each guest and share a personal experience.
Understanding Your Budget: Small Scale, Big Choices
While a smaller wedding often means a smaller budget, it also opens up opportunities for splurging on the things that matter most to you. Are you dreaming about a designer dress or a five-star menu? Or maybe you'd rather invest in a fabulous honeymoon? With a micro wedding, you have the flexibility to allocate your budget in a way that reflects your desires and priorities.
Assessing the Challenges: It's Not All Roses
It's also important to understand the potential challenges associated with a micro wedding. For example, trimming your guest list down to a select few can be a difficult task. There may be potential for hurt feelings or misunderstandings. And while a smaller event can be less stressful to plan, it doesn't mean it's stress-free. The same elements – from choosing a venue to deciding on a menu – still require careful consideration.
Envisioning Your Day: A Personal Affair
Lastly, visualize your wedding day. Do you see yourself surrounded by a sea of people, or in a more intimate setting with only your nearest and dearest present? Does the idea of a low-key, personal celebration excite you more than a large-scale bash? If you find yourself leaning towards the latter, a micro wedding could be an ideal choice.
How to Plan a Micro Wedding
Planning a micro wedding may seem like a daunting task at first, but with the right tools and approach, it can become an enjoyable process. Here is a step-by-step guide to help you navigate through this journey and make your dream wedding come to life.
1. Craft Your Vision: Begin with the End in Mind
Before you jump into the details, take a moment to visualize your ideal wedding day. What does it look and feel like? What emotions does it stir within you? This vision will guide you through your planning process and help you make decisions that align with your dream.
2. Create a Detailed Checklist: Organization is Key
The next step in planning your micro wedding is creating a detailed checklist. Despite the smaller scale, a micro wedding still involves various elements – venue selection, guest list, décor, food and beverage, entertainment, photography, and more. Having a checklist will ensure you stay organized, and nothing falls through the cracks.
3. Build Your Guest List: Choose Wisely
Building your guest list for a micro wedding can be tricky. It involves careful thought and consideration, ensuring you include the people who mean the most to you. Keep in mind that the goal of a micro wedding is to create an intimate, personal celebration. It's okay to keep your guest list small and exclusive.
4. Select Your Venue: Choose a Place that Resonates
When it comes to selecting a venue, the world is your oyster. From a favorite local restaurant to a beach villa in a foreign country, the possibilities are endless. Choose a location that resonates with your personalities and reflects your vision.
5. Curate Your Menu: Make Every Bite Count
With a smaller guest list, you have the opportunity to personalize your menu and make every bite count. Consider working with a local caterer or your favorite restaurant to create a menu that reflects your tastes and dietary preferences.
6. Arrange for Entertainment: Create Memorable Moments
Entertainment for a micro wedding can range from a live band to a magician, a DIY photo booth, or even a dance lesson. The goal is to create memorable moments that you and your guests will cherish.
7. Choose Your Vendors: Foster Closer Relationships
Choosing vendors for a micro wedding is different from a traditional wedding. The smaller scale allows you to build closer relationships with your vendors, resulting in a more personalized experience. Take time to select vendors who understand your vision and are excited to bring it to life.
8. Capture the Moments: Invest in a Good Photographer
Lastly, ensure you have a good photographer to capture your special moments. With fewer guests and a more relaxed schedule, your photographer will have ample opportunity to capture candid, intimate moments that you'll treasure for a lifetime.
Conclusion
As we look into the future of weddings, it's clear that micro weddings have earned their place in the spotlight. They celebrate love in its rawest form, allowing couples to express their unique personalities, surrounded by the people they care most about. And isn't that what a wedding should truly be about? Celebrating love in your own, unique way?
Micro weddings aren't just a fleeting trend. They're a testament to our evolving values, placing intimacy, personalization, and sustainability at the forefront. They remind us that weddings aren't about putting on a show for hundreds. Instead, they're about cherishing the bonds we've formed, honoring our journey, and stepping into a new chapter in the most heartfelt way.
So, if you're engaged and feeling the weight of planning a grand event, consider this: maybe a micro wedding is just the intimate, personalized celebration you and your partner need. After all, love isn't measured in the scale of a celebration, but in the depth of the connection shared between two souls.
In the end, your wedding day is yours to shape. Whether you opt for a grand celebration or a micro wedding, remember that the day is about you and your partner, your love, and the beginning of a beautiful new chapter together.
FAQs
Q: What are the advantages of having a micro wedding?
A: Micro weddings offer several advantages, including cost savings, increased flexibility in venue options, and the ability to create a more intimate and meaningful experience with close friends and family.
Q: How do I choose a venue for a micro wedding?
A: When selecting a venue for a micro wedding, consider spaces that can comfortably accommodate your guest count while still maintaining an intimate atmosphere. Options can range from small event spaces, gardens, private homes, or even destination elopement locations.
Q: Are micro weddings less expensive than traditional weddings?
A: In general, micro weddings tend to be more cost-effective compared to traditional weddings. With fewer guests, couples can allocate their budget more intentionally, focusing on personalized details, higher-quality experiences, and even splurging on certain elements that may not have been feasible with a larger guest count.
Q: How do I inform guests about my decision to have a micro wedding?
A: It's essential to communicate your decision to have a micro wedding with your guests. You can do this through personalized invitations or announcements, explaining that you have opted for an intimate celebration with a limited guest list and expressing your hope for their understanding and support.
Q: Can I still have a reception or party after the micro wedding?
A: Absolutely! Couples often choose to have a separate reception or celebration after the micro wedding to include a larger circle of friends and extended family who may not have been present at the ceremony. This allows you to have the best of both worlds – an intimate ceremony and a more expansive celebration.
Q: How far in advance should I plan a micro wedding?
A: Planning timelines for micro weddings can vary, but it's generally recommended to start planning at least three to six months in advance. This timeframe allows you to secure your desired venue, vendors, and make necessary arrangements while still having enough time for preparation.
Q: Can I still have bridesmaids and groomsmen in a micro wedding?
A: Absolutely! While the size of the wedding party may be smaller, you can still have bridesmaids and groomsmen in a micro wedding. It's a great way to include your closest friends or family members and make them a special part of your intimate celebration.
Q: What are some creative ideas for a micro wedding?
A: Micro weddings provide an opportunity for unique and creative ideas. Consider personalized wedding favors, interactive guest activities, thematic decorations, custom-designed menus, or even arranging surprise performances or entertainment for your guests to enhance the intimate atmosphere.
Q: Can I livestream my micro wedding for guests who can't attend?
A: Yes! Livestreaming your micro wedding is a wonderful way to include guests who cannot physically attend. With the help of a professional videographer or even using smartphone technology, you can share your special moments in real-time with loved ones who are unable to be present.
Q: Are there any legal considerations for a micro wedding?
A: The legal considerations for a micro wedding may vary depending on your location. It's important to research and understand the requirements for obtaining a marriage license, performing a legal ceremony, and ensuring that your micro wedding complies with local regulations and ordinances.
Q: How can I make my micro wedding feel special and memorable?
A: To make your micro wedding feel special, focus on personalization and meaningful details. Consider writing personalized vows, incorporating sentimental elements into your décor, selecting meaningful music, and creating an intimate ambiance that reflects your unique love story.
Q: What should I prioritize when planning a micro wedding?
A: When planning a micro wedding, prioritize what matters most to you as a couple. Focus on creating an intimate atmosphere, curating personalized experiences, and investing in elements that will make your day truly special, such as meaningful vows, high-quality photography, and cherished moments with loved ones.
Key Takeaways
A micro wedding is a scaled-down version of a traditional wedding, typically with a guest list of 20 to 50 people.
Micro weddings prioritize intimacy, personalization, and mindfulness over scale.
They are fully-fledged weddings with vows, rings, cake, and a reception, but everything happens on a smaller scale.
Micro weddings allow couples to break away from conventions and create a wedding that reflects their personalities, tastes, and values.
They offer flexibility in terms of venue choices, allowing couples to get married in various locations.
Micro weddings have essential components like planning, venue selection, guest list, decorations, budgeting, food and drink, entertainment, and photography.
Proper communication is important to ensure guests understand the intimate nature of the celebration.
Micro weddings are more cost-effective compared to traditional weddings, allowing couples to allocate their budget more intentionally.
Couples can choose unique themes, embrace sustainability, and opt for destination weddings for their micro weddings.
Deciding to have a micro wedding depends on personal preferences, priorities, and budget considerations.
The planning process for a micro wedding involves crafting a vision, creating a detailed checklist, building a guest list, selecting a venue, curating the menu, arranging for entertainment, choosing vendors, and capturing special moments through photography.
Micro weddings can still feel special and memorable by focusing on personalization and meaningful details.
There are legal considerations, such as obtaining a marriage license and complying with local regulations.
COPYRIGHT NOTICE
Please be advised that all images, designs, and creative content on this page are the exclusive property of TheIDoGuide.com and are protected under international copyright laws. The images may not be reproduced, copied, transmitted or manipulated without the written permission of TheIDoGuide.com.
Unauthorized use, distribution, display, or creation of derivative works of any images contained on this site, is strictly prohibited and can lead to legal penalties. We actively monitor for, and enforce, our copyright interests.
If you wish to use any of our images, kindly contact us to seek permission. Respect of copyright is not merely a legal requirement but also an acknowledgement and support of the hard work and creativity that goes into producing them.
Thank you for your understanding and cooperation.
© 2023, TheIDoGuide.com. All Rights Reserved.