The excitement leading up to your wedding day is tangible. From selecting the ideal venue to finding the perfect dress to creating a guest list, every aspect of planning is crucial in this intricate dance. However, there is one tricky question that might be daunting you – how can you politely inform your guests that kids are not invited to your wedding?
Understanding the Dilemma of How to Say No Kids Invited
Making the choice to host an adults-only wedding can be a complex decision. It's a scenario many couples find themselves in and you're not alone in wrestling with this choice. This decision often stems from a number of considerations.
Financial Factors
One of the most common reasons revolves around budget constraints. Let's be honest, weddings can be expensive, and every additional guest adds to that cost. Hosting an adults-only wedding can help you manage these costs more effectively. It's not about being unkind, but rather about being practical—especially when you have big dreams for your special day but a budget that doesn't quite stretch to accommodate everyone.
Venue Restrictions
Sometimes, the decision is guided by the venue. Perhaps you've fallen in love with a location that's not suitable for young children, or it has an adult-centric vibe that you adore. It could be a vineyard, an art gallery, a historic library, or even a luxury yacht—these places often have restrictions or are simply not designed for children. In such cases, an adults-only wedding is a practical choice that allows you to celebrate in the location you've always envisioned.
Desire for a Mature Atmosphere
For others, the decision for a child-free wedding is less about practicality and more about the desired atmosphere. You may dream of a sophisticated, elegant celebration where conversation flows as smoothly as the champagne, undisturbed by the natural and often unpredictable behavior of children. Wanting your guests to let their hair down and enjoy the evening without worrying about their parenting responsibilities is a completely valid choice.
Remember, feeling uncertain or conflicted about this decision is completely normal. It's not an easy choice. There may be moments of doubt and concern about potential backlash. It's okay to feel this way. Navigating these choices is all part and parcel of planning a wedding.
But at the end of the day, your wedding should be a reflection of you as a couple. It's a day that celebrates your love and commitment. The most important thing is that you create an event that feels right and meaningful to you. Whether that includes children or not, your decision is personal and valid. So, take a breath and remind yourself—it's your day. The decisions you make should ultimately serve your vision of this once-in-a-lifetime celebration.
Balancing Tradition and Modernity
In the past, weddings were grand family affairs, where everyone from the tiniest member to the eldest matriarch was present. This inclusivity has its charm, as it encapsulates the essence of family, unity, and shared joy. It paints a picture of togetherness, carrying on the tradition of a communal celebration.
Traditional Inclusivity
The charm of a traditional wedding is undeniable. The laughter of children playing, the multi-generational family photo, the sight of your great aunt dancing with your youngest cousin—it all adds a certain warmth and charm to the occasion. These moments are precious and can add a beautiful layer of familial love to your special day.
Evolving Wedding Trends
However, modern weddings are seeing a shift. As couples strive to create a day that truly represents their personalities and preferences, they're increasingly personalizing their weddings. Today's couples are infusing their celebrations with their own style and flair, sometimes sidelining conventions.
Perhaps you're opting for a themed wedding that mirrors your shared interests, or you're choosing a venue that breaks away from the traditional church or banquet hall setting. Maybe you're planning a destination wedding or an intimate elopement. The same flexibility applies to your guest list. You can and should shape your wedding day to reflect you and your partner's desires.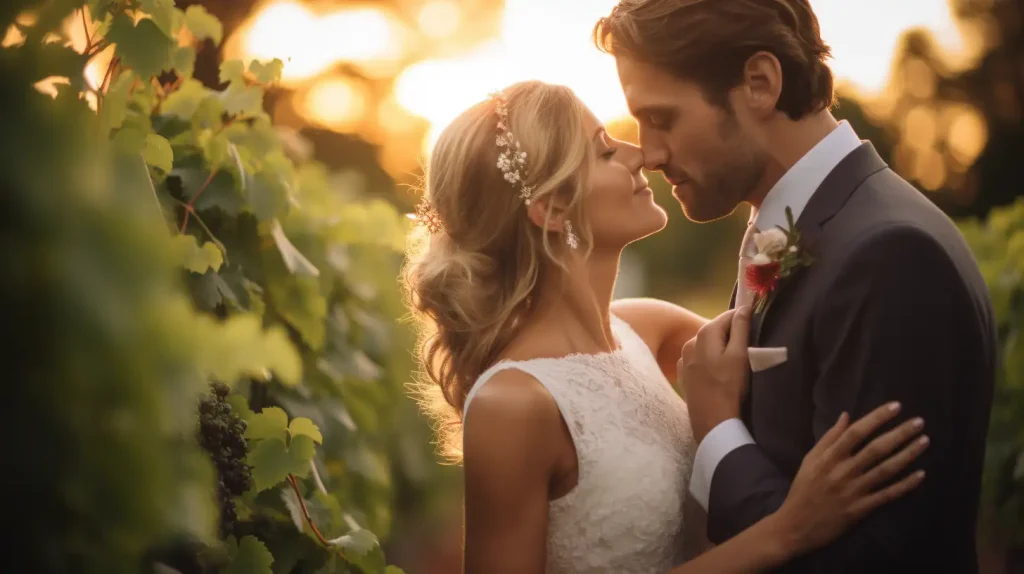 It's Your Day
Regardless of societal expectations or long-standing traditions, remember that this day belongs to you and your partner. Your wedding is an expression of your shared love and commitment, and every element should resonate with who you are as a couple.
If that means hosting an adults-only affair that's more about celebrating your love amidst friends and like-minded adults, then that's perfectly fine. Similarly, if you decide to stick to tradition and include children, that's wonderful, too. There's no 'right' or 'wrong' way to plan your wedding.
When and How to Decide Whether to Invite Kids to Your Wedding
Choosing whether to have an adults-only wedding is a significant decision that shapes numerous aspects of your big day. But when is the optimum time to decide? And how should you go about making this decision?
Timing is Key
The sooner you make this decision, the better. Ideally, you should decide on whether to include children when you start constructing your guest list. This not only helps in sending out the invites but also in planning the logistics of your wedding day.
Envision Your Day
Before you decide, visualize the day in your mind. What does your ideal wedding look like? Is it a sophisticated cocktail event with jazz in the background and guests mingling with champagne glasses in hand? Or is it a grand family gathering with laughter echoing and children joyously dancing around?
Considering the Venue
The venue you choose can also significantly impact your decision. If your dream venue is a stately mansion with priceless antiques or a winery with restrictions on underage guests, an adults-only wedding might be a sensible option.
Budget Considerations
Another key factor to consider is your budget. While we'd love to think money isn't an object, the reality is that hosting additional guests can add significant costs to your wedding. So, take a moment to reflect on your financial parameters.
There's No One-Size-Fits-All Answer
What's important to remember is that there's no universal answer to this question. The decision ultimately hinges on what feels most appropriate for you and your partner. It's about staying true to your vision of the day, keeping in mind your preferences, budget, and logistics.
How to Let Guests Know that Kids are Not Invited to Your Wedding
Once you've decided to host an adults-only wedding, the next challenge lies in communicating this to your guests. This is a delicate task that requires tact, clarity, and a healthy dose of diplomacy.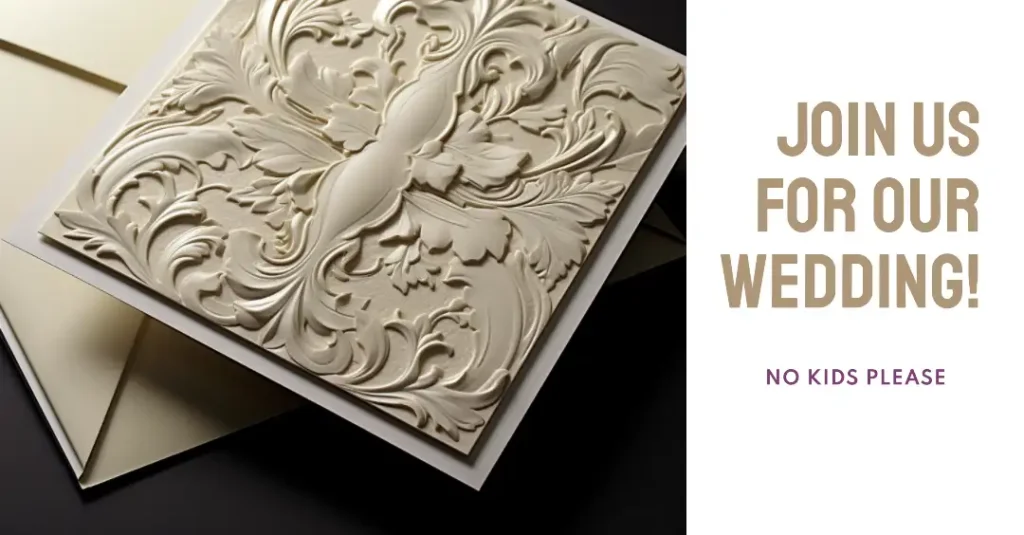 Using Your Wedding Invitations
A tried and true way to relay this information is by including it in your wedding invitations. A well-phrased, considerate note can get the message across without offending your invitees. You could consider something along these lines:
"Your presence means the world to us. As we aim to create a certain atmosphere for our special day, we kindly request that this celebration remain an adults-only affair. Thank you for understanding and for celebrating with us."
Leveraging Your Wedding Website
Your wedding website is another excellent platform to communicate this choice. It allows you to provide more context and detail, perhaps under a FAQ section. Here, you can explain your decision with a heartfelt note that can further soften the message.
"For us, this wedding is not only a celebration of our love, but also a chance to enjoy the company of our dear friends and family in a more adult-oriented setting. We hope that this choice will allow all our guests to let their hair down and fully enjoy the festivities. We appreciate your understanding and can't wait to celebrate with you."
Enlisting Family and Friends
Don't underestimate the power of word-of-mouth. Enlisting the help of close family members and friends to gently spread the word can be effective, particularly in large families or tight-knit communities.
Being Open and Understanding
While it's crucial to convey your decision firmly, it's equally important to show understanding. Acknowledge that your choice might pose an inconvenience to some guests and show your appreciation for their understanding and acceptance of your wishes.
Handling Potential Backlash
No matter how tactfully you communicate your decision, the possibility of facing some backlash or resistance cannot be ruled out entirely. However, remember that it's your day, and you have every right to celebrate it in a way that aligns with your vision. Here's how you can handle potential objections while maintaining peace and harmony.
Standing Firm in Your Decision
Firstly, it's essential to stand firm in your decision. It's completely natural to want to please everyone, especially on such an important occasion, but it's also crucial to prioritize your wishes for your special day. Ensure that you and your partner present a united front and maintain consistency in your messaging.
Showing Empathy and Understanding
While being firm is crucial, it's equally important to show understanding and empathy towards those who might be disappointed or inconvenienced by your decision. Engage in open and respectful dialogue, acknowledging their feelings, explaining your reasoning, and thanking them for their understanding. A line like, "We completely understand your concerns and appreciate your support as we plan our special day," can go a long way.
Maintaining Harmony
Maintaining peace and harmony is key, particularly because a wedding is a celebration of love. If you do face resistance, try to keep the conversation calm and positive. Remind your loved ones that this decision is about creating an event that best reflects you as a couple, and not about excluding certain guests.
Taking the High Road
If someone continues to express dissatisfaction despite your efforts, remember to keep your cool. You can't control others' reactions, but you can control how you respond. By handling any potential backlash with grace, maturity, and a clear focus on your vision for your wedding day, you'll be able to navigate this delicate situation successfully.
Arranging Alternatives for Guests with Kids
While your wedding is an adults-only affair, it's worth considering alternatives for guests with kids. Though it's not a requirement, it's a thoughtful gesture that can alleviate any potential concerns your guests might have. Here are a few suggestions on how to provide options for your guests with children.
Hiring a Babysitter
One option is hiring a trusted babysitter or a professional childcare service for the duration of the wedding. You could provide this information to your guests ahead of time, so they have the opportunity to connect with the babysitter and feel comfortable about leaving their kids in their care. This way, parents can enjoy your celebration fully, knowing their children are in safe hands.
Arranging a Separate Space
If your budget and venue allow, arranging a separate space for children can be a wonderful idea. This space could be supervised by a professional team, allowing the children to have their own fun-filled celebration. Games, movies, and snacks can be provided to keep the kids entertained. This approach not only caters to the kids but also offers their parents a chance to relax and enjoy your special day.
Listing Local Childcare Services
For out-of-town guests, you could consider listing local childcare services on your wedding website. This allows parents to explore different options and choose a service that best fits their needs.
Providing Information on Local Activities
Another thoughtful gesture would be to provide information on local family-friendly activities or attractions. Parents can make a day out of it, turning your wedding day into a fun-filled excursion for their little ones.
Respecting Parent's Choice
Remember, these are suggestions and should be presented as options, not requirements. Some parents may prefer to arrange their own childcare, while others might choose to enjoy a night off. The choice is ultimately theirs.
Managing Exceptions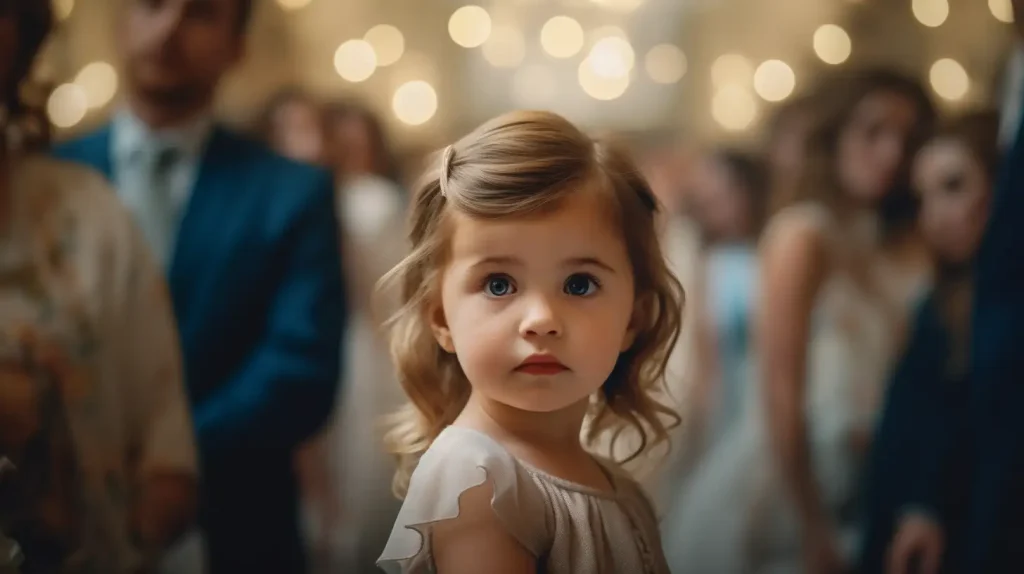 It's common for couples to make exceptions to the 'no kids' rule in some instances. You might wish to include certain children in your celebration—for example, a beloved niece or nephew acting as a flower girl or ring bearer. Handling these exceptions requires clear communication and careful consideration to avoid misunderstandings.
Clarity is Key
If you decide to include some children in your wedding, it's important to be transparent about it. These might be the kids in your immediate family, your bridal party, or children who have a special role in your wedding. Clarify this in your invitations, your wedding website, or when speaking with your guests to avoid any confusion.
Use Specific Language
When sending your invitations, specify who is invited. Instead of addressing the invite to "The Smith Family," address it to "Mr. and Mrs. Smith." This indicates that the invitation is meant for adults only.
If some children are included, you could phrase it like this on your wedding website or invitation: "While we love all of your little ones, we have chosen to include only immediate family children and those in the wedding party at our celebration."
Address Questions Tactfully
Some guests may question your decision to include certain children. Be prepared to explain your reasoning tactfully. A simple explanation, such as, "We wanted to keep our wedding small and intimate, and we've chosen to include only the children of immediate family and those in the bridal party," is usually sufficient.
Ensure Inclusion During the Event
If you've included some children, ensure they are part of the celebration. Perhaps consider arranging activities that will keep them engaged and entertained during the event.
Reaffirming Your Decision – Making Sure Everyone Knows that Kids are Not Invited
While you navigate through the logistics and potential hurdles of planning your adults-only wedding, it's important to remain steadfast in your choice. Yes, you might face a few hiccups or objections along the way but remember: your decision is valid and deserves respect. Here are a few pointers on reaffirming your decision, should you need to do so.
Confidence in Your Choice
The first step in reaffirming your decision is to believe in it fully yourself. Be confident in your choice and remember the reasons that led you to decide on a child-free celebration. Whether it was budget constraints, the nature of your venue, or simply your preference for an adults-only atmosphere, your reasons are valid.
Gentle yet Firm Communication
If you face any pushback, communicate your decision again in a gentle yet firm manner. A respectful conversation explaining your reasons can help guests understand and respect your wishes. Here's a potential way to phrase it:
"We understand where you're coming from, and we truly value your presence at our wedding. However, after much thought, we've decided to keep our celebration an adults-only event. We hope you understand and support our decision."
Fostering Understanding
Sometimes, sharing your vision for the day can help others understand your choice. If they can envision the sophisticated, relaxed, or intimate atmosphere you're aiming for, they might better comprehend why an adults-only celebration suits your vision.
Your Day, Your Way
Above all, don't forget that this is your day. It's a celebration of the love between you and your partner so its about creating a day that feels authentic and joyous to you. Remember, it's okay—and important—to prioritize that above everything else.
Conclusion: How to Say No to Kids at Your Wedding
Your wedding is a celebration of love, unity, and the start of a new life together. It's okay if this celebration looks a bit different from the traditional mold. Keep planning with confidence, knowing that your day will be as unique and wonderful as your love story. After all, at the end of the day, it's about you and the love of your life celebrating your union in a way that makes you happiest. Here's to creating an unforgettable day that truly reflects who you are as a couple.
FAQs
Q: How should we respond if guests ask about bringing their children?
A: Respond to such inquiries kindly but firmly. Politely explain that due to the nature of the event, you have chosen to have an adults-only wedding. Offer alternative solutions, such as suggesting local childcare services or recommending family members or close friends who can help with babysitting arrangements.
Q: What if some guests still insist on bringing their children?
A: In such cases, it's essential to stand your ground while remaining polite and understanding. Reiterate that you have made a decision to have an adults-only wedding and explain the reasons behind it. If necessary, be prepared to have a respectful conversation with those guests to find a mutually agreeable solution or compromise.
Q: How can we ensure our guests understand and respect our child-free request?
A: Clear communication is key. Include the adults-only policy on your wedding invitations, wedding website, and any additional correspondence. You can also rely on word of mouth through close family and friends to help spread the message. It's important to convey your wishes respectfully and early on, allowing guests ample time to make appropriate arrangements for their children.
Q: What if we receive negative reactions or criticism regarding our decision?
A: Remember that it is your special day, and ultimately, the decision is yours to make. While negative reactions or criticism may occur, it's important to stay firm in your choice and handle any disagreements with grace and understanding. Express your appreciation for their understanding and try to shift the focus back to celebrating your love and the joyous occasion.
Q: How far in advance should we inform guests about our child-free wedding?
A: It is best to inform guests about your child-free wedding as early as possible. Include the adults-only policy on your save-the-date cards, wedding invitations, or wedding website. This gives guests ample time to make arrangements for childcare or to plan accordingly.
Q: How can we handle guests who may be offended or upset by the child-free policy?
A: It's important to approach any potential conflicts or concerns with empathy and understanding. If guests express their disappointment or frustration, listen attentively and acknowledge their feelings. Reiterate your reasons for the child-free policy, emphasizing that it is not a reflection of their children but a decision made to ensure the best experience for all guests.
Q: How can we handle unexpected situations where guests bring their children despite our child-free request?
A: Remain calm and composed if you encounter this situation. Assign a trusted family member, friend, or wedding planner to discreetly handle the issue. Politely inform the guests that you had planned for an adults-only wedding and kindly request that they respect your wishes. Offer alternative options or solutions, such as nearby childcare services, to assist them in finding suitable arrangements for their children.
Q: Are there any potential exceptions for nursing infants?
A: While it is ultimately your decision as a couple, many couples are understanding when it comes to nursing infants. It is generally considered acceptable to make an exception for newborns who are exclusively breastfed and cannot be easily separated from their mothers. Communicate this exception discreetly to avoid misunderstandings or confusion among other guests.
Q: Should we expect some guests to decline the invitation due to the child-free policy?
A: It is possible that some guests may decline the invitation due to the child-free policy. However, it's important to remember that this is a personal choice made by the guests. Focus on the joy of celebrating your special day with those who can attend and respect your wishes. Ultimately, your wedding should reflect your vision and priorities as a couple.
Q: How can we ensure a smooth transition to the child-free atmosphere during the wedding?
A: Consider having a designated transition period at the beginning of the wedding reception where children and their parents can enjoy a special moment together before the children depart or are cared for in a separate area. This helps create a smooth transition to the adult-oriented atmosphere and allows parents to feel more at ease knowing their children are taken care of.
Key Takeaways
Making the choice to have an adults-only wedding can be driven by financial factors, venue restrictions, or a desire for a mature atmosphere.
It's important to balance tradition and modernity when deciding whether to invite kids to your wedding, considering your own preferences and vision for the day.
Communicating the adults-only policy to your guests can be done through wedding invitations, your wedding website, or word-of-mouth with the help of family and friends.
When handling potential backlash, it's important to stand firm in your decision while showing empathy and understanding towards those who may be disappointed.
Providing alternatives for guests with kids, such as hiring a babysitter or arranging a separate space for children, can be a thoughtful gesture.
If you make exceptions for certain children, it's crucial to communicate this clearly to avoid misunderstandings.
Reaffirming your decision and staying confident in your choice is important throughout the planning process.
Responding to guests' inquiries about bringing their children should be done kindly but firmly, explaining the adults-only policy and offering alternative solutions.
It's crucial to handle objections or negative reactions with grace, maintaining open and respectful dialogue with your guests.
Including nursing infants may be considered an exception, but it should be communicated discreetly to avoid confusion among other guests.
It's important to respect guests' choices if they decline the invitation due to the child-free policy and focus on celebrating with those who can attend.
A smooth transition to the child-free atmosphere can be facilitated by having a designated time for children and their parents before they depart or are taken care of in a separate area.
COPYRIGHT NOTICE
Please be advised that all images, designs, and creative content on this page are the exclusive property of TheIDoGuide.com and are protected under international copyright laws. The images may not be reproduced, copied, transmitted or manipulated without the written permission of TheIDoGuide.com.
Unauthorized use, distribution, display, or creation of derivative works of any images contained on this site, is strictly prohibited and can lead to legal penalties. We actively monitor for, and enforce, our copyright interests.
If you wish to use any of our images, kindly contact us to seek permission. Respect of copyright is not merely a legal requirement but also an acknowledgement and support of the hard work and creativity that goes into producing them.
Thank you for your understanding and cooperation.
© 2023, TheIDoGuide.com. All Rights Reserved.