When attending a country wedding, opt for a chic and relaxed outfit that reflects the rustic charm of the venue. Consider wearing a flowy sundress with cowboy boots or a tailored suit with a touch of country-inspired accessories for a stylish yet appropriate look.
There's something magical about exchanging vows surrounded by the peaceful beauty of nature. This article will be your guide to discovering what to wear to a country wedding.
Understanding the Basics of a Country Wedding
Country weddings are a special breed of celebrations that marry a sense of rustic elegance with casual comfort. They often transport guests away from the hustle and bustle of city life, immersing them in scenic locales that speak volumes about the romance and beauty of nature.
Setting and Scenery
The venues chosen for country weddings can be quite diverse, each possessing its unique charm and beauty. You might find yourself attending a celebration in a picturesque barn adorned with fairy lights, or perhaps an expansive field blanketed with wildflowers. Other times, the wedding might be nestled under a canopy of twinkling stars, with the cool night breeze gently rustling through the trees.
The Rustic Vibe
Country weddings are marked by their understated and rustic elements, often featuring natural materials like wood and lace, along with a color palette that mirrors the countryside. This rustic vibe sets the tone not only for the wedding decorations but also for the guests' attire. It's important to harmonize with this atmosphere through your outfit choices, adopting an elegance that's down-to-earth and unpretentious.
Weather Considerations
Weather plays a vital role in planning your outfit for a country wedding. Given that these events often capitalize on outdoor charm, they are subject to the whims of Mother Nature. Keep an eye on the forecast as the wedding date approaches and plan your attire accordingly.
Remember, open-air venues can experience sudden drops in temperature, especially as the sun sets. Layering can be your best friend here, allowing you to adjust to the changing climate throughout the event. Ladies might consider bringing along a stylish shawl or cardigan, while gentlemen could opt for a light blazer.
Dressing for Different Types of Country Weddings
Country weddings can range from casual to formal, and your outfit should appropriately reflect the level of formality. Here's how to navigate this terrain: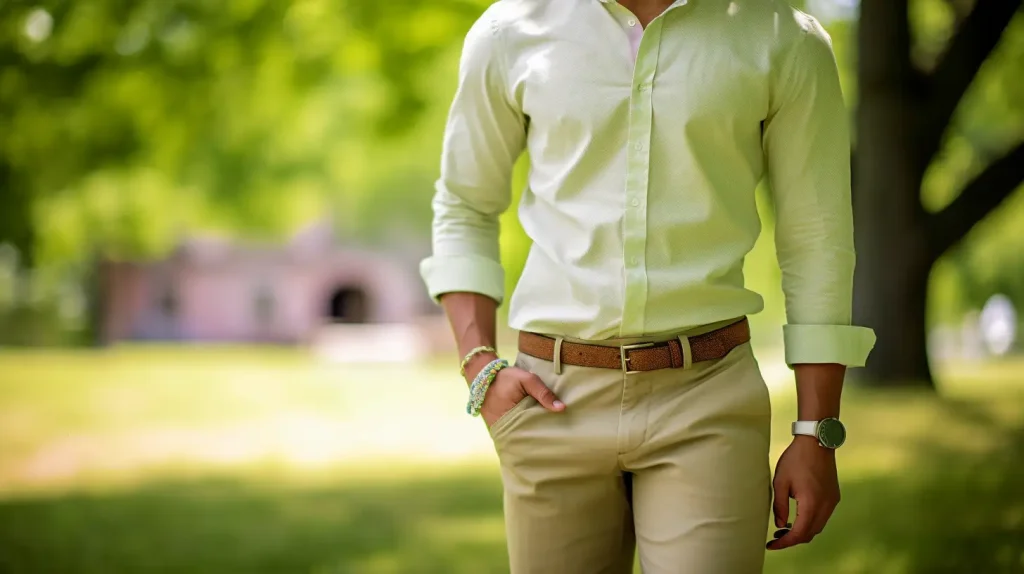 Casual Country Wedding Attire
In the laid-back setting of a casual country wedding, comfort is key. Yet, this doesn't mean you compromise on style.
Gents, consider going for a lightweight linen shirt in a cheerful color. Pair this with khaki chinos for a look that's stylish without being too stiff. This ensemble, a playful twist on the typical suit and tie, aligns perfectly with the relaxed feel of a casual country wedding.
Ladies, your go-to could be a breezy sundress. Choose one that brings out your personality – be it a flirty floral number or a chic solid color dress. To add that dash of country charm, complement your sundress with cute ankle boots. They not only look great but also handle outdoor terrains like a pro.
Semi-formal Country Wedding Attire
When the invite indicates semi-formal attire, it's about striking a balance between relaxed and refined.
Guys, consider donning a tailored blazer over a crisp shirt. Choose an earthy tone for your blazer to keep the country vibe alive. Pair this with dark jeans, which offer a neat yet relaxed feel.
For the ladies, a floral midi dress is a perfect choice. The length adds a touch of formality while the floral print keeps it fun and wedding appropriate. Pair your dress with either wedges for a summery feel or classy cowboy boots to up the country ante.
Formal Country Wedding Attire
When the country wedding calls for formal attire, elegance takes center stage.
Men, a well-tailored suit in earthy tones is a safe and stylish bet. It offers the right amount of formality without feeling out of place at a country wedding. Go for a linen or cotton blend suit to keep it breathable for outdoor settings.
Ladies, consider a long, flowy gown in a soft, romantic hue. Think muted pinks, tranquil blues, or elegant greys. The length and material of your gown will offer the required formality. Yet, choosing a country-inspired color will ensure the rural wedding vibe still resonates in your attire.
Color Schemes Suitable for Country Weddings
Choosing the right color scheme for your attire can significantly enhance your look at a country wedding. The goal is to blend with the natural, rustic aesthetic of the event. Let's explore some hues that do this beautifully:
Pastels
Pastels evoke a sense of softness and romance, perfectly in sync with the idyllic setting of a country wedding.
Gentlemen, think about incorporating these gentle hues into your shirts or ties. A pastel blue shirt or a tie in soft mint can make for a refreshing twist on traditional wedding attire.
Ladies, a dress in a pastel shade can look incredibly charming and wedding appropriate. You could also weave these hues into your accessories or makeup for a harmonious look. Think blush pink earrings or a subtle lavender eye shadow.
Earth Tones
Earth tones like browns, tans, and greens reflect the colors of the countryside, making them an excellent choice for country weddings.
Guys, an earth-toned blazer or chinos can effortlessly sync with the setting. You could also experiment with these colors in your pocket squares for a subtle nod to the country vibe.
For the ladies, an earth-toned dress or accessories can exude a sense of grounded elegance. Imagine a forest green clutch or tan ankle boots – chic, isn't it?
Jewel Shades
Jewel shades like ruby red, emerald green, and sapphire blue can add a touch of opulence to your attire, especially suitable for formal country weddings.
Men, consider a tie or cufflinks in these rich hues to bring a dash of luxury to your outfit.
Women, a gown in a jewel shade can look absolutely stunning. You could also go for accessories in these tones for a pop of color. Picture a ruby red pendant necklace or sapphire blue heels – glamorous and country-compliant.
Accessories to Complement Your Country Wedding Outfit
Accessories can truly make or break an outfit. When it comes to country weddings, your accessories should not only enhance your look but also resonate with the rustic charm of the setting.
Men's Accessories
For men, accessories are a chance to express your style while adding that extra polish to your attire.
A Hat: Particularly if it's a daytime event, a hat can add a dashing and practical element to your look. A smart fedora or a straw Panama hat could be your perfect ally against the sun, while also adding a dapper touch to your ensemble.
A Tasteful Watch: A tasteful watch can be the perfect finishing touch. Choose a design that has an understated elegance, steering clear of overly flashy or sporty models. Leather straps in brown or black usually work well for country weddings.
Leather Boots: Country settings call for sturdy footwear. A pair of leather boots will not only enhance your outfit's charm but also handle the outdoor terrain beautifully. They can add a rugged touch to your attire, whether you're wearing jeans or chinos.
A Rustic Leather Belt: Lastly, consider a rustic leather belt. Look for one with a simple, vintage-inspired buckle to truly capture the country vibe.
Women's Accessories
Ladies, accessories are your chance to add a hint of personal flair and thoughtfulness to your look.
A Sunhat or Fascinator: A sunhat can be a wonderful addition, offering both style and sun protection. If you're attending a more formal event, consider a delicate fascinator – it can add an element of sophistication without feeling out of place at a country wedding.
Delicate Jewelry Pieces: When it comes to jewelry, think delicate and classic. Pearl earrings can lend a timeless appeal, while a vintage locket can add a touch of sentimental charm.
Shoes: The right footwear is key. You want something that complements your outfit and can handle the outdoor terrain. Consider stylish flats for comfort or go for cowboy boots for that unmistakable country vibe.
Fabrics Suitable for Country Weddings
Choosing the right fabric for your outfit can greatly affect your comfort and style at a country wedding. The fabric should not only match the season but also the rustic and relaxed atmosphere of the event. Here's a guide on fabrics that work well:
For Warmer Weather
If the wedding falls during the warmer months or in a region with a generally warm climate, lightweight and breathable fabrics are your friends.
Cotton: Lightweight cotton is an excellent choice. It's breathable, comfortable, and comes in countless styles and prints. From cotton chinos for the men to airy sundresses for the women, it's a versatile fabric that suits various attire.
Linen: Linen is another perfect option for warm weather. With its slightly textured feel and breathable nature, it offers a chic yet relaxed look. Men can consider linen shirts or suits, while women could opt for beautiful linen dresses.
Silk Blends: Silk blends can be a great choice, particularly for more formal attire. They offer a subtle sheen and elegance, without being too heavy. Silk blend shirts can look smart on the gents, and ladies can consider silk blend dresses for a sophisticated yet comfortable ensemble.
For Chillier Weather
For a country wedding in the colder months or evenings, consider fabrics that provide a bit more warmth while still maintaining style.
Velvet: Velvet is a rich fabric that can add a touch of luxury and warmth to your attire. A velvet blazer could be a striking choice for men, while a velvet dress or shawl can provide warmth and elegance for the ladies.
Heavier Cotton Blends: Heavier cotton blends are also worth considering. They offer the comfort of cotton but with a bit more warmth. Think heavy cotton blend trousers for men or a thicker cotton dress for women.
Grooming Tips for a Country Wedding
Just as important as your outfit and accessories, grooming also plays a significant role in your overall appearance at a country wedding. Let's delve into some tips to help you look your best:
Men's Grooming
For the gents, the aim should be to look polished yet relaxed, mirroring the vibe of a country wedding.
Hairstyle: A simple, neat hairstyle works well. Whether you choose to wear your hair slicked back or in a casual, tousled style, ensure it's neat and controlled. If the event is outdoors, you might want to use a product that can withstand the elements.
Facial Hair: If you sport a beard or stubble, make sure it's well-trimmed and tidy. A country wedding is a great occasion to showcase your facial hair, but remember, the key is to keep it looking clean and well-groomed.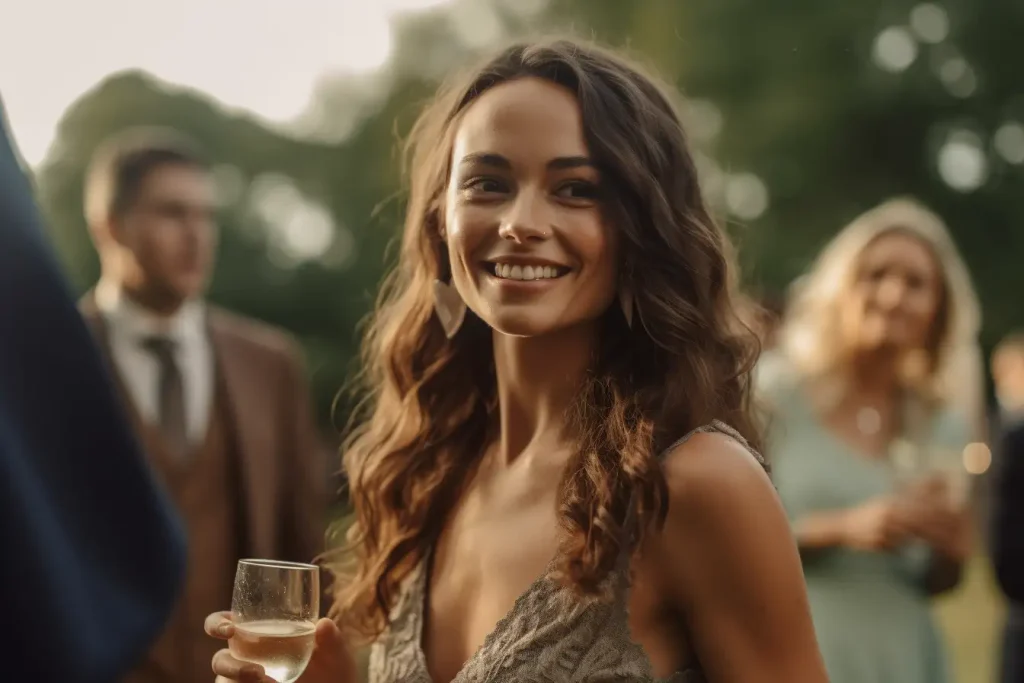 Women's Grooming
For the ladies, your grooming should enhance your natural beauty while complementing the relaxed, rural atmosphere of the event.
Hairstyle: Think soft and romantic for your hair. Loose waves can create a beautifully effortless look, while a casual updo with a few tendrils framing your face can look stunning and keep your hair in control if you're dealing with an outdoor setting.
Makeup: Go for a fresh, natural look with your makeup to complement the outdoor setting. Highlight your features subtly with earthy eye shades, a hint of blush, and a soft lip color. Don't forget to use a good setting spray if you're going to be outdoors for long.
What Not to Wear to a Country Wedding
Just as it's important to know what to wear, understanding what not to wear can also be invaluable in choosing your outfit for a country wedding. Let's outline some potential faux pas you should avoid to ensure you're suitably dressed for the occasion:
Too Flashy or Overly Formal Attire
The charm of a country wedding lies in its rustic and relaxed vibe. Wearing attire that's too flashy or overly formal can seem out of place in such an environment.
Gents, avoid overly shiny suits or overly bright colors that could detract from the understated elegance of the event.
Ladies, overly sequined or bejeweled dresses might be a bit too glamorous for the rural setting. It's best to stick to understated elegance, balancing your look between casual and chic.
The Color White
Unless specifically requested by the couple, wearing white is typically reserved for the bride. It's considered a wedding etiquette rule to avoid white, to ensure the bride stands out on her special day.
Men, this extends to your attire too. Try to steer clear of white suits or blazers.
Women, avoid white dresses or outfits. Even if your dress is a print with a white background, it's safer to choose something with less white to avoid any potential faux pas.
Stilettos or Impractical Shoes
Country weddings often take place in outdoor or semi-outdoor venues, which could involve grassy fields or uneven terrain.
For both men and women, stilettos or shoes with very thin soles can make it difficult to navigate such surfaces. Instead, opt for thicker heels, wedges, flats, or sturdy boots that are stylish yet practical for the setting.
Inspiring Examples of Country Wedding Attire
We all know that a picture is worth a thousand words, and in the case of country wedding attire, seeing is believing. The following are some vivid examples of country wedding outfits that perfectly blend comfort, style, and the charming rustic vibe:
Men's Attire
Picture this, gentlemen: you're wearing a chambray shirt that's soft to the touch and cool against your skin. Over it, you don a tweed waistcoat – it adds a touch of sophistication, without being overly formal. You've paired this with well-fitted dark jeans, a nod to the casual country setting without compromising your polished look.
You look down to see a pair of polished brogues on your feet. They're sturdy and comfortable, perfect for the rural terrain you might encounter at the venue. And they add a stylish, classic touch that ties your whole outfit together.
This ensemble strikes a balance between rugged and refined. It's relaxed enough to fit the rustic setting, yet stylish enough to show you've made an effort for this special occasion.
Women's Attire
Ladies, close your eyes and envision this: you're in a flowing chiffon dress, the soft fabric moving gently in the breeze. Its soft lavender color is pastel perfection, understated yet distinctly feminine.
On your feet, you're sporting tasteful cowboy boots. They're not just comfortable and ideal for the country terrain, but they also add a quirky touch of rural charm to your outfit.
To top it off, you're wearing a delicate sunhat. It offers respite from the sun, and with its wide brim and beautiful design, it adds an air of effortless chic to your ensemble.
This look speaks volumes of grace and ease. It's comfortable, beautiful, and perfectly suited for a country wedding, echoing the charm of the rustic setting while accentuating your personal style.
Conclusion
There you have it, your guide to making a stylish statement at your next country wedding. The secret to acing the country wedding look is blending comfort with style, and respecting the rustic, heartwarming ethos of the setting. So, whether you're a guest, family member, or part of the wedding party, remember to let your personality shine through your outfit. After all, weddings are a celebration of love, joy, and individuality. Now, you're ready to turn heads and make beautiful memories.
FAQs
Q: Are jeans acceptable for a country wedding?
A: While jeans may be acceptable for some casual country weddings, it's generally best to opt for a slightly more formal attire. Consider wearing a nice pair of trousers or a dress instead to ensure you look polished and appropriate for the occasion.
Q: Can I wear a hat to a country wedding?
A: Wearing a hat can add a charming touch to your country wedding ensemble. Opt for a wide-brimmed hat or a stylish fascinator that complements your outfit and the overall theme of the wedding. Just make sure your hat doesn't obstruct the view of other guests during the ceremony.
Q: What footwear should I choose for a country wedding?
A: The footwear you choose for a country wedding should be both stylish and practical. Women can opt for comfortable yet fashionable options such as cowboy boots, wedges, or flat sandals. Men can go for dress shoes or stylish boots that match their outfit and provide comfort for walking on uneven terrain.
Q: Can I wear bright colors to a country wedding?
A: Absolutely! Country weddings often embrace a relaxed and vibrant atmosphere, so wearing bright colors can be a fantastic choice. Choose cheerful hues like pastels, floral prints, or bold jewel tones to add a touch of vibrancy to your attire.
Q: Can I wear shorts to a country wedding?
A: Generally, it's best to avoid wearing shorts to a country wedding, as they tend to be more on the casual side. Instead, opt for dresses, skirts, or trousers that offer a more polished and sophisticated look suitable for the occasion.
Q: Can I wear denim to a country wedding?
A: Yes, denim can be a great choice for a country wedding, but it's important to style it appropriately. Go for a well-fitted denim dress or a pair of stylish jeans paired with a dressier top. Avoid distressed or overly casual denim and instead choose clean and polished pieces.
Q: Can I incorporate western-inspired elements into my outfit?
A: Absolutely! Adding western-inspired elements can enhance your country wedding attire. Consider accessorizing with a statement belt buckle, a leather fringe jacket, or a bolo tie. These subtle nods to western style can add a touch of uniqueness to your outfit.
Q: What should I do if I'm unsure about the dress code for a country wedding?
A: If you're unsure about the dress code for a country wedding, it's best to err on the side of slightly more formal attire. Choose an outfit that leans towards semi-formal or cocktail attire, ensuring you look polished and sophisticated. It's always better to be slightly overdressed than underdressed for such occasions.
Q: Can I wear open-toed shoes to a country wedding?
A: Yes, open-toed shoes can be a great choice for a country wedding, especially during warmer months. Look for stylish sandals or peep-toe heels that complement your outfit. Just ensure that your footwear is in line with the overall dress code and venue.
Q: Should I consider the venue when choosing my outfit?
A: Absolutely! The venue plays a significant role in determining the appropriate attire for a country wedding. If it's an outdoor wedding in a grassy or rustic setting, consider footwear that is suitable for walking on uneven terrain. If the wedding is indoors or in a more formal venue, you can lean towards slightly dressier options.
Q: Can I wear a jumpsuit to a country wedding?
A: Yes, jumpsuits can be a stylish and modern choice for a country wedding. Choose a well-tailored jumpsuit in a flattering silhouette and pair it with statement accessories and heels to elevate the look. Just ensure that the jumpsuit aligns with the overall dress code and theme of the wedding.
Key Takeaways
Country weddings have a rustic and casual vibe that blends elegance with comfort.
The venue and setting of the wedding can vary, from barns to fields or under starry skies.
It's important to consider the weather and dress accordingly, with layering options for changing temperatures.
The attire for a country wedding can range from casual to formal, depending on the dress code specified.
Casual country wedding attire for men can include lightweight linen shirts and khaki chinos, while women can opt for breezy sundresses paired with ankle boots.
Semi-formal attire may include tailored blazers over shirts for men, and floral midi dresses with wedges or cowboy boots for women.
Formal country wedding attire can involve well-tailored suits in earthy tones for men, and long, flowy gowns in soft, romantic hues for women.
Color schemes suitable for country weddings include pastels, earth tones, and jewel shades.
Accessories such as hats, watches, and leather boots can complement men's outfits, while women can consider sunhats, delicate jewelry, and stylish flats or cowboy boots.
Fabric choices should align with the season and the relaxed atmosphere, with options like cotton, linen, and silk blends for warmer weather, and velvet or heavier cotton blends for chillier weather.
Grooming tips for men include neat hairstyles and well-groomed facial hair, while women can go for soft and romantic hairstyles with natural-looking makeup.
It's important to avoid wearing attire that is too flashy or overly formal, as well as the color white to avoid overshadowing the bride.
Practical footwear is recommended, such as sturdy boots or wedges, for navigating outdoor terrains.
Western-inspired elements can be incorporated into the outfit for a country wedding, adding a unique touch.
When in doubt about the dress code, it's better to be slightly overdressed than underdressed for a country wedding.
Jumpsuits can be a stylish option for women to consider, depending on the dress code and theme of the wedding.
COPYRIGHT NOTICE
Please be advised that all images, designs, and creative content on this page are the exclusive property of TheIDoGuide.com and are protected under international copyright laws. The images may not be reproduced, copied, transmitted or manipulated without the written permission of TheIDoGuide.com.
Unauthorized use, distribution, display, or creation of derivative works of any images contained on this site, is strictly prohibited and can lead to legal penalties. We actively monitor for, and enforce, our copyright interests.
If you wish to use any of our images, kindly contact us to seek permission. Respect of copyright is not merely a legal requirement but also an acknowledgement and support of the hard work and creativity that goes into producing them.
Thank you for your understanding and cooperation.
© 2023, TheIDoGuide.com. All Rights Reserved.