When wondering what color suit to wear for a wedding, it's best to opt for timeless and classic shades like navy blue, charcoal gray, or elegant black. These colors offer a sophisticated and versatile look that will ensure you appear sharp and stylish on the special day.
Have you ever wondered why the color of your suit matters so much on your big day? It's no secret that the right suit color plays a critical role in creating that magical aesthetic and setting the tone for your wedding. In this journey, we'll explore how the shade of your suit can harmoniously blend with the theme, time, and location of your special day.
The Basics: Color Psychology and Wedding Suit Choices
Color psychology is a fascinating realm that can provide insightful guidance when choosing your wedding suit.
Color Emotions and Associations
Each color carries with it a unique set of associations and emotional responses. This is as true in fashion as it is in art, interior design, and branding. Here's a quick overview of how certain colors might be perceived:
Black: Powerful, sophisticated, and timeless, a black suit can symbolize formality and elegance.
Blue: Ranging from sky-light to navy-dark, blue can evoke feelings of trust, calm, and stability. A royal blue suit might even communicate confidence and reliability.
Grey: This color can be seen as balanced and neutral. A grey suit can show off your professionalism without being overly formal.
Brown: Earthy and warm, brown can symbolize reliability and comfort. A brown suit might suggest a more casual, relaxed, but still put-together vibe.
White: Symbolizing purity and cleanliness, a white suit can project innocence and simplicity.
Red: A bold choice, red can communicate passion, power, and energy. However, it's a less traditional option and can be viewed as quite daring.
Choosing the Right Color for Your Wedding Suit
Selecting your suit's color isn't just about the aesthetic appeal; it's about telling a story and setting the tone for the occasion. The color you wear on your wedding day can significantly impact the overall ambiance of the event, from understated elegance to high-energy celebration.
When deciding on the color of your suit, consider the theme, location, and time of your wedding. An outdoor summer wedding may lend itself to lighter shades like tan or light grey, while a winter wedding in an elegant venue could be the perfect setting for a classic black or navy suit.
It's also important to think about the emotional response you want to elicit from your guests. If you want to create a calming and relaxed atmosphere, consider colors like blue or grey. But, if you want your day to be filled with energy and excitement, a suit with a splash of red could be just the ticket.
Traditional Suit Colors and Their Significance
When it comes to wedding suits, tradition plays a key role in guiding the groom's choice. Here's a deeper look at some of the most classic colors for men's wedding suits and what they represent:
Black: The Quintessential Choice
There's a reason the black suit is a classic. It's versatile, it's sophisticated, and it's always in style. A black suit is a solid choice, one that speaks volumes about tradition and elegance. Its beauty lies in its simplicity, providing a sleek, timeless look that complements any theme or season. Whether you're hosting a formal black-tie event or a more casual gathering, a black suit is always a safe and stylish bet.
Navy and Grey: The Understated Elegance
While black might be the most traditional choice, navy and grey suits hold their ground as popular alternatives. Navy suits have a depth and richness that's hard to replicate. They offer a vibrant, youthful alternative to black, while maintaining an air of formality and elegance. On the other hand, grey suits – ranging from light heather to dark charcoal – provide a balanced, neutral option. They are understated yet elegant, offering a modern twist to the classic suit.
Brown and Tan: The Vintage Appeal
For those who want to veer slightly from tradition without completely breaking the mold, brown and tan suits offer a delightful compromise. These earthy tones are perfect for outdoor or rustic-themed weddings. They offer an old-world charm and a more relaxed vibe compared to their black and navy counterparts. A chocolate brown suit, for instance, can create a warm, inviting look, while a light tan suit might be the perfect choice for a beach or summer wedding.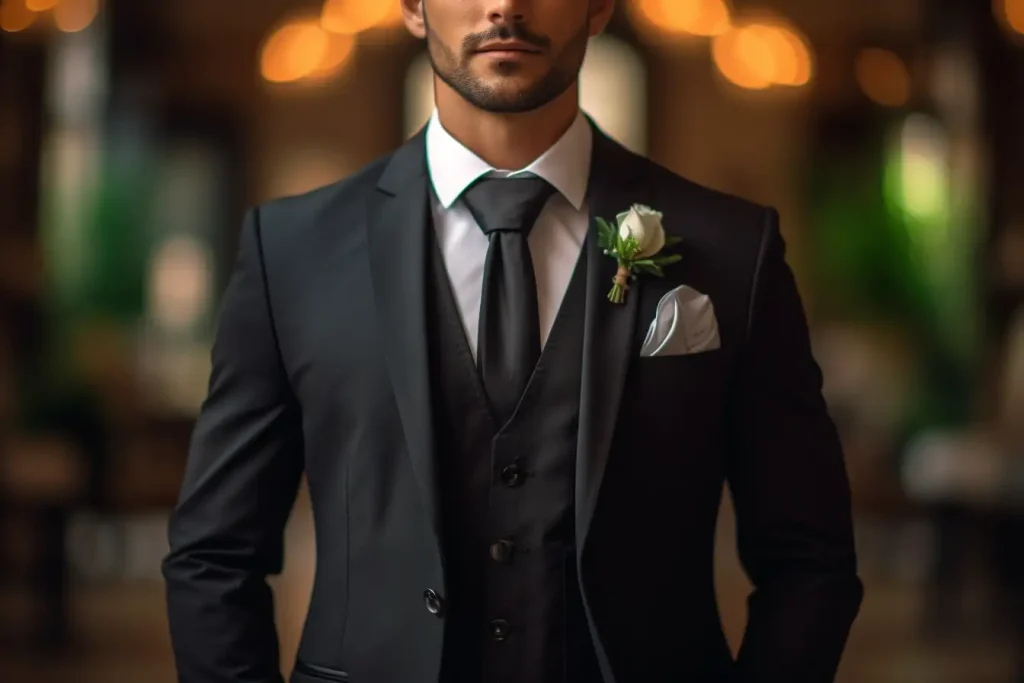 Breaking Down Suit Colors by Seasons
The season in which your wedding takes place can have a significant impact on your suit color choice. Here's how you can tailor your suit color to harmonize with the changing seasons:
Winter: Embrace the Cool with Darker Hues
Winter weddings often call for a palette that reflects the coolness of the season. As the chill sets in and the landscape takes on a frosty hue, darker suit colors can offer a sense of warmth and richness. Deep blues and charcoal greys are popular choices, providing a comforting contrast to the cold outside. They offer a classic look that's perfectly in tune with the season, adding an elegant touch to your winter wedding.
Spring: Freshness of Pastels and Bright Colors
As winter gives way to spring and nature comes back to life, pastels and brighter colors begin to take center stage. A light grey or beige suit can beautifully reflect the freshness and vitality of spring. Pastel blues and greens can also work well, offering a soft and romantic look that mirrors the season's blossoming energy. A spring wedding is all about celebrating new beginnings, and a suit in a lighter, fresher color can help convey this sentiment perfectly.
Summer: Light and Breezy Colors
Summer weddings allow for a playful exploration of lighter, breezier colors. The vibrant energy of the season can be wonderfully mirrored in a light grey or tan suit. Even adventurous pastels, such as a soft lavender or mint, can be great choices for a summer suit, especially for more casual or outdoor weddings. Light-colored suits not only keep you cooler in the warm summer weather but also reflect the joyous, carefree vibe of the season.
Autumn: Rich, Earthy Tones
As autumn leaves start to fall and nature dons its most colorful attire, your suit can also take inspiration from these rich, earthy tones. A dark brown or burgundy suit can capture the rustic beauty of the season, providing a warm and inviting look. Even navy or deep green can be great choices for an autumn wedding, offering a sophisticated yet seasonally appropriate aesthetic.
Popular Wedding Themes and Corresponding Suit Colors
Themed weddings are an opportunity to let your creativity shine, especially when choosing your suit color. Let's break down some popular wedding themes and the corresponding suit colors that can bring your event to life: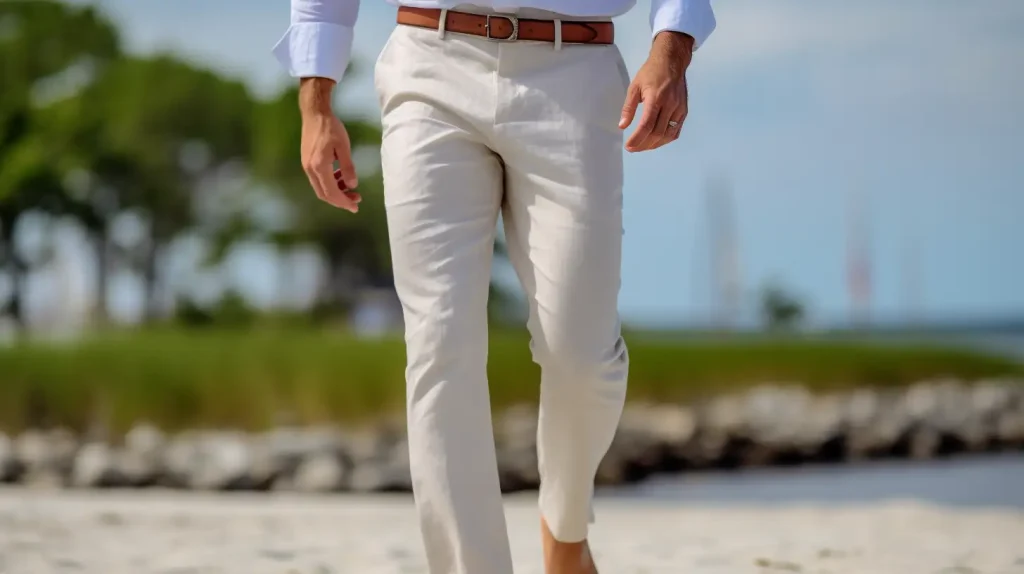 Beach Weddings: Cool Blues and Crisp Whites
If you're hosting a beach wedding, envision the endless sky and rolling waves. Cool blues and crisp whites reflect the serene vibe of the ocean. A light blue or soft grey suit can wonderfully mirror the tranquil seaside ambiance. Even a white linen suit can be a stylish choice, giving a nod to the classic beach aesthetic while keeping you cool under the sun.
Rustic Weddings: Earthy Tones
For a rustic-themed wedding, often held in barns, farms, or vineyards, earthy tones blend naturally with the surroundings. Think browns, tans, and even greens. These colors can harmonize with the outdoor setting, complementing the rustic charm of your venue. Tweed or wool suits can also add a textural element, enhancing the cozy, laid-back feel of the event.
Black-Tie Affairs: Dark, Formal Suits
Nothing says "luxurious and formal" quite like a black-tie event. In these cases, dark suits, particularly black or deep navy, underscore the sophistication of the occasion. A tuxedo can also be a fitting choice, offering a classic, polished look that never goes out of style.
Garden Weddings: Greens to Floral-Inspired Hues
Garden weddings offer a spectrum of color possibilities. Greens, blues, and pastels can all beautifully mirror the natural environment. Even floral-inspired hues, such as lavender or soft pink, can work well for a spring garden wedding, reflecting the vibrant blooms around.
Vintage-Themed Weddings: Classic Colors and Patterns
For vintage-themed weddings, classic colors and patterns can transport your guests to a bygone era. A brown or tan suit can convey an old-world charm, especially when paired with vintage accessories, like a pocket watch or a bow tie. Tweed suits or those with checks or herringbone patterns can also enhance the vintage feel.
Emerging Trends: Daring to be Different
Modern weddings are becoming more personal, more unique, and more reflective of the couple's individual styles. This shift in perspective has led to some exciting trends in suit colors:
Colorful Suits: A Splash of Vibrancy
While black, grey, and navy continue to dominate the wedding scene, colorful suits are making their mark. Bright blues, striking reds, or even a vibrant green – these daring colors are proving that there's no harm in stepping out of the conventional. A suit in a bold color can inject personality into your outfit and create a stunning visual impact. Remember, your suit should reflect your personal style, so if you're someone who loves color, why not embrace it on your big day?
Patterns and Prints: A Lively Twist
Another emerging trend is the use of patterns and prints. From subtle checks to bold stripes, patterns can infuse an added layer of sophistication and visual interest. Florals, although less common, can provide a whimsical, artistic touch that's perfect for spring or summer weddings. The key is to ensure that the pattern complements the overall aesthetic of the wedding and fits your personal style.
Metallic Hues: A Bit of Glamour
For those who love a little sparkle, metallic hues are a trend worth exploring. A silver or gold-accented suit can add a touch of glamour, making your special day even more memorable. While it's a less traditional choice, a metallic suit can create a modern, fashion-forward look that's sure to make a statement.
The Art of Coordinating: Matching Suit with Bridal and Bridesmaid Dresses
Coordinating your suit color with the bridal and bridesmaid dresses is an art. It's about creating a visually balanced and harmonious look that complements the overall aesthetic of your wedding. Here's a simple guide to help you master this art:
Understanding the Color Wheel
At the heart of color coordination lies the color wheel. It's a tool that shows how different colors relate to each other and can help guide your color choices.
Complementary Colors: These are colors located directly across from each other on the color wheel. When paired, they create vibrant contrasts, making each other pop. For example, blue and orange are complementary. So, if your suit is navy, a coral or peach bridesmaid dress could create a stunning contrast.
Analogous Colors: These are colors that sit next to each other on the color wheel. They create a harmonious blend because they have a color in common. For example, a blue suit paired with green or violet dresses can produce a harmonious look.
Creating a Harmonious Look
The goal is to create a visually appealing look that ties the wedding party together. Here's how:
Matching Colors: This doesn't mean everyone wears the same color. Instead, it's about choosing different shades from the same color family. If you're wearing a navy suit, the bridesmaids could wear lighter shades of blue, creating a cohesive and elegant look.
Contrasting Colors: For a more dramatic look, consider choosing contrasting colors. Imagine a burgundy suit paired with a champagne bridal dress – the contrast can create a visually striking and memorable look.
Communicate with Your Partner
Remember, communication is key when deciding on colors. Discuss your choices with your partner to ensure your looks are coordinated and complement each other beautifully. It's not only about the suit and dresses – consider the ties, pocket squares, corsages, and bouquets as well. Every element should work together to create a harmonious color scheme that reflects your shared vision for the day.
Advice on Accessorizing: Enhancing Your Suit's Impact
Accessories can add depth and personality to your wedding suit. They're the final touches that bring your ensemble together and make it truly special. Here's some advice on how to choose and coordinate accessories for maximum impact:
Ties and Bow Ties: A Splash of Color or Pattern
Your tie or bow tie is an opportunity to bring color, pattern, or texture to your outfit. The key is to choose designs that complement your suit color. If your suit is in a solid color, consider a tie or bow tie in a contrasting color or an interesting pattern to break the monotony. If your suit is patterned or colorful, a solid-colored tie can provide a balance. And remember, your tie or bow tie should also coordinate with your shirt – a white shirt offers a clean canvas for any color or pattern, while a colored shirt requires more thought in coordinating.
Pocket Squares: The Finishing Touch
Pocket squares can add an extra layer of sophistication to your look. They can be matched with your tie or bow tie, or they can introduce a new color or pattern. The key is to ensure that the pocket square complements the rest of your outfit. It should never compete with your tie for attention; instead, they should work together to enhance your overall look.
Shoes and Belts: Consistency is Key
When it comes to your shoes and belts, consistency is indeed key. They should match each other in color and material. A classic brown or black leather can never go wrong. Remember to consider the color and style of your suit when choosing your shoes and belt. A formal suit calls for formal shoes, while a casual suit allows for more relaxed styles.
Boutonniere: A Dash of Color
The boutonniere is a small detail that can add a significant pop of color to your suit. It usually matches the flowers in the bridal bouquet or the wedding's color scheme. When selecting a boutonniere, consider its size and placement – it should be proportionate to your lapel and placed correctly.
Conclusion
Choosing a suit color for your wedding might seem daunting at first, but hopefully, our colorful journey has made things a bit clearer. Whether you go with a classic black, a breezy light blue, or a daring patterned suit, remember, it's your special day. What matters most is how you feel in your suit. Embrace your personal style, consider your wedding's overall aesthetic, and trust me, no matter what color you choose, your day will be as unique and special as you are!
FAQs
Q: Can the groom wear a different suit color than the groomsmen?
A: Yes, the groom can certainly wear a different suit color than the groomsmen. This can help him stand out and be easily recognizable as the central figure of the wedding. It's common for the groom to choose a suit that complements the overall color scheme or theme while differentiating himself from the groomsmen.
Q: Are there any suit colors to avoid for a wedding?
A: While personal preferences may vary, there are a few suit colors that are generally best avoided for weddings. These include overly bold or vibrant colors that may distract from the overall aesthetic, such as bright neons or unconventional patterns. It's also advisable to avoid wearing a suit that matches the color of the bridesmaids' dresses, as the groom should have his own distinct style.
Q: Can the groom wear a white suit for the wedding?
A: Traditionally, white suits are not commonly worn by grooms for weddings, as they are often associated with the bride's attire. However, if the wedding has a specific theme or the couple desires a non-traditional look, a white suit can be a stylish and unique choice. It's important to ensure that the white suit stands out and doesn't overshadow the bride's dress.
Q: How can the groom incorporate color into his suit without going overboard?
A: Incorporating color into the groom's suit can be done subtly and tastefully. This can be achieved through accessories like a colorful tie, pocket square, or boutonniere that coordinates with the wedding colors or theme. Alternatively, the groom can opt for a suit with subtle color accents, such as a pinstripe pattern or a colored lining, to add a touch of personality without overpowering the overall look.
Q: Should the groom's suit match the color of the wedding decor?
A: While it's not necessary for the groom's suit to match the exact color of the wedding decor, it's a good idea to choose a suit color that complements the overall color scheme. This creates a cohesive and visually pleasing aesthetic. The groom can consult with the wedding planner or coordinate with the bride to ensure his suit color harmonizes well with the decor without blending in too much.
Q: Is it appropriate for the groom to wear a black suit for a daytime wedding?
A: While black suits are typically associated with more formal evening events, they can still be suitable for daytime weddings depending on the level of formality and the overall theme. If the wedding has a more casual or relaxed ambiance, it may be more appropriate for the groom to opt for a lighter-colored suit, such as gray or navy blue. However, if the wedding is more formal or has a classic and timeless theme, a black suit can still be an elegant choice for a daytime affair.
Q: Can the groom wear a patterned suit for a wedding?
A: Yes, the groom can certainly wear a patterned suit for a wedding. However, it's important to choose patterns that are tasteful and not overly busy. Subtle patterns like pinstripes or windowpane checks can add a touch of sophistication to the groom's look without being too overwhelming. It's also recommended to consider the wedding theme and overall style when selecting a patterned suit.
Q: Are there any cultural or traditional considerations for the groom's suit color?
A: Yes, different cultures and traditions may have specific guidelines or symbolic meanings associated with suit colors for weddings. For example, in some cultures, black is considered inappropriate for weddings, while others may have specific colors that symbolize luck or prosperity. It's advisable for the groom to consult with family members or consider cultural traditions when choosing a suit color for a wedding.
Q: Can the groom wear a non-traditional suit color for a themed wedding?
A: Absolutely! Themed weddings often provide an opportunity for the couple to showcase their unique style and creativity. If the wedding has a specific theme, the groom can embrace non-traditional suit colors that align with the theme. For example, a rustic or outdoor-themed wedding might allow for earthy tones like olive green or tan. It's important to ensure the suit color still complements the overall theme and doesn't clash with the rest of the wedding aesthetics.
Q: What suit color works best for a beach or destination wedding?
A: Beach or destination weddings often call for lighter and more breathable suit colors to suit the relaxed and tropical atmosphere. Light gray, beige, or even light blue are popular choices that convey a sense of beachy elegance. It's important to consider the climate and choose lightweight fabrics that keep the groom comfortable in warmer temperatures.
Q: Should the groom's suit color coordinate with the bride's dress?
A: While it's not necessary for the groom's suit color to directly coordinate with the bride's dress, it's essential to ensure they complement each other. The groom's suit color should not clash or overpower the bride's gown. It's advisable for the groom to discuss color options with the bride and take into account any color accents or themes in the wedding attire to create a cohesive and harmonious overall look.
Q: Can the groom wear a suit color that matches the bridesmaids' dresses?
A: While it's not a strict rule, it's generally recommended for the groom to avoid wearing a suit color that matches the bridesmaids' dresses too closely. The groom should stand out as a distinct figure in the wedding party. Choosing a suit color that contrasts or complements the bridesmaids' dresses helps maintain a balanced visual aesthetic and prevents the groom from blending in too much with the bridal party.
Q: How can the groom incorporate his personal style into his suit color choice? A: The groom's suit color choice provides an excellent opportunity to showcase his personal style. He can consider factors such as his skin tone, preferred color palette, and individual fashion preferences. For example, if he prefers a bold and vibrant look, he might opt for a deep burgundy suit. If he leans towards a more minimalist style, a sleek and crisp black suit could be his choice. The groom should feel confident and comfortable in his suit color selection, as it reflects his personal taste and identity.
Key Takeaways
Timeless and classic suit colors like navy blue, charcoal gray, and black are recommended for weddings as they offer a sophisticated and versatile look.
The color of the suit plays a critical role in creating the overall aesthetic and setting the tone for the wedding.
Different suit colors evoke specific emotions and associations. For example, black symbolizes power and sophistication, blue conveys trust and calmness, gray represents balance and professionalism, brown signifies warmth and comfort, and white symbolizes purity and simplicity.
When choosing a suit color, consider the theme, location, and time of the wedding. Lighter shades like tan or light gray work well for outdoor summer weddings, while classic black or navy suits are suitable for winter weddings in elegant venues.
Traditional suit colors like black, navy, and gray are safe and stylish choices for men's wedding suits. They convey a sense of tradition, elegance, and understated elegance.
Suit colors can be tailored to harmonize with different seasons. Darker hues like deep blue and charcoal gray work well for winter weddings, while lighter pastels and vibrant colors are suitable for spring and summer weddings. Rich, earthy tones are fitting for autumn weddings.
Popular wedding themes have corresponding suit color suggestions. For example, beach weddings can incorporate cool blues and crisp whites, rustic weddings can feature earthy tones, black-tie affairs call for dark suits, and garden weddings can incorporate greens and floral-inspired hues.
Emerging trends in suit colors include colorful suits, patterns and prints, and metallic hues. These trends allow grooms to showcase their personal style and add unique touches to their wedding attire.
Coordinating the groom's suit color with the bridal and bridesmaid dresses is important for a visually balanced and harmonious look. Understanding the color wheel and using complementary or analogous colors can help achieve a cohesive aesthetic.
Accessorizing plays a significant role in enhancing the impact of the suit. Ties, bow ties, pocket squares, shoes, belts, and boutonnieres should be chosen carefully to complement the suit color and overall style.
COPYRIGHT NOTICE
Please be advised that all images, designs, and creative content on this page are the exclusive property of TheIDoGuide.com and are protected under international copyright laws. The images may not be reproduced, copied, transmitted or manipulated without the written permission of TheIDoGuide.com.
Unauthorized use, distribution, display, or creation of derivative works of any images contained on this site, is strictly prohibited and can lead to legal penalties. We actively monitor for, and enforce, our copyright interests.
If you wish to use any of our images, kindly contact us to seek permission. Respect of copyright is not merely a legal requirement but also an acknowledgement and support of the hard work and creativity that goes into producing them.
Thank you for your understanding and cooperation.
© 2023, TheIDoGuide.com. All Rights Reserved.