Have you ever received an invitation to an outdoor wedding and immediately thought, "What on earth am I going to wear?" Don't worry, we've all been there. Outdoor weddings, with their unique themes and natural settings, bring joy and beauty like no other. But they also pose certain challenges that can stump even the most seasoned wedding attendees.
Understanding the Wedding Invitation
The first crucial step when considering what to wear to an outdoor wedding begins right in your hands—the wedding invitation. It holds key information that can guide you in putting together an ensemble that's just right for the occasion. Let's dissect it a bit further.
Decoding the Dress Code
The wedding invitation typically states the dress code, and this is a key indicator of how formal or casual the event will be. Here are some common terms you might find:
Black Tie: This is one of the most formal dress codes. For men, a tuxedo is the way to go. For women, a formal floor-length gown would be appropriate.
Formal or Black Tie Optional: This gives guests a bit of flexibility. Men can choose to wear a tuxedo or a dark suit, while women can choose between a long dress, a formal cocktail dress, or dressy separates.
Semi-Formal: Depending on the time of the wedding, this can mean a suit and tie, or a sport coat and slacks for men, and a cocktail dress or a dressy skirt and top for women.
Dressy Casual: This is a step down from semi-formal but still calls for a polished look. Men can wear a button-down shirt and dress pants, potentially with a blazer. Women can go for a dress, or nice pants or a skirt with a chic blouse.
Casual: This implies that anything goes, but it's best to err on the side of looking too put-together rather than too relaxed. Think of it as what you might wear to a nice dinner out.
Understanding the Venue
The location of the wedding can also provide clues about what to wear to an outdoor wedding. For instance, a beach wedding often calls for lighter fabrics and colors, as well as more casual footwear (think sandals, not stilettos!). On the other hand, a wedding in a vineyard or garden might lean towards semi-formal attire, with room to incorporate floral patterns or jewel tones.
Furthermore, think about the potential challenges of the venue. Is the wedding on a grassy lawn or a sandy beach? If so, you might want to skip the high heels, which could sink into the ground.
Dressing for Different Outdoor Wedding Themes
Just as the setting can influence the dress code, the theme of the wedding can provide valuable cues on what to wear. Here, we'll delve into the specifics of outfit selection for different outdoor wedding themes.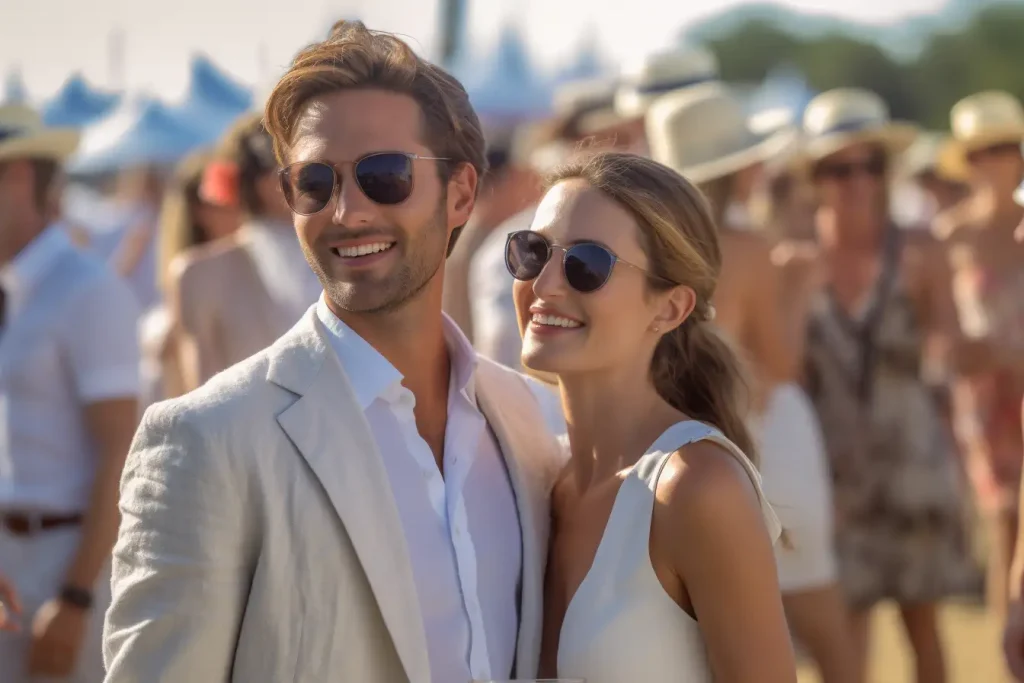 Beach Wedding Attire
Beach weddings typically evoke a more relaxed vibe. The key is to balance the casual atmosphere with the special nature of the event. Lightweight fabrics like linen, chiffon, or cotton are your friends here—they allow for breathability, crucial for those warmer beach climates. Light colors, such as pastels or neutral tones, are often a good fit, complementing the bright, natural beach setting.
Women might consider a breezy maxi dress or a chic midi sundress, while men could go for linen shirts, chinos, or even smart shorts if the dress code allows. And of course, consider your footwear—high heels and sandy beaches don't mix well, so consider wedges, stylish sandals, or even bare feet if it's appropriate!
Garden Wedding Attire
Garden weddings are a great opportunity to play with color and pattern. Floral patterns are a no-brainer—they're on-theme and perfect for a celebration amidst nature.
For ladies, consider an airy dress that will move beautifully as you walk, in colors that complement the surrounding flowers and foliage. Men might consider a light suit or smart separates, perhaps even incorporating a touch of color or a subtle floral tie.
And again, let's talk about shoes. Stilettos can sink into the grass, making wedges or flats a more comfortable choice for women. Men should stick with dress shoes or loafers, as more casual footwear might be too relaxed for the occasion.
Country or Barn Wedding Attire
Country or barn weddings call for rustic charm. Earth tones, like shades of brown, green, and cream, will have you blending seamlessly with the venue. For women, a simple sundress accented with rustic accessories like a leather belt or boots could be perfect. Men might consider a relaxed suit, or even nice jeans paired with a dress shirt and blazer if the dress code allows.
Vineyard Wedding Attire
Vineyard weddings often mix elegance with a touch of rustic charm. Women might consider a chic maxi dress or a stylish midi dress in a rich color. Men could go for a light-colored suit, perfect for a sunny vineyard afternoon.
Don't forget to consider the terrain—a vineyard might involve some walking on grass or uneven ground, so comfortable shoes are a must. Think stylish flats or wedges for women and comfortable dress shoes for men.
Destination Wedding Attire
Destination weddings, particularly those in tropical locales, are the perfect place to have a little fun with your attire. Vibrant colors and bold prints are at home here, so don't be afraid to make a statement!
Women can consider a colorful maxi dress or even a stylish jumpsuit, while men might choose a colorful shirt paired with chinos. And of course, comfort is key, so don't forget your comfortable sandals!
Choosing the Right Fabrics and Colors to Wear to an Outdoor Wedding
When deciding what to wear for an outdoor wedding, the fabric and color of your attire can make a significant difference in both your comfort and style. Let's explore this further.
Selecting the Right Fabric
The right fabric can mean the difference between feeling comfortable and looking fabulous, or winding up hot, cold, or wrinkled.
For Warm Climates: If the wedding is set in a warm environment, breathable fabrics are a must. Materials like cotton, linen, and chiffon are lightweight and allow for good air circulation, keeping you cool.
For Cool Climates: If you're attending a wedding in a cooler climate or in the evening, more substantial fabrics like silk, velvet, or even light wool can be more appropriate. These materials have a more elegant, formal feel, and they can help to keep you warm.
Remember to consider the practical aspects, too. Fabrics that wrinkle easily, such as pure linen or silk, might not look as polished after a long car journey or a few hours of sitting.
Embracing Color
Color choice is another aspect that can really influence your look. Think about the time of year, the wedding's setting, and the overall theme.
Spring/Summer: For a spring or summer wedding, lighter colors, pastels, and floral prints can be perfect. These colors reflect the light and often complement the natural settings of outdoor weddings. Don't shy away from a bold pop of color, too—it can be a fun way to celebrate the vibrant seasons!
Fall/Winter: For fall or winter weddings, consider deeper, richer colors. Jewel tones like emerald green, royal blue, or deep burgundy can add a touch of warmth and sophistication to your ensemble.
Choosing the right fabrics and colors isn't just about looking good—it's also about feeling good. When you're comfortable and confident in your outfit, you'll be free to enjoy the day, celebrate with your loved ones, and dance the night away!
Considering Weather and Comfort
When attending an outdoor wedding, the elements can be an unpredictable factor. From sweltering heat to potential chilliness, dressing appropriately for the weather can be a challenge. Let's break it down.
Dressing for Hot Weather
When the sun's out in full force, you'll need to think about staying cool and protecting yourself from the sun. Choose breathable, light-colored fabrics to reflect the sun rather than absorb it. A loose, flowing dress can help keep ladies cool, while men might consider a light linen suit to beat the heat.
And let's talk about sun protection—there's no need to sacrifice style for safety here. A stylish wide-brimmed hat or a lightweight parasol can provide a bit of shade when you need it. And yes, don't forget to apply sunscreen before you head out, even if it's not super sunny.
Dressing for Cold Weather
On the flip side, it's also possible to find yourself at an outdoor wedding with chillier than expected weather. In these instances, strategic layering is the name of the game. For ladies, an elegant shawl or pashmina can provide warmth without compromising on style. For men, consider a tailored coat that can be worn over your suit.
Another thing to consider is fabric choice. Heavier fabrics like silk, velvet, or even light wool can provide extra warmth.
Prioritizing Comfort
Finally, and perhaps most importantly, comfort is key. Remember, you're there to celebrate, dance, and have a good time. Choose an outfit that allows you to move freely and enjoy the festivities. This also extends to your choice of footwear—while you'll want to pick a stylish pair, make sure they're comfortable enough to wear for extended periods. There's nothing worse than having to sit out on the dance floor because your feet are hurting!
Accessorizing Appropriately
Accessories can indeed add that final flourish to your wedding guest ensemble. But when attending an outdoor wedding, function should be considered just as much as fashion. Let's delve into some accessory dos and don'ts.
Footwear
The first rule of outdoor weddings: be mindful of the terrain. While stilettos might look stunning, they're not the most practical choice for a beach wedding or a garden reception where they could sink into the sand or grass.
For women, consider wedges or stylish flats—they offer a happy medium between formality and comfort. For beach weddings, even chic sandals could be a great choice. Men, on the other hand, should go for smart loafers or dress shoes.
Jewelry
When it comes to jewelry, think of it as the icing on the cake—it should enhance your outfit, not overwhelm it. Sometimes, less truly is more. If your dress is already a statement piece, consider more subtle jewelry. If your outfit is on the simpler side, feel free to make a splash with your accessories.
Remember, outdoor weddings often have a more relaxed vibe, so heavy, overly formal jewelry might feel out of place. Consider pieces that align with the setting and theme of the wedding.
Handbags
On the day of the wedding, you'll want to keep your essentials close without being weighed down by a large bag. A small clutch or a crossbody bag is perfect—they're compact, stylish, and practical. Choose a color and style that complements your outfit for a cohesive look.
Hats and Sunglasses
Depending on the weather and setting, hats and sunglasses can be both a stylish and practical addition to your ensemble. A wide-brimmed hat or a chic pair of sunglasses can protect you from the sun at a summer wedding, while also serving as a fashionable accessory. However, ensure that they fit the overall vibe—oversized beach hats might not be the best fit for a more formal garden wedding!
Groom/Groomsmen Attire for Outdoor Weddings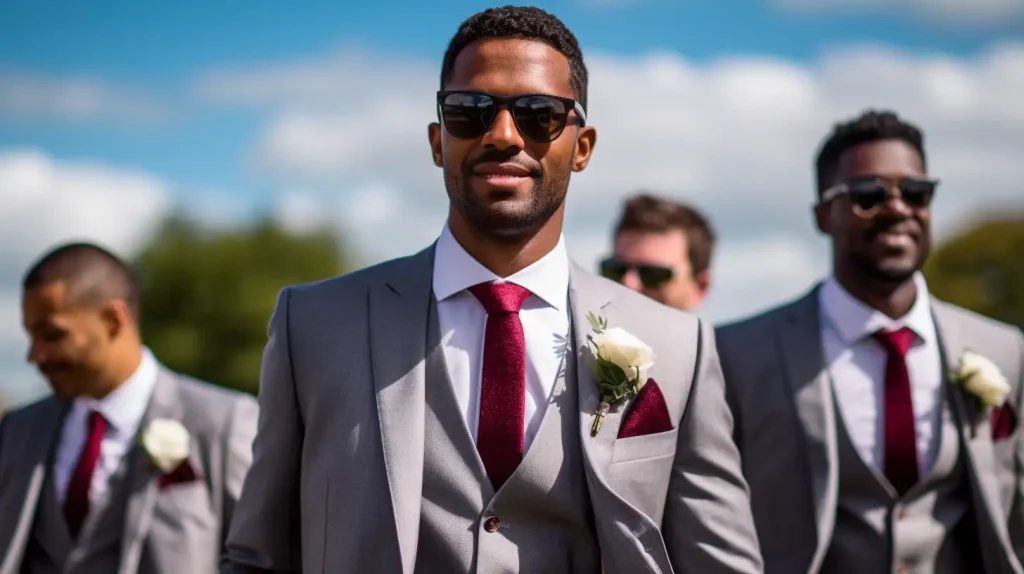 While a lot of attention is often focused on the bride and bridesmaids, the groom and groomsmen also have important style considerations for outdoor weddings. Let's look into those, taking into account the venue, dress code, and weather.
Choosing the Right Suit
Choosing the right suit largely depends on the venue, theme, and weather. A rule of thumb: the suit should be comfortable and appropriate for the setting.
For Warm Weather: Light, breathable fabrics such as linen or lightweight cotton are ideal. These materials help you keep cool under the sun while still looking sharp. Colors like khaki, light gray, or navy are perfect for a summer setting.
For Cooler Weather: When the temperature drops, consider suits in heavier fabrics like wool or tweed. These will provide more warmth and can still look very stylish. Classic colors like navy, charcoal, or black are versatile choices that can work well in many settings.
Accessorizing
Accessorizing is an opportunity for gentlemen to express their personal style and add a bit of personality to their outfit. Here are a few options:
Pocket Squares: A pocket square can add a pop of color and style to your suit. You can match it with your tie or go for a contrasting color for a bold look.
Cufflinks: These small pieces of jewelry can add a touch of elegance and personal flair to your outfit. Choose classic silver or gold or go for something more personal that represents your style or interests.
Hats: Depending on the venue and theme, a hat could be a stylish addition to your outfit. A fedora or trilby could work well for a beach wedding, while a flat cap might suit a country or rustic-themed wedding.
Footwear
Footwear is a key element that combines both style and comfort. A pair of polished dress shoes or loafers can be perfect for an outdoor wedding. Just remember, it might be an extended day of standing, moving, and dancing, so make sure they're comfortable enough for all-day wear.
Kids and Teens: Dressing the Young Guests
When it comes to outdoor weddings, it's important to ensure our young guests are also dressed appropriately for the occasion. It's about finding the right balance between comfort, practicality, and style. Let's break this down by age group.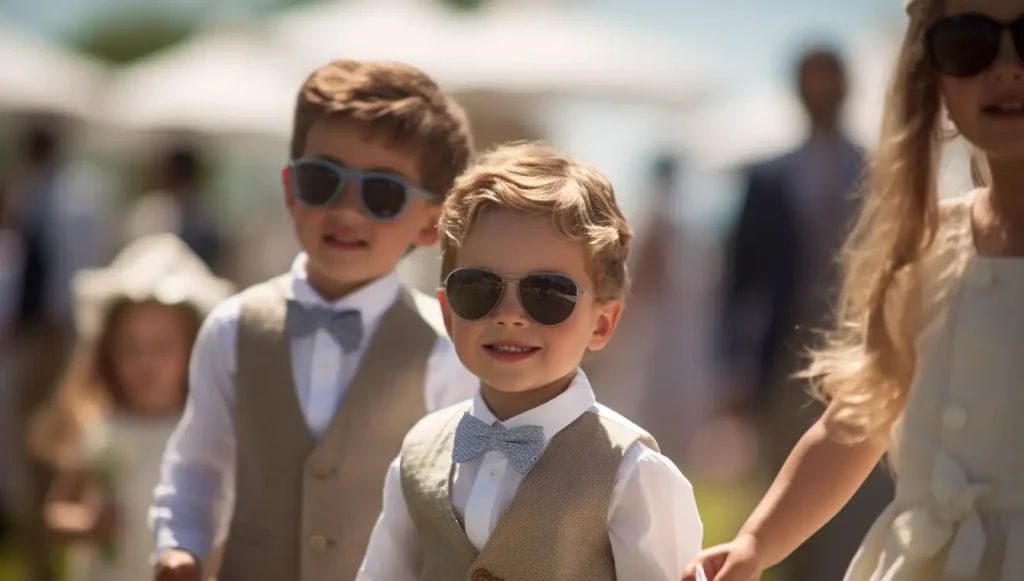 Dressing the Little Ones
Whether they're taking on the role of flower girl or ring bearer, or they're simply there to enjoy the day, comfort should be the primary focus for young children's attire.
For Girls: A comfortable, cute dress in a breathable fabric is a great choice. Choose soft, non-itchy materials and avoid any restrictive or tight-fitting dresses that could become uncomfortable as the day goes on.
For Boys: A lightweight cotton or linen suit or a simple pair of chinos with a smart shirt can look adorable and still allow them to run around freely.
Remember, kids will be kids—they'll want to run, play, and enjoy themselves. When deciding what they should wear for an outdoor wedding, look for outfits that are machine washable and easy to move around in. And when it comes to footwear, comfort should trump style. Think supportive sandals or smart, comfortable shoes they can wear all day.
Dressing the Teens
Teenagers may appreciate the chance to express their personal style at the wedding, but the outfit should still be appropriate for the setting and the occasion.
For Teen Girls: They might go for a stylish sundress or a chic jumpsuit for a summer wedding. If it's a more formal setting, a simple cocktail dress could work well.
For Teen Boys: A lightweight suit can be a great choice, or for a more relaxed setting, a pair of smart trousers with a button-down shirt can look stylish yet comfortable.
Encourage them to accessorize to express their personality but remind them that less can often be more when it comes to jewelry.
Just as with adults, the key is to ensure that the outfit is not only stylish but also comfortable and suitable for the weather conditions. After all, everyone—regardless of their age—should be able to enjoy the celebration comfortably and fashionably.
Navigating Common Outdoor Wedding Fashion Faux Pas
Navigating the etiquette of wedding guest attire can be a minefield, but with a few key tips, you can avoid the most common pitfalls. Let's address some of these faux pas and how to navigate around them.
Overdressing or Underdressing
One common issue is the balance between looking too formal or too casual. It's often better to err on the side of overdressing rather than appearing too casual. However, remember that it's entirely possible to be both stylish and comfortable at the same time. Always refer back to the invitation for any dress code guidance. If you're unsure, it's perfectly acceptable to ask the bride, groom, or another close family member.
Choosing the Wrong Fabrics or Colors
Choosing inappropriate fabrics or colors is another common mistake. For outdoor weddings, the fabric should be suitable for the weather conditions. Breathable fabrics like cotton or chiffon are ideal for warmer climates, while heavier fabrics like wool or velvet are better for colder settings.
When it comes to color, keep in mind the season and setting. Jewel tones can look stunning at a fall wedding, while lighter colors and pastels may be more suitable for a spring or summer event.
Inappropriate Footwear
Footwear is often overlooked but is a crucial element to get right. High heels may not be the best choice for a beach or garden wedding due to the uneven terrain. Wedges, stylish flats, or loafers are often a safer, more comfortable choice for outdoor settings.
Outshining the Couple
Remember, it's the couple's big day. While you should aim to look your best, avoid any attire that could potentially upstage the couple. This includes overly flashy outfits, very loud prints, or white dresses (unless specifically asked to do so by the couple).
Not Considering Comfort
Finally, one of the biggest missteps is prioritizing style over comfort. Remember, weddings can be long events, and you'll want to be comfortable enough to dance the night away. Choose an outfit that looks great but also allows you to move and have fun.
Conclusion: What to Wear to an Outdoor Wedding
And there you have it, your complete guide to dressing for an outdoor wedding. The most important thing to remember is that you're there to celebrate a beautiful union, and your comfort should be paramount. So, go ahead, choose that outfit that makes you feel fabulous, put on your dancing shoes, and get ready to enjoy the occasion.
FAQs
Q: Are there any specific colors I should avoid wearing?
A: While there are no hard and fast rules, it's generally recommended to avoid wearing white, as it is traditionally reserved for the bride. Additionally, it's courteous to steer clear of wearing the same color as the bridal party to avoid any confusion. Other than that, feel free to embrace a range of vibrant colors and prints that match the outdoor setting.
Q: What should I do if the weather is unpredictable?
A: Outdoor weddings can be susceptible to changing weather conditions. It's always a good idea to check the weather forecast beforehand. If the weather is expected to be unpredictable, bring a light cardigan or jacket that complements your outfit. Additionally, having an umbrella on hand can be a lifesaver in case of unexpected showers. Prepare for different scenarios to ensure you're comfortable throughout the event.
Q: Can I wear casual attire to an outdoor wedding?
A: The dress code for an outdoor wedding can vary depending on the couple's preferences and the formality of the event. While some outdoor weddings may have a more relaxed or casual dress code, it's generally recommended to err on the side of dressing up slightly to show respect for the occasion. It's better to be slightly overdressed than underdressed, so aim for a polished and put-together look.
Q: Can I wear shorts to an outdoor wedding?
A: Generally, shorts are considered too casual for most outdoor weddings, especially those with a formal or semi-formal dress code. It's best to choose a more polished and sophisticated option, such as a dress, skirt, or dress pants. However, if the wedding has a specific casual or beach-themed dress code, tailored and stylish shorts may be acceptable. Always check the dress code mentioned on the invitation or consult with the couple if you're unsure.
Q: Are there any outfit restrictions for an evening outdoor wedding?
A: Evening outdoor weddings often have a slightly more formal dress code compared to daytime events. Men can choose a darker suit or tuxedo, while women can choose an elegant cocktail dress or a formal gown. Pay attention to the venue and take into account any potential temperature drops in the evening. Consider bringing a shawl or jacket to keep warm while still maintaining your style.
Q: What accessories should I avoid wearing to an outdoor wedding?
A: When it comes to accessories for an outdoor wedding, it's generally best to avoid anything that might be cumbersome or impractical. Large, statement jewelry pieces can be distracting and may get caught on branches or other objects in outdoor settings. Additionally, it's best to leave expensive or delicate accessories at home to prevent any loss or damage. Opt for lightweight, comfortable, and weather-appropriate accessories that enhance your outfit without overpowering it.
Q: Can I wear black to an outdoor wedding?
A: While black has traditionally been associated with mourning or more somber occasions, it has become more acceptable to wear black to weddings in recent years. However, it's still a good idea to consider the formality and tone of the wedding. For very formal events, black can be an appropriate choice. If the wedding has a more casual or vibrant atmosphere, consider incorporating pops of color or pairing black with accessories that add a touch of brightness.
Q: How can I ensure my outfit is suitable for both the ceremony and reception?
A: To ensure your outfit is versatile for both the ceremony and reception, choose a comfortable and flexible attire that allows you to move and dance easily. Look for fabrics that don't wrinkle easily, as you may be seated for extended periods during the ceremony. Consider wearing layers that can be added or removed depending on the temperature changes throughout the day or evening. Accessorize thoughtfully to transition from a more formal ceremony look to a slightly more relaxed reception ambiance.
Key Takeaways
Start by understanding the dress code mentioned in the wedding invitation, such as black tie, formal, semi-formal, dressy casual, or casual.
Consider the venue and location of the wedding to guide your outfit choice. Different outdoor settings like beaches, gardens, vineyards, or barns may have different attire expectations.
Choose fabrics appropriate for the weather. Lightweight and breathable fabrics like cotton, linen, and chiffon are ideal for warm climates, while heavier fabrics like silk, velvet, or wool can provide warmth in cooler weather.
Select colors that complement the season and setting. Lighter colors, pastels, and floral prints work well for spring and summer weddings, while deeper, richer colors like jewel tones are suitable for fall and winter.
Prioritize comfort and consider the potential challenges of the venue. Avoid high heels for grassy or sandy areas and choose comfortable footwear that matches the formality of the event.
Accessorize appropriately, keeping in mind the practicality and style. Avoid oversized or cumbersome accessories and choose items that enhance your outfit without overpowering it.
When dressing kids and teens, prioritize comfort and practicality while still adhering to the formality of the occasion. Choose machine-washable outfits and comfortable footwear.
Avoid common fashion faux pas like overdressing or underdressing, choosing inappropriate fabrics or colors, wearing impractical footwear, outshining the couple, or sacrificing comfort for style.
COPYRIGHT NOTICE
Please be advised that all images, designs, and creative content on this page are the exclusive property of TheIDoGuide.com and are protected under international copyright laws. The images may not be reproduced, copied, transmitted or manipulated without the written permission of TheIDoGuide.com.
Unauthorized use, distribution, display, or creation of derivative works of any images contained on this site, is strictly prohibited and can lead to legal penalties. We actively monitor for, and enforce, our copyright interests.
If you wish to use any of our images, kindly contact us to seek permission. Respect of copyright is not merely a legal requirement but also an acknowledgement and support of the hard work and creativity that goes into producing them.
Thank you for your understanding and cooperation.
© 2023, TheIDoGuide.com. All Rights Reserved.