There's just something so enchantingly beautiful about barn weddings, isn't there? Picture this: soft fairy lights twinkle amidst the rough-hewn wooden beams overhead, as laughter and country music float on the warm, gentle breeze. You're surrounded by the rustic charm of nature, and the joy of love is palpable in the air. As with any event, being comfortable, feeling confident, and looking your best are all key elements to enjoying the day. This is where we step in, providing guidance on what to wear for a barn wedding.
Understanding the Barn Wedding Aesthetic
Barn weddings have a distinct ambiance that sets them apart from other wedding venues. If you've never had the pleasure of attending one, here's a detailed insight into what you can expect.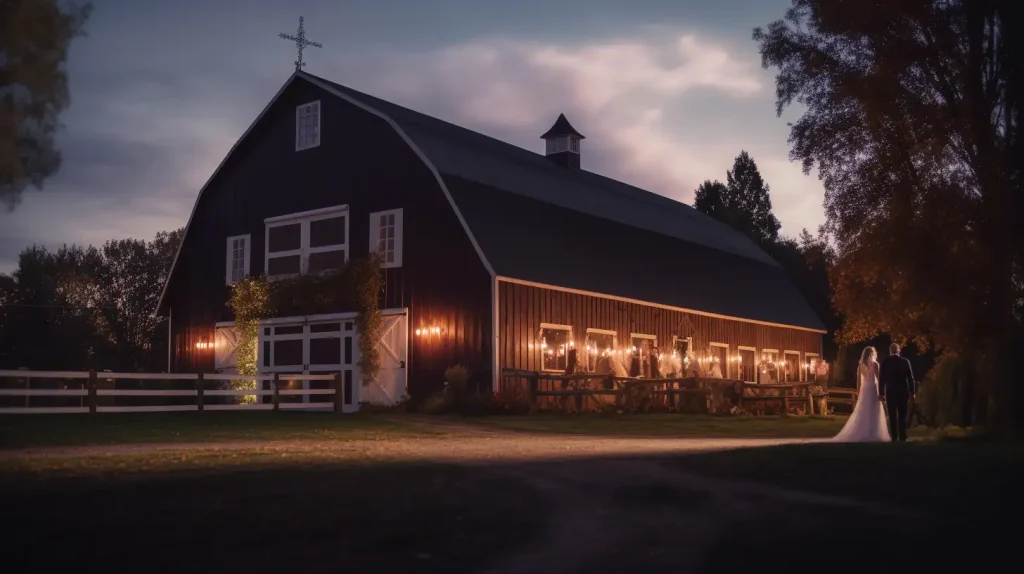 Rustic Charm
At the core of the barn wedding aesthetic is a love for the rustic. Picture old wooden beams, burlap accents, and antique farm equipment adding a touch of nostalgia. This is the essence of a barn wedding: an appreciation for the simplicity and raw beauty of rural life. It's about taking something humble, like a barn, and turning it into something magical. When choosing what to wear, consider materials and textures that reflect this rustic charm. Think natural fabrics, earth tones, and simple, timeless cuts.
Casual Elegance
Despite the rural location, barn weddings often have a touch of understated elegance. This balance of casual and classy creates a unique atmosphere that guests adore. Dressing up for a barn wedding isn't about opulence or high fashion—it's about looking effortlessly stylish and feeling comfortable. Light, flowing dresses, smart trousers, and crisp shirts can strike this balance perfectly.
Organic Beauty
Barn weddings truly embrace the natural beauty of their surroundings. Imagine fields of wildflowers, expansive blue skies, and the soothing sounds of nature. They create a tranquil, romantic atmosphere that's hard to replicate in a city setting. When picking your outfit, don't be afraid to take inspiration from the colors and textures found in nature.
Wedding Themes
While the barn venue provides a unifying aesthetic, the specific wedding theme can vary and further influence your attire:
Country Chic: This theme combines rustic elements with a hint of glamour. Cowboy boots might be paired with lace, and wildflowers mixed with sparkling chandeliers. A floral sundress or a neat shirt and jeans combo could fit this theme perfectly.
Rustic Romance: Rustic romance is all about vintage charm, soft colors, and romantic details. Think lace, pearls, and soft pastels.
Bohemian Glam: This theme often features unique, eclectic elements. Rich colors, layers of texture, and vintage-inspired details are commonplace. A maxi dress in a bold pattern or a linen suit could be great choices for this vibe.
Vintage Charm: This theme takes inspiration from yesteryears with antique decor and retro fashion nods. A 50s-style swing dress or a three-piece suit might fit right into a vintage-themed barn wedding.
Dressing For The Season
Just as the changing of seasons breathes life into the scenery around the barn, the season of the wedding plays a significant role in choosing your attire. Here's how to tailor your outfit to the time of year:
Spring Barn Weddings
Spring brings the promise of new life, blossoming flowers, and, occasionally, unpredictable weather. The attire for a spring barn wedding should capture this sense of freshness and joy while being adaptable to varying conditions:
Men: Consider a light-colored suit in breathable fabrics like cotton or linen, paired with a crisp pastel shirt. If the wedding leans more casual, khakis with a comfortable button-up could be a great choice. And don't forget, a smart umbrella can double as a stylish accessory and a shield against those April showers!
Women: Floral dresses truly sing 'spring'. Choose one in soft pastel hues or vivid prints, depending on the wedding vibe. If there's a chill in the air, layer your dress with a matching cardigan or light shawl. Ballet flats or low-heeled shoes will be comfortable for those dewy spring lawns.
Summer Barn Weddings
During the summer, barn weddings truly come alive, but the heat can pose its own challenges. Dressing comfortably cool, yet wedding-appropriate, is the goal:
Men: A lightweight suit in linen or seersucker could keep you cool and stylish. If the wedding is casual, neat shorts with a linen shirt could work. Footwear can range from loafers for a more formal look to clean white sneakers for a relaxed feel.
Women: Maximize comfort and style with a breezy sundress, perhaps in a cheerful summer print or a chic solid color. A skirt and blouse combo can also make for a stylish alternative. Go for comfortable footwear like wedges or stylish sandals, perfect for strolling across sun-drenched fields.
Autumn Barn Weddings
Autumn barn weddings are filled with rich colors and a touch of nostalgia. Your outfit should reflect the season's warmth and charm:
Men: A tweed or wool-blend suit in earthy tones would be a dashing choice, reflecting the colors of the changing leaves. For a more casual wedding, consider pairing a cozy sweater with chinos.
Women: A long-sleeved dress in a deep autumnal color like burgundy, emerald, or mustard can look both elegant and seasonally apt. Depending on the temperature, you might pair your dress with a stylish leather jacket or a warm pashmina.
Winter Barn Weddings
Winter barn weddings offer a unique blend of rustic charm and wintry elegance. Your outfit should offer warmth without sacrificing style:
Men: A dark suit paired with a warm coat strikes the balance between style and comfort. For a touch of wintry elegance, consider a festive tie or a pocket square.
Women: Look for a long dress in a rich color and heavier fabric to keep warm. A wrap, faux fur stole, or elegant coat can add a layer of sophistication and warmth. Consider pairing your outfit with closed-toe heels or chic boots.
Elements of Barn Wedding Attire
Having explored the influence of seasonality on your attire choices, it's time to dissect the individual elements that come together to form the perfect barn wedding outfit.
Men's Attire
The beauty of barn wedding attire for men lies in its versatility. From the sharpness of a suit to the relaxed charm of a blazer and chinos, there's plenty of room to express personal style:
The Fit: Regardless of your outfit choice, the fit is paramount. Your clothes should be well-tailored, not too tight nor too loose. A good fit ensures you look polished and feel comfortable, allowing you to move freely on the dance floor or during the outdoor games.
Footwear: Consider the terrain of a barn wedding — gravel paths, wooden floors, perhaps even grassy fields. Boots, whether Chelsea or brogue style, can offer a great mix of style and practicality. For a more formal event, polished brogues might be the best bet.
Accessories: This is your chance to inject a bit of rustic charm into your look. A pocket square or tie in a country-inspired print, like checks or paisley, can be a delightful touch. If the weather is cooler, consider adding a knit scarf or a tweed flat cap for warmth and style.
Women's Attire
For women, the range of outfit options for a barn wedding is vast and versatile. You can embrace an elegant maxi dress, a playful sundress, or even stylish separates, depending on the wedding's ambiance:
The Dress: From flowy maxi dresses to chic midi sundresses, your dress should match your style and the vibe of the wedding. Consider breathable, moveable materials like cotton, chiffon, or linen. And remember, while a barn wedding may feel more relaxed, it's still a special occasion, so choose a dress that feels a touch more special than your everyday wear.
Footwear: The uneven terrain of a barn venue calls for sensible, yet stylish footwear. Wedges or block heels can navigate the surroundings with ease, whereas stilettos might pose a challenge. If the wedding leans towards the casual side, even a pair of chic leather sandals or boots might work wonderfully.
Accessories: Here's where you can add a personal touch to your outfit. A statement necklace or chandelier earrings can add some sparkle to your look. Depending on the weather, a stylish hat or a pretty hair accessory could be the perfect finishing touch.
Dress Codes and What They Mean
Decoding the dress code mentioned in the wedding invitation can be a helpful guide as you plan your outfit. Let's demystify these dress codes and explore how they translate into barn wedding attire:
White Tie
White tie is traditionally the most formal dress code. In the context of a barn wedding, however, you'll want to strike the right balance between high formality and the casual rustic setting:
Men: Think top-notch formal like a tuxedo with tails. However, given the rural setting, you might trade the tails for a regular tuxedo or a sophisticated suit in dark hues. A white dress shirt, a waistcoat, and a bow tie complete the look. Polished dress shoes are a must.
Women: The usual white tie attire calls for a full-length ball gown. For a barn wedding, you might opt for a chic, formal maxi dress in luxurious fabrics. Consider jewel tones or deep hues for an elegant look. Pair your dress with sophisticated accessories and elegant heels.
Black Tie
Though slightly less formal than white tie, black tie still demands a high level of elegance:
Men: A tuxedo or a dark suit is the way to go. A black bow tie and polished black shoes are traditional, but you could introduce some subtle, rustic-inspired details, such as a pocket square in a muted floral print.
Women: Go for an elegant cocktail dress or a refined evening gown. The dress could be a little less voluminous than the white tie option, but still formal. Choose tasteful jewelry and stylish, comfortable heels.
Formal/Semi-Formal
Formal or semi-formal dress codes offer a bit more flexibility while maintaining a sense of style and elegance:
Men: A suit and tie are standard for this dress code. Feel free to play with colors beyond the typical black or navy — perhaps a suit in a deep green or burgundy for a fall or winter wedding, or a light grey or beige suit for a spring or summer event.
Women: A cocktail dress or dressy separates would work well here. Depending on the season and setting, you could opt for a midi dress in a rich fabric or a chic jumpsuit.
Cocktail
This dress code is a notch less formal but still calls for smart and chic attire:
Men: A suit or smart trousers paired with a button-up shirt is ideal. A tie is optional but can add a dash of refinement.
Women: You might consider a shorter dress or a stylish jumpsuit. Feel free to express your personal style with interesting colors, prints, and accessories.
Casual
Casual does not mean sloppy, especially when it comes to a wedding. It's about relaxed elegance:
Men: Consider khakis or neat jeans paired with a collared shirt. A blazer is optional but can smarten up the look. For shoes, clean loafers or dressy boots would work.
Women: Think along the lines of a summer dress, a nice blouse paired with trousers, or even a tailored jumpsuit. Wedges, block heels, or stylish flats would complement the look.
Themed
If the wedding invitation indicates a specific theme, have fun with it! Incorporate the theme into your outfit in a tasteful way that still respects the formality of the occasion. Remember, it's about celebrating the couple's special day in a way that aligns with their chosen theme.
Decoding the dress code can steer your attire choices in the right direction. However, always remember that a barn wedding's essence lies in blending elegance with the casual, rustic charm of the setting.
Kids and Barn Weddings: Outfit Ideas
When it comes to attending a barn wedding with children, it's important to strike the right balance between style and comfort, ensuring your little ones look adorable while also allowing them to freely explore the outdoors and enjoy the festivities.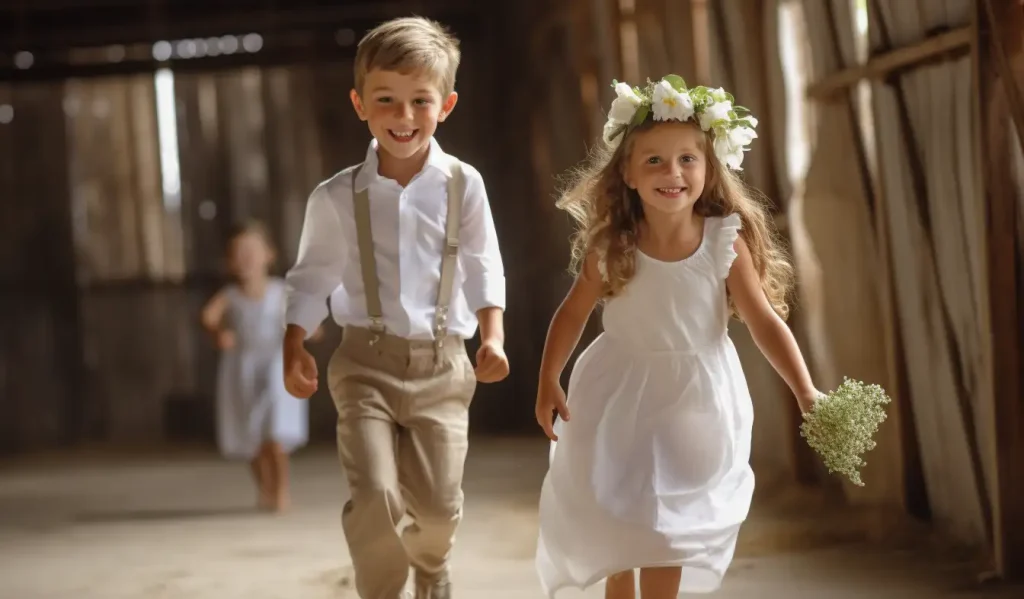 Boys' Attire
For boys, think about incorporating elements of grown-up style with child-friendly comfort:
The Basics: Khakis paired with a nice shirt make for a classic combination. Depending on the formality of the event, you might opt for a polo shirt or a button-down.
Adding Style: A vest or a bow tie can add a touch of charm to their look. Choose fun, kid-appropriate patterns like checks or playful colors to keep the outfit youthful and fun.
Footwear: Closed-toe shoes are ideal for outdoor barn venues. A pair of neat sneakers can be both comfortable for playing and appropriate for the occasion. For a more formal affair, consider loafers or brogues.
Girls' Attire
For girls, a cute, comfortable dress can be the go-to choice. However, there's room to get creative while keeping in mind the playful nature of childhood:
The Dress: Consider the setting and season while choosing the dress. Cotton dresses in pastel hues or floral prints are wonderful for spring and summer, while a long-sleeved dress in deeper tones would be beautiful for fall or winter weddings.
Adding Sparkle: Adding a cute hair accessory like a bow or flower crown can make your little girl feel special. If the event is on the formal side, a pretty cardigan or a faux fur stole could be adorable additions.
Footwear: Flat shoes or cute sandals are ideal for running around in nature. Consider boots for colder weather. The key is to ensure the footwear is comfortable and secure for a day full of activities.
Barn Wedding Styling Tips and Tricks
Choosing the right outfit for a barn wedding goes beyond simply picking out a dress or a suit. It's about understanding the aesthetic of the setting, reflecting it in your outfit, and enhancing it with the perfect accessories. Here are some tips and tricks to help you nail the look:
Choosing the Right Fabrics
When you're attending a barn wedding, your outfit should allow you to move freely and feel comfortable throughout the day:
Comfort is Key: Materials like cotton, chiffon, or linen are excellent choices as they're breathable and perfect for a day that might involve everything from dancing to strolling around the barn area.
Seasonal Considerations: In cooler weather, consider adding layers or incorporating fabrics like wool or velvet that add warmth without sacrificing style.
Playing with Colors and Prints
Colors and prints can add depth and personality to your outfit:
Nature-Inspired Hues: Barn weddings often embrace the surrounding nature, so colors like greens, browns, creams, and blues can complement the setting beautifully. Pastels work wonderfully for spring, while richer, deeper tones can be striking in fall and winter.
Floral and Rustic Prints: Florals are a classic choice, especially for spring and summer weddings. For a unique twist, consider prints that reflect the rustic setting, such as subtle plaids or even a tasteful animal print.
Accessorizing Your Outfit
Accessories can really elevate your outfit and tie your look together:
Country-Friendly Options: Leather belts, suede boots, or cowboy hats can add a touch of the countryside to your look. A tasteful pocket square for men or a silk scarf for women can also add a pop of color and pattern.
Statement Jewelry: Consider statement pieces that complement your outfit. This could be a pair of chandelier earrings, a chunky necklace, or a set of stacked bracelets. Remember, the accessory should enhance your outfit, not overpower it.
The Right Footwear: Choose footwear that matches the style and formality of the occasion but is also comfortable and suited to the terrain. You might prefer sturdy boots, comfortable loafers, chic wedges, or stylish flats.
Dressing for the Unexpected
Despite meticulous planning, sometimes surprises happen. Let's be prepared for the unexpected:
Unpredictable Weather: Regardless of the season, weather can be a wildcard. It's wise to have a lightweight jacket or wrap at hand. A compact umbrella is also a smart accessory to carry, ensuring a sudden shower doesn't dampen your style.
Venue Challenges: Barn venues may include uneven paths or grassy fields. Choose footwear that's up to the task. It's also a good idea to have a backup plan – a spare pair of flats tucked away can be a savior if your feet need a break from dancing!
What Not to Wear to a Barn Wedding
While a barn wedding offers a great deal of flexibility in terms of attire, there are a few wardrobe choices that might not serve you well in this particular setting. Here are some things to consider avoiding:
Avoid White or Ivory
It's a longstanding tradition that guests should avoid wearing white or ivory to a wedding, as these colors are typically reserved for the bride. This holds true even for a rustic barn wedding. Instead go for colors that complement the setting and the season, and that won't potentially upstage the bride on her special day.
Rethink Your Footwear
Barn weddings often take place in grassy fields, gravel paths, or even directly inside the barn itself. These environments can make stilettos or other types of thin-heeled shoes a challenging choice:
Avoid Heels That Sink: Stilettos can sink into the ground, making walking difficult and potentially damaging your shoes.
Choose Stability: Wedges, block heels, or flat shoes are more suited to these terrains, providing stability and comfort without sacrificing style.
Be Mindful of the Level of Dressiness
While barn weddings are often more casual than their traditional counterparts, remember that it's still a wedding:
Avoid Being Underdressed: It's generally better to err on the side of being slightly overdressed rather than underdressed. Even if the vibe is relaxed, it's a special occasion deserving a certain level of formality.
Steer Clear of Ultra Casual Attire: Unless specified in the invitation, avoid ultra-casual attire like shorts, casual tank tops, or distressed jeans.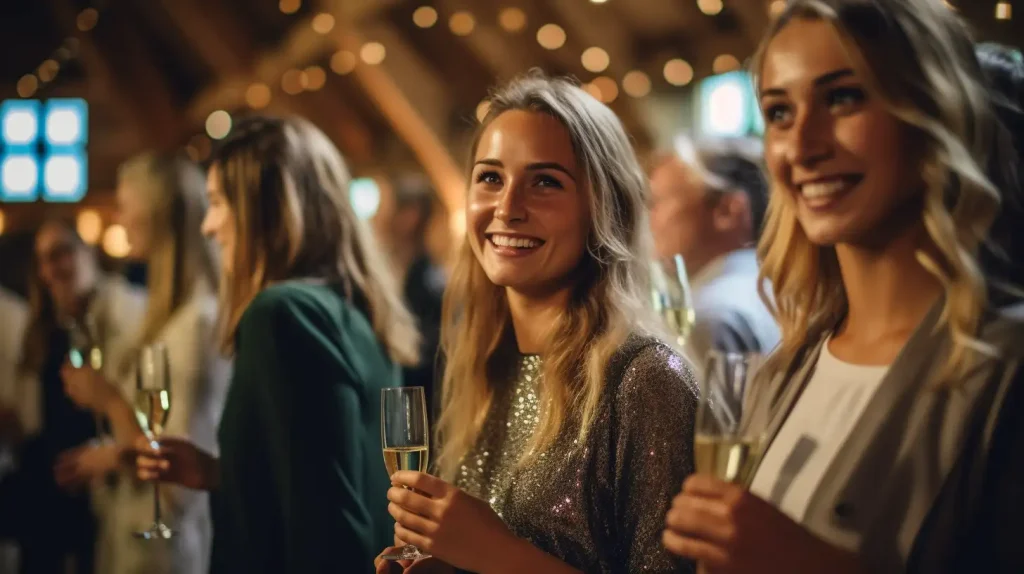 Making the Most of Your Barn Wedding Experience
Attending a barn wedding isn't just about showing up in the right attire — it's about immersing yourself in the enchanting atmosphere, savoring the unique setting, and creating unforgettable memories. Here's how to make the most of your barn wedding experience:
Choose Comfort Alongside Style
Barn weddings tend to have a relaxed, joyful ambiance, so it's essential to pick an outfit that lets you participate fully in the festivities:
Freedom to Move: Make sure you can dance, laugh, and celebrate without being constrained by your outfit. Avoid overly tight clothing or anything that restricts your movement.
Prioritize Comfortable Footwear: A stunning pair of shoes might be tempting, but if they're uncomfortable, they might hinder your enjoyment. Choose shoes that you can comfortably stand, walk, and dance in.
Embrace the Atmosphere
The unique charm of a barn wedding lies in its blend of rustic beauty, casual elegance, and the embrace of nature. Be prepared to revel in this wonderful mix:
Engage with the Setting: Don't be afraid to explore the venue. Whether it's a beautiful barn loft, charming animal inhabitants, or stunning fields surrounding the area, take in the distinctive aspects that make a barn wedding so special.
Appreciate the Details: Barn weddings often feature unique decorative touches, like twinkling fairy lights, handcrafted centerpieces, or hay bale seating. Take the time to admire these details—they contribute greatly to the overall atmosphere.
Confidence is Key
Your confidence is, indeed, your best accessory:
Wear Your Outfit with Confidence: No matter what you choose to wear, carry it with confidence. When you feel good in your outfit, it shows, adding to your overall appeal.
Enjoy the Moment: Barn weddings are about celebrating love in a laid-back, heartwarming environment. Soak up every moment, engage with the other guests, and let your genuine enjoyment shine through.
Conclusion
Dressing for a barn wedding is about blending elegance with comfort and a touch of rustic charm. It's about embracing the natural beauty of the setting and the joy of the occasion. Above all, it's about enjoying a day of love and celebration. So go ahead, pick an outfit that makes you feel like the best version of yourself. After all, isn't that the best way to celebrate love?
FAQs
Q: Can I wear boots to a barn wedding?
A: Yes, boots can be an excellent choice for a barn wedding. Cowboy boots, ankle boots, or stylish leather boots can add a touch of rustic charm to your outfit while keeping your feet comfortable.
Q: Can I wear a suit to a barn wedding?
A: Wearing a suit to a barn wedding is generally acceptable, especially if the dress code leans towards the formal side. However, you can also go for a more casual look by ditching the tie or opting for lighter-colored suits.
Q: Are hats appropriate for a barn wedding?
A: Hats can be a stylish and practical accessory for a barn wedding, especially if the weather is sunny. Consider wearing a wide-brimmed hat or a fashionable fedora that complements your outfit and provides sun protection.
Q: Can I wear bold or vibrant colors to a barn wedding?
A: While it's generally acceptable to wear bold or vibrant colors to a barn wedding, it's a good idea to consider the overall theme and ambiance of the event. Opt for colors that suit the rustic setting and blend well with the natural surroundings.
Q: Should I bring a jacket or a wrap for a barn wedding?
A: It's always a good idea to bring a jacket or a wrap, especially for evening barn weddings or if the weather is unpredictable. Choose a stylish jacket or a light wrap that complements your outfit while providing warmth if needed.
Q: Is it appropriate to wear shorts to a barn wedding?
A: Generally, shorts are considered too casual for a barn wedding. However, if the dress code permits and the weather is hot, you can opt for dressy tailored shorts paired with a stylish top or blouse.
Q: Can I wear denim jackets or vests to a barn wedding?
A: Denim jackets or vests can be a stylish addition to your outfit for a barn wedding, especially during cooler evenings or transitional seasons. They add a touch of casual charm and can be paired with dresses or tops and skirts.
Q: Should I avoid wearing delicate fabrics to a barn wedding?
A: It's generally recommended to avoid delicate fabrics like silk or satin that may easily snag or get dirty in the barn environment. Go for sturdier fabrics like cotton, linen, or blends that can withstand the rustic setting.
Q: Can I wear accessories like cowboy hats or bandanas to a barn wedding?
A: Accessories like cowboy hats or bandanas can be a fun and playful addition to your barn wedding attire, especially if they complement the overall theme. However, ensure that they enhance your outfit without overpowering it.
Q: Can I wear open-toe sandals or flip-flops to a barn wedding?
A: Open-toe sandals can be suitable for a barn wedding, especially if they are stylish and well-maintained. However, it's best to avoid flip-flops or overly casual sandals unless the dress code specifically permits them.
Q: Can I wear accessories made from natural materials like straw or wood?
A: Absolutely! Accessories made from natural materials can be a perfect choice for a barn wedding. Consider straw hats, wooden jewelry, or woven handbags to add an earthy and rustic touch to your ensemble.
Q: Should I bring a change of shoes for a barn wedding?
A: Depending on the terrain and your personal comfort, it may be wise to bring a change of shoes for a barn wedding. Consider bringing a pair of flats or comfortable shoes that you can switch into if needed, especially for dancing or navigating uneven surfaces.
COPYRIGHT NOTICE
Please be advised that all images, designs, and creative content on this page are the exclusive property of TheIDoGuide.com and are protected under international copyright laws. The images may not be reproduced, copied, transmitted or manipulated without the written permission of TheIDoGuide.com.
Unauthorized use, distribution, display, or creation of derivative works of any images contained on this site, is strictly prohibited and can lead to legal penalties. We actively monitor for, and enforce, our copyright interests.
If you wish to use any of our images, kindly contact us to seek permission. Respect of copyright is not merely a legal requirement but also an acknowledgement and support of the hard work and creativity that goes into producing them.
Thank you for your understanding and cooperation.
© 2023, TheIDoGuide.com. All Rights Reserved.