If you are wondering what to wear for a backyard wedding, consider chic yet comfortable attire. Choose a flowy sundress or a linen suit, paired with stylish sandals or loafers, to strike the perfect balance between casual and elegant.
You've received an invitation to a backyard wedding, an event with a charm all its own, and you're left wondering what's the appropriate attire for such an occasion? As backyard weddings continue to rise in popularity, we'll guide you through the nuances of crafting the perfect outfit.
The Unconventional Charm of Backyard Weddings
Backyard weddings are a unique breed of matrimonial celebration. They truly embody an enticing fusion of relaxed elegance, personal intimacy, and individualistic charm. When you step into a backyard wedding, you're stepping into a world that has been lovingly curated and customized by the couple, making you feel like a part of their love story.
A Symphony of Elegance and Comfort
Backyard weddings masterfully harmonize comfort and elegance. The setting is intimate and less formal than a grand venue, and yet, it brims with a refined aesthetic. Beautiful string lights twinkle above you as you walk on the grass or dance on a makeshift wooden floor. The table settings, the floral arrangements, every detail carries a personal touch, lending the setting an unparalleled warmth.
Personal Touches Galore
The beauty of a backyard wedding lies in its unique details that are often steeped in personal significance. Be it the bride's grandmother's roses woven into the archway, or the family pet carrying the rings, or the fairy lights from the couple's first Christmas together – every element has a story. And as a guest, you get to be part of these heartwarming tales, making the experience deeply personal and engaging.
The Myth of Casualness
While backyard weddings do lean towards a more relaxed environment, it's important to debunk the myth that they call for extremely casual attire. These weddings are still a momentous occasion, and your outfit should reflect that significance. So while you might not need a tuxedo or a formal evening gown, your favorite pair of shorts or most comfy casual wear might not make the cut either. It's about finding the right balance between comfort and style.
Understanding the Backyard Wedding Dress Code
Cracking the code of what to wear to a backyard wedding begins with a crucial piece of puzzle – the invitation. It holds subtle clues and outright statements about the theme, style, and formality of the wedding, guiding your outfit choices.
Interpreting the Invitation
Interpreting wedding invitations can sometimes feel like deciphering a secret language. Phrases like "casual", "semi-formal", and "cocktail attire" might come up. Each of these has its own set of expectations and it's important to understand them correctly to avoid being underdressed or overdressed.
Casual doesn't mean you can show up in your favorite t-shirt and jeans. Instead, it refers to a relaxed but still smart attire. For women, think of a summer dress or a nice blouse with tailored pants. For men, a pair of chinos and a button-down shirt would work well.
Semi-Formal attire is a step up from casual. Ladies, consider cocktail dresses or dressy separates, while gentlemen, you might want to opt for a suit and tie, just not a black tie.
Cocktail Attire calls for a level of sophistication. Women, this is your opportunity to wear that little black dress or a knee-length party dress. Men, a dark suit, a crisp shirt, and a complementary tie should hit the mark.
The Influence of Theme and Setting
In addition to the dress code, the theme and setting of the backyard wedding play a significant role in determining your attire. A rustic country wedding might call for a more boho-chic outfit with sturdy footwear, while a garden tea party-themed wedding might inspire you to wear floral prints and summer hats.
If the wedding takes place beside a pool, lighter fabrics and breezy styles would be a good choice, but if it's an evening event with a formal dinner setup, you might need to lean towards the dressier side.
The Art of Dressing for the Weather
Outdoor weddings add another layer of complexity to your outfit choice: the unpredictability of the weather. Whether you're under the sun, facing the gusty winds, or even dancing in the rain, your clothing choices need to factor in these possibilities.
Weathering the Elements
It's always good to check the forecast leading up to the wedding day but be prepared for sudden changes. A cool, cloudy morning can quickly turn into a scorching afternoon, or a sunny day can turn windy and chilly as evening approaches.
Sun: If the day is likely to be sunny, think about sun protection. A wide-brimmed hat can shield you from the sun, add a dash of style to your outfit, and prevent any potential squinting in photos. Sunglasses are also a must-have, and don't forget to apply and carry sunscreen!
Wind: For windy conditions, avoid overly flowy dresses that might get caught in a gust. Instead, opt for something more fitted or consider wearing weights to keep your dress in place. Also, a well-secured updo can keep your hair from obstructing your vision or getting tangled.
Rain: While we always hope it doesn't rain on a wedding day, it's best to be prepared. A small, elegant umbrella or a chic raincoat could be your best friends. And remember, wet ground and heels don't mix well, so consider stylish flats or wedges.
Seasonal Dressing
Apart from day-to-day weather, the season during which the wedding is held also affects your attire choice.
Spring and Summer: These warmer months call for breathable fabrics like cotton, linen, and silk. Choose lighter colors to reflect the sun and maintain a cool temperature.
Fall: As the temperature begins to drop, it's all about smart layering. A beautiful wrap or a stylish jacket can keep you warm during those cool autumn evenings.
Winter: Winter weddings can be chilly, especially if parts of the event are outdoors. Go for warmer materials like wool, velvet, or faux fur. Also, don't shy away from stylish boots and luxurious scarves.
Attire Suggestions for Women
Ladies, when it comes to backyard weddings, the opportunities for creative and stylish dressing are abundant. From your dress to your shoes, accessories, and even your makeup and hair, every element contributes to your overall look.
Dressing to Impress
Choosing the right dress is perhaps the most critical part of your ensemble. Here's where you can really play with the relaxed yet elegant vibe of a backyard wedding:
Light Fabrics: Go for breathable, lightweight materials like chiffon, silk, or fine cotton. These fabrics give a soft, flowy silhouette and keep you cool during warmer hours.
Florals and Pastels: Floral prints, pastels, and soft, earthy tones can complement the natural setting of a backyard wedding. They help you blend in with the surroundings yet stand out with your style.
Accessorizing Wisely
Accessories can elevate your outfit from good to great. They add that final touch that pulls your look together:
Footwear: Consider wedges or flats as they are easier to navigate on grass and other uneven surfaces. They offer the elegance of heels without the risk of sinking into the ground.
Jewelry: Go for tasteful jewelry that complements your dress. Remember, sometimes less is more, and you don't want your accessories to overpower your outfit.
Pashmina/Shawl: If the wedding extends into the evening, temperatures may drop. A stylish pashmina or shawl can keep you warm without sacrificing style.
Fresh and Natural Makeup and Hair
Finally, your makeup and hair should complement your overall look and stand up to outdoor conditions:
Makeup: Choose a fresh and natural makeup look. Use products that are long-lasting and can withstand outdoor temperatures. Don't forget to use a setting spray to keep everything in place.
Hair: Choose a hairstyle that won't get easily tousled if there's a bit of wind. Updos, braids, or half-up, half-down styles usually work well. If you prefer to keep your hair down, consider using products that fight frizz and hold your style.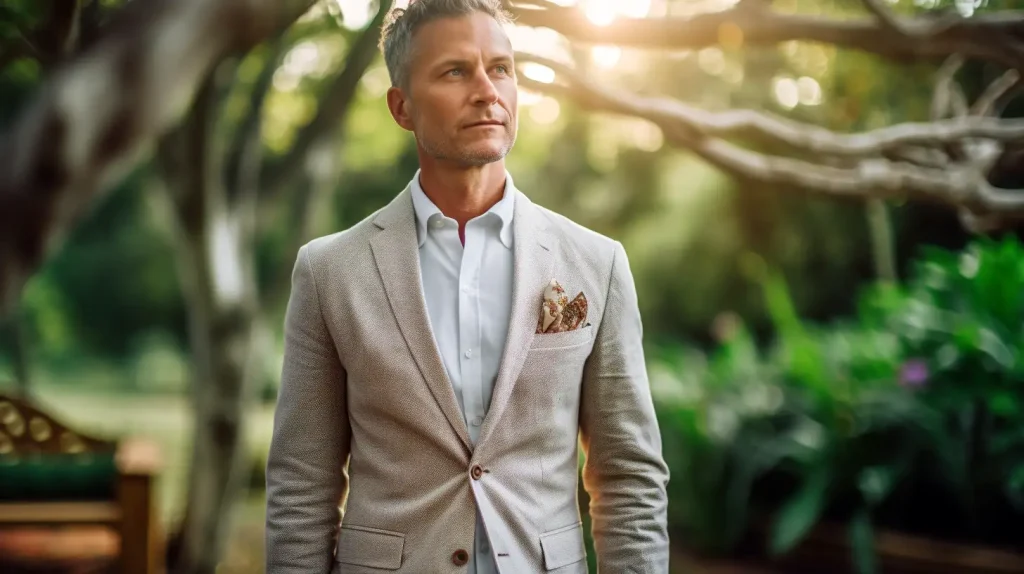 Attire Suggestions for Men
Gentlemen, dressing for a backyard wedding allows you to showcase your sartorial flair in a less formal setting. From your choice of suit to your accessories and footwear, each element plays a key role in presenting a stylish and polished look.
Dressing with Style and Comfort
The crux of your attire is your suit or combination, which should be both stylish and comfortable:
Light Wool or Linen Suit: For a more formal backyard wedding, a light wool or linen suit in a color that suits the season can strike the perfect balance between elegance and comfort.
Blazer and Chinos Combo: For a less formal affair, a well-tailored blazer paired with chinos can offer a smart-casual look that's perfect for an outdoor setting.
Adding the Finishing Touches with Accessories
Accessories are where you can add a personal touch and a dash of flair to your outfit:
Ties or Bowties: Depending on the formality of the wedding, you could opt for a classic tie or a playful bowtie. Consider the wedding's color scheme when selecting your tie.
Cufflinks and Pocket Squares: These small details can elevate your look immensely. Choose cufflinks that match your watch or ring metal, and a pocket square that adds a pop of color to your suit.
Footwear and Grooming
Your shoes and grooming habits are equally essential in creating a polished look:
Footwear: Loafers or brogues make for stylish and comfortable choices. Depending on the formality and your personal style, you can choose between suede, leather, or even canvas.
Grooming: Good grooming is crucial. Ensure your hair is neatly styled, your facial hair (if any) is trimmed and tidy, and your nails are clean and cut. This attention to detail will give you a sharp and put-together appearance.
Attire Tips for Children
Dressing children for a backyard wedding can be a delightful task. With the focus on comfort, practicality, and a bit of fun, their outfits can mirror the joy and lightheartedness that children bring to such occasions.
Choosing Comfortable and Practical Outfits
Ensuring children are comfortable is key to avoiding any unnecessary tantrums or discomfort during the celebration:
Girls: Go for breathable cotton dresses that allow freedom of movement for playing and dancing. Choose practical yet cute styles, perhaps with small floral prints, pastels, or even a bit of sparkle for that special touch.
Boys: A shirt-trouser combination works well for boys. Depending on the formality of the event, this could range from a polo shirt and chinos to a dress shirt and tailored trousers.
Adding a Playful Touch with Accessories
Accessories can be a fun way to add personality to children's outfits while keeping them engaged and happy with their attire:
Bowties: A bowtie can be a fun accessory for boys, making them feel a part of the celebration and adding a dash of cuteness to their outfit.
Hairbands: For girls, consider hairbands with flowers, bows, or other playful elements. They not only keep their hair neat but also add a whimsical touch.
Cute Socks: Both boys and girls can experiment with cute and colorful socks. Think patterns, characters, or bright colors that peek out from their shoes.
Backyard Wedding Guest Etiquette
Dressing for a backyard wedding goes beyond simply selecting an outfit; it's about understanding and respecting the event's atmosphere and the couple's vision. As a guest, you'll want to balance fitting in with the theme, being comfortable, and avoiding common pitfalls.
Respecting the Theme
Every wedding has a theme, either explicitly stated or subtly suggested. It could be rustic, boho-chic, garden party, or beach-inspired. Respecting the theme in your attire shows appreciation for the couple's effort in crafting a unique wedding experience:
Balancing Theme and Style: Incorporate the theme in your outfit but remember there's a fine line between being themed and being a caricature. Choose elements that nod to the theme without overshadowing your personal style.
Avoid Costume-like Attire: If the wedding has a particular theme, like 'Roaring Twenties' or 'Hawaiian Luau', add touches of the theme to your outfit, but avoid going overboard to the point where your outfit resembles a costume.
Avoiding Over-Casualness
Even though it's a backyard wedding, it's still a wedding. Dressing too casually might give the impression that you're not taking the event seriously enough:
Casual but Classy: Remember, casual does not equate to your everyday loungewear. Go for relaxed, yet smart attire. This could mean a summer dress or a blouse and skirt for women, and chinos with a crisp shirt for men.
Consider the Couple's Vision: While comfort is key, remember this is a significant day for the couple. Respect their vision and the overall formality level of the wedding when deciding your attire.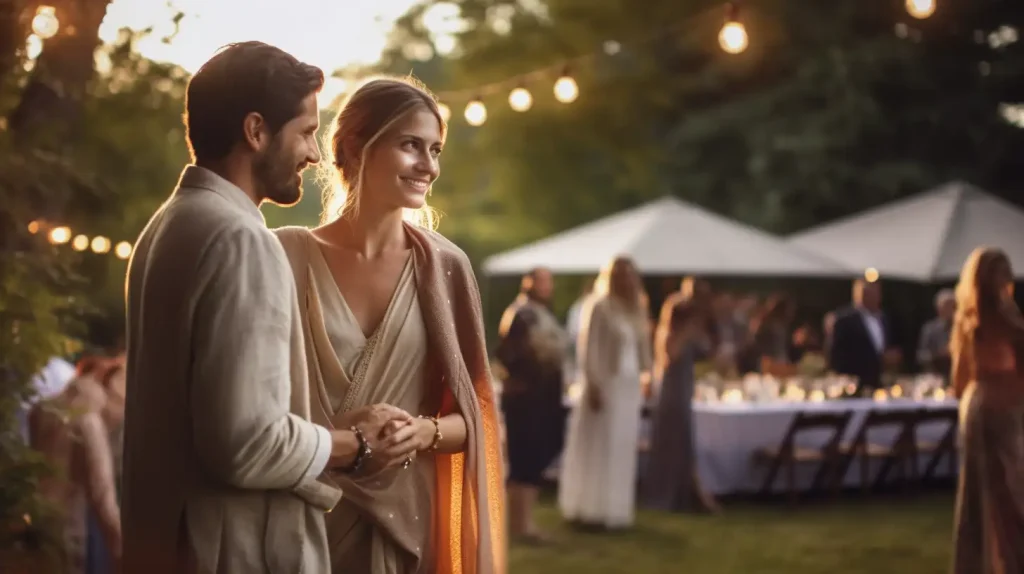 Decoding the Wedding Schedule
A typical backyard wedding, like any other wedding, will have a schedule. There may be day-to-night transitions, various activities, and different stages that each call for a certain level of comfort and style. Decoding the wedding schedule and planning your attire accordingly is key.
Dressing for Day to Night Transitions
Outdoor weddings often span several hours, starting in the daylight and ending under the stars. Your attire needs to cater to these changes:
Layering is Key: Dressing in layers allows you to adapt to changing temperatures. Bring along a wrap, a jacket, or a stylish shawl that complements your outfit and keeps you warm when the temperature drops.
Color Considerations: Choose colors that look good both in daylight and under artificial lighting. Avoid colors that may appear washed out under bright lights or become too vivid when the lights are dim.
Being Ready for Different Activities
Backyard weddings may involve various activities, all of which require comfort and a certain level of mobility in your attire:
Games: Backyard games like cornhole, horseshoes, or even a friendly match of badminton could be on the cards. Dress in comfortable clothing that allows freedom of movement, but still looks chic.
Dances: Be ready to hit the dance floor at any moment. Choose footwear that's both stylish and comfortable enough for dancing.
Bonfires: If the evening includes a bonfire, ensure your clothing is suitable for sitting around a fire. Avoid extremely flammable materials and consider a pair of comfortable pants to protect your legs.
Conclusion
Backyard weddings offer a unique blend of comfort and celebration. As you navigate through outfit choices, remember to strike a balance between style and comfort. Above all else, don't forget that you're there to celebrate a beautiful union, so let your joy be the most radiant thing you wear. As the twinkle lights glow and the night settles in, the sound of laughter and clinking glasses echoing in the backyard, you'll appreciate the relaxed yet festive ambiance.
FAQs
Q: Can I wear jeans to a backyard wedding?
A: While backyard weddings tend to have a more relaxed atmosphere, jeans may be too casual for the occasion. It's better to choose dressier options like trousers or chinos to maintain a polished look.
Q: Are open-toed shoes acceptable for a backyard wedding?
A: Yes, open-toed shoes can be a great choice for a backyard wedding, especially in warmer weather. Go for stylish sandals or peep-toe heels that complement your outfit.
Q: Can I wear a hat to a backyard wedding?
A: Hats can be a fashionable accessory for a backyard wedding, but it's essential to choose an appropriate style. Avoid large, wide-brimmed hats that may obstruct others' views. Look for smaller, more subtle hats or fascinators that add a touch of elegance.
Q: What colors should I avoid wearing to a backyard wedding?
A: While there isn't a strict color code, it's generally best to avoid wearing white to a wedding to avoid overshadowing the bride. Additionally, it's considerate to avoid wearing overly bright or distracting colors that may draw attention away from the couple.
Q: Can I wear a jumpsuit to a backyard wedding?
A: Jumpsuits can be a fashionable and trendy choice for a backyard wedding. Choose a well-tailored jumpsuit in a suitable fabric and pair it with stylish accessories to create a chic ensemble.
Q: Can I wear floral prints or patterns to a backyard wedding?
A: Yes, floral prints can be a lovely choice for a backyard wedding. Just make sure the print is not too overwhelming or clashes with the overall theme of the event. Look for tasteful and elegant floral patterns that enhance your outfit.
Q: Can I wear shorts to a backyard wedding?
A: While shorts can be comfortable for a casual backyard gathering, they are generally not recommended for a wedding unless specifically mentioned as part of the dress code. It's best to choose dressier options like dresses, skirts, or pants for women, and trousers or chinos for men.
Q: Are there any fabric choices to avoid for a backyard wedding?
A: It's best to avoid heavy fabrics that may cause discomfort in warm weather. Steer clear of thick wool or velvet materials and opt for lighter options such as cotton, linen, or chiffon that offer breathability and comfort.
Q: Can I wear a jacket or blazer for a backyard wedding?
A: Wearing a jacket or blazer can add a touch of sophistication to your outfit, especially for men. It can elevate a casual ensemble and make it more suitable for a semi-formal backyard wedding. However, if the weather is hot, you can also forgo the jacket and opt for a well-put-together shirt and trousers combination.
Q: Can I wear black to a backyard wedding?
A: Black attire is generally acceptable for weddings, including backyard weddings. However, it's a good idea to add some color or accessorize to avoid looking too somber. Consider incorporating colorful accessories or combining black with other vibrant hues to create a more festive and celebratory look.
Q: How can I strike the balance between comfort and style for a backyard wedding?
A: To strike the balance between comfort and style, opt for lightweight, breathable fabrics that allow ease of movement. Choose well-fitted outfits that flatter your body shape while still maintaining an appropriate level of formality for the event.
Key Takeaways
Backyard weddings have a unique blend of relaxed elegance, personal intimacy, and individualistic charm.
Choose chic yet comfortable attire that strikes a balance between casual and elegant.
Understand the dress code indicated in the wedding invitation, such as casual, semi-formal, or cocktail attire.
Consider the theme and setting of the wedding when selecting your outfit. For example, a rustic country wedding may call for a boho-chic outfit, while a garden tea party-themed wedding may inspire floral prints and summer hats.
Take into account the weather and dress accordingly. Use layers for day-to-night transitions and choose fabrics suitable for the season.
For women, options include flowy sundresses, linen suits, and breathable fabrics like chiffon, silk, and cotton. Accessorize with appropriate footwear, jewelry, and consider fresh and natural makeup and hair.
For men, light wool or linen suits, blazers paired with chinos, and accessorize with ties, cufflinks, and pocket squares. Choose comfortable and stylish footwear, and pay attention to grooming.
Dress children in comfortable and practical outfits that allow freedom of movement. Add playful touches with accessories like bowties, hairbands, and cute socks.
Respect the couple's wedding theme and avoid costume-like attire. Dress appropriately for the formality level of the wedding.
Be prepared for different activities during the wedding, such as games, dances, and bonfires, by choosing attire that allows mobility and comfort.
Strive to strike a balance between comfort and style by selecting well-fitted outfits in lightweight and breathable fabrics.
COPYRIGHT NOTICE
Please be advised that all images, designs, and creative content on this page are the exclusive property of TheIDoGuide.com and are protected under international copyright laws. The images may not be reproduced, copied, transmitted or manipulated without the written permission of TheIDoGuide.com.
Unauthorized use, distribution, display, or creation of derivative works of any images contained on this site, is strictly prohibited and can lead to legal penalties. We actively monitor for, and enforce, our copyright interests.
If you wish to use any of our images, kindly contact us to seek permission. Respect of copyright is not merely a legal requirement but also an acknowledgement and support of the hard work and creativity that goes into producing them.
Thank you for your understanding and cooperation.
© 2023, TheIDoGuide.com. All Rights Reserved.