In a wedding, an usher plays a crucial role in ensuring the smooth flow of events. They greet and guide guests, assist with seating arrangements, distribute programs or ceremony materials, and help create a welcoming atmosphere for everyone attending the celebration.
Imagine a beautifully decorated venue filled with cheerful faces eagerly waiting for the bride and groom's arrival. As a guest, you're greeted by a smiling face, someone who helps you find your seat, making you feel comfortable and welcome. That's the magic touch of the wedding usher, a key player in the grand scheme of a wedding day.
The Traditional Role of an Usher
Unraveling the pages of history, we find that the concept of ushers is not a recent one. In fact, it dates back many centuries, perhaps even more. Weddings have always been social events of great importance, and ushers have played an instrumental role in ensuring their smooth conduct.
The primary task of an usher, traditionally, was to guide guests to their seats. Imagine a large hall buzzing with people, a cacophony of voices, and laughter filling the air. Amid this lively chaos, the usher was a beacon of order, efficiently escorting guests to their designated places.
Their responsibilities didn't end at seating the guests, though. Ushers were the invisible thread that held the event together. They ensured that the timeline was adhered to, from the arrival of the bridal party to the commencement of the ceremony. Their role was pivotal in making sure that everyone was in the right place at the right time. They discreetly handled any disruptions or unexpected occurrences, smoothing over potential obstacles with grace and tact.
Ushers were also the key communicators between the guests and the wedding party. If a guest had a query or if an unexpected situation arose, the usher was the go-to person. Their role demanded both discretion and diplomacy, as they represented the couple's interests while also ensuring the comfort of the guests.
Their tasks extended beyond the ceremony too. Ushers were also involved in post-ceremony activities. They helped organize the exit of guests, assisted with any ceremonial customs, and ensured that the venue was left in a satisfactory state.
The Modern Role of an Usher
As we take a leap into the present day, we find that the role of an usher, while still retaining its traditional core, has evolved and diversified to fit the contemporary dynamics of weddings. Modern weddings, with their changing formats and increased complexity, have expanded the role of the usher, making it multifaceted and more vital than ever.
Guiding guests to their seats remains a fundamental responsibility. However, in today's world, ushers are more than just guides. They are facilitators who ensure that the event runs smoothly and without hiccups. They manage logistics, navigating the intricacies of the venue, dealing with any last-minute changes, and coordinating between various parties involved in the wedding.
In addition to managing the behind-the-scenes logistics, ushers are often called upon to handle unforeseen situations. Lost a place card? Need to squeeze in an unexpected plus-one? Is there a sudden downpour requiring a swift shift of outdoor arrangements? The usher is the knight in shining armor, adept at handling these situations with grace and efficiency, ensuring that any hiccups are barely noticed by the guests and the couple.
In many ways, the usher is also the face of the event. Their welcoming smile, courteous demeanor, and helpful attitude can significantly contribute to creating a warm, inviting environment. Their interactions with the guests help set the tone for the event, making guests feel valued and well cared for.
Moreover, in modern weddings, ushers often play a part in the ceremony itself. They might be asked to participate in the processional or assist with certain rituals. They also help orchestrate the perfect send-off for the newlyweds, organizing guests and managing any props involved, like confetti or sparklers.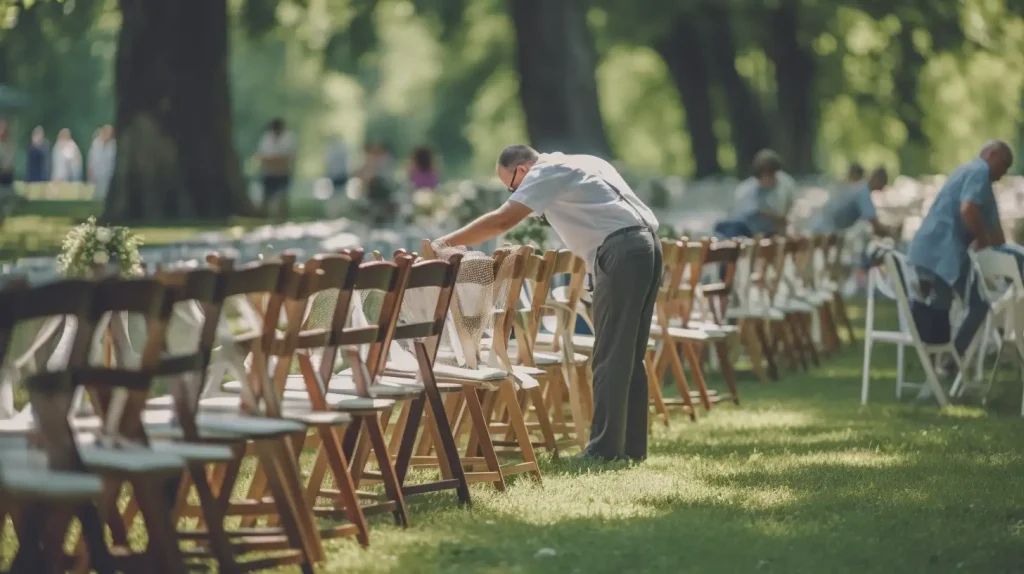 Pre-Wedding Responsibilities
In the exciting journey leading up to the wedding day, an usher plays a crucial role. This role isn't confined to the day of the ceremony alone; rather, it extends into the bustling activities of pre-wedding preparations. Let's take a look at what you might find yourself involved with as an usher before the wedding bells chime.
One of the primary pre-wedding duties you'll undertake is attending the wedding rehearsal. This is a vital step as it provides a run-through of the wedding day proceedings. During the rehearsal, you'll familiarize yourself with the ceremony's order, understand your exact duties, and get a sense of the wedding party's dynamics. It's also an excellent opportunity to ask any questions you may have and clarify your responsibilities.
Depending on the couple's needs, you may also be called upon to assist with certain pre-wedding tasks. This could range from helping to assemble and distribute wedding invitations, organizing transportation, to participating in DIY decoration sessions. Every wedding is unique, and your duties as an usher will reflect the particular needs and preferences of the couple.
Moreover, in many cases, ushers are involved in the process of setting up the venue. This could involve tasks like arranging the ceremony seating, placing signs and programs, or even helping with the decor. These duties may require you to arrive a few days before the wedding or early on the wedding day itself.
Lastly, as an usher, you're often part of pre-wedding festivities like bachelor or bachelorette parties, wedding showers, and rehearsal dinners. These events offer a chance for you to bond with the wedding party and guests, setting the stage for a warm and convivial atmosphere on the wedding day.
Wedding Day Responsibilities
When the long-awaited day finally dawns, your role as an usher kicks into high gear. The wedding day is the crescendo of all your preparations, and your tasks become crucial in ensuring a seamless and memorable event.
One of your primary duties is an early arrival at the wedding venue. While the guests are still preparing to leave their homes, you'll be at the venue, checking that everything is in order. This might involve confirming the correct placement of ceremony programs, making sure the venue signage is clear, and doing a final sweep of the seating arrangements.
Once the guests start arriving, you transform into the friendly face that greets them. Your welcoming smile can set the tone for the guests' experience, making them feel valued and comfortable. It's not just about showing them to their seats; it's about helping them transition into the festive spirit of the event.
Your role in seating guests isn't just logistical – it's also about diplomacy. You'll need to understand the seating plan, be aware of any family dynamics, and skillfully navigate any sensitive situations. You might also be asked to balance the seating in the case of uneven guest numbers on the bride and groom's sides.
As the ceremony begins, your role continues. You may be required to assist with the wedding procession, ensure the timely delivery of things like rings or ceremonial items, and direct guests during key moments like the vows or the newlywed's exit.
Throughout the event, you are also the point of contact for guest queries. Whether it's about the location of restrooms, queries about the wedding program, or the timing of the reception, you are there to answer questions and keep guests informed.
Following the ceremony, your responsibilities may extend to the reception. Guiding guests to the reception venue, helping them find their tables, and assisting with any special exits or entrances is part of the job.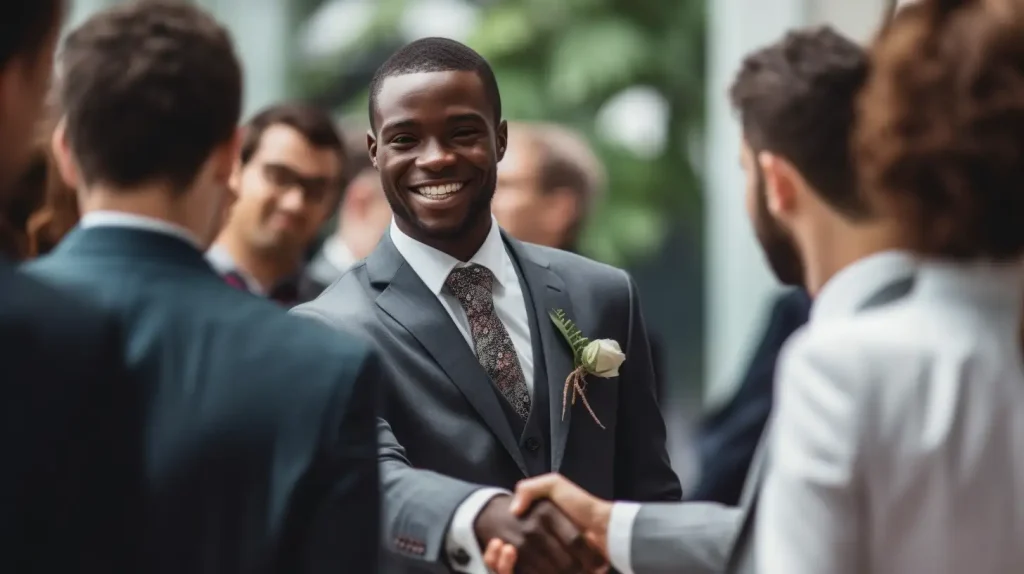 How to be an Exceptional Usher
Stepping into the role of an usher is not just about fulfilling a list of duties; it's about adding a personal touch that can truly make a difference. So, how can you transform from an usher to an exceptional usher? Let's explore the key traits and skills that can help you shine in your role.
Master the Art of Communication
Effective communication is an indispensable skill for an usher. You will need to interact with a wide range of people – from the excited bride and groom to the elderly relatives, the young ring bearer, and the various vendors. Each conversation may require a different approach, and your ability to communicate clearly, politely, and effectively can ensure that everyone is on the same page.
Develop a Friendly Disposition
As an usher, you're often the first person guests interact with, and your demeanor sets the tone for their experience. A friendly and welcoming disposition can go a long way in making guests feel comfortable. Remember, a warm smile, a kind word, and a helpful attitude can create a positive impression that lasts throughout the event.
Cultivate an Aptitude for Problem-Solving
No matter how meticulously a wedding is planned, unexpected situations can arise. This is where your problem-solving skills come into play. Whether it's handling a last-minute seating issue, calming a fussy child, or finding a quick fix for a fallen decoration, your ability to think on your feet and find solutions can save the day.
Stay Calm Under Pressure
Weddings, beautiful as they are, can also be a whirlwind of activities and emotions. As an usher, you may find yourself in high-pressure situations. Staying calm, composed, and patient in such moments is crucial. Remember, your calm demeanor can also help soothe any frazzled nerves around you.
Be Proactive and Attentive
An exceptional usher is one who is proactive, one step ahead of the game. Anticipate needs, spot potential issues before they become problems, and always keep an eye out for ways to enhance the guests' experience. Being attentive to details and responsive can make a significant difference.
Special Considerations for Ushers
Stepping into the role of an usher often means navigating the vibrant and diverse landscape of weddings. Each event is a unique blend of cultural nuances, personal preferences, and traditional rituals. As an usher, you need to be aware of and sensitive to these special considerations. Let's dive into what this could entail.
Respecting Cultural and Religious Traditions
Weddings can be a beautiful mosaic of various cultural and religious traditions. As an usher, you may find yourself part of a ceremony that follows specific rituals and customs. It's essential to respect these traditions, even if they are different from your own.
To do this effectively, familiarize yourself with the unique aspects of the ceremony ahead of time. Understand the cultural norms, rituals, and etiquette associated with the wedding. This knowledge will help you perform your duties in a way that respects and honors the couple's heritage and beliefs.
Understanding Personal Preferences
Every couple is unique, and their wedding is a reflection of their personal tastes and preferences. As an usher, you need to understand these preferences and incorporate them into your role.
For instance, the couple may have specific requests regarding the seating arrangement, the order of the procession, or how they want their guests to be greeted. By being attentive to these details, you can ensure that your actions align with the couple's vision for their big day.
Being Sensitive to Family Dynamics
Every family has its dynamics, and weddings often bring these into sharper focus. As an usher, being sensitive to these dynamics is part of your role.
You may need to tactfully manage seating arrangements to avoid potential conflicts. Or you might have to navigate the complexities of blended families, ensuring that everyone feels included and valued. Remember, your objective is to contribute to a harmonious and inclusive atmosphere.
Accommodating Special Needs
It's important to remember that some guests may have special needs. Elderly guests, people with disabilities, or families with young children may need additional assistance. From ensuring accessible seating to helping with prams or wheelchairs, your role as an usher may involve catering to these special needs.
The Rewards of Being an Usher
Being an usher at a wedding is a role that comes with its fair share of responsibilities. It can be demanding, requiring a blend of skills and a significant time commitment. Yet, amidst all the hustle and the bustle, you'll find that the rewards of being an usher are manifold. Let's reflect on the richness of the experience that this role can bring.
Being Part of a Momentous Day
As an usher, you're not just a guest; you're an integral part of one of the most special and momentous days in a couple's life. You are there, right in the thick of things, contributing to a celebration of love and commitment. This privilege, of being woven into the fabric of such a significant occasion, is a reward in itself.
Contributing to the Joy
With every task you perform, every guest you assist, and every problem you solve, you contribute to making the couple's day unforgettable. Your role allows you to add to the joy and the harmony of the celebration, creating a positive impact that can be deeply gratifying.
Experiencing the Beauty of the Ceremony
As an usher, you get a front-row seat to the heartwarming beauty of the ceremony. You're there to hear the heartfelt vows, see the exchange of rings, and witness the first kiss as a married couple. These moments, filled with love and emotion, can touch you on a deeply personal level.
Connecting with People
In your role as an usher, you'll interact with a diverse array of people – the happy couple, family members, friends, and other guests. These interactions can lead to meaningful connections and enrich your social experience. The wedding can also be a reunion of sorts, providing an opportunity to catch up with family and friends.
Developing Skills
Though it may not be the first thing that comes to mind, being an usher can be an opportunity for personal growth. The various tasks and challenges you encounter can help you develop and hone valuable skills – communication, problem-solving, and diplomacy, to name a few.
Usher Attire and Presentation
Your role as an usher isn't just about fulfilling a list of duties; it's also about being a visible and approachable presence at the wedding. From your attire to your demeanor, every aspect of your presentation matters. Here's a guide on how to present yourself as an usher.
Choosing the Right Attire
Your attire plays a vital role in setting the tone for the wedding. It is generally chosen to complement the wedding's style and color scheme, ensuring that you blend seamlessly into the overall aesthetic of the day.
If the wedding is formal, you might be required to wear a tuxedo or a suit, possibly in a specific color or style that matches the groomsmen. For a semi-formal or casual wedding, a dress shirt and trousers, or even a cultural attire, may be appropriate.
In some cases, the couple may provide specific guidelines or even supply the attire for their ushers. If not, it's always a good idea to clarify the expectations well in advance to avoid any last-minute confusion.
Grooming and Personal Hygiene
Along with the right attire, good grooming and personal hygiene are crucial. This might involve getting a neat haircut, maintaining a clean-shaven look or well-trimmed beard, and ensuring your hands and nails are clean. Your clothes should be well-ironed, and shoes polished. Remember, as an usher, you are part of the wedding's presentation, and your appearance should reflect the elegance and significance of the occasion.
Carrying Yourself with Confidence
Your demeanor and body language also contribute to your presentation as an usher. Carry yourself with confidence and composure. Stand up straight, make eye contact when speaking with guests, and move with purpose and ease.
Being Friendly and Approachable
Being an usher is about more than just looking the part; it's about being a welcoming and helpful presence at the wedding. Wear a warm, genuine smile – it's your most important accessory! Make guests feel comfortable with your friendly and approachable demeanor. Remember, you are one of the first people the guests will interact with, and your attitude can set the tone for their entire experience.
Conclusion
By now, you might have realized that being an usher is more than just a title. It's a responsibility laden with the potential to create magical moments. So, if you've been entrusted with this role, wear it proudly, knowing that you're an essential part of the beautiful symphony that is a wedding day.
FAQs
Q: How does an usher greet and guide guests?
A: Ushers warmly welcome guests as they arrive at the wedding venue, offering directions and guidance. They may provide information about seating arrangements, point guests towards restrooms or other facilities, and answer any questions or concerns.
Q: What is the significance of seating arrangements for ushers?
A: Ushers play a crucial role in ensuring that guests are seated comfortably and according to the designated seating plan. They guide guests to their assigned seats or escort them to open seats, ensuring a smooth and organized seating process.
Q: What other duties do ushers typically perform?
A: In addition to their main responsibilities, ushers may assist with other tasks such as managing guest books, collecting RSVPs, or directing guests to the reception venue. They may also assist with any last-minute arrangements or help coordinate transportation for guests if needed.
Q: How many ushers are usually present at a wedding?
A: The number of ushers can vary depending on the size and complexity of the wedding. Generally, weddings have between two to six ushers, but larger weddings may require more ushers to ensure efficient guest management.
Q: How can ushers contribute to creating a positive wedding experience?
A: Ushers play a vital role in creating a welcoming and organized atmosphere for guests. By providing assistance, guidance, and a friendly demeanor, they help ensure that guests feel comfortable and enjoy a smooth and memorable wedding celebration.
Q: What should ushers do if guests have special needs or require special accommodations?
A: Ushers should be attentive to the needs of all guests, including those with special requirements. If guests require special accommodations, such as wheelchair accessibility or assistance, ushers should be prepared to provide the necessary support. They can coordinate with the wedding venue staff or event planner to ensure the appropriate arrangements are made.
Q: How can ushers handle unexpected situations or challenges during the wedding?
A: Ushers should remain calm and composed in unexpected situations. If there are delays, changes in the seating plan, or any other challenges, ushers can communicate the necessary information to guests with patience and clarity. They can also seek guidance from the wedding coordinator or other event staff to address any unforeseen circumstances.
Q: Are ushers responsible for managing wedding gifts or envelopes?
A: Ushers are generally not directly responsible for managing wedding gifts or envelopes. However, they can provide guidance to guests on where to place gifts or envelopes, such as a designated gift table or card box. Ushers may also inform guests about any specific instructions provided by the wedding couple regarding gift handling.
Q: Can ushers help with escorting the wedding party during the processional or recessional?
A: While the primary responsibility of ushers is to assist guests, they may also be involved in escorting the wedding party during the processional or recessional. Ushers can guide bridesmaids, groomsmen, and other members of the wedding party to ensure they enter or exit the ceremony venue smoothly.
Q: Should ushers be familiar with the wedding timeline and schedule?
A: Yes, it is beneficial for ushers to have a good understanding of the wedding timeline and schedule. This enables them to provide accurate information to guests and ensure they are in the right place at the right time. Ushers can coordinate with the wedding coordinator or refer to the provided schedule to stay informed.
Q: Can ushers assist in managing guest seating preferences or resolving seating-related issues?
A: Ushers can play a role in managing guest seating preferences and addressing seating-related issues. They can communicate with the wedding coordinator or designated person responsible for seating arrangements to accommodate specific requests or resolve any seating conflicts that may arise.
Q: Do ushers typically receive any training or instructions before the wedding?
A: Before the wedding, ushers may receive training or instructions from the wedding couple, wedding planner, or designated coordinator. This can include details about their specific responsibilities, seating arrangements, the order of events, and any other necessary information to ensure they are well prepared for their role.
Q: Can ushers assist in coordinating transportation for guests, such as arranging shuttle services?
A: Depending on the wedding arrangements, ushers may be involved in coordinating transportation for guests. This can include providing information about transportation options, assisting with shuttle schedules, or directing guests to designated pick-up or drop-off points.
Q: Is it appropriate for ushers to socialize with guests during the wedding?
A: Ushers should strike a balance between being friendly and approachable while also remaining attentive to their responsibilities. It is generally acceptable for ushers to engage in brief conversations or exchange pleasantries with guests, but they should prioritize their duties and ensure guests' needs are met before socializing extensively.
Q: Can ushers assist with managing guest etiquette or addressing disruptive behavior?
A: Ushers can discreetly address issues of guest etiquette or disruptive behavior if they arise. They can kindly remind guests of appropriate conduct or involve the designated event staff or security personnel, if necessary, to maintain a harmonious and enjoyable atmosphere for all attendees.
Key Takeaways
Traditional Role of an Usher: Ushers have historically guided guests to their seats, maintained the timeline of events, handled disruptions, and acted as a liaison between guests and the wedding party.
Modern Role of an Usher: Ushers in contemporary weddings not only guide guests but also manage logistics, handle unforeseen situations, create a welcoming environment, and may participate in the ceremony itself.
Pre-Wedding Responsibilities: Ushers may attend the wedding rehearsal, assist with pre-wedding tasks, help set up the venue, and participate in pre-wedding festivities.
Wedding Day Responsibilities: On the wedding day, ushers arrive early to ensure everything is in order, greet and seat guests, assist with the wedding procession, answer guest inquiries,and guide guests to the reception.
Traits of an Exceptional Usher: Effective communication, friendliness, problem-solving skills, staying calm under pressure, and being proactive and attentive are important traits for an usher.
Special Considerations: Ushers should respect cultural and religious traditions, understand the couple's preferences, be sensitive to family dynamics, and accommodate special needs of guests.
Rewards of Being an Usher: Being an usher allows you to be part of a momentous day, contribute to the joy of the event, experience the beauty of the ceremony, connect with people, and develop personal skills.
Usher Attire and Presentation: Ushers should choose appropriate attire, maintain good grooming and personal hygiene, carry themselves with confidence, and be friendly and approachable.
COPYRIGHT NOTICE
Please be advised that all images, designs, and creative content on this page are the exclusive property of TheIDoGuide.com and are protected under international copyright laws. The images may not be reproduced, copied, transmitted or manipulated without the written permission of TheIDoGuide.com.
Unauthorized use, distribution, display, or creation of derivative works of any images contained on this site, is strictly prohibited and can lead to legal penalties. We actively monitor for, and enforce, our copyright interests.
If you wish to use any of our images, kindly contact us to seek permission. Respect of copyright is not merely a legal requirement but also an acknowledgement and support of the hard work and creativity that goes into producing them.
Thank you for your understanding and cooperation.
© 2023, TheIDoGuide.com. All Rights Reserved.