If you are wondering how much wedding videographers cost, you should know that the price can vary significantly depending on factors such as location, experience, duration of coverage, and additional services. On average, couples can expect to spend anywhere between $1,500 to $3,500 for a professional wedding videographer.
Imagine the moment when you say "I do" – it's a moment you'll want to relive for years to come. The laughter, the tears, and the joy of the day, all caught in vivid motion. That's the beauty of wedding videography. It's an investment, certainly, but the value it brings in capturing your special day is immeasurable. With costs varying greatly, let's dive into understanding why.
Understanding the Basics of Wedding Videography
Think of wedding videography as the art of storytelling. A wedding videographer is akin to a movie director, who doesn't just record the scenes, but weaves together a coherent, emotion-evoking narrative that reflects your unique love story.
Capturing Your Love Story
Your wedding day unfolds like a story, each chapter revealing a new facet of your relationship. Your videographer is there to capture this narrative, from the moment you start your preparations, to the exchange of vows, the first dance, the toasts, and the joyous send-off.
The Subtleties and Expressions
Every glance, every touch, every teardrop, every laugh – these are the subtle elements that wedding videographers are trained to catch. Unlike photographs, videos can capture these fleeting moments and preserve them in motion. Your video will encapsulate the way your eyes light up when you see each other, the nervous excitement in your voices, the gentleness of your touch, and the infectious joy of your laughter.
Preserving Intimate Moments
There are moments during your wedding that are intimate and deeply personal. A look shared between you and your partner, the emotional reaction of parents, or the joy of friends. These are the moments that make your wedding uniquely yours, and a good videographer will capture them with sensitivity and discretion.
Investing in Memories, Not Just a Service
When you hire a professional wedding videographer, you're entrusting them with more than just documenting an event. You're giving them the responsibility of preserving your memories. They invest time in understanding your relationship and your vision for the day. They bring their technical skills, creative vision, and professional equipment to ensure that every detail is captured beautifully. The result is not just a video, but a timeless keepsake that will help you relive your wedding day for years to come.
How Much do Wedding Videographers Cost? – Factors That Influence the Cost
When it comes to pricing for wedding videography, there's a wide range. A variety of factors come into play, and understanding these can help you make an informed decision.
Experience and Expertise
Just like in any profession, experience and expertise carry a lot of weight in videography. A seasoned videographer brings a wealth of knowledge, honed skills, and a proven track record. They can anticipate moments before they happen and are adept at handling any unforeseen situations that may arise. Their experience allows them to create a high-quality, professional end product. Consequently, they may charge more than someone just starting out in the field.
Time Spent Filming
The length of your wedding day can significantly impact the cost of your wedding videography. A longer event requires more hours of filming, more footage to review, and more time spent on editing. This will be reflected in the final cost. Some videographers offer packages based on the number of hours, while others may provide a full-day rate.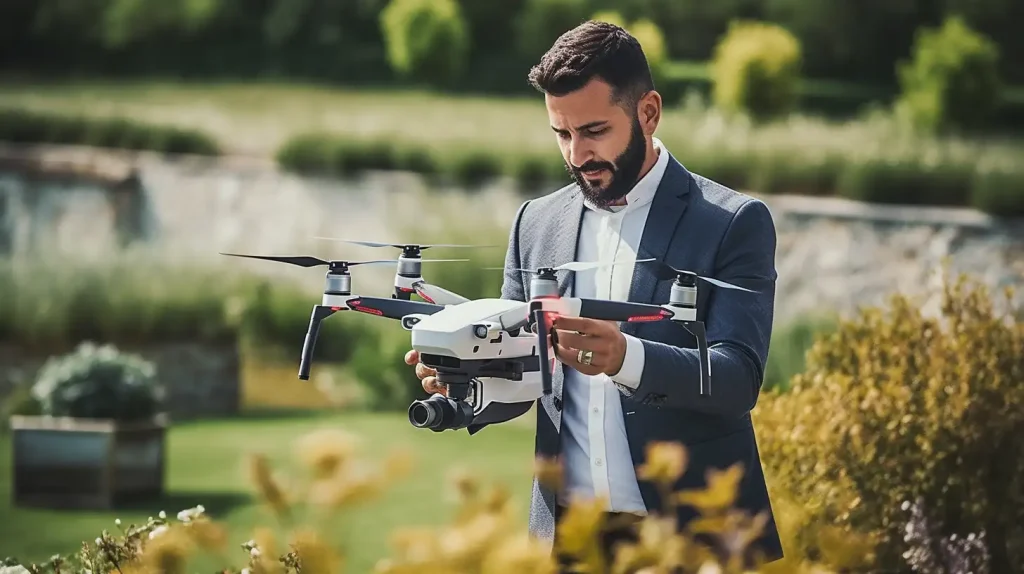 Equipment and Technology Used
High-quality video requires high-quality equipment. Professional videographers invest heavily in their gear, from state-of-the-art cameras and lenses to audio equipment, lighting, and stabilizers. Some may even use drones for aerial footage or multiple cameras for different angles. This investment in technology is factored into their pricing.
Post-production Editing
A considerable amount of work goes into post-production, often more than the actual shooting. This stage involves reviewing all the footage, selecting the best shots, editing for color and clarity, adding effects, syncing the audio, and incorporating music. It's a time-consuming process that requires a skilled hand and a creative eye, contributing significantly to the cost.
Additional Services
Consider the extras you may want. This could include a drone to capture unique aerial views of your venue, a second videographer to ensure more coverage, or a same day edit to showcase a highlight reel at your reception. Each of these add-ons comes at an additional cost.
Breaking Down the Costs: What You're Paying For
When you receive a quote from a wedding videographer, it's important to understand that it covers more than just the hours they spend at your wedding. The process is divided into several stages, each contributing to the final cost.
Pre-Production Planning
This stage includes all the groundwork done before your wedding day. It may involve:
Consultations: Meetings with you to understand your expectations, style preferences, and the wedding schedule.
Scouting: Your videographer might visit your venue ahead of time to plan shots, understand the lighting conditions, and identify potential obstacles.
Preparation: The videographer needs to prepare their equipment, create a shot list, coordinate with other vendors, and possibly hire a second shooter or assistants.
Wedding Day Filming
The most visible part of the process is the wedding day itself, where the videographer spends hours capturing all the important moments. This involves:
Labor: The hours spent by the videographer (and any assistants) at your wedding, which often extend beyond the actual event for setup and breakdown.
Equipment: Professional videographers use high-quality cameras, lenses, audio equipment, lighting, and more, all of which are factored into the cost.
Post-Production Editing
Once the wedding is over, the videographer spends hours in post-production. This includes:
Editing: Reviewing all the footage, selecting the best clips, and arranging them to create a coherent, engaging narrative.
Color Grading: Adjusting the color and brightness of the footage for visual consistency and style.
Sound Mixing: Ensuring the audio is clear and well-balanced, and any music or voiceovers are seamlessly incorporated.
Music Selection: Often, videographers license music for your video to avoid copyright issues. This cost is usually included in their pricing.
Delivery of the Final Product
After all the work put into capturing and editing your video, the final product is delivered to you. This can be in the form of:
Digital Download: Some videographers may provide a link where you can download your wedding video.
USB or Physical Media: Alternatively, you might receive a USB stick, DVD, or Blu-ray disc with your video on it. This will also include the cost of the media, packaging, and shipping.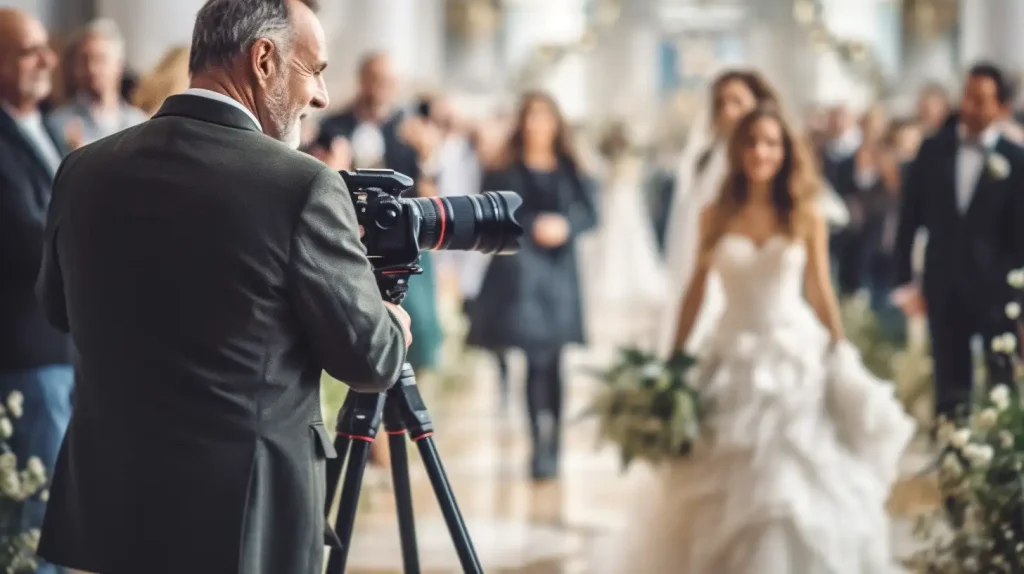 Types of Wedding Videography Packages
When looking for a wedding videographer, you'll come across various package options. Each package provides a different level of coverage and a different style, and consequently, comes at a different price. Here's an overview of some typical packages you might find:
Basic Package
A basic package is the most affordable option and generally covers only the key moments of your wedding, often just the ceremony. This package might include a single camera setup, a fixed number of hours, and a highlight reel of your ceremony. It's a good choice if you're on a tight budget but still want to capture the most important part of your day.
Standard Package
A step up from the basic package, the standard package typically covers more of your day, possibly including the ceremony and reception. It often includes multiple cameras, more hours of coverage, and an edited video of your wedding, in addition to a highlight reel.
Full-Day Package
The full-day package provides coverage for your entire wedding day, from the early morning preparations to the end of the reception. It includes multiple cameras, possibly a second videographer, and a variety of final products like a highlight reel, a fully edited video, and sometimes raw footage. This package is generally the most comprehensive and therefore the most expensive, but it ensures that no moment of your special day is missed.
Cinematic Package
Some videographers offer a cinematic package, which focuses not just on capturing events, but on telling your love story in a film-like manner. This might involve additional elements like voiceovers, interviews, and even pre-wedding shoots to provide backstory. This style requires a high level of skill and more post-production time, making it a pricier option.
Custom Package
In addition to these standard packages, many videographers offer the option to customize a package to suit your needs. You might be able to add extras like drone footage, a same-day edit, or a save-the-date video, adjust the number of hours, or decide on the style of editing.
How Much do Wedding Videographers Cost? – Additional Costs to Consider
While the videography package you choose will cover the bulk of your expenses, there might be additional costs that aren't immediately apparent. It's important to discuss these with your videographer to ensure you're budgeting accurately. Here are a few potential extras:
Travel Costs
If your videographer is not local to your wedding venue, there might be additional charges to cover their travel expenses. This can include gas or airfare, hotel accommodations, and meals. If you're planning a destination wedding, these costs can add up, so it's something to consider when hiring a videographer.
Extra Hours
Most videography packages are based on a set number of hours. If your wedding runs longer than expected, or if you decide you want additional coverage, you might have to pay for extra hours. This can also apply if you have events spread across multiple days, like a rehearsal dinner or a post-wedding brunch.
Second Shooter
If you want more coverage, especially at a large wedding, you might consider adding a second shooter. This ensures that multiple angles are captured, and important moments aren't missed. A second shooter generally comes at an additional cost.
Additional Edits or Formats
Some videographers offer additional edits, like a longer feature film, a documentary-style edit, or an Instagram-friendly version, for an added fee. Similarly, if you want your final video on a specific medium, like a USB stick, DVD, or Blu-ray disc, this might incur extra charges.
Special Requests
If you have any special requests, like drone footage, a pre-wedding love story shoot, or a same day edit to show at your reception, these will usually be considered add-ons and priced separately.
How to Budget for the Cost of a Wedding Videographer
Establishing a budget for your wedding videographer is an important step in your wedding planning. It might seem overwhelming at first but breaking it down and understanding what matters most to you can make the process much more manageable. Here are some key steps to guide you:
Understand Your Priorities
Each couple has different priorities when it comes to their wedding video. Perhaps you place a high value on the videographer's experience and portfolio, the quality and style of their work, or specific elements like drone footage or a cinematic edit. Start by deciding what is most important to you. This will give you a clearer idea of where you want to allocate your budget.
Do Your Research
Research videographers in your area to get an understanding of the average cost and what you get for that price. Look at their portfolios, read reviews, and check what's included in their packages. This will give you a benchmark for pricing and help you understand the value you're getting for your money.
Establish a Budget Range
Instead of deciding on a fixed number, consider setting a budget range for your wedding videography. This allows some flexibility to accommodate for any extras you might want, or any unexpected costs that might arise.
Balance Desire and Affordability
While it's important to consider what you desire in a wedding video, it's equally important to think about what you can afford. It's all about finding the balance between your ideal wedding video and your financial comfort zone. Remember, while a wedding video is a valuable keepsake, it shouldn't cause financial stress.
Consider the Long-Term Value
When budgeting, remember that your wedding video is more than just a one-day expense. It's a lifetime investment that captures your special day and allows you to relive those moments for years to come. This long-term value is worth considering when deciding how much to allocate towards your wedding videography.
Choosing the Right Videographer for Your Wedding
There is more to consider than just how much a wedding videographer costs. Choosing the right videographer for your wedding involves more than just comparing prices. It's about finding someone who understands your vision and can bring it to life in a way that resonates with you. Here are some steps to guide you through the process:
Review Portfolios
One of the first steps is to review potential videographers' portfolios. Look at their previous work to get a sense of their style and quality. Pay attention to the storytelling aspect – how do they put together the narrative of the day? Do they capture the emotions and details in a way that appeals to you?
Read Reviews
Reviews from previous clients can provide invaluable insight. Look for reviews that mention the videographer's professionalism, reliability, and communication skills. How did they handle the unexpected? Were they easy to work with? Did the final product meet expectations?
Understand Their Contract
Before making a commitment, ensure you fully understand the videographer's contract. This should cover all the services they'll provide, the total cost, payment schedule, cancellation policy, and any other key details. Don't be afraid to ask for clarifications if something is not clear.
Meet Them Personally
If possible, meet with potential videographers before making your decision. This gives you an opportunity to discuss your vision and expectations, and to gauge whether you feel comfortable with them. Remember, they'll be present throughout your special day, so it's important that you feel at ease.
Ask the Right Questions
Don't hesitate to ask potential videographers about their experience, equipment, backup plans, and any additional services they offer. If there's something specific you want, like drone footage or a same day edit, now is the time to bring it up.
Negotiate
Remember, while most videographers have set packages, there's often room for negotiation. If there's something you want to add or remove from a package, or if you need to tweak the pricing to fit your budget, don't be shy about discussing it with them.
Tips to Get the Most Out of Your Wedding Videographer
To ensure your wedding videographer captures your day in the best possible way, clear communication and good planning are essential. Here are some tips to help you get the most out of your wedding videographer:
Open Communication
Maintain an open line of communication with your videographer. Discuss your expectations, your vision for the video, any specific moments or people you want to be captured, and any details that are particularly important to you. The more they understand about what you want, the better they can deliver.
Share the Schedule
Share your wedding day schedule with your videographer well in advance. This helps them plan their day, ensuring they can be in the right place at the right time to capture all the important moments. If there are specific events or moments that are especially important to you, make sure to highlight these.
Provide a Shot List
While a professional videographer will be adept at capturing the key moments of a wedding, providing a shot list can ensure that nothing is missed. This list could include specific events, people, or details that you want to be sure are included in your video.
Allow for Creativity
While it's important to communicate your expectations, it's also important to allow your videographer some creative freedom. They are professionals and might have ideas for shots or moments you hadn't considered. Trust their expertise and creativity.
Be Prepared for the Unexpected
Despite all the planning, things don't always go as expected on the wedding day. A great videographer will be able to adapt to changes and still capture beautiful footage. Make sure you choose a videographer who is flexible and experienced enough to handle any surprises that may come their way.
Enjoy Your Day
Finally, the most important tip is to enjoy your day. Your happiness and enjoyment will shine through in your video, making it all the more beautiful and special.
Conclusion: How Much Do Wedding Videographers Cost?
There's a lot that goes into wedding videography, making it one of the more significant investments in your wedding planning process. But when you watch your beautifully crafted wedding video, reliving the joy and love of that day, you'll see it was worth every penny.
Remember, the videographer's experience, the time spent filming, the type of equipment, and post-production efforts all contribute to the cost. Keep in mind the different types of packages and additional costs you might encounter. Balance your budget with your expectations, and don't be afraid to ask questions when choosing your videographer.
With open communication and clear planning, you and your wedding videographer will create a treasured keepsake that allows you to revisit your special day anytime you wish. Now, with all this knowledge, you're ready to go out and find the perfect person to capture your day.
FAQs
Q: Is it possible to find budget-friendly wedding videographers?
A: Yes, it is possible to find budget-friendly wedding videographers. Some videographers offer package options at lower price points or provide discounted rates for off-peak wedding seasons or weekdays. It's important to do thorough research, compare prices, and review portfolios to find a videographer who fits within your budget and meets your quality expectations.
Q: What should I consider when comparing wedding videographer prices?
A: When comparing wedding videographer prices, it's essential to consider factors beyond just the cost. Look at the quality of their work, their style, and whether they can capture the essence and emotions you desire. Additionally, review their testimonials, online reviews, and ensure they have the necessary equipment and backup plans in case of any unforeseen circumstances.
Q: Should I prioritize price over quality when hiring a wedding videographer?
A: It's important to strike a balance between price and quality when hiring a wedding videographer. While budget considerations are understandable, remember that your wedding video will be a lasting memento of your special day. It's advisable to invest in a videographer who can provide the level of quality and expertise that aligns with your vision and expectations.
Q: How far in advance should I book a wedding videographer?
A: It's recommended to book a wedding videographer as early as possible, ideally 9-12 months in advance, especially if you have a specific videographer in mind or are planning a wedding during the peak season. Popular videographers tend to have busy schedules, so securing their services early ensures you won't miss out on your preferred choice.
Q: Are deposits required when booking a wedding videographer?
A: Yes, most wedding videographers require a deposit to secure their services. The deposit amount varies but typically falls within the range of 20-50% of the total fee. The deposit ensures that the videographer reserves the date exclusively for your wedding and may be non-refundable in the event of cancellation.
Q: What happens if my wedding date changes after booking a videographer?
A: If your wedding date changes after booking a videographer, you should inform them as soon as possible. Depending on their availability, they may be able to accommodate the new date. However, if they are unavailable,
Q: Should I hire a wedding videographer and photographer separately, or are there professionals who offer both services?
A: Both options are available. Some professionals specialize solely in videography, while others offer combined photography and videography services. Hiring a single professional for both can potentially save you time, effort, and coordination. It's important to consider their expertise in both mediums and review their portfolios to ensure they excel in both photography and videography if you choose a combined service.
Q: How can I ensure that the wedding videographer's work aligns with my vision?
A: To ensure the wedding videographer's work aligns with your vision, take the time to thoroughly review their portfolio and watch samples of their previous wedding videos. Pay attention to their style, storytelling approach, and the emotions they capture. It's also helpful to have a detailed discussion with them about your expectations, preferred shots, and any specific elements you want to be included in your video.
Q: Can I provide a list of specific shots or moments I want to be included in my wedding video?
A: Absolutely! Providing a list of specific shots or moments you want to be included in your wedding video is a great way to ensure that your videographer captures all the important elements that matter to you. Share your ideas and requests during your initial consultation or in the pre-wedding meetings to ensure they are aware of your preferences.
Q: Is it customary to tip a wedding videographer?
A: Tipping is not mandatory but is certainly appreciated if you feel the videographer has gone above and beyond your expectations. If you are satisfied with their work and professionalism, a gratuity of 10-15% of their fee is a thoughtful gesture to show your appreciation.
Q: What should I do if I am unhappy with the final wedding video?
A: In the rare case that you are unhappy with the final wedding video, it's important to address your concerns with the videographer directly and provide specific feedback on what you feel is lacking or needs improvement. Most professional videographers are committed to customer satisfaction and may be willing to make reasonable revisions or edits to meet your expectations.
Q: Can I use copyrighted music in my wedding video?
A: Using copyrighted music in your wedding video without proper licensing is generally not allowed and can lead to legal issues. However, many wedding videographers offer licensed music options or can guide you on obtaining the necessary permissions if you have specific songs in mind. It's essential to discuss the music choices with your videographer to ensure compliance with copyright regulations.
Q: How long does it typically take to receive the final wedding video?
A: The turnaround time for receiving the final wedding video varies among videographers. It can range from a few weeks to a few months, depending on factors such as the videographer's workload, editing complexity, and any additional services requested. Discuss the estimated delivery timeline with your videographer before finalizing the agreement to have a clear understanding of when you can expect to receive your final wedding video. Some videographers may provide sneak peeks or highlight reels within a shorter timeframe to give you a glimpse of the final product while you wait for the complete video.
Q: Can I request raw footage from my wedding videographer?
A: Raw footage refers to unedited, unprocessed video files captured during your wedding. While some videographers may provide raw footage upon request, it's not a standard practice. Videographers typically specialize in storytelling and cinematic editing, so they focus on delivering a polished final product. If you have a specific need for raw footage, it's best to discuss this requirement with the videographer during the initial consultation or before signing the contract.
Q: Do wedding videographer prices include travel expenses?
A: Wedding videographer prices often do not include travel expenses, especially if your wedding is in a different city or requires significant travel. Additional charges may apply to cover transportation, accommodation, and meals, depending on the videographer's policy. It's important to clarify these details and any potential travel fees during the booking process to avoid any misunderstandings.
Q: Can I make changes to the wedding videography package after booking?
A: Depending on the videographer's policies and availability, it may be possible to make changes to your wedding videography package after booking. However, keep in mind that major changes, such as altering the date or significantly extending the coverage, may require adjusting the pricing or availability of the videographer. It's recommended to discuss any desired changes as soon as possible to allow for proper planning and coordination.
Q: What happens if the wedding videographer becomes unavailable on the wedding day?
A: Professional wedding videographers often have backup plans in place to handle unforeseen circumstances, such as illness or emergencies. In the rare event that the videographer becomes unavailable on the wedding day, they will usually have a network of trusted colleagues or associates who can step in to provide coverage. This is an important aspect to discuss with your videographer during the initial consultation to ensure there is a contingency plan in case of any unexpected situations.
Q: Should I sign a contract with my wedding videographer?
A: Yes, signing a contract is crucial when hiring a wedding videographer. A contract outlines the agreed-upon services, pricing, deliverables, rights, and responsibilities of both parties. It provides legal protection and ensures that both you and the videographer have a clear understanding of the expectations. Review the contract thoroughly before signing, and if there are any concerns or questions, don't hesitate to discuss them with the videographer to reach a mutual agreement.
Key Takeaways
Wedding videographer costs can vary significantly based on factors such as location, experience, duration of coverage, and additional services.
On average, couples can expect to spend between $1,500 to $3,500 for a professional wedding videographer.
Wedding videography is an investment that captures the storytelling and emotions of your special day.
Factors that influence the cost include the videographer's experience, time spent filming, equipment and technology used, post-production editing, and additional services.
Wedding videography costs are divided into stages, including pre-production planning, wedding day filming, post-production editing, and delivery of the final product.
There are different types of wedding videography packages available, such as basic, standard, full-day, cinematic, and custom packages, each offering different levels of coverage and styles at different price points.
Additional costs to consider include travel expenses, extra hours, second shooters, additional edits or formats, and special requests.
It's important to establish a budget for your wedding videographer and prioritize your preferences while considering affordability.
When choosing a wedding videographer, review portfolios, read reviews, understand their contract, meet them personally, ask the right questions, and negotiate if needed.
To get the most out of your wedding videographer, maintain open communication, share your schedule and shot list, allow for creativity, be prepared for the unexpected, and, most importantly, enjoy your day.
COPYRIGHT NOTICE
Please be advised that all images, designs, and creative content on this page are the exclusive property of TheIDoGuide.com and are protected under international copyright laws. The images may not be reproduced, copied, transmitted or manipulated without the written permission of TheIDoGuide.com.
Unauthorized use, distribution, display, or creation of derivative works of any images contained on this site, is strictly prohibited and can lead to legal penalties. We actively monitor for, and enforce, our copyright interests.
If you wish to use any of our images, kindly contact us to seek permission. Respect of copyright is not merely a legal requirement but also an acknowledgement and support of the hard work and creativity that goes into producing them.
Thank you for your understanding and cooperation.
© 2023, TheIDoGuide.com. All Rights Reserved.