There are several options for what to do with your wedding dress after the big day. You can choose to preserve it as a keepsake, donate it to a charitable organization, sell it, or repurpose it into another garment or accessory. The decision ultimately depends on your sentimental attachment, financial considerations, and personal preferences.
As the echoes of your wedding day begin to fade, you're left with a myriad of precious memories. Perhaps none as tangible as your wedding dress, a beautiful testament to a day filled with love and joy. But you might be wondering, what exactly do you do with that exquisite garment now?
Cherishing Your Dress Post-Wedding
Is there a more cherished garment than a wedding dress? The sheer thought of the intricate lace, delicate silk, or glimmering beads likely takes you back to your special day. And you might be dreaming of the generations yet to come, picturing your daughter or granddaughter following your footsteps down the aisle, the train of your dress trailing behind them. To make this dream come true, preservation is essential.
Preserving Your Dress for Posterity
Many brides lean on the expertise of professional preservation services. These wizards of the wedding dress world can clean and preserve your dress, maintaining its original splendor. They utilize techniques that protect the fabric from yellowing, disintegration, or stains. A properly preserved dress will not just survive; it will continue to shine, echoing the joy and beauty of your wedding day.
For those of you who enjoy a hands-on approach, home preservation kits are your best friends. These kits usually include acid-free tissue paper or muslin, an acid-free box, and instructions on how to correctly pack your dress. Remember, when storing your dress, choose a cool, dry, and dark place. Extreme temperatures, moisture, and light are the enemies of your dress's longevity.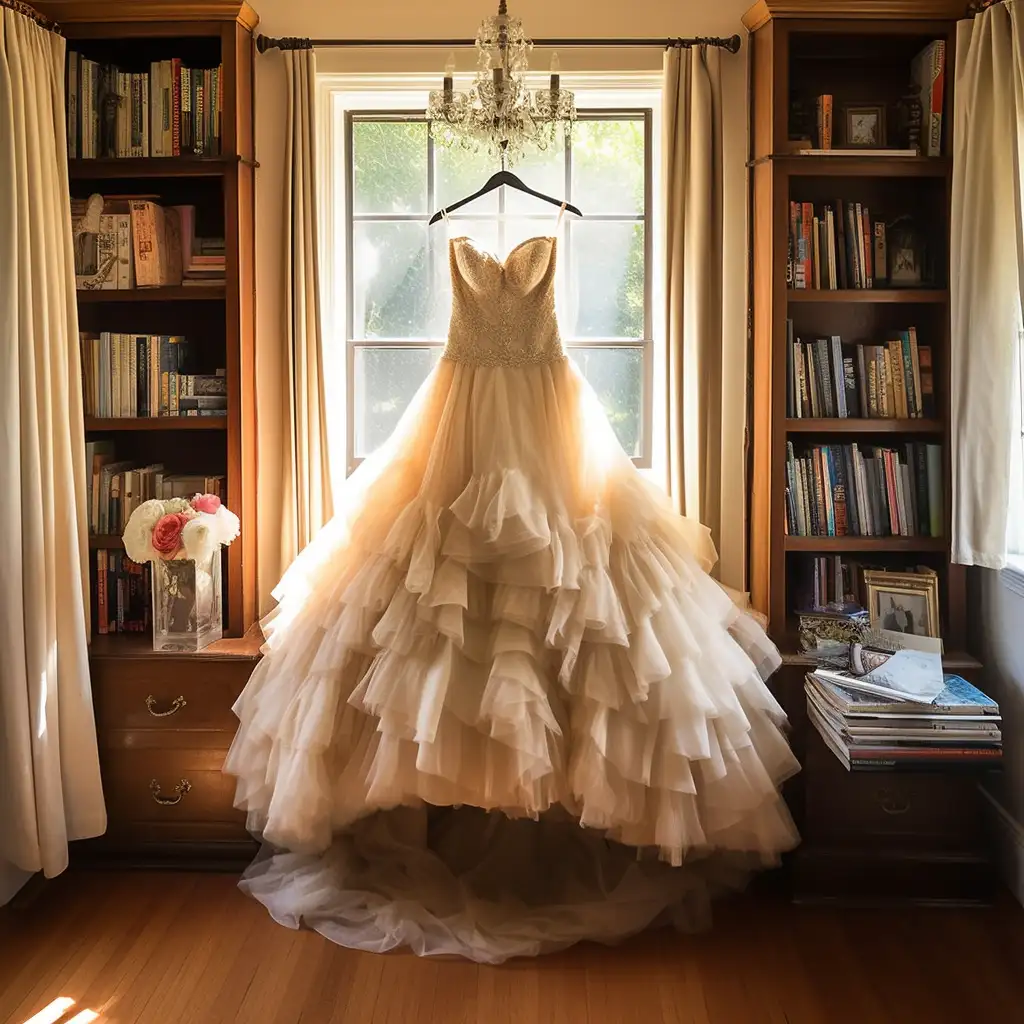 The Art of Displaying Your Dress
But why should your dress spend the rest of its life in a box? Your wedding dress is not just a piece of clothing; it's a work of art, a symbol of love, commitment, and one of the happiest days of your life. So why not give it the spotlight it deserves?
Consider framing your dress. Professional framing services can encapsulate your dress in a large, shadow box-style frame, making it a statement piece in your home. It might seem unconventional, but isn't that the essence of art?
If framing isn't quite your style, get creative. How about a custom-made mannequin displaying your dress? Or perhaps a glass case, much like what you would see in a museum. Some have even incorporated their dress into a quilt, or creatively displayed parts of it in a multi-picture frame along with other mementos from the big day.
Just imagine walking by your wedding dress every day, a beautiful symbol of love, frozen in time. It's not just a constant reminder of your wedding day, but a conversation starter, a piece of art, and a meaningful piece of your personal history.
Transforming the Dress
What if your dress could be more than just a keepsake from your wedding day? What if it could become a part of your everyday life, a tangible piece of your history that you could wear, touch, or see regularly? With the help of an experienced tailor, or a bit of creative thinking, your wedding dress can be so much more.
From Wedding Gown to Stylish Ensemble
Imagine stepping into a room in a stunning cocktail dress, all eyes on you. You dazzle, not just because the dress is beautiful, but because it has a story. It's your wedding dress, transformed. An experienced tailor can reshape your wedding dress into a different style of clothing. Perhaps a chic skirt for date nights, a stylish blouse for special occasions, or even an elegant cocktail dress for black-tie events.
If you're fond of the style but wish to change the color, consider dyeing your dress. A professional can guide you on the best methods to change the color without damaging the fabric or design. You could even try out some fabric painting or embellishment for a unique twist.
Repurposing Your Dress into New Keepsakes
Maybe you love the idea of creating something entirely new from your dress. Something that serves a purpose and allows you to keep a piece of your special day close to you.
For the craft-savvy, consider turning pieces of your dress into a beautiful quilt. This way, you can snuggle up with your cherished memories on a chilly night. Or perhaps you could incorporate elements of the dress into heirloom jewelry. A locket with a piece of lace, or a charm bracelet adorned with beads from your dress, could be a stunning accessory with sentimental value.
Ever thought about lounging with a good book and a cup of tea, a soft pillow beside you made from your wedding dress? It's a comforting thought, isn't it? The options don't stop there. Some have turned their dress fabric into bookmarks, decorative throws, or even baby blankets.
Certain families carry a sweet tradition of transforming wedding dresses into christening gowns or baptism outfits. This not only ensures the dress continues its journey within your family but also strengthens the bond between generations.
The potential for transformation is truly endless. Your wedding dress, imbued with love and joy, can take on a new life and continue to be a part of your story, one stitch at a time.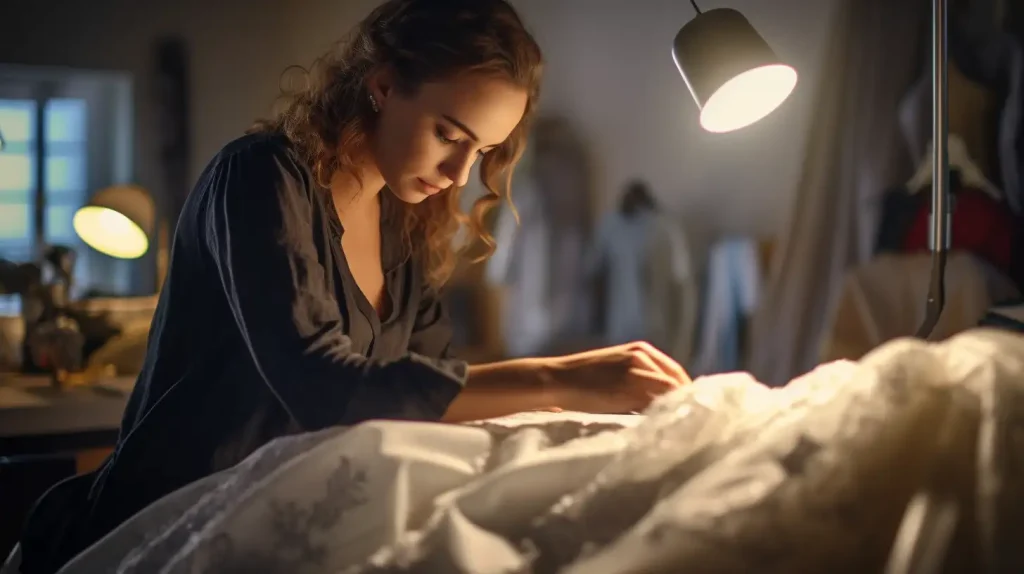 Sharing the Love: Passing Down or Donating the Dress
Sometimes, the beauty of a wedding dress lies not just in the intricate details of the fabric or the fit that made you feel like a million dollars, but in the love it symbolizes. And this love doesn't have to end with your big day. Maybe your wedding dress's destiny is to bring joy to another bride. To touch another life, as it touched yours.
Passing the Dress Down
Have you ever looked at your wedding dress and thought of a sister, cousin, or close friend wearing it on their big day? Passing down your wedding dress within the family or friend circle can become a beautiful tradition. It's not just about the dress; it's about the stories, memories, and love it carries from one bride to another.
Consider talking to your loved ones about this possibility. Share your idea, your sentiment, and see if they connect with it. If they do, you can experience the joy of seeing your wedding dress come to life again, witness another chapter in its journey, and feel the warmth of sharing something so special with someone you care about.
Donating the Dress: A Gift of Love
Alternatively, you might resonate with the idea of your dress bringing joy to a bride whom you may not know, but who might cherish it just as much as you did.
Several charities and organizations welcome wedding dress donations. These charities not only give your dress a new life but utilize it to support various causes. Some of them convert these dresses into beautiful gowns for infants who don't make it home from the hospital, creating a poignant legacy. Others resell the dresses at a fraction of the original cost, making the dream of wearing a beautiful wedding gown come true for brides who may not otherwise be able to afford it. The proceeds often go towards supporting various charitable activities, ranging from cancer research to providing for those in need.
Imagine the ripple effect of joy and love your dress could create. It could bring a smile to another bride's face, support a worthy cause, and make a difference in the world.
Selling Your Dress
Another potential path for your wedding dress lies in the possibility of selling it. It's not just about recouping some of the money you spent but also about providing another bride the chance to feel as special as you did on your wedding day. With numerous online platforms and local consignment stores at your disposal, selling your dress is a viable option that's easier than ever before.
The Online Marketplace: Connecting Brides Across the Globe
The digital age provides numerous opportunities for brides-to-be to find their dream wedding dress. That could be your dress! Online platforms such as 'Stillwhite', 'Nearly Newlywed', and 'PreOwned Wedding Dresses' specialize in connecting sellers with potential buyers.
But remember, selling your dress online is all about presentation. Ensure you have well-lit, high-quality photos that capture the beauty of your dress. Show off the exquisite detailing, the flow of the fabric, and the unique design elements. Provide different angles and close-ups to give potential buyers a comprehensive view.
In addition to photographs, prepare a detailed description of your dress. Talk about the designer, the size, the alterations you made, and most importantly, how it made you feel. Share the story of your dress, because that's what another bride will connect with.
Local Consignment Stores: A Touch-and-Feel Experience
If you prefer a more traditional route, local consignment stores are a fantastic option. This allows potential buyers to see, touch, and even try on your dress. It's also a great option if you're not keen on managing listings, answering questions, or shipping the dress yourself.
Before you choose a consignment store, do some research. Look for stores that have a good track record of selling wedding dresses. Visit the store, understand their process, and get a feel for whether your dress would be a good fit for their clientele.
Selling your dress is more than a financial decision. It's about passing on the joy, the love, and the beauty your dress represents. It's about giving your dress a new life, a new story. So, here's to your dress's next adventure and the bride who will cherish it as much as you did!
Other Creative Ideas
When it comes to what you can do with your wedding dress post-wedding, the only limit is your imagination. Ever thought of turning your dress into the star of a fun, whimsical photo shoot? Or transforming it into unique pieces of art for your home? Some brides even dare to venture into the 'trash the dress' trend for a daring, unforgettable experience.
Post-Wedding Photo Shoots: Creating Memories with Your Dress
A post-wedding photo shoot with your dress can be a fantastic way to let loose and capture some unforgettable moments. You've already had the formal wedding photos, so now it's time to have some fun. Think of creative, themed photo shoots. Maybe you want to stage a fairytale woodland photoshoot, or perhaps a whimsical beach shoot at sunset. It could be just you, or you could involve your partner or even your entire bridal party.
Remember, these photos are about celebrating your dress and the joy of your wedding in a fun, relaxed setting. So let your personality shine through, and most importantly, have fun!
Transforming Your Dress into Art and Decor
If you have a flair for design and aesthetics, why not consider turning parts of your dress into unique art pieces or decor for your home? You could frame a piece of the lace or beadwork and hang it in your bedroom. Or consider creating a decorative ornament for your living room, incorporating fabric or embellishments from your dress.
Some brides have even transformed parts of their dress into beautiful Christmas tree ornaments, creating a beautiful, sentimental decoration that comes out year after year.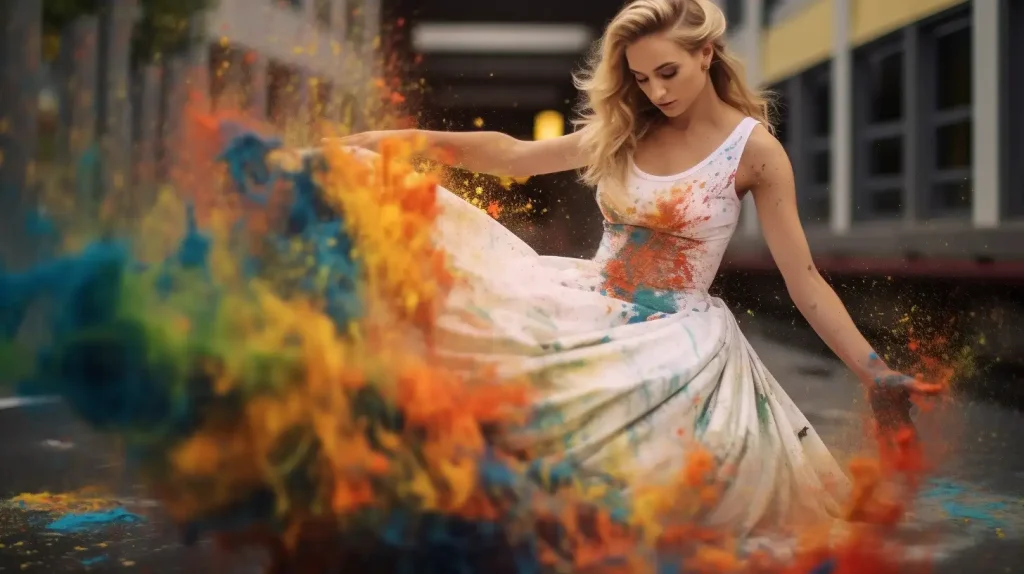 Embracing the 'Trash the Dress' Trend
For the bold and adventurous, the 'trash the dress' trend might be right up your alley. This involves a photoshoot where you intentionally get your dress dirty or wet, resulting in dramatic and breathtaking images.
Think running into the ocean, a paint-filled photoshoot, or even a session with colorful smoke bombs. It's definitely not for everyone, but if you're drawn to this idea, it can be a thrilling, liberating experience and a unique way to bid goodbye to your dress.
The key with all of these options is to let your creativity run wild. It's your dress, your story, and you can choose to celebrate it in any way you like! So go ahead, think outside the box, and make some unforgettable memories with your dress.
Conclusion
Ultimately, what matters most is that the choice you make brings you joy and satisfaction. Your wedding dress is an emblem of a beautiful day in your life, and it should continue to bring you happiness in whatever form you choose.
The journey of your wedding dress doesn't end at the reception. Whether you choose to preserve, transform, share, sell, or creatively use your dress, the possibilities are endless. Embrace the option that feels right for you and let your dress continue its story in a way that makes you smile every time you think about it. After all, your dress was a part of one of the most memorable days of your life, and its story is interwoven with yours.
FAQs
Q: Is it worth preserving my wedding dress if I don't plan to pass it down or use it again?
A: The decision to preserve your wedding dress depends on its sentimental value to you. If it holds special memories and you wish to keep it as a cherished keepsake, preserving it can be worthwhile. However, if it doesn't have much sentimental value and you have no plans for future use, other options like repurposing or donating may be more suitable.
Q: Can I alter my wedding dress to fit me better after the wedding?
A: Yes, you can alter your wedding dress to achieve a better fit. Consult with a professional seamstress or tailor experienced in wedding dress alterations. They can assess the dress and make adjustments based on your specific needs and preferences.
Q: What should I do if my wedding dress has sentimental value but is damaged?
A: If your wedding dress has sentimental value but is damaged, you can consult with a professional wedding dress restoration specialist. They have expertise in repairing and restoring wedding dresses, even those with significant damage. This way, you can preserve the sentimental value while also restoring the dress to its former glory.
Q: Can I donate my wedding dress if it's not in perfect condition?
A: Yes, many organizations accept wedding dresses in various conditions. While some prefer dresses in good condition, others may accept dresses that need minor repairs or cleaning. Contact the organization you wish to donate to and inquire about their specific requirements.
Q: Are there any organizations that use wedding dresses to support a cause?
A: Yes, there are organizations that use donated wedding dresses to support various causes. For example, some organizations provide free or discounted dresses to military brides, healthcare workers, or couples affected by natural disasters. Research local and national charities to find one that aligns with your values.
Q: Can I rent out my wedding dress instead of selling it?
A: Yes, renting out your wedding dress is becoming increasingly popular. There are online platforms and boutiques that allow you to list your dress for rent. Keep in mind that renting out your dress may involve additional responsibilities, such as cleaning and maintenance between rentals.
Q: How do I clean my wedding dress before storing or donating it?
A: It's essential to have your wedding dress professionally cleaned by a specialist who has experience with delicate fabrics and intricate details. They will use appropriate cleaning techniques to ensure your dress is thoroughly cleaned without causing any damage.
Q: Should I insure my wedding dress before taking any further steps?
A: Insuring your wedding dress is a personal choice. If your dress holds significant financial or sentimental value, you may want to consider wedding dress insurance. It can provide coverage in case of theft, damage, or loss. Contact your insurance provider to inquire about specific coverage options.
Q: How do I determine the value of my wedding dress for selling or insurance purposes?
A: When assessing the value of your wedding dress, consider factors such as the original price, designer, condition, and market demand. Research similar dresses online or consult with professionals in the bridal industry to get an idea of its worth.
Q: Is it possible to rent a wedding dress for my special day instead of buying one?
A: Yes, renting a wedding dress is a popular option for many couples. There are bridal boutiques and online platforms that offer a wide selection of rental dresses in various styles and sizes. Renting can be a cost-effective choice, especially if you don't plan to keep the dress after your wedding.
Key Takeaways
Options for what to do with your wedding dress after the big day include preserving it, donating it, selling it, or repurposing it.
Preservation of the dress is essential if you want to keep it as a cherished keepsake. Professional preservation services can clean and protect the fabric to maintain its original splendor. Home preservation kits are also available.
Displaying your dress can be an artistic way to showcase its beauty. Consider framing it, using a custom-made mannequin, or incorporating it into a quilt or multi-picture frame.
Repurposing your dress into new garments or accessories allows you to continue enjoying it in your everyday life. An experienced tailor can transform it into a skirt, blouse, or cocktail dress. Dyeing or embellishing the dress is also an option.
Creating new keepsakes from your dress can be a meaningful way to preserve its sentimental value. Consider turning it into a quilt, heirloom jewelry, pillows, bookmarks, or even christening gowns.
Passing down the dress within your family or friend circle can become a beautiful tradition, carrying stories and memories from one bride to another. Donating the dress to charities can also bring joy to other brides and support various causes.
Selling the dress is a viable option, either through online platforms specializing in wedding dress sales or local consignment stores.
Other creative ideas for the dress include post-wedding photo shoots, transforming it into art or decor for your home, or participating in the "trash the dress" trend for a unique experience.
The decision on what to do with your dress should bring you joy and satisfaction. Choose an option that aligns with your sentimental attachment and personal preferences.
Consider factors like sentimental value, condition, and market demand when determining the value of your dress for selling or insurance purposes.
COPYRIGHT NOTICE
Please be advised that all images, designs, and creative content on this page are the exclusive property of TheIDoGuide.com and are protected under international copyright laws. The images may not be reproduced, copied, transmitted or manipulated without the written permission of TheIDoGuide.com.
Unauthorized use, distribution, display, or creation of derivative works of any images contained on this site, is strictly prohibited and can lead to legal penalties. We actively monitor for, and enforce, our copyright interests.
If you wish to use any of our images, kindly contact us to seek permission. Respect of copyright is not merely a legal requirement but also an acknowledgement and support of the hard work and creativity that goes into producing them.
Thank you for your understanding and cooperation.
© 2023, TheIDoGuide.com. All Rights Reserved.