Imagine you've just found your dream wedding dress. It's beautiful, the style you've always wanted. However, the fit isn't quite right. Don't worry, you're not alone. Wedding dress alterations are a common part of the bridal experience and an essential step in ensuring you look perfect on your big day.
Understanding Wedding Dress Alterations
First, let's unpack what 'alterations' really mean. Alterations refer to the series of modifications or adjustments made to your wedding dress to ensure it fits you as though it was molded just for you. You might wonder, why are alterations so important, even when you've opted for a made-to-measure dress? The answer lies in the uniqueness of each individual's body. Despite precise measurements, capturing the exact contours and nuances of your body can be challenging, making tweaks often necessary.
Let's take a closer look at some common types of wedding dress alterations:
Hemming
Hemming is perhaps the most straightforward alteration, involving adjusting the length of your dress. Whether you're wearing flats or sky-high stilettos, your dress needs to grace the floor just right – not too long that you're tripping over it, and not too short that it looks off.
Taking in and Letting Out
More complicated than hemming, these alterations involve adjusting the size of the dress to perfectly hug your figure. 'Taking in' means reducing the size of the dress, typically at the seams, for a snugger fit. Conversely, 'letting out' refers to loosening the dress a bit, usually by letting out the seams or adding fabric.
Bodice Adjustments
These adjustments could include altering the neckline, resizing the bust area, or modifying the back. Depending on the style of your dress and your body shape, these alterations ensure the upper part of your dress complements you perfectly.
Adding a Bustle
A bustle refers to the process of elegantly tacking up the train of your dress, allowing for easier movement and dancing post-ceremony. There are different bustle styles to choose from, and the best one for you depends on your dress style and personal preference.
Sleeve Adjustments
If your dress has sleeves, they might need to be resized or repositioned for a comfortable fit. This is especially important if you're planning on throwing some shapes on the dance floor!
Remember, wedding dress alterations aren't about changing the style of your dress but rather making the existing style work for your body. It's all about ensuring that on your big day, your dress is as comfortable as it is beautiful.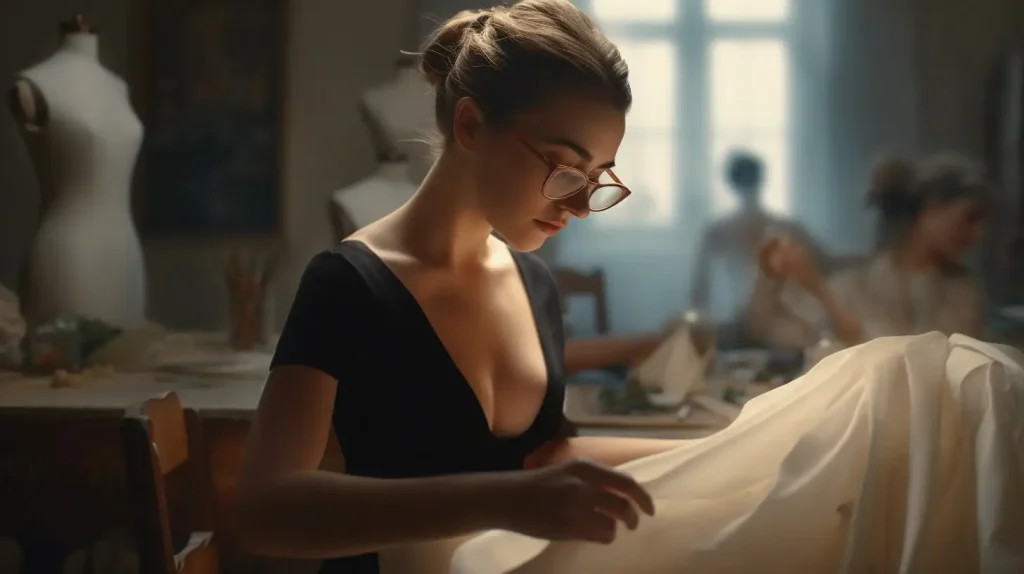 Factors Influencing the Cost of Alterations
Understanding the potential cost of alterations can help you set realistic expectations and budget appropriately. Several factors play a part in determining these costs, including the complexity of alterations, the fabric and detailing of your dress, and even the geographical location of your alterations professional.
Complexity of Alterations
The complexity of the alterations required is a significant cost factor. As you might expect, a simple hem will cost less than more extensive bodice adjustments or resizing. Each alteration is unique, and the time, skill, and effort needed can vary greatly.
Simple alterations – like hemming or taking in the sides, might cost less because of their relatively straightforward nature.
Complex alterations – such as bustle addition, adjusting heavily beaded sections, or modifying the gown's structure, may be more costly due to their intricate and labor-intensive nature.
Fabric and Detailing of Your Dress
The type of fabric and the detailing on your dress can dramatically impact the cost of alterations. Some fabrics are harder to work with than others. Silk, for instance, is delicate and requires careful handling. Similarly, dresses with complex detailing such as beadwork, lace, or embroidery might need more careful, time-consuming work, resulting in a higher cost.
Location and Expertise
Just as with any other service, where you live can affect how much you pay for alterations. In general, costs may be higher in big cities compared to smaller towns. Additionally, the expertise of the professional you choose also plays a part in the cost. An experienced seamstress or tailor with a well-established reputation might charge more than someone who's just starting out.
Urgency of the Alterations
How soon you need your dress can also influence the cost. If you require a quick turnaround for your dress, you might have to pay a 'rush fee' for expedited service.
How to Budget for Wedding Dress Alterations
Budgeting for your wedding dress alterations is an essential part of your wedding planning. While costs can vary significantly based on the factors we've discussed, we can provide a general guideline to help you plan.
General Cost Range
To give you a starting point, typical wedding dress alterations can range anywhere from $200 to $800. This includes common adjustments like hemming, taking in or letting out the dress, and perhaps adding a bustle.
High-End Designers and Intricate Changes
However, if your dress is from a high-end designer, or requires more complex alterations, these costs can go up, sometimes reaching towards $1000 or more. For instance, dresses with detailed lace, beading, or unique structural elements might require more skilled and time-consuming work, thereby increasing the alteration costs.
Setting a Budget
When setting a budget, consider the factors that might influence the cost of alterations. This can include everything from the complexity of changes needed to the expertise of your chosen professional. It's wise to set aside a portion of your wedding budget specifically for dress alterations. This can help avoid any surprises down the line.
Remember to account for potential hidden costs too. These could include:
Rush fees: If you require last-minute alterations or a faster turnaround time, you might need to pay extra.
Multiple fittings: Your dress may require more than one fitting to achieve the perfect fit. Each session could add to the overall cost.
Post-fitting adjustments: Once you've had your fitting, additional adjustments might be necessary, which could incur additional costs.
Choosing the Right Professional for Your Alterations
Your wedding dress is more than just a garment; it's a symbol of your love and commitment, a key part of your special day. So, it's only natural to want to entrust its care and alterations to the right professional. Here are some factors to consider in this process:
Qualifications and Experience
Consider the qualifications and experience of the professional. A skilled seamstress or tailor will have a solid understanding of different fabrics, garment construction, and the intricacies of alterations. They should also be familiar with wedding dress styles and the delicate details often found on these dresses.
Positive Reviews
Before you choose your professional, look for reviews and recommendations. You can ask for references, check online reviews, or seek recommendations from friends or family. Positive feedback from previous clients can provide confidence in their abilities.
Personal Rapport
An often overlooked but crucial factor is the personal rapport. This person will be handling your dream dress, so it's essential to feel comfortable with them. They should be someone who listens to your needs, communicates effectively, and respects your vision for the dress.
Asking the Right Questions
Don't hesitate to ask questions. Understanding the alteration process and what it involves can help you set realistic expectations. Some useful questions to ask might include:
How long will the alterations take?
How many fittings will I need?
What is the process if I'm not happy with the result?
Can you work with the specific fabrics and details on my dress?
Do you have experience with dresses of similar style?
Armed with these answers, you'll be better equipped to make an informed choice.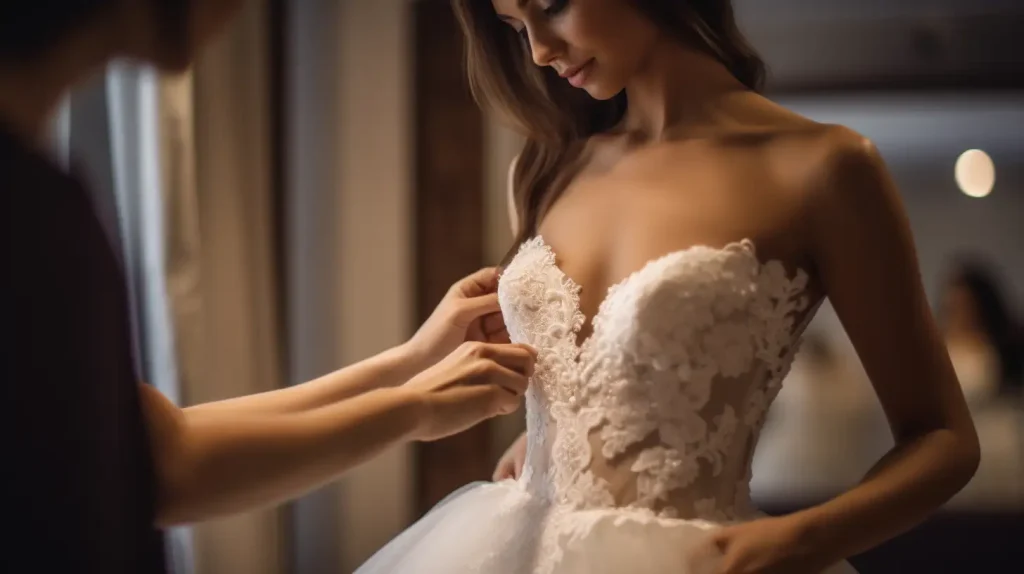 Tips for a Smooth Alterations Process
The journey to perfect wedding dress fit doesn't have to be stressful. With the right approach and a little bit of planning, you can ensure a smooth alterations process. Here are some tips to guide you:
Start Early
As a rule of thumb, it's wise to begin the alterations process about three months before your wedding. This timeframe allows enough wiggle room for multiple fittings and any complex adjustments that your dress might require. Remember, rushing can lead to stress and increased costs, so the earlier you start, the better.
Bring Your Wedding Shoes and Undergarments
To achieve the perfect fit, remember to bring the exact shoes and undergarments you plan to wear on your wedding day to each fitting. These can dramatically influence how your dress fits. For instance, the height of your heels can affect the dress's hemline, and the right bra can alter the fit of the bodice. It's all about getting a true sense of how your dress will look on your big day.
Keep Open Communication
It's essential to maintain open communication with your alterations professional. Don't hesitate to voice your expectations, preferences, and any concerns you might have. Their job is to help you look your best, and they can do this most effectively when they fully understand your vision.
Trust the Process
Alterations are a process, and it's natural to feel a bit anxious, especially in the early stages when your dress might not look exactly as you imagined. But don't worry – with each fitting, your dress will move closer to the perfect fit. Trust your professional, give them the time they need, and remember, it's all about making you look your best on your big day.
The True Value of Perfectly Fitted Wedding Dress
Investing in wedding dress alterations is about more than just the physical fit of the dress. It's about investing in your confidence, your comfort, and the memories you'll make on your wedding day.
Confidence and Poise
A perfectly fitted dress can enhance your confidence significantly. This confidence shows in your posture and in the way you carry yourself. As you walk down the aisle, all eyes will be on you, and knowing that your dress fits just right can provide an incredible boost of self-assurance.
Photographic Memories
Your wedding photographs will be keepsakes that you'll cherish for a lifetime. A well-fitted dress can make a substantial difference in how you look in these photographs. It accentuates your features, drapes elegantly, and essentially helps to capture your beauty and joy on this special day.
Comfort and Enjoyment
Comfort is crucial on your wedding day. A well-fitted dress ensures you can move freely, dance comfortably, and fully immerse yourself in the celebrations without worrying about wardrobe malfunctions. This means you can stay focused on what truly matters – celebrating your love and creating beautiful memories.
A Reflection of Your Personal Style
Finally, a perfectly fitted wedding dress is a reflection of your personal style and vision for your wedding day. The dress isn't just a garment; it's a statement of your personality, your tastes, and your dream for this special day.
FAQs
Q: Why do I need wedding dress alterations?
A: Wedding dress alterations are crucial to ensure that your gown fits you perfectly and flatters your body shape. Every bride is unique, and alterations help customize the dress to your specific measurements, ensuring comfort and confidence on your big day.
Q: Can I save money by doing the alterations myself or using a friend/family member?
A: Wedding dress alterations require skill and expertise, especially when working with delicate fabrics and intricate designs. It is generally recommended to seek the services of a professional seamstress or tailor to ensure high-quality alterations that will enhance the overall look of your gown.
Q: Are wedding dress alterations included in the purchase price of the gown?
A: In most cases, wedding dress alterations are not included in the purchase price of the gown. The alterations are typically an additional cost that the bride is responsible for.
Q: How can I prepare for my wedding dress alterations appointment?
A: It is helpful to bring the undergarments, shoes, and accessories you plan to wear on your wedding day to your alteration appointments. This allows the seamstress to make precise adjustments based on the complete ensemble. Additionally, communicate your desired alterations clearly and openly to ensure the best outcome.
Q: Is it possible to alter any wedding dress?
A: In general, most wedding dresses can be altered to some extent. However, the feasibility and extent of alterations depend on the dress's construction, fabric, and original design. It's best to consult with a professional seamstress or tailor to determine the possibilities for your specific gown.
Q: How long does it take to complete wedding dress alterations?
A: The time required to complete wedding dress alterations can vary depending on the complexity of the alterations and the availability of the seamstress or tailor. Generally, you should allow at least 4 to 8 weeks for the alterations process, which includes multiple fittings and any necessary adjustments.
Q: Can I make last-minute alterations to my wedding dress?
A: Last-minute alterations can be challenging, as it depends on the availability of the seamstress or tailor and the nature of the alterations needed. It's best to avoid making major changes close to your wedding date to ensure a stress-free experience. However, minor adjustments or final touches can often be accommodated if there is sufficient time.
Q: How can I estimate the cost of wedding dress alterations?
A: While it is difficult to provide an exact estimate without examining the dress and understanding the alterations required, you can get a general idea by discussing your needs with a professional seamstress or tailor. They can provide a breakdown of potential costs based on the alterations you desire.
Q: Are there any additional costs I should consider for wedding dress alterations?
A: In addition to the actual alteration charges, it's important to factor in additional costs such as the cost of undergarments, accessories, or any special embellishments you may want to add to your dress. These extras can contribute to the overall expense of your alterations.
Q: What should I do if I lose or gain weight after the alterations are done?
A: If you anticipate significant weight changes after your alterations are completed, it's advisable to discuss this with your seamstress or tailor during the fitting process. They may suggest certain alterations that can accommodate minor weight fluctuations or provide guidance on when to schedule final fittings closer to your wedding date.
Q: Can wedding dress alterations be done for vintage or heirloom gowns?
A: Yes, wedding dress alterations can be performed on vintage or heirloom gowns to restore or update their look while preserving their sentimental value. However, it's important to consult with an experienced professional who specializes in working with delicate fabrics and antique garments to ensure proper care and handling.
Q: Can I reuse the alterations professional for bridesmaid dresses or other garments?
A: Yes, if you have had a positive experience with a seamstress or tailor during your wedding dress alterations, you can certainly inquire if they offer alteration services for bridesmaid dresses or other garments. It's beneficial to work with a professional who is familiar with your preferences and can provide consistent quality workmanship.
Q: Is it possible to alter a second-hand wedding dress to fit me?
A: Yes, second-hand wedding dresses can often be altered to fit your measurements and preferences. By working with a skilled seamstress or tailor, adjustments can be made to ensure the dress flatters your body shape and suits your style. It's important to consider the condition of the dress and any potential limitations based on its original design.
Q: Can I negotiate the price of wedding dress alterations?
A: While some alterations professionals may be open to negotiation, it's important to remember that high-quality alterations require skill, time, and expertise. Be respectful and transparent about your budget, but also understand that the cost reflects the work and craftsmanship involved. It's always beneficial to inquire about any package deals or discounts they may offer.
Key Takeaways
Wedding dress alterations are important to ensure a perfect fit and make the dress feel as though it was made specifically for the individual.
Common types of wedding dress alterations include hemming, taking in or letting out, bodice adjustments, adding a bustle, and sleeve adjustments.
The cost of alterations can vary depending on factors such as the complexity of the alterations, fabric and detailing of the dress, location, and expertise of the professional.
Budgeting for wedding dress alterations is essential, and the general cost range can be anywhere from $200 to $800, but it can be higher for high-end designers or dresses with intricate changes.
Factors like rush fees, multiple fittings, and post-fitting adjustments should be considered as potential hidden costs.
When choosing a professional for alterations, consider their qualifications, experience, positive reviews, and personal rapport. Asking the right questions can help you make an informed choice.
Tips for a smooth alterations process include starting early, bringing the right shoes and undergarments to fittings, maintaining open communication, and trusting the process.
Perfectly fitted wedding dresses enhance confidence, create better photographic memories, provide comfort and enjoyment, and reflect personal style.
COPYRIGHT NOTICE
Please be advised that all images, designs, and creative content on this page are the exclusive property of TheIDoGuide.com and are protected under international copyright laws. The images may not be reproduced, copied, transmitted or manipulated without the written permission of TheIDoGuide.com.
Unauthorized use, distribution, display, or creation of derivative works of any images contained on this site, is strictly prohibited and can lead to legal penalties. We actively monitor for, and enforce, our copyright interests.
If you wish to use any of our images, kindly contact us to seek permission. Respect of copyright is not merely a legal requirement but also an acknowledgement and support of the hard work and creativity that goes into producing them.
Thank you for your understanding and cooperation.
© 2023, TheIDoGuide.com. All Rights Reserved.