A wedding day is often considered one of the most significant events in a person's life, and the wedding dress serves as a focal point, capturing the essence of the celebration. Knowing the cost of wedding dresses is crucial in helping couples plan their budget effectively and make informed decisions when choosing their perfect attire.
Factors Affecting the Cost of Wedding Dresses
Fabric quality and type: The material used in creating a wedding dress plays a significant role in determining its price. Luxurious fabrics such as silk, satin, or lace can increase the overall cost. On the other hand, more affordable options, such as polyester or tulle, may result in lower-priced gowns. Moreover, the intricacy of the fabric's pattern, its weight, and the overall quality can also contribute to the final cost of the dress.
Designer brand: Designer wedding dresses command a premium price due to their reputation, quality, and craftsmanship. Renowned designers often use high-quality materials, invest in superior construction techniques, and offer unique and exclusive designs, all of which contribute to the higher price tag. Additionally, designer gowns may also come with a level of prestige and exclusivity that some brides find appealing.
Customization options: Opting for a bespoke or made-to-measure gown can add to the overall cost, as it requires extra time and effort from the designer. Customized gowns are tailored specifically to the bride's measurements, preferences, and vision, which can involve additional design work, fittings, and consultations. These specialized services can significantly increase the cost compared to off-the-rack options.
Embellishments and details: Hand-sewn appliqués, intricate beading, and other exquisite adornments can significantly impact the price of a wedding dress. These decorative elements often require skilled artisans who spend countless hours adding fine details to the gown. Additionally, the materials used for these embellishments, such as Swarovski crystals, pearls, or precious metals, can also contribute to the higher cost.
Accessories and alterations: The addition of veils, belts, bridal underwear or other accessories, along with alterations for the perfect fit, may increase the final cost. Many brides choose to accessorize their wedding dresses with coordinating or complementary pieces, such as hairpieces, jewelry, or boleros. These extras can add up quickly, increasing the overall cost of the ensemble. Furthermore, alterations, including adjusting the hemline, taking in the waist, or adding a bustle, are often necessary to ensure the dress fits perfectly, which can also contribute to the final expense.
Average Cost of Wedding Dresses
While the national average for a wedding dress hovers around $1,800, the final price tag can vary significantly depending on several factors, including regional trends, economic conditions, and the bride's preferences.
Regional trends: The cost of wedding dresses can fluctuate based on regional trends and the cost of living in a particular area. For instance, metropolitan areas with a higher cost of living, such as New York City or Los Angeles, may see higher average prices for wedding dresses compared to smaller cities or rural locations. Moreover, regional preferences for certain styles or designers can also affect the average cost.
Economic factors: The state of the economy can influence the average cost of wedding dresses, as consumer spending patterns change in response to financial conditions. During economic downturns, brides may opt for more affordable options, which can lead to lower average costs. Conversely, during times of economic growth, brides may be more inclined to splurge on higher-priced gowns, resulting in an increased average cost.
Inflation: Over the years, inflation has contributed to the rising cost of wedding dresses. As the overall price level of goods and services increases, so too does the cost of materials, labor, and other factors involved in producing wedding gowns. This has led to an upward trend in the average price of wedding dresses over time.
Popularity of luxury fabrics and designer brands: The growing demand for luxury fabrics and designer wedding dresses has also contributed to the increased average cost. High-quality materials such as silk, satin, and lace, as well as intricate embellishments and superior craftsmanship associated with designer gowns, can drive up the price. As more brides seek out these luxurious options, the average cost of wedding dresses rises.
It's important to note that the $1,800 national average serves as a general guideline, and individual experiences may vary widely. Some brides may choose to spend significantly more on a designer gown, while others may opt for more budget-friendly alternatives, such as off-the-rack dresses or pre-owned options. Ultimately, the cost of a wedding dress will depend on the bride's preferences, priorities, and budget.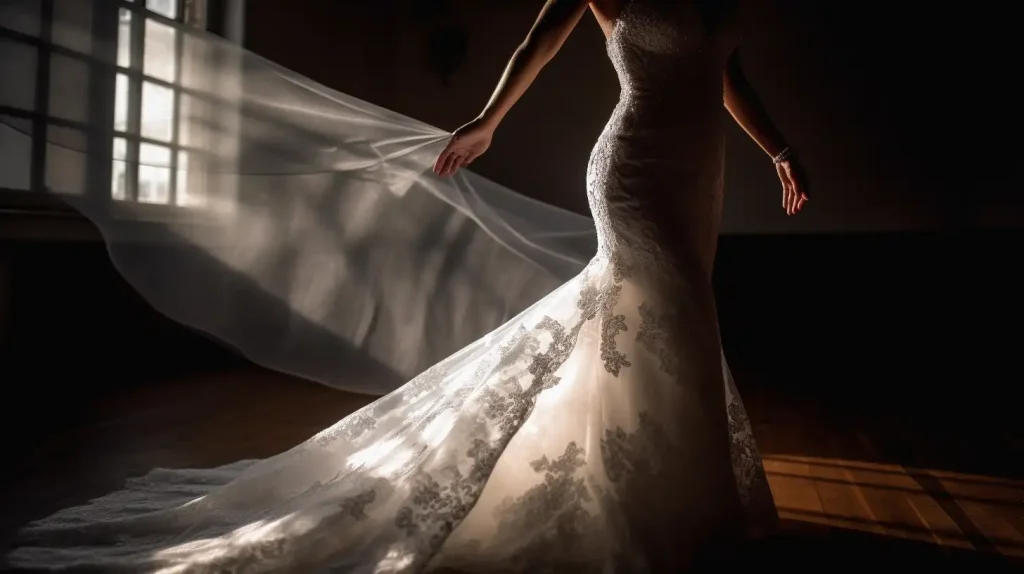 Types of Wedding Dresses and their Costs
A-line: $800-$2,500
A-line wedding dresses are characterized by their fitted bodice and gently flared skirt, which creates a flattering silhouette resembling the letter 'A.' These gowns are versatile and suitable for various body types. The cost of an A-line wedding dress can range from $800 to $2,500, depending on factors such as fabric quality, designer brand, and embellishments.
Ball gown: $1,000-$4,000
Ball gown wedding dresses feature a fitted bodice and a full, voluminous skirt, often associated with fairy tale weddings. The price for a ball gown can vary between $1,000 and $4,000, with factors like fabric choice, level of detail, and designer reputation influencing the final cost.
Mermaid: $1,200-$3,500
Mermaid wedding dresses are form-fitting from the bodice to the knee, where they flare out to create a dramatic silhouette. These gowns are well-suited for brides looking to accentuate their curves. The cost of a mermaid-style dress can range from $1,200 to $3,500, with variations in price due to fabric quality, design intricacies, and embellishments.
Sheath: $800-$2,000
Sheath wedding dresses have a simple, straight silhouette that flows gracefully from the neckline to the hem. This style is often chosen for its elegant simplicity and is suitable for various body types. Sheath gowns can cost between $800 and $2,000, with factors such as fabric type, level of detail, and designer brand affecting the price.
Boho: $700-$2,500
Boho wedding dresses embody a free-spirited, relaxed vibe and often feature elements such as lace, floral patterns, and flowy fabrics. These gowns are perfect for unconventional or outdoor weddings. The price of a boho-style wedding dress can range from $700 to $2,500, depending on the materials used, design complexity, and designer label.
Beach: $500-$2,000
Beach wedding dresses are designed with light, airy fabrics and casual silhouettes, making them ideal for seaside ceremonies. These gowns often have a more relaxed fit and may feature elements such as spaghetti straps or open backs. Beach wedding dresses can cost anywhere from $500 to $2,000, with variations in price due to fabric choice, level of detail, and designer reputation.
Vintage: $500-$3,000
Vintage wedding dresses often draw inspiration from past eras, featuring elements such as lace, intricate beading, and classic silhouettes. These gowns can either be authentic vintage pieces or modern reproductions. The cost of a vintage-style wedding dress can range from $500 to $3,000, depending on factors like the gown's age, rarity, designer, and condition.
Designer collections: $2,000-$15,000+
Designer wedding dress collections showcase the latest trends and styles from renowned fashion houses. These gowns often feature high-quality materials, superior craftsmanship, and unique designs that set them apart from other options. The cost of a designer wedding dress can range from $2,000 to upwards of $15,000, depending on the designer's reputation, the gown's materials, and the level of detail.
Where to Buy Wedding Dresses
Bridal boutiques: These specialized shops offer a wide variety of styles and personalized services tailored to the needs of brides-to-be. Bridal boutiques often provide one-on-one consultations, private fitting rooms, and professional alteration services. While the prices at bridal boutiques can be higher than other options, the personalized experience and expertise of the staff can be invaluable when choosing the perfect gown.
Department stores: Large retailers, such as Macy's or Nordstrom, may have bridal sections within their stores that offer a selection of wedding dresses. While the range of styles may be more limited compared to a bridal boutique, department stores often provide affordable options from well-known designers or their own in-house brands. Additionally, department stores may have more frequent sales or discounts, making them a budget-friendly choice for some brides.
Online retailers: Digital platforms, such as BHLDN or Azazie, can offer a vast selection of wedding dresses at competitive prices. Shopping online allows brides to browse through numerous styles and price points from the comfort of their homes. Many online retailers also offer virtual consultations, custom sizing, and easy return policies to ensure a satisfactory shopping experience. However, the downside of online shopping is the inability to try on the dress in person before purchasing.
Secondhand options: Pre-owned gowns can be found in consignment shops, thrift stores, or online marketplaces like PreOwnedWeddingDresses.com. Buying a secondhand wedding dress can provide substantial savings and give brides access to designer gowns at a fraction of the original price. When considering a pre-owned dress, it's important to inspect the gown carefully for any signs of wear, damage, or alterations. Additionally, it's crucial to factor in any necessary cleaning or alteration costs that may arise when purchasing a secondhand gown.
Each of these options offers its own set of advantages and drawbacks, and the best choice will depend on a bride's individual preferences, budget, and priorities. By exploring the various places to buy wedding dresses, brides can find the perfect gown that suits both their style and budget.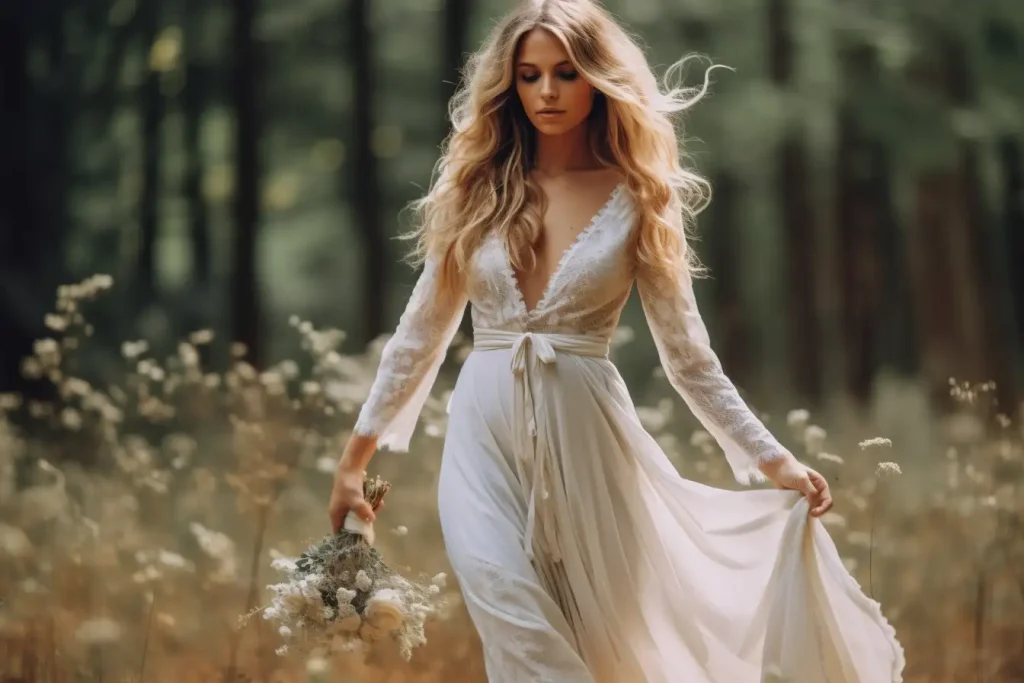 Tips for Saving Money on Wedding Dresses
Shop during sales and sample sales: Discounts can often be found during off-peak seasons, such as late fall or early winter, when bridal shops are less busy. Additionally, stores may offer sales to make room for new inventory or showcase sample dresses at reduced prices. Sample sales typically feature floor models or discontinued styles at a fraction of their original cost, providing an opportunity for brides to score a great deal on their dream dress.
Consider renting or borrowing: Temporary alternatives, like renting or borrowing a wedding dress, can save a significant amount of money compared to purchasing a gown. Rental services and websites like Rent the Runway or Borrowing Magnolia offer a wide selection of designer wedding dresses for a fraction of the retail price. Alternatively, borrowing a dress from a friend or family member can be both budget-friendly and sentimental.
Look for less expensive alternatives: Brides can explore simpler designs or alternative fabrics to find a more affordable wedding dress. For example, opting for a gown with minimal embellishments, a less structured silhouette, or made from a more budget-friendly fabric like chiffon or tulle can result in substantial savings. Additionally, consider non-bridal dresses in white or ivory, such as evening gowns or prom dresses, which can offer a similar aesthetic at a lower price point.
Consider buying a pre-owned dress: Gently used gowns can offer substantial savings while still providing the opportunity to wear a designer or high-quality wedding dress. As previously mentioned, consignment shops, thrift stores, or online marketplaces like Stillwhite or PreOwnedWeddingDresses.com are excellent sources for finding pre-owned gowns. When purchasing a secondhand dress, be sure to factor in any additional costs for cleaning, alterations, or repairs that may be necessary.
Be open to negotiation: Some bridal shops may be willing to offer discounts or free accessories if you're purchasing your gown and additional items, such as bridesmaid dresses or accessories, from the same store. It never hurts to ask if there are any promotions, package deals, or discounts available, as this can lead to potential savings.
Conclusion
Understanding the factors that contribute to the cost of wedding dresses, as well as the various styles and price points, can help you find the perfect gown within your budget. By considering alternative purchasing options and implementing money-saving strategies, you can make your dream dress a reality without breaking the bank.
FAQs
Q: How do I know if I'm spending too much on a wedding dress?
A: The amount you should spend on a wedding dress depends on your budget and priorities. It's important to consider other wedding expenses and allocate your budget accordingly.
Q: What should I consider when choosing a wedding dress?
A: When choosing a wedding dress, consider your personal style, the theme and formality of your wedding, the venue, and the season. It's also important to consider your body shape and what styles will flatter you.
Q: Is it necessary to have a designer wedding dress?
A: It's not necessary to have a designer wedding dress. There are many beautiful and affordable wedding dresses available that are not designer. However, if having a designer dress is important to you, it's important to factor that into your budget.
Q: How far in advance should I buy my wedding dress?
A: It's recommended to start shopping for your wedding dress 9-12 months before your wedding day. This allows time for ordering and alterations.
Q: How much should I budget for alterations?
A: The cost of alterations can vary based on the dress and the changes needed. It's recommended to budget around $500 for alterations.
Q: Can I wear a previously owned wedding dress?
A: Yes, you can wear a previously owned wedding dress. There are many online retailers and consignment shops that sell pre-owned wedding dresses in excellent condition.
Q: How do I choose the right accessories for my wedding dress?
A: Choose accessories that complement the style and details of your wedding dress. Consider the neckline and silhouette of your dress when choosing a veil or hair accessory. Also, consider the color and style of your jewelry and shoes.
Q: How do I know if a wedding dress fits correctly?
A: A wedding dress should fit snugly but comfortably. You should be able to move freely and sit down without feeling constricted. The dress should not be too tight or too loose. A professional bridal consultant can help you find the perfect fit.
Q: What should I do with my wedding dress after the wedding?
A: After the wedding, you can preserve your wedding dress for sentimental value or sell it. If you choose to preserve it, consider having it professionally cleaned and stored in a preservation box. If you choose to sell it, there are many online retailers and consignment shops that specialize in selling pre-owned wedding dresses.
Q: Can I wear a colored wedding dress?
A: Yes, you can wear a colored wedding dress. Many brides choose to wear dresses in shades of blush, champagne, or even bold colors like red or black.
Q: Can I customize my wedding dress?
A: Yes, many neckline orques and designers offer customization options such as adding sleeves, changing the neckline, or adding embellishments.
Q: Can I return my wedding dress if I change my mind?
A: Most bridal boutiques and designers have strict return policies, so it's important to read the policy before making a purchase. Some retailers may allow for exchanges or returns with a restocking fee.
Q: What should I do if I can't afford the wedding dress of my dreams?
A: If you can't afford the wedding dress of your dreams, consider looking for similar styles at a lower price point. You can also consider renting a dress or buying a pre-owned dress. Don't forget to factor alterations and accessories into your budget as well.
COPYRIGHT NOTICE
Please be advised that all images, designs, and creative content on this page are the exclusive property of TheIDoGuide.com and are protected under international copyright laws. The images may not be reproduced, copied, transmitted or manipulated without the written permission of TheIDoGuide.com.
Unauthorized use, distribution, display, or creation of derivative works of any images contained on this site, is strictly prohibited and can lead to legal penalties. We actively monitor for, and enforce, our copyright interests.
If you wish to use any of our images, kindly contact us to seek permission. Respect of copyright is not merely a legal requirement but also an acknowledgement and support of the hard work and creativity that goes into producing them.
Thank you for your understanding and cooperation.
© 2023, TheIDoGuide.com. All Rights Reserved.