To make the most of your wedding dress shopping, wear comfortable undergarments and easy-to-slip-on shoes. Keep accessories minimal, bring a hair tie or clip, wear light makeup, and opt for easy-to-remove layers for trying on different styles.
Have you felt it? That flutter in your stomach, the spark of anticipation that signals the start of an unforgettable journey – shopping for your wedding dress. But before you step foot into the boutique, let's chat about something often overlooked yet incredibly important: what to wear when shopping for your wedding dress.
Research Before Shopping
In the world of wedding dress shopping, knowledge is power. The more you know before stepping into a bridal boutique, the smoother your shopping experience will be. This is where research comes into play.
Dress Styles
Begin by familiarizing yourself with various wedding dress styles. From ball gowns and A-lines to sheaths and mermaids, there's a myriad of choices. Each style flatters different body types and suits various wedding themes. Look through bridal magazines or scroll through Pinterest to get a feel for the dress styles that catch your eye.
Designers
Next, delve into the world of bridal designers. Each designer has a unique aesthetic, and knowing which ones align with your personal style can significantly narrow down your options. Whether you're drawn to the romantic lace of Monique Lhuillier, the classic elegance of Vera Wang, or the boho-chic vibe of Rue De Seine, identifying your preferred designers ahead of time can be a game-changer.
Price Range
Lastly, be clear about your budget. Wedding dresses can vary greatly in price, and having a set budget will help keep your shopping focused and prevent any heartbreak over falling in love with a dress that's out of reach. Remember, there's a beautiful dress out there for every budget, and knowing your price range can help your bridal consultant guide you to it more efficiently.
Preparation for the Shopping Day
I cannot stress enough how vital it is to be both physically and mentally prepared for wedding dress shopping. Indeed, this occasion goes beyond the mere act of finding "the dress"; it's a journey—one laden with laughter, maybe a few tears, and a good deal of anticipation. Enjoying this journey is as important as the destination itself.
Physical Preparation
Rest: Aim for a full night's sleep the day before. A rested body is a ready body, and you'll want to have all your energy to try on those gorgeous gowns.
Hydration: Bring a water bottle with you and remember to take small sips throughout the day. Staying hydrated will not only keep you feeling fresh but will also help maintain your focus and prevent any dehydration-induced headaches or fatigue.
Nutrition: Begin your day with a light, nutritious breakfast. Think along the lines of a bowl of oatmeal topped with fresh fruits or a smoothie packed with your favorite greens. Foods that release energy slowly will keep your blood sugar levels stable, maintaining your energy and helping you stay upbeat and stress-free.
Mental Preparation
Understanding that you might not find your dream dress on the first trip is crucial, and that's perfectly okay. Patience and a positive attitude will carry you a long way. Visualize the process, imagine yourself trying on different styles, and remember to keep an open mind.
Consider planning some relaxation activities the day before, such as a gentle yoga session, a massage, or some quiet time with a good book. This will help reduce any pre-shopping jitters and set a positive tone for your shopping day.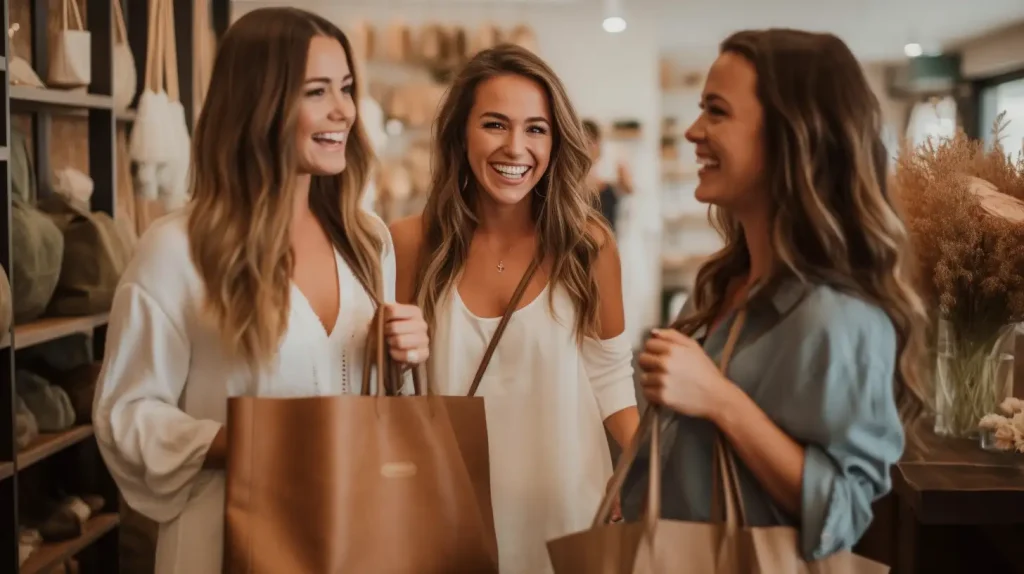 Clothing: Comfort is Key
When you're embarking on the mission to find your dream wedding dress, comfort is key. This is a day that could span several hours, filled with a whirlwind of emotions and a good deal of physical activity. Therefore, it's crucial that your attire doesn't add any unnecessary complications to the process.
The clothes you wear to your bridal appointments should be easy to slip on and off. This consideration isn't just about comfort; it's also about efficiency. You'll likely be trying on several, if not dozens, of dresses, each with its own set of intricate details and closures. The easier your own clothes are to manage, the more time and energy you can dedicate to each potential wedding gown.
Choosing something like a soft, loose dress can be an excellent choice. It's a single piece that can be changed in and out of quickly, leaving you more time to assess each wedding dress. The loose fit also ensures you're not struggling with tight zippers or buttons when changing.
Alternatively, comfortable leggings paired with a simple top can work well. Remember, this isn't the time for fashion statements with your own clothing; simplicity is your friend here.
Furthermore, consider the fabric of your clothes. Breathable materials like cotton or linen can help keep you cool and comfortable throughout the day. Avoid fabrics that wrinkle easily; you'll be sitting, standing, and moving around a lot.
Above all, your clothing choice should make you feel good. This is an exciting day, a milestone in your wedding planning process. You should feel at ease, confident, and ready to find your dream dress. With comfort as your guiding principle, you'll be well on your way to a successful and enjoyable wedding dress shopping day.
The Impact of Season and Weather
The time of year, the season, and the overall climate of your location play significant roles in determining your outfit for wedding dress shopping. The ultimate goal is to ensure you are comfortable and that your attire aligns with the outside conditions, providing ease during your travels to and from the boutique.
Winter months could present a cold, perhaps even snowy or rainy, environment. In such cases, layering becomes your best strategy. Start with a simple base layer, such as a tank top or a lightweight long-sleeved shirt. Over this, you can add more substantial pieces like a cozy cardigan or a pullover sweater. A comfortable pair of leggings or jeans can complement your upper layers. The key here is to choose pieces that can be easily removed and put back on in the boutique. Remember to consider your footwear during winter. Choose shoes that are easy to slip on and off and can withstand any winter weather conditions.
During warmer seasons like spring or summer, the challenge is to stay cool while navigating through your appointments. Lightweight, breathable fabrics become your go-to during these times. Materials such as cotton or linen are excellent choices as they allow for air circulation and help to wick away sweat. A lightweight sundress, a loose blouse paired with comfortable shorts or skirt can be great options. Sandals or ballet flats can be a comfortable and practical choice for these warmer months.
In transitional seasons like autumn or spring, a blend of these strategies might be necessary. Light layering can be a good idea, with the ability to add or remove items as the day's temperature fluctuates.
Remember, weather can sometimes be unpredictable. It's worth checking the forecast on your shopping day to make any last-minute adjustments to your outfit. Staying comfortable and adaptable to the weather will ensure nothing detracts from the joy of your wedding dress shopping experience.
Undergarments Matter
The undergarments you choose to wear while shopping for your wedding dress may not be the first thing on your mind, but they do play an important role in your shopping experience. The right ones can significantly affect not only how a dress fits but also how it drapes and presents on your body.
Starting from the top, a well-fitted bra is essential. Depending on the dress styles you're interested in, a strapless or convertible bra in a neutral color is a great choice. This allows you to try on a variety of styles, including strapless, off-shoulder, and low-back designs, without your bra straps interfering with the look. Go for a bra that offers good support and is comfortable to wear for an extended period. Remember, the color should be as close to your skin tone as possible to ensure it remains unnoticeable under the wedding dresses.
Next, consider your choice of underwear. Seamless styles are your best bet here. Visible panty lines can distract from the silhouette of the dress and may influence how you perceive its overall look and fit. Choose underwear in a shade close to your skin tone to give you the most authentic look while trying on dresses. This way, you get a true sense of how the dress will look on your big day.
In some cases, shapewear might be something you're considering. If you plan to wear shapewear on your wedding day, it could be beneficial to wear it while dress shopping as well. This gives you a more accurate idea of how the dress will fit and look with the additional layer underneath.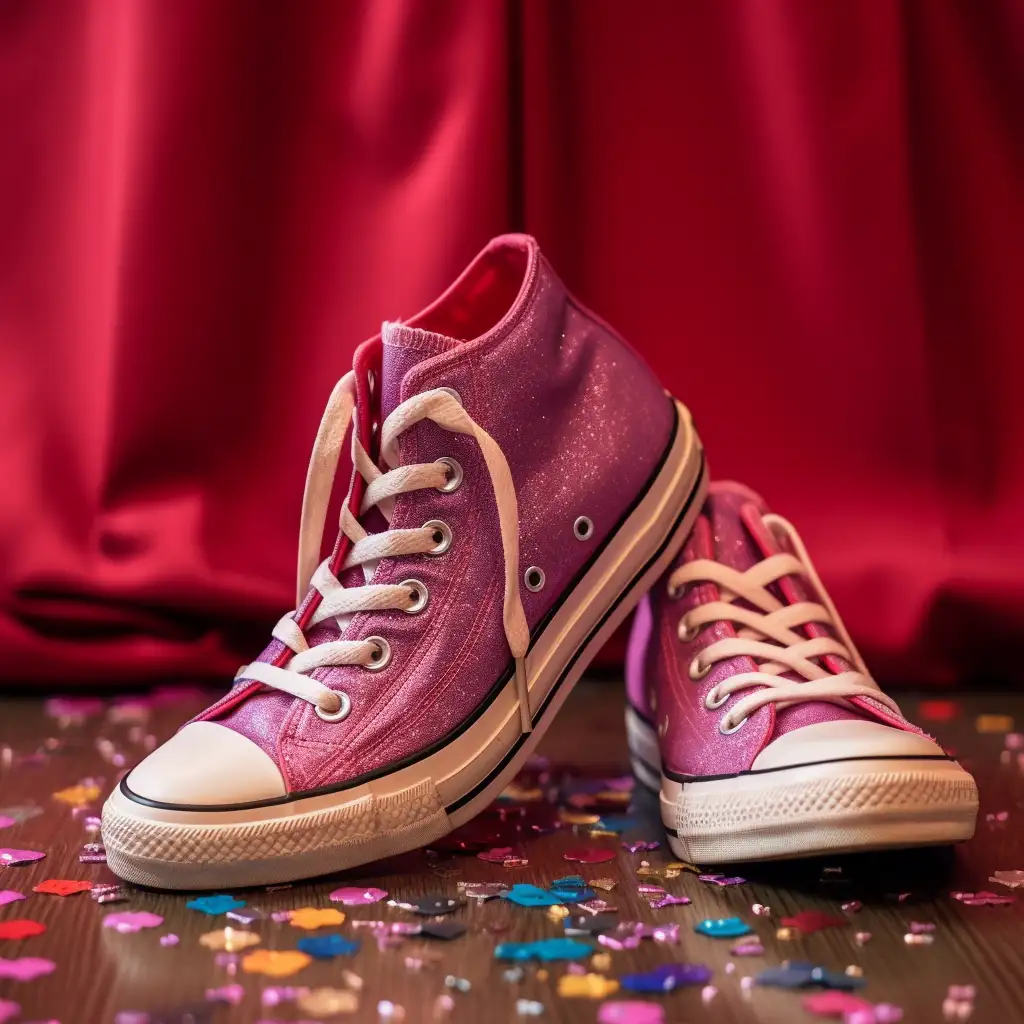 Shoes: To Heel or Not to Heel
Your choice of footwear can have a surprisingly significant impact on your wedding dress shopping experience. It's not just about comfort for the day (although that is certainly important), but also about helping you accurately visualize how you will look and feel on your wedding day.
If you've always dreamed of gliding down the aisle in sky-high stilettos, it makes sense to bring a similar pair to your dress shopping appointments. Trying on dresses with these heels will give you a better idea of how the dresses will drape and where they will hit the floor. You can better judge the length of the dress and whether or not alterations might be needed. Plus, it helps you experience the confidence boost that often comes with wearing heels, which might help you make your final dress decision.
On the other hand, if you see yourself as a 'barefoot on the beach' bride or someone who prefers dancing the night away in comfortable flats, then bring a similar style of shoe to your appointment. This will help you see how the dress flows naturally when you're closer to the ground. Plus, it's a reminder to ensure that the dress isn't too long, preventing any potential trip-ups on your big day.
If you're undecided about your wedding day footwear, consider bringing a couple of options. A pair of heels and a pair of flats can give you the flexibility to see how different dress styles work with different shoe heights.
Remember, just like the rest of your outfit, your shoes should be comfortable for a day of standing, walking, and changing. And ultimately, your footwear choice—like the rest of your wedding—should feel true to you and your personal style.
Accessories: Less is More
When preparing for your wedding dress shopping experience, your focus is primarily on the dress itself, and rightfully so. However, the role of accessories can't be overlooked. They have the potential to enhance the look of a dress or, conversely, to distract from it. Therefore, it's crucial to strike the right balance.
When it comes to accessories on the shopping day, the motto "less is more" rings true. Wearing too many or overly flashy accessories can overshadow the dresses you're trying on. They may distract you or even clash with the styles you're considering. Instead, aim for a clean, simple look that allows the dresses to take center stage.
However, there's an important exception to this rule. If you already have a specific accessory that you're planning to wear on your big day, it's a good idea to bring it along. Maybe it's a family heirloom, like your grandmother's pearl necklace, or a beautiful hairpiece or veil you've already fallen in love with. Trying on dresses with this piece can give you a more accurate idea of your complete wedding look. It can help you assess if the dress complements the accessory or vice versa.
In addition, if you're planning to wear a particular style of accessories—say, statement earrings or a bold necklace—bringing a similar style to try on with the dresses could be beneficial. This way, you can make sure that the neckline, detailing, and overall style of the dress work well with your planned accessories.
Remember, each element of your outfit should contribute to a harmonious look, with the dress being the star of the show. Keeping your accessories simple but thoughtful means you can ensure that nothing detracts from the true purpose of the day: finding your dream wedding dress.
Hair and Makeup: Natural is Best
Your wedding dress shopping day is an exciting event, and it might be tempting to treat it as a dress rehearsal for the big day, complete with full hair and makeup. However, this might not be the most helpful approach when it comes to visualizing your potential wedding day look.
Keeping your hair and makeup as close to your natural state as possible is generally the best route to take. This isn't the day for trying out dramatic smoky eyes or a brand-new hairstyle. Instead, you want to see how you, in your most authentic form, will look in these dresses.
When it comes to makeup, consider a minimalist approach. A light foundation, a touch of mascara, and a natural lip color can enhance your features without overshadowing the main focus of the day: the dress. Remember, the lighting in boutiques can often be quite bright, and heavy makeup might look harsh under such conditions. Plus, being mindful of makeup can also prevent any accidental transfer onto the dresses you're trying on.
For your hair, consider styling it in a manner similar to how you might wear it on your wedding day. If you're planning an updo for the big day, a simple bun or ponytail can give you a rough idea of how the dresses will look with your hair up. If you're planning to wear your hair down, then leave it natural.
Who to Bring: Choose Wisely
Choosing who to bring along on your wedding dress shopping journey is more critical than it may seem at first. The right group of people can provide encouragement, constructive feedback, and an objective viewpoint. However, the wrong crowd might make the process stressful or confusing.
As a general rule, it's best to limit the number of people you bring along. While it might be tempting to include all your bridesmaids, family members, and close friends, remember that too many opinions can often lead to confusion and may even cloud your judgment. The goal here is to strike a balance between having enough trusted opinions to help you make an informed decision and not feeling overwhelmed by a chorus of differing views.
So, who makes the cut? Choose a few individuals who know you well, understand your style, and whose opinions you truly value. This could be a close family member like your mother or a sibling, a best friend, or perhaps your future spouse if you're not sticking to the tradition of keeping the dress a surprise. You want companions who can offer honest but kind feedback, respect your personal taste, and understand your vision for your wedding.
Above all, it's essential to surround yourself with people who want what's best for you. They should be able to set aside their personal preferences to help you find a dress that makes you feel beautiful, confident, and authentically yourself. Remember, this is your day, and your feelings about the dress should take precedence.
Fitting Room Etiquette
While the fitting room during your wedding dress shopping is a place of excitement and anticipation, it's also important to remember certain etiquette and guidelines. These will not only make your experience more enjoyable but will also show respect to the boutique staff and the beautiful gowns you'll be trying on.
Firstly, be mindful of time. While it's perfectly fine to take a few moments to admire each dress and assess how it fits and feels, remember that there may be other brides-to-be waiting for their turn in the fitting room. Also, boutiques often work on an appointment basis, and going significantly over your allocated time could cause delays for others.
Secondly, handle the gowns with care. Wedding dresses are often delicate and intricately designed pieces. Be careful when stepping into and out of them and avoid pulling on any lace or beadwork. If you need help, don't hesitate to ask a staff member or your companion for assistance.
When it comes to makeup and perfume, less is more. Try to avoid wearing heavy makeup or perfume that could potentially stain or mark the dresses. Keep in mind that these dresses will be tried on by many other brides-to-be, and it's important to leave them in the same condition you found them.
Finally, respect the boutique's policies. Some boutiques might have specific guidelines about photography, food and drink, or the number of people allowed in the fitting room. Be sure to understand and adhere to these policies. If you're unsure, ask a member of the boutique staff for clarification.
Mindset: Patience and Openness
Embarking on your wedding dress shopping journey can be a whirlwind of emotions—excitement, anticipation, and perhaps a hint of nervousness. However, the mindset with which you approach this journey can greatly impact your experience and ultimately lead you to your dream dress.
Firstly, patience is essential. Finding "the one" may happen with the first dress you try on, or it may take multiple visits to different boutiques. Each dress you try on brings you one step closer to finding the one that's perfect for you. Understand that it's not a race, but a personal journey that should be savored and enjoyed. Embrace the process and don't rush your decision. It's a special time, one that you'll want to remember fondly.
In addition to patience, another crucial mindset to adopt is openness. Perhaps you've always imagined yourself in a classic ball gown, but you find yourself drawn to a sleek, modern silhouette. Or maybe you've always shied away from sparkle but find that a beaded gown catches your eye. Embrace these unexpected inclinations. Try on different styles, even if they don't fit your initial vision. Remember, you're shopping for a dress for one of the most special days of your life, and it might be a style you've never considered before.
It's important to stay true to your personal style, but being open to exploring different options can lead to pleasant surprises. Keep in mind that wedding dresses often look different on the hanger than they do on, so don't dismiss a dress before trying it on.
Patience and openness not only enhance your wedding dress shopping experience but also help ensure you find a dress that feels authentically you. This mindset allows you to enjoy the journey, embrace the unexpected, and ultimately find a dress that you'll love as you walk down the aisle.
What to Wear Wedding Dress Shopping – Conclusion
Wedding dress shopping is as exciting as it is significant, and your attire for this shopping adventure plays a crucial role. Plan well, dress smart, and above all, enjoy the process. It's your moment, and I'm sure it will be just as beautiful as you've imagined. Happy shopping!
FAQs
Q: What should I wear under the wedding dress while shopping?
A: It's best to wear seamless and nude-colored underwear to ensure a smooth silhouette and avoid visible lines.
Q: Are there any clothing items I should avoid wearing while shopping for wedding dresses?
A: It's best to avoid wearing clothing with heavy embellishments, excessive layers, or complicated closures, as they can be cumbersome and time-consuming to remove when trying on different dresses.
Q: Can I bring my own shapewear to wear while shopping for wedding dresses?
A: Yes, if you plan on wearing specific shapewear on your wedding day, it's a good idea to bring it along to see how it works with different dress styles.
Q: What is the most important thing to keep in mind when choosing what to wear for wedding dress shopping?
A: The most important thing is to wear something that makes you feel confident and comfortable. Choose attire that allows you to move freely and envision yourself on your wedding day.
Q: Should I wear a specific bra while trying on wedding dresses?
A: It's recommended to wear a well-fitting strapless or convertible bra that provides support without visible straps. This will allow you to try on various dress styles without any distractions.
Q: Can I wear makeup or fake tan while trying on wedding dresses?
A: It's best to avoid heavy makeup or fake tan, as they can transfer onto the dresses and potentially cause stains. Go for minimal or no makeup and avoid self-tanner to keep the dresses clean.
Q: Can I take photos of myself in the dresses while shopping?
A: It's important to check the store's policy on photography, as some may allow it while others may not. If permitted, taking photos can help you review and compare the dresses later.
Q: How should I style my hair if I'm unsure of the final wedding hairstyle?
A: Keep your hair in a simple and versatile style, such as a low ponytail or a half-up, half-down hairstyle. This will give you flexibility to visualize different looks with the dresses.
Q: What should I bring with me when going wedding dress shopping?
A: It's helpful to bring a few essentials, including a water bottle to stay hydrated, a notepad and pen to jot down notes about each dress, and any inspiration pictures or ideas you have for your dream dress.
Q: Can I try on dresses even if I haven't decided on a specific wedding theme?
A: Absolutely! Wedding dress shopping can be an exploratory process. Trying on different styles can help you discover what looks best on you and what resonates with your personal style, regardless of having a defined theme.
Q: Can I try on dresses that are above my budget just to get an idea?
A: While it's okay to try on a few dresses slightly above your budget to get a sense of what you like, it's generally advisable to focus on dresses within your price range. This will help manage expectations and avoid falling in love with a dress that may be financially challenging.
Q: What if I fall in love with the first dress I try on?
A: Falling in love with the first dress you try on is a wonderful experience! However, it's still a good idea to try on a few more dresses to ensure you explore all options and make an informed decision.
Q: Can I make alterations to the dress before purchasing it?
A: In most cases, alterations can be made to customize the fit and style of the dress. However, it's important to inquire with the bridal store about their alteration services and associated costs before making a final decision.
Q: How far in advance should I start wedding dress shopping?
A: It's recommended to start shopping for a wedding dress around 9-12 months before your wedding date. This allows ample time for ordering the dress, potential alterations, and avoiding any last-minute rush.
Q: What if I can't find the perfect dress during my shopping trip?
A: Don't get disheartened if you don't find the perfect dress right away. Wedding dress shopping is a process, and it may take multiple appointments or visits to find "the one." Keep an open mind and trust that your dream dress is out there waiting for you.
Q: Can I negotiate the price of a wedding dress?
A: In some cases, there may be room for negotiation, especially during trunk shows or sample sales. However, it's important to approach the topic respectfully and be aware that not all bridal stores have a negotiation policy.
Q: What should I do if I regret my dress purchase after I've made the decision?
A: If you have regrets about your dress purchase, consult the bridal store immediately. They may have options for exchange or modification. However, it's crucial to review the store's return and exchange policies beforehand.
Key Takeaways
Research before shopping: Familiarize yourself with different dress styles, bridal designers, and set a clear budget.
Physical preparation: Get a full night's sleep, stay hydrated, and have a light, nutritious breakfast to maintain your energy levels.
Clothing: Choose comfortable and easy-to-slip-on attire. Opt for a soft, loose dress or comfortable leggings paired with a simple top. Select breathable fabrics like cotton or linen.
Consider the season and weather: Layer up in winter, choose lightweight and breathable fabrics in spring or summer, and go for a blend of layers in transitional seasons.
Undergarments matter: Wear a well-fitted strapless or convertible bra in a neutral color and seamless underwear to ensure a smooth silhouette.
Shoes: Consider bringing heels and flats to try on different dress styles. Choose comfortable footwear that reflects your personal style.
Accessories: Keep accessories minimal to let the dresses take center stage. Bring any specific accessory you plan to wear on your wedding day for a better visualization.
Hair and makeup: Keep your hair and makeup as close to your natural state as possible to get an authentic look.
Choose your shopping companions wisely: Limit the number of people you bring along and choose those whose opinions you trust and value.
Fitting room etiquette: Be mindful of time, handle dresses with care, avoid heavy makeup or perfume, and respect the boutique's policies.
Mindset: Practice patience and openness. Enjoy the journey, try on different styles, and stay true to your personal style while being open to new possibilities.
COPYRIGHT NOTICE
Please be advised that all images, designs, and creative content on this page are the exclusive property of TheIDoGuide.com and are protected under international copyright laws. The images may not be reproduced, copied, transmitted or manipulated without the written permission of TheIDoGuide.com.
Unauthorized use, distribution, display, or creation of derivative works of any images contained on this site, is strictly prohibited and can lead to legal penalties. We actively monitor for, and enforce, our copyright interests.
If you wish to use any of our images, kindly contact us to seek permission. Respect of copyright is not merely a legal requirement but also an acknowledgement and support of the hard work and creativity that goes into producing them.
Thank you for your understanding and cooperation.
© 2023, TheIDoGuide.com. All Rights Reserved.