When attending a wedding dress shopping appointment as a guest, choose a stylish and polished outfit that showcases your personal flair without overshadowing the bride. Consider wearing a chic dress or a classy ensemble paired with elegant accessories to exude sophistication and celebrate the special occasion.
The moment has arrived, your close friend or family member is tying the knot, and you have been invited to join in the quest for the perfect wedding dress. This experience is not only about the bride, but also about the unity and bonds shared among those involved in the shopping process.
Understanding the Basics
As a guest invited to a wedding dress shopping event, your role extends far beyond a simple observer. You're not just there to offer a "yes" or "no" to each dress the bride tries on. You're part of a chosen support network, your opinion is valued, and your presence has a comforting effect.
It's important to provide emotional support during this sometimes-overwhelming process. The bride may face self-doubt or confusion amidst the sea of white gowns. Your role involves offering reassurance and reminding her that this process is about finding a dress that makes her feel like the best version of herself.
You're also there to provide constructive advice. Remember, constructive doesn't mean critical. It means guiding her towards a dress that suits her personality, body type, and the wedding theme, without imposing your own preferences.
Respecting the Bride's Preferences
The bride's preferences should always take center stage. If she leans towards non-traditional dresses while you're a fan of classic styles, remember whose wedding it is. Support her choices and offer feedback that helps her vision come to life.
The Importance of Appropriate Attire
The right attire can significantly impact the tone of the day. Dressing appropriately shows you respect the occasion and are fully present for this special moment in the bride's life.
Choosing Your Outfit
Generally, a tasteful, casual to semi-formal outfit strikes the right balance for wedding dress shopping. You want to be comfortable enough to move around freely – after all, there could be a lot of dress racks to go through!
Yet, this event is far from an everyday shopping trip. It's a significant, often emotional, experience. As such, sweatpants or overly casual clothes might send the wrong message. Choose clothes that make you feel good and reflect the significance of the day.
Key Factors to Consider
When planning your attire for the wedding dress shopping expedition, several factors come into play. These are not only about your comfort but also about complementing the shopping environment and respecting the bride's wishes.
Prioritizing Comfort and Mobility
One of the most crucial factors to consider is your comfort and ability to move around with ease. Wedding dress shopping isn't a sprint; it's more like a marathon. You could be on your feet for hours, walking between stores, or assisting the bride as she tries on different gowns.
Choose an outfit that allows for all this activity without causing discomfort. Stretchy materials or loose-fitting clothes can help you stay comfortable throughout the day. Think of it this way: you want to be stylish but without the restriction of a too-tight button or a scratchy fabric.
Dressing for the Weather
The time of year and weather can also influence your outfit choice. If you're shopping in summer, choose light and airy clothes that will help you stay cool. Linen dresses, loose blouses, or cotton skirts could be perfect for a summer shopping day.
On the other hand, if you're heading out in the cooler months, layering is your best strategy. Indoor temperatures can vary from one store to another, and layers allow you to adjust accordingly. A light sweater over a comfortable shirt, paired with your favorite jeans, could be just the right blend of warmth and style.
Respecting the Bride's Wishes
Lastly, and perhaps most importantly, always consider the bride. She's the reason you're all here, and her wishes should be a key factor in your outfit choice. If she has expressed a desire for a certain dress code or theme, do your best to respect it.
For instance, she may want everyone to wear shades of her wedding colors. Or she might prefer everyone to dress in light colors to make the white of the wedding gowns stand out more. Whatever her preferences, keep them in mind when choosing your outfit.
Outfit Inspirations
When it comes to choosing your outfit for wedding dress shopping, it helps to have a few style inspirations in mind. From casual chic to sophisticated elegance, here are some ideas to spark your creativity and guide your outfit choice.
The Casual-Chic Look
If you lean towards a laid-back but polished style, a casual-chic look could be perfect for you. For this look, think well-fitted jeans paired with a stylish blouse. A smart casual look is all about balancing comfort with style. The jeans keep things relaxed, while the blouse adds a touch of sophistication.
Alternatively, you could go for a casual dress, spruced up with a fashionable jacket or accessory. Think a loose-fitting midi dress paired with a leather jacket for a cooler day, or an elegant scarf for a warm afternoon. The key is to strike a balance – you want to look put-together but without compromising on comfort.
The Minimalist Approach
If simplicity and understatement are more your speed, a minimalist approach might be just the ticket. A classic white shirt paired with tailored pants can create a refined, effortlessly stylish look. Consider clean lines, and don't be afraid to let your accessories do the talking.
A modest dress can also exude understated elegance. Choose a simple silhouette in a single color, perhaps with a unique detail like an interesting neckline or a textured fabric. The idea is to keep the overall look simple, letting the attention stay on the bride and her gowns.
The Sophisticated Look
If you prefer a bit more sophistication in your attire, there are plenty of options. A stylish jumpsuit can be a fantastic choice – it's a single piece that offers a coordinated, put-together look. Choose a jumpsuit in a solid, neutral color for a chic, streamlined appearance.
Alternatively, a midi dress with a sleek design can provide that perfect blend of elegance and functionality. Go for a dress in a classic shape with a few interesting details – perhaps a belted waist or a unique sleeve design.
Practical Considerations
Beyond the choice of your outfit, there are a few practical considerations to keep in mind when preparing for a day of wedding dress shopping. These involve what's on your feet, what's adorning your outfit, and what's in your hand.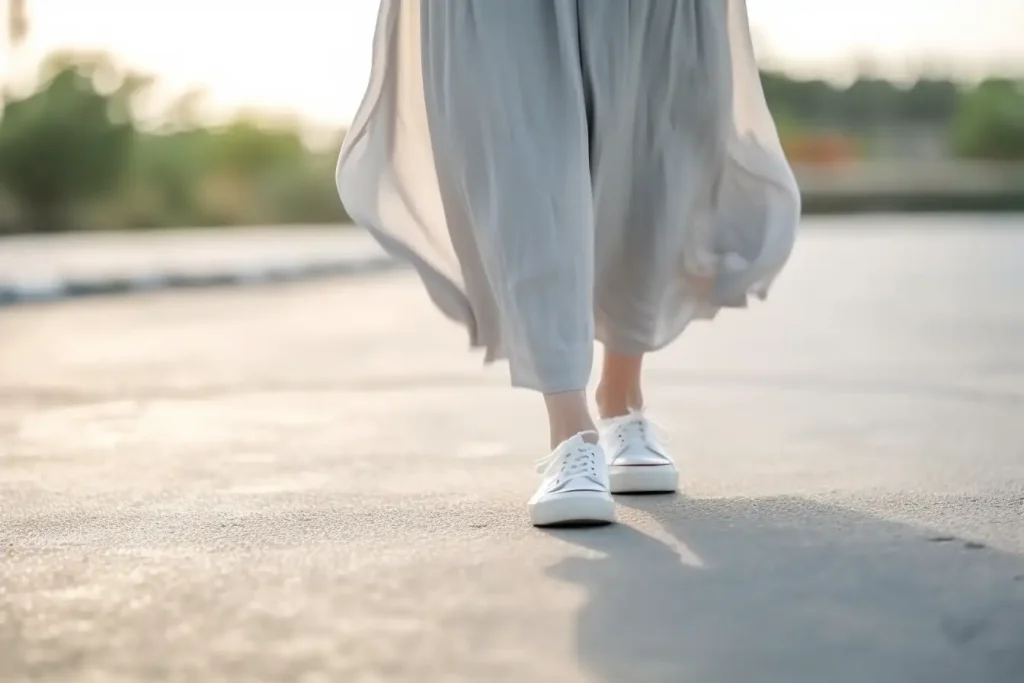 Footwear Choices
Let's begin with the shoes. This isn't the day for breaking in your new high heels. Trust us, your feet will thank you. The focus should be on comfort without compromising on style. After all, you're likely to spend a lot of time on your feet, walking between shops, standing while the bride tries on gowns, and so forth.
Comfortable flats, loafers, or even stylish sneakers can be great choices. These options offer the support and comfort needed for a long day while still contributing to a chic and coordinated look.
If you can't resist a little height, wedges or block-heeled shoes can be a good compromise. They generally offer more stability and comfort compared to stilettos, while still giving you a bit of a lift.
Accessorizing Smartly
When it comes to accessories, remember that less is more. The focus of the day is on the bride and her potential wedding dresses. Overly flashy or large accessories can be distracting and take away from the bridal gowns.
Choose simple, understated pieces that complement your outfit without overshadowing the main event. Classic jewelry, like a pair of stud earrings or a delicate necklace, can add just the right touch of elegance. A stylish yet minimalistic watch or bracelet could also work well.
The Ideal Handbag
Finally, consider what you're going to carry with you. A compact handbag that can comfortably fit your essentials is ideal. You'll likely need your wallet, phone, maybe a few cosmetics for touch-ups, and perhaps a small bottle of water.
You might also consider carrying a notebook and pen to jot down details of the dresses or a portable phone charger to ensure you're reachable throughout the day. A compact mirror could also come in handy for quick check-ins or makeup touch-ups.
Navigating Different Shopping Venues
Not all wedding dress shopping venues are created equal. From department stores to designer boutiques, and from trunk shows to wedding expos, each venue has its own atmosphere and expectations. Here's a quick guide on how to navigate your outfit choices for different venues.
Department Stores
Department stores usually have a relaxed, everyday shopping atmosphere. They offer a wide range of options in a less formal setting, which is reflected in what you could wear. Your favorite pair of jeans and a chic top could be just right for this setting. Pair with comfortable flats or loafers, and you have a perfect, relaxed outfit that still looks put-together.
Designer Boutiques
Designer boutiques, on the other hand, often have a more upscale atmosphere. They might call for a slightly more sophisticated outfit. The key here is smart-casual. Perhaps opt for a stylish jumpsuit or a tailored dress paired with comfortable, stylish footwear. Accessories should remain understated but elegant. Remember, even in a higher-end setting, comfort is still important.
Trunk Shows and Wedding Expos
Trunk shows and wedding expos are unique shopping experiences. These events can last several hours and involve a lot of walking and standing. Here, comfort is paramount. Consider wearing a layered outfit that allows for changing temperatures and lengthy periods on your feet.
A comfortable pair of shoes is a must. This could be a great occasion for those stylish sneakers or your most comfortable flats. A small, lightweight bag is also a good idea for these events. You'll likely be collecting business cards, brochures, or fabric samples, so something with a bit of space is useful.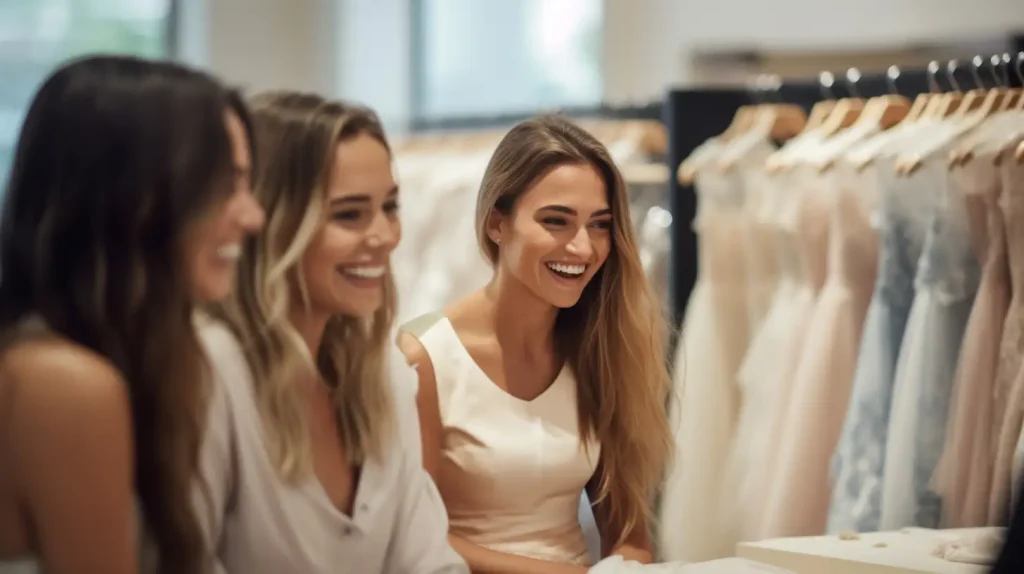 Mindful Shopping as a Guest
As a guest invited to participate in the wedding dress shopping experience, you play a crucial role. The bride values your opinion and your presence. This privilege comes with a responsibility to foster a positive and supportive environment. Let's discuss how to shop mindfully and ensure that the bride's experience is as joyful as it should be.
Encourage, Don't Discourage
Firstly, it's important to remember that your role is to uplift and encourage. Yes, honest opinions are necessary, but they should always be framed in a positive and constructive manner. Compliment the aspects of the dress that suit the bride well, and if there are parts you believe could be better, present it in a kind and thoughtful way. You're there to build her up, not bring her down.
Handling Disagreements
If disagreements arise over a particular dress, handle it with grace and understanding. Keep in mind that everyone present has the bride's best interest at heart. Respectful dialogue is key to resolving differences. Perhaps you see the charm in a vintage lace number while another guest prefers a sleek, modern design. Express your views but be open to hearing others' opinions too. Remember, it's ultimately about what the bride loves, not what any guest prefers.
The End Goal
Always keep the end goal in mind: finding the perfect dress that makes the bride glow with happiness. This isn't just about the dress; it's about the joy and confidence the bride feels when she wears it. It's about helping her find a gown that represents her personality, her style, and the love she feels on her wedding day.
Final Tips and Reminders
As we wrap up our comprehensive guide to what to wear when wedding dress shopping as a guest, let's recap some final tips and reminders. These will help you navigate this special occasion with grace, style, and the respect it deserves.
Celebrate the Occasion
Firstly, remember that your presence on this special shopping day is a testament to your relationship with the bride. It's an opportunity to share in her joy and contribute to a memory that she'll cherish forever. So, enjoy the process, celebrate each moment, and let your outfit subtly communicate your respect and enthusiasm for the occasion.
Expressing Your Personal Style
While the focus of the day is on the bride and her dress, this doesn't mean you can't express your personal style. Whether you lean towards casual-chic, minimalist elegance, or sophisticated attire, let your outfit reflect who you are. However, always ensure it's appropriate for the event and venue, and resonates with the bride's preferences.
Balancing Style and Respect
Navigating what to wear as a guest to wedding dress shopping is about striking a delicate balance. It's about blending personal style with respect for the event's essence and the bride's wishes. Yes, it might feel like a lot to consider, but remember, it's an opportunity to be part of a special moment in the bride's life.
Conclusion
Every detail matters when wedding dress shopping, from the smallest bead on a gown to the attire of the supporting guests. Dressing appropriately for the occasion showcases your commitment and respect for this important journey in the bride's life. Your role extends beyond being a spectator; you're there as an advocate, a pillar of support, and an integral part of this joyous journey.
Your attire for the day should not only embody comfort and style, but also the understanding and mindfulness of the significance of this event. It's a unique experience that will create lasting memories for you and the bride-to-be. As you step into the bridal shop, remember, this day is a celebration of love, friendship, and new beginnings.
FAQs
Q: Can I wear black to a wedding dress shopping appointment?
A: Yes, black is generally acceptable to wear to a wedding dress shopping appointment. However, try to add some colorful or vibrant accessories to avoid looking too somber or funereal.
Q: Are there any specific dress codes for wedding dress shopping?
A: While there are no strict dress codes for wedding dress shopping, it's best to dress in a way that demonstrates respect for the occasion. Avoid overly casual attire, such as jeans or t-shirts, and opt for more sophisticated and elegant options.
Q: Can I wear a hat or fascinator to a wedding dress shopping appointment?
A: Wearing a hat or fascinator can be a stylish choice, adding a touch of elegance to your outfit. However, make sure it doesn't obstruct the view for other guests or distract attention from the bride and her dresses.
Q: Are there any colors or patterns I should avoid?
A: It's customary to avoid wearing white or any shade that closely resembles it, as it is typically reserved for the bride. Additionally, it's best to avoid wearing overly bold or flashy patterns that might steal the spotlight from the dresses being showcased.
Q: Can I wear jeans or casual attire to a wedding dress shopping appointment as a guest?
A: It's generally best to avoid wearing jeans or overly casual attire to a wedding dress shopping appointment. Choose more sophisticated and dressier options to show respect for the occasion and the bride.
Q: Should I match my outfit to the wedding theme or colors?
A: While it's not mandatory to match your outfit to the wedding theme or colors, incorporating subtle elements that complement the wedding palette can be a nice touch. Consider adding accessories or details that reflect the color scheme but avoid overpowering the bride or bridal party.
Q: Can I wear a sleeveless or backless dress to a wedding dress shopping appointment?
A: Sleeveless or backless dresses can be appropriate for a wedding dress shopping appointment, as long as they are tasteful and not too revealing. It's best to strike a balance between showcasing your style and maintaining an overall classy and respectful look.
Q: What should I do if I'm unsure about the dress code or what to wear?
A: If you're uncertain about the dress code or what to wear, don't hesitate to reach out to the bride, groom, or the hosts for clarification. They will appreciate your effort to dress appropriately, and they can provide guidance based on the wedding's style and formality.
Q: Can I bring a change of clothes or shoes for the wedding dress shopping appointment?
A: It's typically not necessary to bring a change of clothes or shoes for the wedding dress shopping appointment. However, if you anticipate the event transitioning into another occasion (e.g., attending a post-shopping dinner), you can plan accordingly and bring a change of attire if desired.
Key Takeaways
Choose a stylish and polished outfit that showcases your personal flair without overshadowing the bride.
Provide emotional support and constructive advice to the bride during the dress shopping process.
Respect the bride's preferences and offer feedback that helps her vision come to life.
Dress in a tasteful, casual to semi-formal outfit that allows for comfort and mobility.
Consider the weather and choose appropriate clothing accordingly.
Prioritize comfort and choose stretchy materials or loose-fitting clothes.
Dress according to the bride's wishes and any dress code or theme she has expressed.
Outfit inspirations include casual-chic looks, minimalist approaches, and sophisticated ensembles.
Choose comfortable footwear such as flats, loafers, or stylish sneakers.
Keep accessories understated and complementary to your outfit.
Carry a compact handbag that fits your essentials for the day.
Consider the venue and adjust your outfit accordingly for department stores, designer boutiques, or trunk shows.
Encourage and uplift the bride during the dress shopping experience.
Handle disagreements with grace and respect for different opinions.
Keep the end goal in mind, which is finding the perfect dress that makes the bride happy.
Celebrate the occasion and let your outfit reflect your respect and enthusiasm.
Express your personal style while still considering the event and bride's preferences.
Balance style and respect by blending personal style with the event's essence.
Avoid wearing white or colors resembling white and avoid overly bold or flashy patterns.
Sleeveless or backless dresses can be appropriate if tasteful and not too revealing.
If unsure about the dress code, seek clarification from the bride or hosts.
It's generally not necessary to bring a change of clothes or shoes unless there is another occasion following the dress shopping appointment.
COPYRIGHT NOTICE
Please be advised that all images, designs, and creative content on this page are the exclusive property of TheIDoGuide.com and are protected under international copyright laws. The images may not be reproduced, copied, transmitted or manipulated without the written permission of TheIDoGuide.com.
Unauthorized use, distribution, display, or creation of derivative works of any images contained on this site, is strictly prohibited and can lead to legal penalties. We actively monitor for, and enforce, our copyright interests.
If you wish to use any of our images, kindly contact us to seek permission. Respect of copyright is not merely a legal requirement but also an acknowledgement and support of the hard work and creativity that goes into producing them.
Thank you for your understanding and cooperation.
© 2023, TheIDoGuide.com. All Rights Reserved.