Can you hear the wedding bells chiming already? Yes, it's that exciting time when you start planning for your big day. Your wedding invitation serves as a first impression, setting the stage for one of the most memorable days of your life. This article aims to guide you through choosing the perfect place to print your wedding invitations, making sure your guests' first glimpse of your wedding day is as unique as your love story.
Understanding Wedding Invitations
Wedding invitations are more than just a formality or a mere informative piece. They're the first taste your guests get of your upcoming celebration. Let's break down these special stationery pieces for a better understanding:
The Rich History of Wedding Invitations
In essence, wedding invitations have been a part of society for centuries, dating back to the Middle Ages when families would announce weddings via a town crier. Over the years, the style and delivery of these invitations have evolved greatly, but the intention remains the same: sharing the joyous news and inviting loved ones to be part of this memorable event.
More Than Just Paper
Remember, wedding invitations are not just paper, but tangible expressions of your excitement, your style, and the love you share as a couple. Each invitation sent out is an extension of you and your partner, carrying a bit of your joy and anticipation to each recipient.
Components of a Wedding Invitation Suite
When you think of wedding invitations, it's more than just the main card. An entire invitation suite might consist of several components, each playing a vital role.
Main Invitation Card: This is the star of the show. It includes key details like your names, the wedding date, time, and venue. This card sets the tone for the entire suite and your wedding style.
RSVP Cards: The RSVP card is crucial for managing your guest list and catering arrangements. It allows your guests to respond with their attendance and usually includes a pre-addressed, pre-stamped return envelope for convenience.
Direction Cards: Also known as 'detail cards,' these provide extra information your guests might need, such as directions to the venue, accommodation options, or any additional events like a rehearsal dinner or a post-wedding brunch.
Enclosure Cards: These could include any additional details not covered in the main card or direction cards, like your wedding website, dress code, or special instructions.
It's not just about having these components, but creating a harmonious and cohesive look throughout. The color scheme, typography, and overall aesthetic should be beautifully aligned with your wedding theme, creating a remarkable first impression of your big day.
Determining Your Wedding Invitation Style
Finding the perfect style for your wedding invitations is akin to finding that perfect wedding dress. It has to be a reflection of you, your partner, and the overall vibe of your wedding. Let's dig deeper into the different aspects of wedding invitation styles:
A Variety of Styles
Wedding invitations are not one-size-fits-all; they are as diverse and unique as weddings themselves. Whether your style leans towards the classic elegance of traditional invitations with their formal wording and timeless fonts, the clean lines and funky designs of modern invitations, the natural elements of rustic invitations, or the luxurious touches of glamorous invitations, there's a style that will perfectly encapsulate your big day.
Aligning Invitation Style with Wedding Theme
The style you choose should not only resonate with your personal aesthetics but should also mirror your wedding theme. For example, if you're having a beach wedding, invitations with watercolor seascapes or sandy tones can give a nod to your venue. Likewise, a barn wedding might call for rustic invitations with kraft paper and twine.
The Key Elements: Color Scheme, Typography, and Imagery
In order to create a cohesive and impressive design, focus on these three crucial elements:
Color Scheme: The colors chosen for your invitations should reflect your wedding colors. Soft pastels might hint at a romantic, classic wedding, while bold, bright colors might indicate a more casual, fun event.
Typography: The typeface you choose can set the tone as much as the words themselves. Elegant script fonts suggest a formal affair, while playful, casual fonts might indicate a more laid-back event.
Imagery: Imagery isn't just about graphics or illustrations; it can also mean ornamental lines, borders, monograms, or motifs. Whether or not to include imagery will depend on the invitation style you've chosen.
The Planning Process: Designing Your Wedding Invitations
Designing wedding invitations can seem like a daunting task at first, but with the right guidance and resources, it becomes a creative journey filled with excitement and anticipation. Let's explore how you can create that perfect invitation:
Sketching a Draft
Start by sketching a rough draft of your invitation design. Don't worry if your drawing skills aren't up to par – the aim here is to visualize your ideas. Use this step to experiment with different layouts, wording, and elements you'd like to include. Remember, even the most professional designers start with a draft!
The Role of Professional Graphic Designers
If you're unsure about creating your design or you have a specific vision you want to achieve, hiring a professional graphic designer could be an excellent option. These experts can bring your ideas to life, providing suggestions and improvements you might not have considered. They're also up to date on the latest design trends and styles, which can add a contemporary touch to your invitations.
Utilizing Online Design Platforms
Thanks to advancements in technology, you're no longer confined to physical sketching or needing advanced design software skills. Online design platforms offer an array of tools and resources that can help you create stunning invitations. Platforms such as Canva, Adobe Spark, or Minted offer user-friendly interfaces with drag-and-drop features, making design accessible to everyone.
Finding Inspiration in Templates
Last but not least, don't underestimate the power of online templates. Templates can provide inspiration and a starting point for your design, especially if you're feeling a bit stuck. You can find templates catering to all kinds of wedding themes and styles, and they're often customizable, allowing you to put your personal touch on them.
Exploring Where to Print: Different Printing Options
Choosing where to print your wedding invitations is a critical step in your planning process. With multiple options available, each with its own benefits and considerations, it's important to find the one that aligns best with your needs, preferences, and budget. Let's explore these options:
Traditional Local Print Shops
Traditional local print shops are a go-to for many, and for good reasons. They offer personalized service, allowing you to build a relationship with the people actually printing your invitations. Plus, the hands-on quality control can give you peace of mind. You can see and feel samples of their work, discuss specific requirements, and make real-time adjustments if needed.
Online Printing Services
In the digital age, online printing services have become increasingly popular due to their convenience. Companies like Vistaprint, Zazzle, or Minted offer a vast range of styles and designs that you can customize to your liking. You can order your invitations with just a few clicks, and they will be delivered right to your doorstep. However, keep in mind that you're relying on digital proofs, so the final product might slightly differ from what you see on your screen.
Luxury Printing Services
If you're looking for an exclusive, top-tier design, luxury printing services could be the right choice for you. These services specialize in bespoke invitations with exquisite details such as foil stamping, letterpress, custom calligraphy, and more. While this option might come with a higher price tag, the resulting invitations can be true pieces of art, leaving a lasting impression on your guests.
Eco-Friendly Printing Services
For the environmentally conscious couple, eco-friendly printing services offer a way to share your joy while minimizing your carbon footprint. These companies prioritize sustainable practices, using materials like recycled paper, soy-based inks, and even plantable seed paper. Choosing an eco-friendly printer is a wonderful way to ensure that your celebration of love also extends to the planet.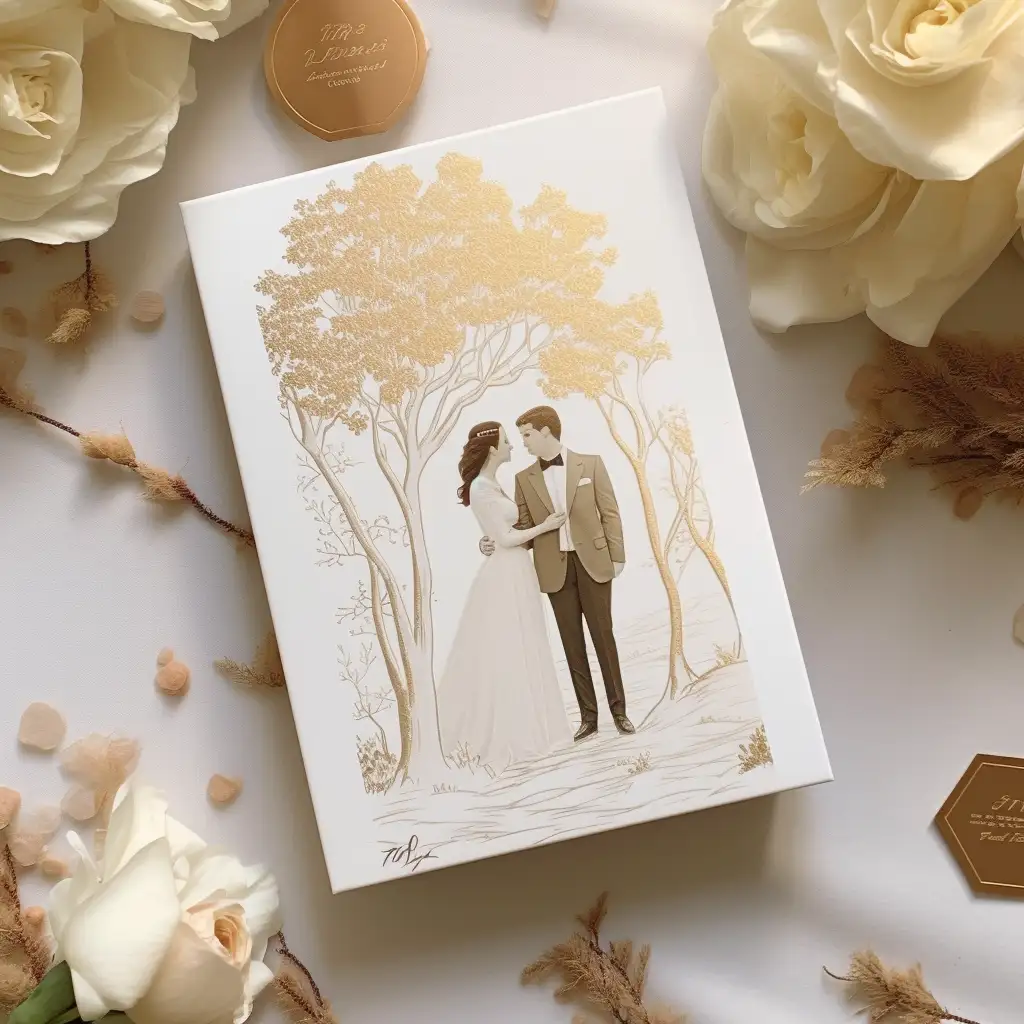 Delving Deeper: Printing Techniques
Choosing a printing technique is not just about getting ink on paper; it's about bringing your invitations to life. Each method comes with its own set of characteristics, aesthetics, and costs. Here are some of the most popular techniques:
Letterpress Printing
Letterpress printing is a classic, time-honored technique that creates a beautiful, tactile quality. The design is pressed onto the paper, leaving an elegant indentation. This technique is perfect if you're going for a vintage, high-end feel. However, it can be more costly due to the labor-intensive process.
Engraving
Engraving is another traditional method that exudes luxury. The design is etched into a metal plate, which is then filled with ink and pressed onto the paper, resulting in raised text. Engraving gives your invitations a rich texture and a high-end look, but like letterpress, it comes with a higher price tag.
Thermography
Thermography achieves a similar raised effect to engraving but at a more affordable price. The design is printed with special ink and a resinous powder, which is then heated to create a raised effect. Thermography gives your invitations a glossy, polished appearance.
Digital Printing
Digital printing, or flat printing, is the most accessible and budget-friendly option. It allows for a high level of detail and a broad range of colors, making it suitable for any design. However, unlike the other techniques, digital printing doesn't provide any texture.
Foil Stamping
For a bit of glitz and glam, consider foil stamping. This technique applies metallic foil to your invitations using heat and pressure, resulting in a shiny, reflective finish. Foil stamping is particularly effective for adding accents to your design, such as names or decorative elements.
Each of these printing techniques brings a unique feel and aesthetic to your invitations. Your choice should align with your invitation style, budget, and personal preferences. Remember, your wedding invitations are an integral part of your special day. Choosing the right printing technique can help set the tone and create a lasting first impression.
Cost Considerations: Budgeting for Your Wedding Invitations
Just as with every aspect of your wedding, budgeting for your invitations requires thoughtful planning. Costs can vary widely based on design, printing method, and materials used. However, with careful consideration and a clear understanding of potential costs, you can find the perfect invitations within your budget. Here are some key factors to keep in mind:
Range of Costs
Wedding invitations can range from very affordable to luxury-priced options. Economy invitations, usually achieved through digital printing and simpler designs, can be a cost-effective choice. At the other end of the spectrum, luxury invitations featuring techniques like letterpress, engraving, or foil stamping, coupled with high-end materials and custom designs, will be more costly.
The Extras: Don't Forget About Them
While it's easy to focus on the cost of the invitation itself, don't forget to budget for the extras. These can include:
Envelopes: While some companies include envelopes in the cost, others may charge separately.
RSVP Cards: These are an essential part of your invitation suite, so be sure to factor them into your budget.
Postage: Postage costs can add up, especially for bulkier, heavier invitations. And don't forget about the return postage for your RSVP cards!
Additional Inserts: If you're including direction cards, accommodation details, or other extra inserts, these will also add to the cost.
Envelope Liners or Custom Stamps: These optional details can elevate your invitations but come at an additional cost.
One way to keep your budget on track is to be aware of potential hidden costs. For example, intricate designs with multiple colors or embellishments may increase the price. Special envelope sizes may also require extra postage. If in doubt, ask for a detailed quote from your printer.
Planning Ahead
Start planning and budgeting for your invitations early in your wedding planning process. This allows you to research different options, compare prices, and find the best fit for your budget without feeling rushed.
Quality Check: Evaluating Your Printed Invitations
Once your wedding invitations have been printed and delivered, the excitement of unboxing them is unparalleled. However, it's important to put that excitement aside momentarily to conduct a thorough quality check. Here's what you should look out for:
Legible Text
The purpose of your invitation is to convey information about your big day, so legibility is paramount. The text should be clear, easy to read, and free of any spelling or grammatical errors. This includes smaller details like the date, time, venue, and any additional information you've provided.
Sharp Images
If your invitations include images or graphics, these should be sharp and well-defined, with no blurring or pixelation. Whether it's a map to your venue, a picture of the happy couple, or a monogram, every detail matters.
Consistent Color
Color consistency is a significant factor in the overall look of your invitations. The colors should be uniform across all invitations and true to what you expected based on your digital proofs. If the colors appear washed out, overly saturated, or just not what you expected, it's worth addressing this with your printer.
Paper Quality
Don't forget to assess the quality of the paper. The weight, texture, and finish of the paper should align with what you chose during the design process. High-quality paper will give your invitations a professional and elegant feel.
Overall Impression
Last but not least, consider your overall impression. Does the invitation feel cohesive and well put together? Does it evoke the emotions and anticipation you want your guests to feel when they open it?
If there's anything about your invitations that doesn't meet your expectations or match what you agreed upon with your printer, don't hesitate to ask for revisions.
Post-Printing: Prepping Your Invitations for Mailing
After the anticipation of the design and printing process, it's finally time to get your invitations ready for mailing. This phase involves meticulous attention to detail but seeing your invitations ready to be delivered will bring immense satisfaction. Here's what to do:
Double-Check Addresses
Start by double-checking your guest list and addresses. This step might seem tedious but ensuring that each address is correct will save potential confusion or delays. Remember to check for any recent address changes among your guests, and don't forget to review the spelling of guest names.
Addressing the Envelopes
Now it's time to address the envelopes. Whether you're handwriting the addresses, printing labels, or having them professionally calligraphed, make sure they're legible and properly formatted. Don't forget to include your return address.
Stuffing the Envelopes
When stuffing the envelopes, order matters. Your main invitation should be at the back, with inserts like RSVP cards, directions, or accommodation details placed in front of it. If your envelopes have a printed liner, ensure that the design is visible when the envelope is opened.
Securing Proper Postage
Postage is a critical factor often overlooked. Heavier or larger invitations may require additional postage, so it's a good idea to take a fully assembled invitation to your post office for a weight check. Don't forget to account for postage for your RSVP cards if they're pre-addressed!
Final Once-Over
Once everything is addressed, stuffed, and stamped, give your invitations a final once-over. Check for consistency in assembly, correct postage, and the right invitation going to the right address.
The process of preparing your wedding invitations for mailing is a labor of love. It can be a detail-oriented and time-consuming task but think about the excitement and joy they will bring to your guests.
Conclusion
As we reach the end of our journey exploring the world of wedding invitations, remember that your wedding is a reflection of your love story. The invitations, as the first glimpse into your special day, should echo this sentiment. Don't be afraid to explore various options, ask questions, and create something that is uniquely you. Just like planning the perfect wedding, printing the perfect wedding invitation may require time and effort, but the result is worth it. After all, it's not every day that you get to invite your loved ones to celebrate one of the most magical days of your life. Here's to creating an invitation that makes hearts flutter and sets the tone for a day full of love, joy, and unforgettable memories.
FAQs
Q: What are the advantages of using online printing services?
A: Online printing services offer convenience and a wide range of customizable designs. You can easily upload your own design or choose from their templates, and they will handle the printing and delivery process.
Q: Are local print shops a good option for printing wedding invitations?
A: Yes, local print shops can be a great option if you prefer a more hands-on approach. You can work closely with the print professionals, see physical samples, and ensure that the colors and paper quality meet your expectations.
Q: Can I print my wedding invitations at home?
A: Yes, if you have the necessary equipment and skills, you can print your wedding invitations at home. This option allows for more creative control and cost savings, but it requires time, effort, and attention to detail.
Q: What should I look for in a printing service?
A: Look for a printing service that offers high-quality printing, a variety of paper options, reliable delivery, reasonable pricing, and excellent customer reviews. It's also essential to check their turnaround time to ensure it aligns with your wedding schedule.
Q: How early should I start the printing process for wedding invitations?
A: It's recommended to start the printing process at least two to three months before your wedding date. This allows for ample time to design, print, address, and send out the invitations, ensuring your guests receive them in a timely manner.
Q: Can I order a sample before placing a bulk order?
A: Many online printing services provide the option to order a sample of your wedding invitation design before committing to a bulk order. This allows you to assess the quality, colors, and paper firsthand before proceeding with the final printing.
Q: How many wedding invitations should I order?
A: It's advisable to order slightly more invitations than your guest count to account for any last-minute additions or mistakes during the addressing process. A general rule of thumb is to order an extra 10-15% of invitations.
Q: How can I ensure that the colors of my printed invitations match my desired color scheme?
A: To ensure color accuracy, it's recommended to request a printed proof or sample from the printing service before placing a bulk order. This will allow you to verify that the colors match your expectations. Additionally, you can provide the printing service with specific color codes or swatches to ensure precise color matching.
Q: What are the advantages of using a professional designer for my wedding invitations?
A: A professional designer can bring expertise and creativity to your wedding invitations. They can help you create a unique and visually appealing design that reflects your personal style. They also have knowledge of printing techniques and can optimize the design for the best print quality.
Q: Are there any eco-friendly options for printing wedding invitations?
A: Yes, many printing services now offer eco-friendly options. You can choose recycled or sustainably sourced paper, soy-based inks, or digital printing methods that minimize waste. Be sure to inquire about these options when selecting a printing service.
Q: Can I include additional embellishments or finishes on my wedding invitations?
A: Yes, many printing services offer various embellishments and finishes to add a touch of elegance to your invitations. Some popular options include foil stamping, embossing, letterpress, or using specialty papers. Keep in mind that these additional features may incur extra costs.
Q: Can I order matching envelopes for my wedding invitations?
A: Yes, most printing services provide matching envelopes for your wedding invitations. You can select from different sizes, colors, and finishes to complement your invitation design. Envelopes can be ordered separately or as part of a package with the invitations.
Q: Is it necessary to include a separate RSVP card with my wedding invitations?
A: While separate RSVP cards are a common practice, they are not mandatory. You can also include alternative RSVP options, such as a wedding website or email address, to gather guest responses. Choose the method that suits your preferences and makes it convenient for your guests to RSVP.
Q: What is the typical turnaround time for printing wedding invitations?
A: Turnaround times can vary depending on the printing service and the complexity of your order. It's recommended to inquire about the estimated turnaround time before placing your order. Plan ahead and allow enough time for printing, shipping, and addressing to ensure timely delivery.
Q: Can I make changes to my invitation design after it has been submitted for printing?
A: It depends on the printing service and the stage of the printing process. Once you submit your design for printing, it may be challenging to make changes. It's crucial to thoroughly review the design and details before finalizing your order to avoid any regrets or additional costs.
Key Takeaways
Wedding invitations are more than just a formality; they serve as the first impression of your wedding day.
A wedding invitation suite typically includes the main invitation card, RSVP cards, direction cards, and enclosure cards.
The style of your wedding invitations should align with your personal aesthetics and wedding theme.
Important elements to consider in wedding invitation design are the color scheme, typography, and imagery.
Designing wedding invitations can be done through sketching a draft, hiring a professional graphic designer, or utilizing online design platforms and templates.
Different printing options for wedding invitations include traditional local print shops, online printing services, luxury printing services, and eco-friendly printing services.
Various printing techniques such as letterpress, engraving, thermography, digital printing, and foil stamping offer different aesthetics and costs.
Budgeting for wedding invitations requires considering the range of costs, including extras like envelopes, RSVP cards, postage, and additional inserts.
Conducting a quality check is important to ensure legible text, sharp images, consistent colors, and high-quality paper.
Prepping invitations for mailing involves double-checking addresses, addressing envelopes, stuffing envelopes in the right order, and securing proper postage.
It's recommended to start the printing process for wedding invitations at least two to three months before the wedding date.
Professional designers can bring expertise and creativity to your wedding invitations.
Eco-friendly printing options prioritize sustainable practices and materials.
Including additional embellishments and finishes can add elegance to your invitations but may come at an additional cost.
Ordering a sample and ensuring color accuracy are important when working with printing services.
It's advisable to order slightly more invitations than your guest count to account for any last-minute additions or mistakes during addressing.
The typical turnaround time for printing wedding invitations varies and should be considered when planning.
Making changes to invitation designs after submission may be challenging, so it's important to thoroughly review before finalizing the order.
COPYRIGHT NOTICE
Please be advised that all images, designs, and creative content on this page are the exclusive property of TheIDoGuide.com and are protected under international copyright laws. The images may not be reproduced, copied, transmitted or manipulated without the written permission of TheIDoGuide.com.
Unauthorized use, distribution, display, or creation of derivative works of any images contained on this site, is strictly prohibited and can lead to legal penalties. We actively monitor for, and enforce, our copyright interests.
If you wish to use any of our images, kindly contact us to seek permission. Respect of copyright is not merely a legal requirement but also an acknowledgement and support of the hard work and creativity that goes into producing them.
Thank you for your understanding and cooperation.
© 2023, TheIDoGuide.com. All Rights Reserved.