What happens to your beautiful wedding dress after you've danced the night away and toasted to a new chapter in life? You might feel a little flutter of sadness at the thought of parting with it. But take heart! Your wedding dress can continue its fairy tale, maybe even bring a touch of magic to someone else's special day.
Why Donate Your Wedding Dress?
For many of us, our wedding dress holds a special place in our hearts. It's not just a piece of fabric – it's a symbol of love, joy, and a celebration that marks a significant moment in our lives. Each delicate stitch, each shimmering bead, they all echo a memory, a shared glance, a burst of laughter, a tear of joy. The wedding dress, in its essence, is far more than just a dress; it's a story, it's an emotion, it's a part of your very identity.
Imagine now, this beautiful story-laden dress not sitting in the back of your closet, gathering dust but instead, creating new stories, new memories. When you donate your wedding dress, you're passing on not only a gorgeous gown but a chance for another bride to weave her dreams around it. Imagine the joy, the radiance on the face of a bride who might not have been able to afford such a dress, now getting a chance to feel special on her big day, all thanks to you.
But the impact of your donation extends beyond the sentimental. Donating your wedding dress means you're making a choice that benefits our planet as well. The fashion industry, including bridal fashion, contributes significantly to environmental pollution. When you choose donation, you're encouraging the reuse of materials, which in turn reduces demand for new resources. In a way, you're combating the cycle of consumption and waste that the fashion industry often perpetuates. Your single act of donation then contributes to a larger narrative of sustainable living and conscious consumption.
Preparation for Donation
Before your wedding dress can embark on its new adventure, it's crucial to ensure it's in the best possible condition. You'll want the next bride to feel just as beautiful and special as you did on your big day. So where do we begin?
Cleaning Your Dress
First and foremost, professional cleaning is usually a must. Your wedding was a day filled with love, laughter, and yes, probably a few spills from champagne toasts, dinner, and maybe even a bit of dust from those dance floor shenanigans! These are all marks of a celebration well-lived, but they might not be something the next bride would like to inherit. Professional cleaners have the expertise to remove stains and freshen up your dress, making it look as stunning as it did on your wedding day.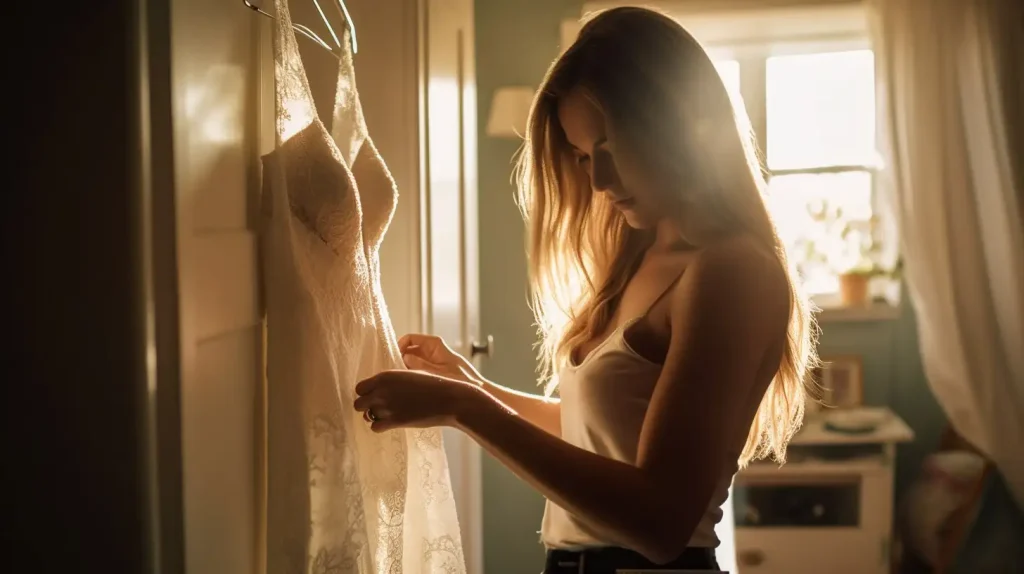 Checking for Repairs
Once your dress is sparkling clean, it's time for a little inspection. Look over your dress carefully for any minor damages. Loose threads, missing beads, tiny rips, or a broken zipper – these are all things that could potentially be fixed. Remember, some donation organizations may require repairs to ensure the dress is wedding-ready for the next bride. Consider consulting a professional seamstress to mend any flaws.
Preserving Your Dress
Lastly, if you have some time before you're ready to part with your dress, you might want to look into proper preservation. Specialized wedding dress preservation can protect your dress from elements that could cause damage over time, such as light, humidity, and insects. This process often involves carefully packing the dress in acid-free tissue and placing it in an archival-quality box.
Finding the Right Donation Organization
Choosing where to donate your wedding dress is a personal decision. It's not unlike finding the perfect wedding venue; it has to resonate with you, reflect your values, and importantly, make you feel good about your decision.
Understanding the Organization's Mission
First and foremost, delve into the organization's mission. Each organization has a unique purpose and the way they use your dress can vary. For instance, some organizations might provide your dress to brides who cannot afford to buy one. Others might sell your dress and use the proceeds to fund charitable activities. Understanding the mission will help you identify which cause aligns with your personal values and where your dress can make the most significant impact.
Considering the Scope of Impact
Another consideration is whether you'd like your dress to have a local or global impact. Some organizations operate within specific communities, providing local brides with beautiful dresses at affordable prices. Other organizations have a global reach, sending dresses to underprivileged countries, making wedding dreams come true across borders. Your decision might depend on whether you wish to support your local community or assist brides on a global scale.
Evaluating the Organization's Reputation
Just as you checked reviews for your wedding vendors, it's worth doing a bit of research on your chosen organization. Look for testimonials, check how transparent they are about their process and how the dresses are used. This will give you confidence that your dress is truly making a difference and will be cherished once more.
Popular Wedding Dress Donation Organizations
Donating your wedding dress is a heartfelt and generous act, but knowing where to donate can be a bit overwhelming with so many organizations out there. To help you navigate this space, here are a few popular wedding dress donation organizations worth considering:
Brides for a Cause
Think about donating to Brides for a Cause, an organization that focuses on women empowerment. They collect and resell wedding dresses, with the funds raised supporting various women-focused charities. So, not only is your dress getting a second life, but the funds it generates are being used to empower and uplift women in various aspects of life. Isn't it a beautiful thought to know that the joy your dress brought you could help bring a positive change in another woman's life?
The Bridal Project
Another fantastic organization is The Bridal Project. They aim to make beautiful wedding dresses accessible to lower-income brides-to-be who may not otherwise be able to afford such a gown. Your donated dress could make someone's dream come true, adding a touch of magic to their special day. Envision your dress, perhaps in a sunlit garden or a cozy chapel, making another bride feel beautiful and special on her big day!
Adorned in Grace
Adorned in Grace is a unique organization that uses proceeds from selling donated wedding dresses to combat human trafficking and support its survivors. So, if you donate your dress to Adorned in Grace, you're making a statement against human trafficking, contributing towards a world where everyone can live freely and safely.
The Donation Process
Once you've selected your organization and your dress is clean, mended, and ready to shine again, you're ready to start the donation process. It might seem daunting, but don't worry, it's usually a straightforward process. Let's walk through the typical steps together.
Completing the Donation Form
Almost every organization will require you to complete a donation form. This is your opportunity to share key details about the dress, such as the designer, size, year of purchase, and its current condition. Some organizations might also ask for a brief description or even a story about your wedding day. This information helps the organization know more about the dress they're receiving and how they can best use it to help others.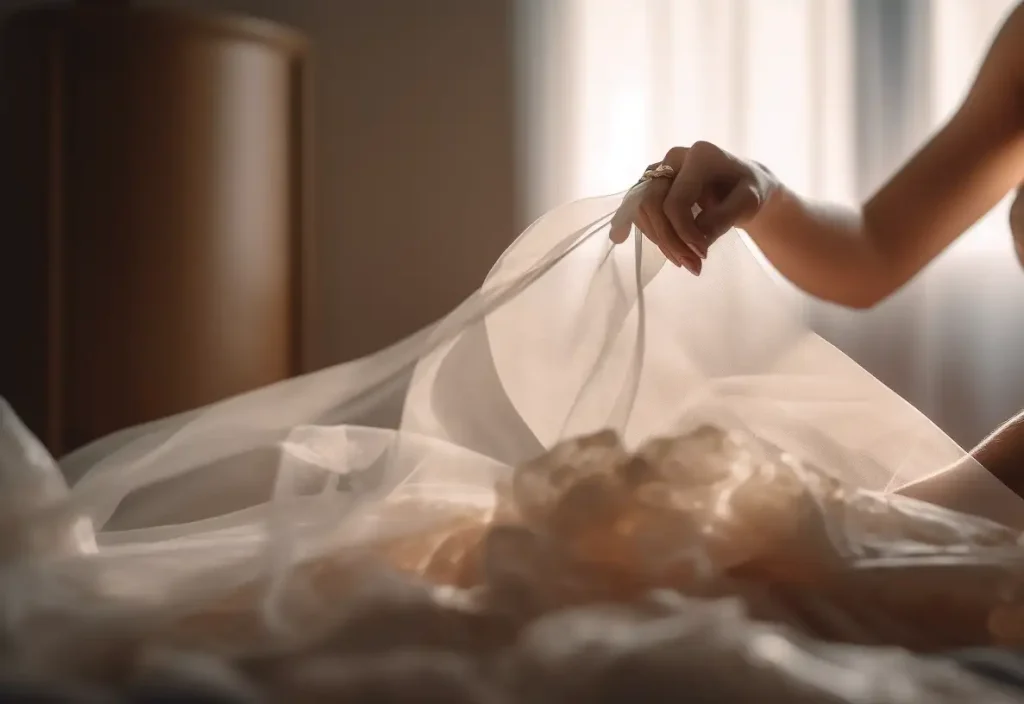 Packaging Your Dress
Next, it's time to package your dress for its journey. You'll want to ensure it's packed securely to prevent any damage in transit. You could use the box your dress was originally stored in or buy a new box. Remember to pack it in such a way that it retains its shape and beauty. You could wrap it in clean, white tissue paper before placing it in the box to provide extra protection.
Shipping Your Dress
Once your dress is safely packaged, it's ready to be shipped. You might need to cover shipping costs, but some organizations may reimburse you. It's best to check this with the organization in advance. Send it off with love, knowing it's on its way to a new adventure!
Receipt for Donation
After your dress has been received, some organizations will send you a receipt. This isn't just a confirmation of your donation; it can also be used for tax deduction purposes. Remember to store this receipt safely.
Other Ways to Give Your Wedding Dress a Second Life
While donating your wedding dress is a wonderful option, it's not the only one. If you're not quite ready to part with your dress entirely, there are other creative ways to give it a second life. Let's explore a few ideas that allow your dress to reincarnate and continue to be a part of your life, each one echoing your unique story.
Transforming into a Christening Gown
One special way to repurpose your wedding dress is by transforming it into a christening or baptism gown. This brings a whole new sentimental value to the dress, passing it down through generations. It's a beautiful way of maintaining a family tradition and creating a unique bond between you and your child.
Crafting a Sentimental Quilt
If you're crafty, you could transform your wedding dress into a quilt. Not just any quilt, but one that's filled with the memories of your special day. It could be a charming addition to your home décor and a cozy reminder of your wedding day.
Designing a Stylish Cocktail Dress
A wedding dress doesn't have to be worn just once! With the help of a skilled seamstress or designer, you could transform your wedding dress into a stylish cocktail dress. This way, you can wear it for future special occasions, and each time you do, you'll be reminded of your joy-filled wedding day.
Creating Decorative Pillows
Imagine turning your wedding dress into a charming set of decorative pillows. This allows your dress to continue being a part of your daily life, adorning your living room or bedroom. It's a lovely conversation starter and a beautiful keepsake that you can hold close.
Conclusion
There's something profoundly beautiful about giving your wedding dress a new purpose. It's a decision that goes beyond you, impacting the lives of others and the world in a positive way. So, consider it. Let your dress dance again, let it weave new stories. After all, every story deserves a beautiful encore.
FAQs
Q: Why should I donate my wedding dress?
A: Donating your wedding dress can provide a meaningful opportunity to help others and make a positive impact. Instead of storing your dress indefinitely, donating it allows another bride to create beautiful memories on her special day. It also supports various charitable causes and organizations that can benefit from the proceeds or the dress itself.
Q: Can I donate a dress that is no longer in style?
A: Yes, you can still donate a wedding dress that is no longer in current style. Fashion trends evolve over time, and what might not be in vogue today can be a perfect fit for someone else's vision. Keep in mind that different organizations have different criteria, so it's best to check their guidelines to see if there are any specific restrictions.
Q: Can I receive a tax deduction for donating my wedding dress?
A: In many cases, donations made to registered nonprofit organizations may be eligible for tax deductions. However, tax laws vary depending on your country and region, so it's recommended to consult with a tax professional or refer to official guidelines from the appropriate tax authority to determine your eligibility for a tax deduction.
Q: How can I find out more about the organization I'm donating to?
A: When choosing where to donate your wedding dress, it's essential to research and learn more about the organization or charity. Visit their website, read about their mission, and explore their transparency and impact. You can also look for reviews or testimonials from other donors to get a sense of their credibility and the work they do.
Q: Is there any way to track what happens to my donated wedding dress?
A: Depending on the organization, some may provide tracking or follow-up options to keep you informed about the impact of your donation. You can reach out to the organization directly to inquire about their tracking procedures or any reports they provide to donors regarding the use of their donated dresses.
Q: Can I donate other wedding-related items besides the dress?
A: Absolutely! Many organizations accept various wedding-related items, such as veils, accessories, shoes, and bridesmaid dresses. Additionally, some charities may even welcome donations of wedding decorations, unused favors, or other event-related items. It's always best to check the specific guidelines of the organization you're interested in donating to.
Q: Can I donate my wedding dress if it's very old or vintage?
A: Vintage wedding dresses can have a special appeal and charm. Some organizations may specialize in collecting and preserving vintage dresses, while others may accept them as long as they are in good condition. It's best to check with the specific organization to see if they have any specific requirements or preferences for vintage dresses.
Q: Are there any costs associated with donating my wedding dress?
A: While most organizations accept wedding dress donations free of charge, it's essential to clarify any associated costs beforehand. For example, you might be responsible for shipping or cleaning fees. However, many organizations also offer services to help cover these costs or provide guidelines for cost-effective options.
Q: Can I donate my wedding dress if it has sentimental value to me?
A: The decision to donate a wedding dress with sentimental value is a personal one. It's important to consider your emotional attachment to the dress and whether you're ready to part with it. However, keep in mind that donating your dress can bring joy and create cherished memories for another bride, and it supports charitable causes. If you're unsure, you can always explore other ways to repurpose or preserve your dress while still giving back.
Q: How can I ensure my donated wedding dress goes to someone in need?
A: Choosing a reputable organization with a clear mission and transparent practices can help ensure your wedding dress goes to someone who truly needs it. Research organizations that specifically serve underprivileged brides or those facing financial hardship. Additionally, some organizations might require proof of need from the recipients, further ensuring your dress reaches those who can benefit from it the most.
Q: Can I donate my wedding dress internationally?
A: Yes, it's possible to donate your wedding dress internationally. Some organizations have global reach and accept donations from various countries. However, it's essential to consider the logistics and potential costs associated with shipping the dress overseas. Research organizations that have international donation programs or explore local options if shipping is not feasible.
Q: Can I donate my wedding dress even if it has minor damages?
A: In many cases, minor damages can be repaired, especially if the dress is in overall good condition. However, it's best to communicate with the organization or charity before donating to ensure they can accommodate minor repairs or have the resources to fix any damages. They will be able to provide specific guidelines regarding what is acceptable and what may disqualify a dress from donation.
Q: What happens to my wedding dress after it's donated?
A: After you donate your wedding dress, the organization or charity typically takes steps to either resell the dress to raise funds for their cause, offer it to brides in need at a reduced cost or for free, or repurpose it for other charitable purposes. The exact process depends on the organization's mission and their specific programs.
Q: Can I donate my wedding dress if it has been previously altered?
A: Yes, you can generally donate a wedding dress that has been previously altered. However, it's important to provide accurate information about the alterations to the organization or charity. This helps ensure the dress is appropriately matched with a bride who can benefit from it and allows them to assess any additional alterations that may be necessary.
Q: Can I donate my wedding dress if it's still new and unworn?
A: Absolutely! Many organizations accept new and unworn wedding dresses. Whether your dress was purchased but never worn or you received it as a gift, donating it can still make a significant impact. It provides an opportunity for another bride to experience the joy of wearing a beautiful dress while supporting charitable causes.
Key Takeaways
Donating your wedding dress can have a meaningful impact by allowing another bride to create beautiful memories on her special day.
It also benefits the environment by promoting the reuse of materials and reducing the demand for new resources.
Before donating, ensure your dress is in the best possible condition by professionally cleaning it and checking for any repairs.
Choose a donation organization whose mission aligns with your values and consider the scope of impact, whether local or global.
Research the reputation of the organization and look for transparency in how they use the donated dresses.
Popular wedding dress donation organizations include Brides for a Cause, The Bridal Project, and Adorned in Grace, each supporting different causes.
The donation process typically involves completing a donation form, packaging the dress securely, and shipping it to the organization.
Some organizations provide a receipt for tax deduction purposes, but it's essential to check the specific tax laws in your country.
If you're not ready to part with your dress entirely, there are alternative ways to give it a second life, such as transforming it into a christening gown, crafting a sentimental quilt, designing a stylish cocktail dress, or creating decorative pillows.
Donating your dress goes beyond yourself and can bring joy, create cherished memories, and support charitable causes.
COPYRIGHT NOTICE
Please be advised that all images, designs, and creative content on this page are the exclusive property of TheIDoGuide.com and are protected under international copyright laws. The images may not be reproduced, copied, transmitted or manipulated without the written permission of TheIDoGuide.com.
Unauthorized use, distribution, display, or creation of derivative works of any images contained on this site, is strictly prohibited and can lead to legal penalties. We actively monitor for, and enforce, our copyright interests.
If you wish to use any of our images, kindly contact us to seek permission. Respect of copyright is not merely a legal requirement but also an acknowledgement and support of the hard work and creativity that goes into producing them.
Thank you for your understanding and cooperation.
© 2023, TheIDoGuide.com. All Rights Reserved.