A wedding coordinator is a professional who assists couples in planning and organizing their wedding day. They handle various tasks, from recommending vendors and managing budgets to coordinating logistics and ensuring the event runs smoothly, allowing the couple to enjoy their special day stress-free.
Imagine a symphony of love, joy, and dreams, with every single element harmonizing perfectly. Yes, we're talking about your wedding day, and believe it or not, the conductor behind this grand orchestra is the wedding coordinator. But what does a wedding coordinator actually do? Let's unravel this mystery together.
Unveiling the Wedding Coordinator
A wedding coordinator, often the unsung hero of any wedding day, plays the role of the fairy godmother (or godfather!) in your magical wedding tale. They are the unseen professionals diligently working behind the scenes to ensure your day unfolds as dreamily as you've always imagined, free from the stress of micro-managing a multitude of tasks.
A wedding coordinator is much more than just a planner. They are the soulful blend of a visionary, a diplomat, an artist, and a commander. Their role is an intricate tapestry woven with threads of myriad responsibilities and skills, each as vital as the next.
A Skillset Nurtured by Experience and Passion
At the heart of this role, you will find a skillset that is both diverse and specific, honed through years of experience, and nurtured by a deep-seated passion for celebrating love.
Organizational prowess: Coordinating a wedding is akin to directing a large-scale production. Every minute detail, every single person, every tiny moment needs to be meticulously organized and perfectly timed. A wedding coordinator's organizational skills are their biggest asset, helping them keep everything on track and ensure a seamless flow of events.
Impeccable taste: From selecting the color palette to creating a harmonious aesthetic that mirrors your story, a wedding coordinator brings their refined taste and keen eye for beauty to the table. They transform your ideas and wishes into a tangible, visually stunning reality.
Negotiation skills: Part of the wedding coordinator's magic lies in their ability to negotiate. They act as your advocate, negotiating contracts with vendors, ensuring that you get the best service at the most reasonable price. They save you money while elevating the quality of your wedding.
Cool headedness under pressure: Let's face it, weddings can be stressful. With a multitude of moving parts, something can—and often does—go awry. Here's where your wedding coordinator's ability to stay cool under pressure comes into play. They swiftly and skillfully handle any unexpected hiccups, ensuring your day remains as tranquil and joyful as it should be.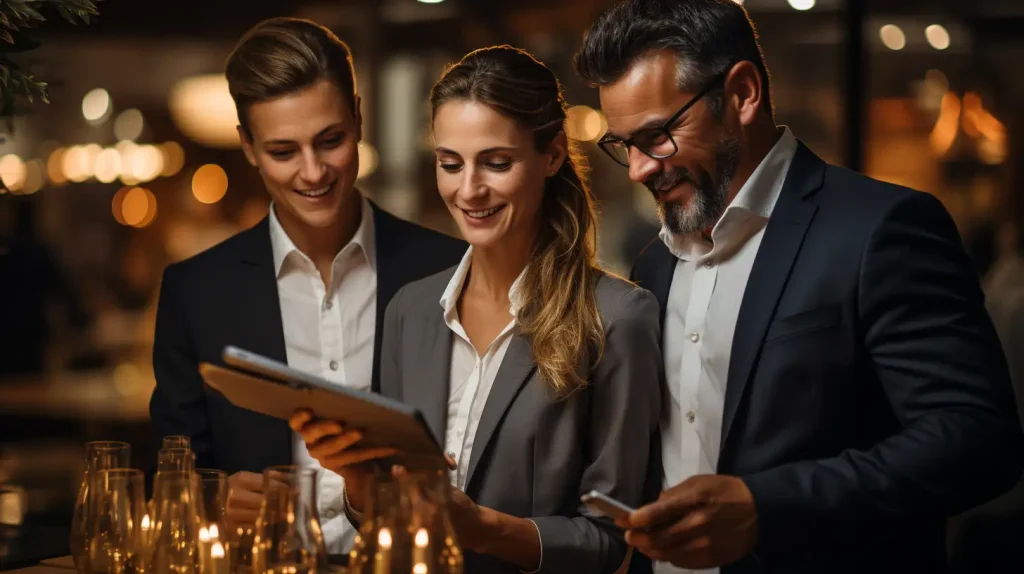 The Pre-Wedding Phase
The journey towards your big day is like a dance, and the first step sets the rhythm for the rest of the routine. This initial phase, often referred to as the pre-wedding phase, sets the stage for all the magic that is to unfold.
Initial Consultation: Setting the Stage
The curtain rises with an initial consultation. This meeting is your opportunity to lay all your cards on the table—your dreams, your vision, the wedding themes that you've bookmarked, and the Pinterest boards you've lovingly nurtured for months, or maybe even years.
During this meeting, your wedding coordinator morphs into a sponge, absorbing all your ideas, hopes, and expectations. They understand your budget and begin to translate your thoughts into a feasible plan. This roadmap, co-created with you, becomes the guiding star, leading everyone involved towards the common goal: your dream wedding.
Vendor and Venue Selection: The Quest Begins
With a clear vision and a plan in hand, your wedding coordinator embarks on the quest for the perfect vendors and venue. Just like a hawk soaring high in the sky, they keep their eyes peeled for the best of the best.
Vendor selection is a crucial part of the process. From the photographer to the caterer, from the florist to the DJ, your coordinator ensures that every vendor not only provides top-notch service but also aligns with your vision and budget.
And let's not forget about the venue. Your coordinator evaluates potential locations, negotiates contracts, and finally secures the place where your dream wedding will come to life.
Parallel to this, your coordinator also delves into the design and décor of your event. They are artists, after all, translating your vision into a tangible aesthetic that mirrors your love story.
Creating the Wedding Timeline: Charting the Course
With vendors and venues locked in, it's time to plot the course of your big day. Your wedding timeline becomes the GPS, guiding you through each step of your wedding journey. It's a comprehensive plan that includes every detail, from the time the first vendor arrives to set up, to the moment the last guest bids you adieu.
Creating a timeline is like composing a symphony. Every note, every pause, every crescendo is essential, and so is every detail in your timeline. Your coordinator ensures that nothing is overlooked and that every piece fits together harmoniously.
The Wedding Countdown
With every tick of the clock, your dream day draws closer, and the atmosphere grows electric with anticipation. As the excitement builds, so does the workload for your wedding coordinator. But fear not, for they are more than ready to juggle multiple tasks and keep all gears in the complex wedding machine running smoothly.
Keeping the Gears Running: Coordination and Checklists
During the countdown to your wedding, your coordinator resembles a seasoned orchestra conductor. They're there to keep all elements – vendors, venue, timeline – in harmony, ensuring each component is primed for a flawless performance on the big day.
This phase is all about coordination and communication. Your wedding coordinator touches base with all vendors, confirming details, arrival times, and responsibilities. They also liaise with the venue to ensure everything is on track for the day of the event.
Alongside this, the coordinator has their own comprehensive checklist. Every detail, no matter how small, is checked, rechecked, and triple checked. Rest assured, your coordinator leaves no room for errors or oversights.
The Final Walkthrough: A Full Dress Rehearsal
Just as actors perform a final dress rehearsal before the opening night, so do you, the couple, and the coordinator conduct a final walkthrough of your venue.
During this walkthrough, you will all run through the event from start to finish, discussing every detail. This rehearsal helps visualize the actual day and allows everyone to align their expectations. It's the perfect time to ask any last-minute questions, make small tweaks, or address any lingering concerns.
The Wedding Rehearsal: Practice Makes Perfect
And of course, let's not forget the wedding rehearsal. Often overlooked, this is a crucial stage that can help avoid any hiccups on your big day.
The rehearsal is a chance to run through the ceremony, familiarize the wedding party with their roles, and iron out any kinks. It's also a great opportunity for you to get comfortable with the flow of events, which can significantly ease your nerves on the wedding day itself.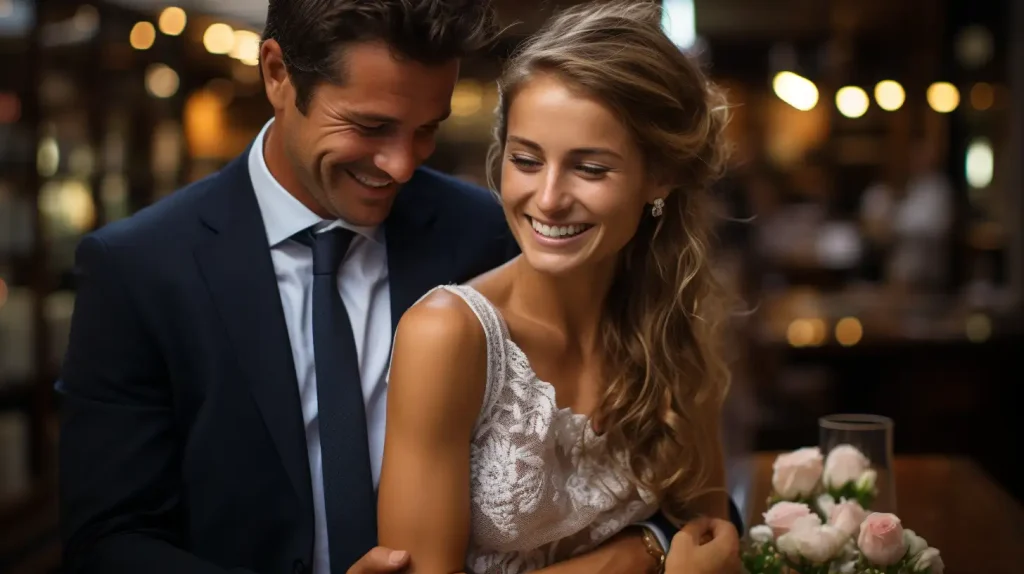 The Wedding Day
Finally, the day you've been eagerly anticipating arrives. As you wake up to the realization that today is the day you say 'I do', your wedding coordinator shifts into high gear, ready to orchestrate your perfect day.
Taking Charge: A Seamless Setup
From the crack of dawn, your coordinator is on their feet, taking charge of the setup. They liaise with vendors as they arrive, ensuring that everything from the decorations to the sound system is arranged as planned. They are the captains of the ship, guiding everyone to their rightful places and tasks.
During this time, your wedding coordinator acts like a puppet master, expertly pulling the strings to ensure all elements come together flawlessly. They check, double-check, and triple-check everything, making sure that every detail is in place and every element is perfect.
Steering the Day: Controlling the Flow of Events
As the event unfolds, your coordinator keeps a close eye on the timeline, gently steering the day's flow. From the arrival of guests to the ceremony, from the cocktail hour to the reception, they maintain the rhythm of your special day, ensuring a smooth transition between different segments.
Their job isn't just about following the schedule, but also about managing the energy of the event. They keep the momentum going, maintaining a delicate balance between quiet, emotional moments and joyful, lively celebrations.
Putting Out Fires: Handling Surprises
Despite all the planning, surprises can come knocking on the wedding day. A vendor could be late, a boutonnière might go missing, someone might decide to raise an objection, or the weather may decide to be uncooperative. But these unexpected hiccups are no match for your wedding coordinator.
Armed with their expertise and problem-solving skills, your coordinator swiftly handles any situation that arises. They find solutions, put out fires, and ensure that any hiccup is addressed so seamlessly that you might not even realize there was an issue to begin with.
Wrapping Up: A Smooth End to a Beautiful Day
As the night winds down, your coordinator ensures that everything wraps up as smoothly as it started. They coordinate the cleanup, handle any outstanding vendor matters, and ensure all personal items are returned. Their attention to detail remains unwavering, right till the very end.
While your coordinator is busy taking care of the wrap-up, you get to continue basking in the glow of your day. You can savor the final moments of your wedding day, taking in the love, joy, and memories that you'll cherish forever.
The wedding day is the grand finale, the culmination of months of planning and coordination. And throughout this day, your wedding coordinator is there, working tirelessly to ensure that everything goes according to plan, so you can have the perfect day you've always dreamed of.
The Post-Wedding Phase
When the band has played the last song, and the final piece of confetti has gently drifted to the ground, it might seem like your wedding journey has reached its beautiful conclusion. However, there are a few loose ends that need to be neatly tied up, and your wedding coordinator is there to ensure it all gets done.
Settling Vendor Logistics: Wrapping Up the Finale
In the quiet after the celebrations, your coordinator continues to work behind the scenes, wrapping up any remaining vendor logistics. From making sure all hired items are returned to settling final payments, your coordinator takes care of it all. Their goal is to ensure a smooth and satisfactory conclusion to all professional engagements, leaving no room for future hiccups or unresolved matters.
Safe Return of Personal Items and Gifts: Cherishing Your Keepsakes
Amid the whirlwind of your wedding day, it's easy to overlook personal items and gifts. But your coordinator has it all under control. They make sure that every gift, every piece of décor, and every personal item is accounted for and safely returned to you.
These keepsakes, tangible reminders of your special day, are handled with utmost care. Your coordinator ensures that everything—from your grandmother's vintage earrings that you wore to the beautifully wrapped gifts from your guests—finds its way back to you.
Gathering Feedback: Refining the Craft
Finally, your wedding coordinator may reach out to you for feedback on your wedding day. This is not just a formality, but a crucial step for them to grow and refine their craft. Your insights, your experiences, and your suggestions become invaluable lessons, helping them perfect their skills and offer even better service to future couples.
The post-wedding phase is the quiet epilogue of your wedding journey. It may lack the pomp and excitement of the wedding day, but it's an essential step in fully completing the process. With your wedding coordinator taking care of these final details, you can rest easy, reminiscing about your perfect day and embarking on the beautiful journey of married life.
The Perks of Having a Wedding Coordinator
Choosing to have a wedding coordinator by your side is like discovering a hidden treasure chest filled with perks and benefits. It's akin to holding a golden ticket that promises a stress-free, unforgettable wedding journey. Here are some of the most impactful perks of entrusting your wedding to a professional coordinator.
Time Saved: Your Valuable Asset
One of the most significant advantages of having a wedding coordinator is the considerable amount of time you save. Planning a wedding is a mammoth task that requires attention to detail, extensive research, and countless hours of coordination.
Your wedding coordinator takes on these tasks, freeing up your schedule. This means more time for you to focus on personal preparations, spend with loved ones, or simply relax and enjoy your engagement period. Consider your coordinator as your personal time banker, taking over the time-consuming tasks while you invest your hours where they matter most.
Stress Relief: A Smooth Sailing Journey
Think of your wedding coordinator as your personal stress reliever. They shoulder the burden of planning and executing your wedding, dealing with any challenges that arise along the way.
From coordinating with multiple vendors to troubleshooting last-minute hiccups, your wedding coordinator navigates these tasks, ensuring your journey towards the big day remains a joyous one. With a coordinator by your side, you can breathe easy, knowing that you have a professional handling the nitty-gritty details. This peace of mind is priceless.
Professionalism and Expertise: The Assurance of Excellence
Perhaps the most appealing perk of having a wedding coordinator is the layer of professionalism and expertise they bring to your event. With their extensive knowledge and experience, coordinators can guide you through decisions, offer valuable advice, and ensure that every detail of your wedding aligns with industry standards.
From their keen eye for aesthetics to their skilled negotiation with vendors, their expertise shines through in every aspect of your wedding. The resulting elegance and smooth operation of your event are testaments to the level of professionalism a coordinator brings to the table.
Choosing Your Wedding Coordinator
The moment has come: it's time to choose your wedding coordinator, the professional who will be by your side, guiding you through one of the most important journeys of your life. This decision requires careful consideration, but with the right approach, you can find the perfect match for your wedding dreams.
The Connection: A Bond of Trust and Understanding
At the heart of your relationship with your wedding coordinator is a bond of trust and understanding. You're inviting them to be an integral part of your wedding journey, so it's essential to find someone you connect with on a personal level.
Look for a coordinator who resonates with your style, understands your vision, and shares your excitement for your big day. Trust your instincts—when you feel a genuine connection and see a spark of shared enthusiasm, you're on the right track!
The Interview: Asking the Right Questions
The process of choosing your wedding coordinator is a bit like conducting an interview. Don't be shy to ask potential coordinators plenty of questions to gain a clear understanding of their skills, experiences, and work approach. Here are a few suggestions to get you started:
What's your experience in wedding planning and coordination?
How would you handle unexpected situations on the wedding day?
Can you provide references from past clients?
What does your services package include?
How do you handle communication with vendors?
How will you help us stay within our budget?
These are just a few examples; feel free to add any other questions that are important to you. The goal is to gather as much information as you can to make an informed decision.
Transparency and Communication: The Keys to a Successful Partnership
Transparency and communication form the backbone of a successful partnership with your wedding coordinator. A good coordinator is open about their capabilities, limitations, and the services they offer. They maintain clear and consistent communication, keeping you in the loop at every stage of the planning process.
Look for a coordinator who values open dialogue, listens to your ideas, and respects your decisions. This is the kind of professional who will not just plan your wedding but create an experience that is uniquely yours.
Conclusion
In the grand scheme of your wedding journey, a wedding coordinator is the invisible thread that ties everything together. Their expertise, passion, and dedication can take your wedding from being merely wonderful to truly unforgettable. So, as you embark on this exciting journey, consider having a professional by your side to guide you towards your perfect day. After all, every love story deserves a fairy tale ending, and your wedding coordinator is there to ensure you get yours.
FAQs
Q: How involved will a wedding coordinator be in the planning process?
A: The level of involvement depends on the couple's preferences and the type of service they choose. Some couples prefer full-service planning, where the coordinator handles every aspect, while others opt for partial planning or day-of coordination. The coordinator's involvement can be tailored to meet your specific needs.
Q: Can I plan my wedding myself? Why do I need a wedding coordinator?
A: Yes, you can certainly plan your wedding yourself. However, a wedding coordinator brings expertise, industry connections, and a wealth of knowledge that can be invaluable during the planning process. They can also troubleshoot and handle any unforeseen issues on the big day, allowing you and your loved ones to fully enjoy the celebration.
Q: How do wedding coordinators assist with budget management?
A: Wedding coordinators are skilled at working within budgets. They can help you create a realistic budget based on your priorities, recommend cost-effective alternatives, and negotiate with vendors to secure the best deals. They'll also keep track of expenses and ensure that your spending aligns with the overall vision for your wedding.
Q: Will a wedding coordinator handle vendor bookings?
A: Yes, wedding coordinators typically handle vendor bookings. They will assist you in finding and selecting reputable vendors that match your style and budget. From photographers and florists to caterers and entertainment, they'll coordinate with vendors and manage contracts, making the process smoother for you.
Q: Can a wedding coordinator help with wedding design and themes?
A: Absolutely! Wedding coordinators often have an eye for design and aesthetics. They can collaborate with you to conceptualize a theme, color scheme, and overall ambiance for your wedding. From selecting décor elements to ensuring everything aligns with your chosen theme, they play a crucial role in bringing your vision to life.
Q: How early should I hire a wedding coordinator?
A: It's best to hire a wedding coordinator as early as possible, especially if you want full-service planning. This allows them to get involved from the beginning, helping you make critical decisions and secure popular vendors. However, even if you're closer to your wedding date, many coordinators offer partial planning or day-of coordination services.
Q: Is a wedding coordinator different from a venue coordinator?
Yes, they are different. A wedding coordinator you hire works on your behalf, focusing on all aspects of your wedding, including logistics and design. On the other hand, a venue coordinator is typically associated with the venue and concentrates primarily on its services and operations. Having both can be advantageous as they complement each other's roles.
Key Takeaways
Wedding coordinators are professionals who assist couples in planning and organizing their wedding day, handling various tasks to ensure a stress-free experience for the couple.
A wedding coordinator is more than just a planner; they are a visionary, diplomat, artist, and commander, with an intricate skillset nurtured through experience and passion for celebrating love.
The pre-wedding phase involves an initial consultation where the coordinator absorbs the couple's ideas and vision to create a feasible plan, followed by vendor and venue selection and designing the wedding timeline.
During the wedding countdown, the coordinator acts as an orchestra conductor, coordinating with vendors, finalizing checklists, and conducting a full dress rehearsal to ensure everything runs smoothly.
On the wedding day, the coordinator takes charge of the setup, controls the flow of events, and handles any surprises that may arise, ensuring a seamless and enjoyable experience for the couple and guests.
In the post-wedding phase, the coordinator settles vendor logistics, ensures the safe return of personal items and gifts, and gathers feedback to refine their craft for future couples.
The perks of having a wedding coordinator include time saved, stress relief, and the assurance of professionalism and expertise, resulting in an unforgettable wedding journey.
When choosing a wedding coordinator, it is crucial to establish a bond of trust and understanding, ask the right questions during the interview, and prioritize transparency and communication.
Wedding coordinators offer different levels of involvement and hiring one can be advantageous in bringing your wedding vision to life while allowing you to fully enjoy the process and the big day.
COPYRIGHT NOTICE
Please be advised that all images, designs, and creative content on this page are the exclusive property of TheIDoGuide.com and are protected under international copyright laws. The images may not be reproduced, copied, transmitted or manipulated without the written permission of TheIDoGuide.com.
Unauthorized use, distribution, display, or creation of derivative works of any images contained on this site, is strictly prohibited and can lead to legal penalties. We actively monitor for, and enforce, our copyright interests.
If you wish to use any of our images, kindly contact us to seek permission. Respect of copyright is not merely a legal requirement but also an acknowledgement and support of the hard work and creativity that goes into producing them.
Thank you for your understanding and cooperation.
© 2023, TheIDoGuide.com. All Rights Reserved.