Wedding welcome bags should include a combination of practical and thoughtful items. Consider including essentials like water bottles, snacks, personalized notes, local maps, and small gifts that reflect the couple's personality or the wedding theme.
If you're reading this, chances are you're planning a special day that brings together people you love. One of the most heartfelt ways to express your appreciation for their presence is through wedding welcome bags. This article will unravel all the mysteries and offer creative ideas to help you curate a unique and memorable welcome bag for your guests.
Understanding Wedding Welcome Bags
When you start to plan a wedding, you'll quickly realize it's more than just a ceremony; it's an experience, a joyful journey you share with your loved ones. One fantastic way to make your guests feel part of this journey is by providing them with wedding welcome bags.
What Are Wedding Welcome Bags?
In essence, wedding welcome bags are a collection of goodies that you give to your guests, particularly those from out of town, as a token of your appreciation. They're like a warm, inviting hug that says, "We're thrilled you're here!"
These welcome bags can be simple or extravagant, mirroring your personal style and budget. They could be a humble paper bag filled with a few essentials or an elegant basket brimming with a variety of thoughtful items. The choice is entirely yours, and there's no wrong answer.
Why Give Wedding Welcome Bags?
Beyond being a gracious gesture, wedding welcome bags serve a couple of important roles:
Set the Tone: These bags are often the first point of contact between your guests and your wedding festivities. They set the mood and introduce your guests to the wedding theme, if there's one.
Help Your Guests: They offer practical items your guests may need during their stay, which is especially helpful for out-of-town guests unfamiliar with the location.
Express Your Gratitude: Welcome bags are a heartfelt way to express your gratitude to your guests for joining you in your celebrations.
Make Lasting Impressions: More than just a collection of items, a well-curated welcome bag can create a lasting impression and make your guests feel truly special and appreciated.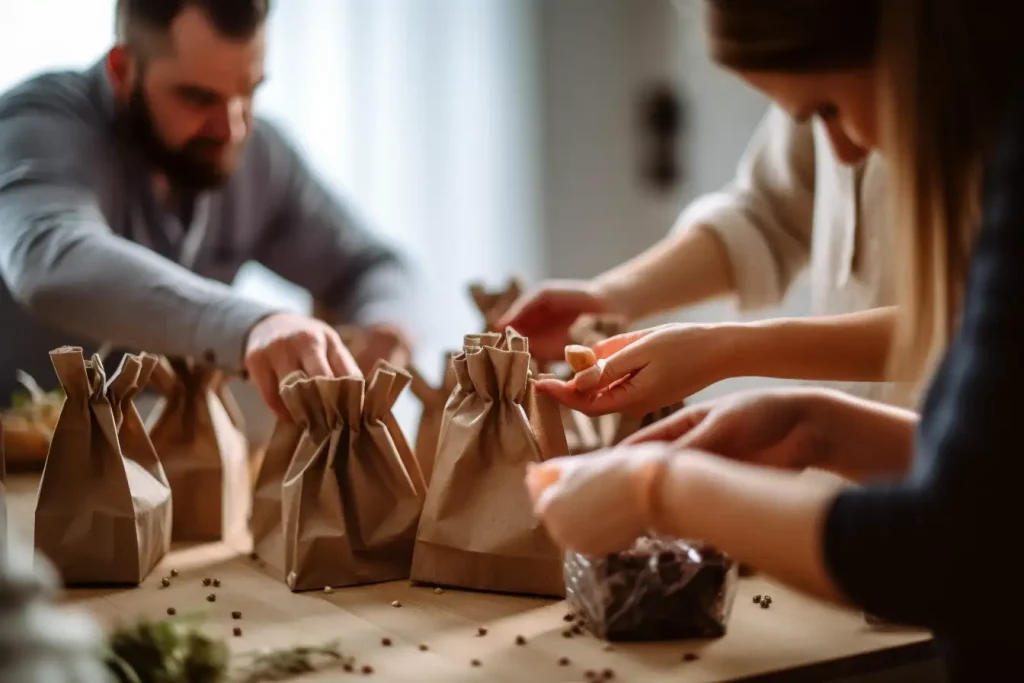 Key Considerations When Choosing Items for Your Welcome Bags
Curating the contents of your wedding welcome bags isn't a one-size-fits-all process. It's like creating a mixtape – each choice should be thoughtful and personalized. Here are some key considerations to guide your decision-making process:
Know Your Guests
When deciding what to put in your wedding welcome bags, the first thing to think about is your guests.
Demographics: Who are they? Family, friends, kids, or colleagues? Consider their age, interests, and preferences. For instance, kids might love a bag with small toys or coloring books, while your foodie friends might appreciate a selection of gourmet snacks.
Travel Distance: Have your guests traveled a long distance to be part of your big day? If so, consider including items that could make their stay more comfortable, like local maps or travel-sized toiletries.
Reflect Your Wedding
Location: The wedding venue can provide plenty of inspiration for your welcome bags. For a beach wedding, consider sunscreen, flip flops, or even a beach novel. If you're tying the knot in a wine region, a mini bottle of local wine could be a hit.
Theme: If your wedding has a specific theme, your welcome bags should ideally reflect it. For example, for a rustic barn wedding, you might choose a burlap bag filled with homemade treats and wildflower seeds.
Practicality and Usability
While it's tempting to fill your bags with unique and quirky items, don't forget about practicality. Items that guests can use during their stay, like water bottles, snacks, or a list of local food delivery options, are always appreciated.
Budget
While you want your bags to be special, it's also important to consider your budget. Remember, it's not about how much you spend, but the thought and personalization you put into the bags that truly counts.
Welcome Note
A personalized welcome note is more than just a piece of paper; it's an opportunity to communicate directly with your guests and make them feel truly special.
Why Include a Welcome Note?
A welcome note in your wedding bag is the first thing your guests interact with, and it sets the tone for the entire bag. Here's why they're so essential:
Personal Connection: A heartfelt welcome note can help create a personal connection with each guest, making them feel appreciated and special.
Practical Information: It's an excellent place to include necessary details such as itinerary, shuttle timings, or emergency contact numbers, ensuring your guests have everything they need for a comfortable experience.
Expression of Gratitude: It's an opportunity to thank your guests for their presence and share your excitement about the upcoming celebrations with them.
How to Create a Memorable Welcome Note
Creating a memorable welcome note isn't about flashy design or poetic language; it's about authenticity and thoughtfulness. Here are a few tips:
Keep It Personal: Use a conversational tone as if you're speaking directly to the guest. This could be a simple thank you, a sweet anecdote about your relationship, or why you're excited to have them at your wedding.
Incorporate Your Wedding Theme: If your wedding has a specific theme or color scheme, reflect it in your welcome note design to create a cohesive experience.
Handwritten vs. Printed: Handwritten notes can add a personal touch, but if you're hosting a large wedding, a beautifully designed and printed note can be just as special.
Add a Fun Element: Consider adding a fun element to your note, such as a map of the area with your favorite spots marked, a crossword puzzle about you as a couple, or a fun fact about your wedding venue.
Presentation Matters: The way your note is presented can enhance its impact. Consider a beautifully printed card, a note rolled into a mini scroll, or even a message embroidered on a handkerchief or another keepsake.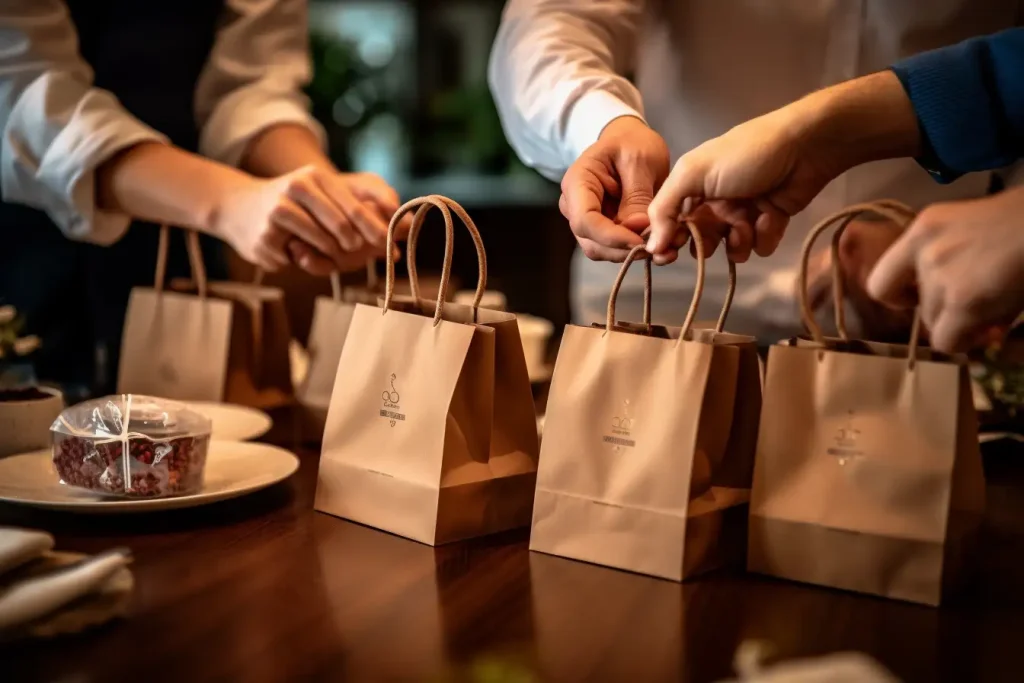 Local Flavor
Incorporating local flavor into your wedding welcome bags is a fantastic way to celebrate the location of your wedding and provide guests with a unique experience.
Why Include Local Flavor?
Including local elements serves a few key purposes:
Showcase the Local Culture: If you're having a destination wedding or if many of your guests are coming from out of town, local items can introduce your guests to the region's unique culture or cuisine.
Create a Memorable Experience: Giving your guests a taste of the locale can make their experience more authentic and memorable.
Support Local Businesses: By sourcing local products, you're also supporting local businesses, which is a great way to give back to the community.
How to Incorporate Local Flavor
When you think 'local', a world of opportunities open up. Here are a few ways you can bring in the local flavor:
Local Snacks or Delicacies: Every place has a food or drink it's famous for. From maple syrup in Vermont, chocolates in Belgium, to key lime pie from Florida, these can make for delicious, memorable inclusions in your bag.
Handmade Crafts: Handcrafted items from local artisans, like a small piece of pottery, a handmade soap, or a locally woven basket, can serve as wonderful mementos.
Postcards or Guidebooks: Local postcards, maps or miniature guidebooks could serve a dual purpose – a keepsake and a way for your guests to explore the area in their free time.
Local Drinks: Miniature bottles of locally brewed spirits, wines, or even non-alcoholic beverages can be a hit.
Seeds or Plants: If the locale is known for a particular plant or flower, seed packets or a small potted plant could make unique gifts.
Snacks and Refreshments
Whether your guests are traveling from across town or across the world, arriving at a destination can be tiring. Offering them snacks and refreshments in your welcome bags can be a delightful way to satiate those travel munchies and quench their thirst.
Why Include Snacks and Refreshments?
Snacks and refreshments serve multiple purposes:
Immediate Refreshment: After a long journey, your guests will appreciate the immediate gratification of a snack or drink.
Convenience: These items can be enjoyed at your guests' convenience, whether they need a quick energy boost before the reception or a midnight snack after the party.
Personal Touch: Snacks and refreshments can reflect your personal taste or story, making the welcome bags more personalized.
Choosing the Right Snacks
When choosing snacks, consider these aspects:
Quality Over Quantity: Prioritize high-quality snacks that your guests will enjoy. Gourmet popcorn, artisanal cookies, or luxury chocolates are great options.
Personal or Meaningful: Choose snacks that are meaningful to you as a couple. Perhaps you could include your favorite childhood candy, or a snack that was a part of your first date.
Healthy Options: Consider including some healthier snacks like granola bars, dried fruits, or mixed nuts.
Customization: Personalized snack packaging can add a fun element to your welcome bags.
Choosing the Right Refreshments
When it comes to drinks, consider the following:
Alcoholic and Non-Alcoholic: It's nice to offer a variety of options, including both alcoholic and non-alcoholic drinks. Miniature bottles of champagne or craft beer are popular choices, as are high-end juices or iced teas.
Local Specialties: If there's a local drink your location is known for, consider including that.
Personalization: Consider personalizing water bottles with your names, wedding date, or a fun quote.
Keep it Practical: Ensure your chosen refreshments are practical and won't cause any inconvenience. For instance, it's probably best to avoid anything that needs refrigeration.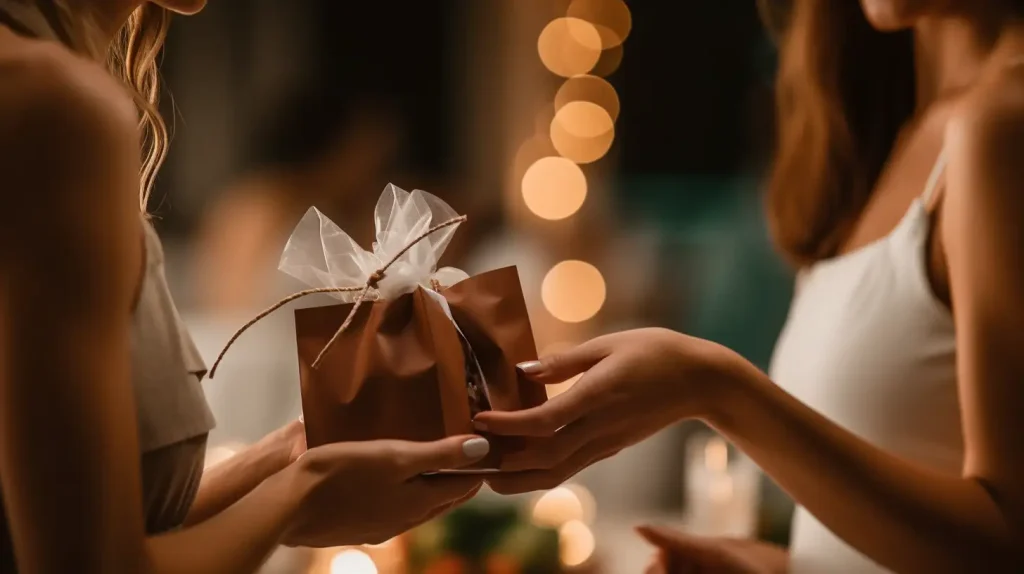 Essential Comfort Items
A wedding is a joyous occasion, but unexpected minor inconveniences can sometimes come up. Providing essential comfort items in your wedding welcome bags is a proactive way to ensure your guests have everything they need to enjoy your special day fully.
Why Include Essential Comfort Items?
Inclusion of essential items offers the following benefits:
Anticipating Needs: These items show your guests that you've thought about their needs and comfort, which can be especially appreciated by out-of-town guests who may not have packed certain items.
Minimizing Discomfort: They help to address minor discomforts or emergencies that may arise during the event.
Enhancing Enjoyment: By providing these essentials, you're helping ensure that minor issues don't detract from your guests' enjoyment of your wedding.
Choosing the Right Comfort Items
While the choice of items will largely depend on your wedding environment and your guests, here are some universally useful options:
Mini Sewing Kit: A mini sewing kit can be a lifesaver in case of a wardrobe malfunction.
Pain Relievers and Band-Aids: Small packets of pain relievers can come in handy for guests dealing with minor aches and pains, while band-aids can be useful for dealing with minor cuts or blisters from dancing.
Sunscreen and Aloe Vera: If you're hosting a beach or outdoor wedding, your guests will appreciate these to protect their skin from the sun.
Lip Balm and Hand Cream: These can be especially useful for winter weddings or in drier climates to keep guests comfortable.
Refreshments: Breath mints, travel-size deodorant, and hand sanitizer can help guests feel fresh throughout the event.
Remember to tailor these essentials to your wedding environment and consider the needs of your guests. For instance, if you have a lot of kids attending, you might add some child-friendly items. Similarly, if your event will go late into the night, earplugs might be appreciated by those who want to get a good night's sleep.
The Entertainment Factor
Adding entertaining items to your wedding welcome bags can transform them from merely being thoughtful gifts to fun-filled packages that will keep your guests engaged and entertained during their downtime.
Why Include Entertainment?
Including entertaining elements serves several key purposes:
Personal Engagement: Interactive entertainment allows your guests to engage with the wedding in a more personal and fun way.
Icebreakers: They can act as conversation starters, especially for guests who may not know many people at the wedding.
Extra Touch: It's an extra touch that can make your wedding stand out and be remembered.
Ideas for Including Entertainment
Adding the entertainment factor to your wedding welcome bags is an area where you can let your creativity shine. Here are some ideas:
Custom Crossword Puzzle or Quiz: A custom crossword puzzle or quiz about the couple can be a fun way for your guests to learn more about you. You can include questions about how you met, your favorite things, or fun facts about your relationship.
Local Attractions Guide: A mini guidebook or a list of must-visit local attractions can be useful for out-of-town guests who want to explore the area during their free time.
Games: Small, portable games, like a deck of cards, travel-size board games, or even frisbees for outdoor weddings, can provide entertainment for guests during downtime.
Book or Magazine: If your guests will have some free time, a local magazine or a book written by a local author can provide them with something to read.
Customized Souvenirs
Custom keepsakes are a wonderful way to leave a lasting impression and allow your guests to take a piece of your special day home with them. From practical items that can be used every day to unique decorative pieces, these souvenirs should reflect you and your partner's style and story.
Why Include Customized Souvenirs?
Customized souvenirs can:
Enhance Remembrance: They serve as a beautiful reminder of your special day for your guests.
Show Appreciation: They communicate your appreciation for your guests' presence at your wedding.
Add a Personal Touch: Customization allows you to add a personal touch that can make the souvenirs more special.
Choosing the Right Souvenirs
When choosing souvenirs, consider these aspects:
Reflect Your Personality: Pick items that reflect your unique style and story as a couple. This could be something that represents a shared hobby, your favorite things, or something symbolic of your journey together.
Quality and Longevity: Choose high-quality items that will last, so your guests can enjoy them long after the wedding.
Usefulness: Practical souvenirs, such as engraved coasters, personalized mini wine bottles, or monogrammed candles, can be used by guests in their daily lives.
Size and Portability: Make sure the souvenirs are easy to carry or pack in a suitcase, especially if many of your guests are traveling from out of town.
Coordination with Wedding Theme: If you have a wedding theme, consider souvenirs that match the theme.
Here are some ideas for customized souvenirs:
Monogrammed Items: These can range from candles and coasters to tote bags and towels.
Engraved Items: Engraved wine glasses, picture frames, or keychains can make beautiful keepsakes.
Personalized Mini Bottles: These can be filled with your favorite wine, a locally brewed spirit, or even a special blend of coffee or tea.
Custom Artwork: This could be a small print of a painting, a beautiful photograph from your engagement shoot, or a custom illustration of the wedding venue.
A Nod to the Wedding Theme
Your wedding theme is a unique expression of you and your partner's personalities and interests. Extending your wedding theme to your welcome bags can create a unified experience and make your wedding all the more memorable.
Why Align With The Wedding Theme?
Incorporating the wedding theme into your welcome bags serves several purposes:
Enhancing Continuity: It creates a seamless, harmonious experience for your guests from the moment they receive their welcome bags.
Building Anticipation: It gives a sneak peek of what's to come at the wedding, building up anticipation and excitement.
Expressing Personality: It's another opportunity to express your personality and story as a couple.
Ideas for Wedding Theme-Aligned Welcome Bags
Consider these aspects when incorporating your wedding theme into your welcome bags:
Reflect the Locale: If your wedding theme is tied to your location (e.g., a beach wedding, a wedding in a vineyard, or a city wedding), include items that embody that locale, such as flip flops or beach hats for a beach wedding, or a mini wine bottle for a vineyard wedding.
Seasonal Considerations: If your wedding is in line with a particular season, consider season-appropriate items. For example, mittens or hot cocoa mix for a winter wonderland wedding, or sunglasses and sunblock for a summer wedding.
Thematic Decorations: Consider how even the packaging and decoration of your welcome bags can align with your wedding theme. For instance, for a rustic wedding, you could opt for burlap bags tied with twine.
Thematic Activities: For example, if your wedding theme is a carnival or fair, consider including a handful of tickets for games. If it's a music-themed wedding, perhaps a small playlist of favorite songs shared by the couple.
Thematic Keepsakes: For a vintage-themed wedding, you might include an antique-style keychain. For a travel-themed wedding, a miniature globe or a custom luggage tag could be a hit.
Sustainable and Eco-Friendly Choices
In an era where environmental consciousness is of growing importance, your wedding welcome bags present an excellent opportunity to showcase your commitment to sustainability. By choosing eco-friendly items, you can minimize the environmental impact of your wedding and inspire your guests to embrace sustainable practices as well.
Why Go for Eco-Friendly Choices?
Choosing eco-friendly options offers several benefits:
Environmentally Responsible: It's a step towards reducing waste and conserving natural resources.
Value Alignment: It communicates your values and commitment to sustainability.
Educational: It provides an opportunity to educate your guests about sustainable choices and their benefits.
Eco-Friendly Choices for Your Welcome Bags
There are plenty of options to consider when selecting eco-friendly items for your welcome bags:
Reusable Bags: Choose bags made from organic cotton, hemp, or other sustainable materials that can be reused. Consider replacing plastic wrappings with recyclable or biodegradable options.
Local Organic Treats: Support local organic farmers by including organic snacks or treats in your welcome bags. This not only reduces carbon footprints caused by long-distance shipping but also supports local businesses.
Seed Packets: Offering seed packets for local flowers, herbs, or vegetables is a beautiful, eco-friendly gift idea. It's a gift that keeps on giving as it grows and blooms.
Recycled or Upcycled Items: Consider items that have been recycled or upcycled, like notebooks made from recycled paper, or coasters made from reclaimed wood.
Donation Cards: Consider making a donation in each guest's name to a charity that aligns with your values and provide a card explaining the donation.
Practical Tips for Assembling and Distributing Welcome Bags
After you have decided on the contents of your welcome bags, you'll need to assemble them and plan for their distribution. Both of these tasks can be made fun and manageable with a little planning and organization.
Assembling Your Welcome Bags
Assembling your welcome bags can be a fun activity to share with your partner or your wedding party. Here are some tips to make the process smoother:
Get Organized: Before you start, gather all your supplies in one place. Ensure you have enough of each item, and set up a workspace with enough room to assemble the bags.
Make It Fun: Turn the assembly process into a fun pre-wedding event. You could invite your bridesmaids, groomsmen, or family members for a bag-packing party. Add some music, snacks, and perhaps a bit of champagne to make it a memorable gathering.
Personalize: If you're adding personalized notes or name tags, be sure to cross-check each one to ensure the right note goes to the right guest.
Presentation Counts: Consider how each item will fit into the bag and how it will look when your guest opens it. Aesthetics matter, so take a bit of time to arrange items in a pleasing way.
Distributing Your Welcome Bags
Once your bags are ready to go, the next step is distribution. Here are some suggestions on how to get your bags to your guests:
Hotel Delivery: If many of your guests are staying in the same hotel, you can arrange with the hotel staff to have the bags delivered to their rooms before they arrive.
Welcome Party: If you're hosting a welcome party before your wedding, it could be the perfect time to distribute the bags.
At the Wedding Venue: Another option is to hand out the bags at the wedding venue itself, perhaps setting up a special table for them at the entrance.
Personal Handover: For a personal touch, you could hand out the bags individually as you greet your guests.
Budgeting for Your Welcome Bags
While wedding welcome bags add a special touch to your celebration, it's important to keep costs in mind to ensure they don't strain your overall wedding budget. Remember, an impactful welcome bag is more about thoughtfulness and personalization rather than expense.
Setting Your Budget
Before you start selecting items for your welcome bags, determine how much you can reasonably spend on them:
Assess Your Overall Budget: Your welcome bags are only one part of your wedding expenses. Evaluate your overall wedding budget and decide how much you can allocate to your welcome bags without compromising other areas.
Consider the Number of Bags: The total number of guests will affect your budget. Remember, not every guest needs their own bag. You can provide one per couple or family.
Choosing Items Wisely
Once you have set your budget, choose items that maximize impact while minimizing costs:
Quality Over Quantity: Instead of filling the bag with lots of less meaningful items, consider a few quality items that reflect your personalities and make your guests feel special.
Leverage Bulk Discounts: For some items, you may get discounts for purchasing in bulk. Consider this when selecting items for your bags.
DIY: Handmade items add a personal touch and can be more cost-effective. This could be anything from homemade cookies to a custom playlist.
Budget-friendly Item Ideas
There are plenty of budget-friendly items that can make your welcome bags feel special:
Handwritten Notes: A heartfelt note costs next to nothing but can make a big impact.
Local Maps and Guides: If you're having a destination wedding, a local map or a list of recommended places to visit can be a thoughtful and cost-effective addition.
Homemade Snacks: Home-baked goods or homemade treats can be a budget-friendly yet personal touch.
Photos: A photo of the couple or a photo that reflects your story can be a nice memento for your guests.
Conclusion
Well, there we have it! Your comprehensive guide to creating unforgettable wedding welcome bags. Remember, it's the thought, care, and love you put into these bags that make them truly special. So don't stress too much about getting everything 'perfect'. It's your day, and whatever you choose to do will be perfect in its own unique way. Now, go forth and create something beautiful and memorable for your guests!
We hope you found this article useful. Feel free to leave a comment or ask any questions you may have. We're here to help you on this wonderful journey to your wedding day.
FAQs
Q: What should be the main focus when selecting items for wedding welcome bags?
A: The main focus should be on providing practical and thoughtful items that enhance the guests' experience. Consider including essentials like water bottles, snacks, personalized notes, local maps, and small gifts that reflect the couple's personality or the wedding theme.
Q: How many items should typically be included in a wedding welcome bag?
A: The number of items can vary depending on the budget and size of the bag. However, it's recommended to include a selection of 4-6 items to strike the right balance between variety and avoiding overwhelming the guests.
Q: Are there any specific items that are commonly included in wedding welcome bags?
A: Yes, there are several popular items that are commonly included. Some examples include local treats or snacks, personalized thank-you notes, itinerary or schedule of events, toiletries or travel-sized essentials, maps or guides of the local area, and small keepsakes like customized keychains or mini photo frames.
Q: Should wedding welcome bags be personalized for each guest?
A: Personalizing each bag for every guest can add a special touch, but it can also be time-consuming and costly. It's a good idea to personalize items like thank-you notes or small gifts with the guest's name or initials, but the overall contents of the bag can remain the same for all guests.
Q: How can couples incorporate their wedding theme into the welcome bags?
A: Couples can incorporate their wedding theme by selecting items that align with the theme. For example, if it's a beach wedding, including items like sunscreen, flip-flop keychains, or mini beach balls can add a fun and thematic touch to the welcome bags.
Q: Is it necessary to include information about local attractions or venues in the welcome bags?
A: Including information about local attractions, venues, or nearby restaurants can be a helpful gesture for out-of-town guests. Providing maps or brochures can assist them in exploring the area during their stay and make their experience more enjoyable.
Q: Are there any items that should be avoided in wedding welcome bags?
A: It's advisable to avoid perishable items or items that may leak or spill easily. Additionally, it's best to avoid controversial or potentially offensive items that might not be appreciated by all guests.
Q: Should wedding welcome bags be handed out personally or left in guest rooms?
A: It depends on the logistics and preference of the couple. If the guest list is manageable, personally handing out the welcome bags during check-in or at a designated welcome area can create a personal connection. However, if there are many guests or logistical challenges, leaving the bags in guest rooms can still be a thoughtful gesture.
Q: Can wedding welcome bags include alcoholic beverages?
A: It's generally advisable to avoid including alcoholic beverages in wedding welcome bags. It can be challenging to cater to individual preferences, legal restrictions, and potential liability issues. Instead, consider non-alcoholic alternatives like specialty non-alcoholic drinks or mini bottles of sparkling water.
Q: Can couples collaborate with local businesses for items to include in the welcome bags?
A: Absolutely! Collaborating with local businesses can add a unique touch to the welcome bags. Couples can include locally sourced products, coupons or vouchers for local attractions or restaurants, or even promotional items from local businesses to showcase the charm and offerings of the wedding location.
Key Takeaways
Wedding welcome bags are a collection of goodies given to guests, especially those from out of town, as a token of appreciation for their presence.
The contents of the bags should be a combination of practical and thoughtful items.
Key considerations when choosing items include knowing your guests' demographics and travel distance, reflecting your wedding location and theme, considering practicality and usability, and budgeting.
Including a personalized welcome note is essential to create a personal connection, provide practical information, and express gratitude.
Incorporating local flavor through snacks, crafts, postcards, drinks, or plants can showcase the location and create a memorable experience for guests.
Including snacks and refreshments is a delightful way to satiate guests' hunger and thirst after their journey.
Essential comfort items like a mini sewing kit, pain relievers, band-aids, sunscreen, or earplugs can address minor inconveniences and enhance guests' enjoyment.
Adding entertainment elements like custom crossword puzzles, local attraction guides, games, or books can engage and entertain guests during their downtime.
Customized souvenirs reflect your personality and leave a lasting impression on guests. They can include monogrammed items, engraved items, personalized mini bottles, or custom artwork.
Aligning the welcome bags with your wedding theme creates a cohesive and memorable experience for guests.
Opting for sustainable and eco-friendly choices in your welcome bags promotes environmental responsibility and aligns with your values.
Assembling welcome bags can be made fun and organized by gathering supplies, involving others, personalizing items, and paying attention to presentation.
Distribution can be done through hotel delivery, welcome parties, or leaving the bags in guest rooms.
Setting a budget and considering budget-friendly items is important to ensure the welcome bags don't strain the overall wedding budget.
Collaborating with local businesses can add a unique touch to the welcome bags and support the local community.
COPYRIGHT NOTICE
Please be advised that all images, designs, and creative content on this page are the exclusive property of TheIDoGuide.com and are protected under international copyright laws. The images may not be reproduced, copied, transmitted or manipulated without the written permission of TheIDoGuide.com.
Unauthorized use, distribution, display, or creation of derivative works of any images contained on this site, is strictly prohibited and can lead to legal penalties. We actively monitor for, and enforce, our copyright interests.
If you wish to use any of our images, kindly contact us to seek permission. Respect of copyright is not merely a legal requirement but also an acknowledgement and support of the hard work and creativity that goes into producing them.
Thank you for your understanding and cooperation.
© 2023, TheIDoGuide.com. All Rights Reserved.