Discover where to buy wedding shoes by exploring a variety of enchanting options at renowned wedding shoe retailers. From luxury boutiques to online platforms, there are numerous destinations where you can find the perfect pair of wedding shoes that will make your special day even more magical.
Here you are, at a wonderful junction in your life, gearing up for a grand celebration of love. One thing you may not immediately think of, but is utterly important, are your wedding shoes. They not only need to be stylish but comfortable too – you want to glide effortlessly down the aisle and dance with joy at the reception, not hobble in pain!
Understanding Your Wedding Shoe Needs
Your wedding shoes are not an accessory but a key player in the ensemble, that is your wedding attire. As important as the beat to a song, they set the rhythm to your wedding theme, becoming a silent and beautiful part of your wedding's symphony.
The Setting
Imagine the sand seeping through your toes as you walk down a beach aisle, or the click of your heels echoing in a beautiful cathedral – each setting is unique and requires an equally distinct type of footwear.
Beach Wedding: For a beach setting, think about comfort and practicality. Heels can dig into the sand, turning your walk down the aisle into a challenging balancing act. Consider wedges, flats or even barefoot sandals for a boho-chic look.
Garden Wedding: For an outdoor wedding on grass or a garden, block heels or wedges could be your best friends. These give you the height and elegance of heels without the fear of sinking into the ground.
Church Wedding: If you're going traditional with a church wedding, you have a lot more freedom to choose. Stilettos, pumps, or even embellished flats can all make the cut depending on the style of your dress.
The Dress
Your dress is the star of the day, and your shoes are the supporting act. They must be in perfect harmony with your dress, complementing it without stealing the spotlight. Consider the length, style, color, and detailing of your dress when choosing your shoes. If your dress is adorned with pearls, pearl-accented shoes could be a beautiful match. For a simpler dress, your shoes could be the statement piece that adds a touch of sparkle.
Time of Year and Weather
The time of year and the forecasted weather play a crucial role in your shoe choice. You don't want to be left shivering with cold toes during a winter ceremony, or with uncomfortably hot feet in the middle of summer. For winter weddings, closed-toe pumps or even chic booties could work. For a summer wedding, strappy sandals or peep-toes will give your feet a breath of fresh air.
The Journey to Find Your Perfect Wedding Shoes
Just as every great love story unfolds, so too does the search for your dream wedding shoes. It's a quest, a thrilling journey filled with anticipation and joy. Much like the plot of a captivating novel, it involves foresight, patience, and a dash of practicality.
Starting Early: The Advantage of Time
Time is your best friend when it comes to finding your perfect wedding shoes. Starting early gives you the freedom to explore and try a multitude of options without the added pressure of an encroaching deadline. It's a golden opportunity to immerse yourself in the quest and relish the process, without last-minute stress clouding your decisions.
Prioritizing Comfort: Practicality in Pursuit
While the thrill of the hunt is intoxicating, don't let the dazzle blind you to practical considerations. It's easy to fall in love with a pair of shoes based on aesthetics alone, but remember, these shoes are more than just a pretty face. They are your trusty companions that will support you throughout the day – from the first look to the last dance. Ask yourself, can you stand and dance in these for hours? Remember, the most beautiful shoe is the one that allows you to shine without stealing your comfort.
Exploring Different Avenues: Variety is the Spice
Whether it's browsing through online catalogues or stepping into the plush carpets of a bridal boutique, ensure that you explore various avenues in your quest for the perfect wedding shoes. Each avenue, from department stores to designer boutiques, vintage shops to online platforms, presents its unique offerings. Your dream shoes could be waiting in the place you least expect!
Final Fitting: The Dress and Shoe Harmony
Once you've shortlisted your options, bring your wedding dress (or a sample of the fabric) along during the final shoe trials. Seeing the dress and shoes together will give you a holistic view of your bridal look. This step could be the difference between a good choice and the perfect one.
Department Stores: Traditional and Reliable
Department stores have long been a go-to destination for shoppers, and for good reason. They offer a broad range of options and the tangible experience of trying on different styles. Let's delve deeper into why these traditional giants continue to be a reliable choice for your wedding shoes.
The Charm of Physical Shopping
There's an undeniable charm in the old-school style of shopping at department stores. Walking through aisles adorned with rows of shoes, feeling the texture of materials, trying on various sizes – these experiences are not only practical but also part of the thrill. The opportunity to see, touch, and compare different shoes all at once cannot be underestimated.
Variety and Choice
The wide range of choices in a department store can be both exciting and overwhelming. From designer collaborations to store-brand gems, there's a shoe style for every bride. Don't rush through the process. Be patient, try as many as you can, and keep an open mind. The right pair might surprise you!
Timing Your Visit
While department stores offer a plethora of options, they can also be bustling hubs, especially on weekends. Try to schedule your visits on weekdays, preferably in the morning when the stores are less crowded. This way, you can take your time and even get personalized advice from the sales staff.
Reputable Department Stores
Many renowned department stores offer dedicated sections for bridal wear. Stores like Nordstrom, Macy's, and Dillard's are known for their wide selection and quality service. Don't forget to check their return and exchange policies, just in case you have a change of heart later.
Boutique Bridal Stores: An Experience of Luxury
Boutique bridal stores are akin to hidden gems, nestled in the bustling world of wedding shopping. They offer an experience steeped in luxury, exclusivity, and personalized attention. Let's delve into this unique world and explore why it might be your perfect stop.
Personalized Attention: Making You Feel Special
Stepping into a boutique bridal store feels like stepping into a fairy-tale. The warm welcome, the intimate environment, the undivided attention – it's an experience that's about more than just shopping. This personalized attention ensures that your needs, preferences, and vision are at the forefront of the shopping experience.
Exclusive Designs: Stand Out from the Crowd
Boutique bridal stores often house exclusive designs that you won't find in mainstream stores. These designs are often crafted by independent designers or the store's in-house team, each pair telling its unique story. This exclusivity means that your shoes won't just look stunning but also carry a distinctive charm that sets them apart.
Bespoke Designs and Custom Fittings: Tailored to You
One of the biggest advantages of boutique bridal stores is the opportunity for bespoke designs and custom fittings. If you have a specific vision in mind, don't shy away from discussing it. These stores are equipped to bring your dreams to life, tailoring designs specifically for you. Remember, it's your special day, and you deserve to feel exceptional.
Quality and Craftsmanship: Emphasis on Excellence
Quality and craftsmanship are hallmarks of boutique bridal stores. Each shoe is often a result of meticulous work, with an emphasis on superior materials and excellent finish. While these shoes might come with a higher price tag, the quality they offer is worth the investment.
Online Shopping: Convenient and Varied
The digital era has transformed how we shop, making it possible to find your dream wedding shoes with just a few clicks. Online shopping offers an unparalleled convenience and variety that's hard to resist. Let's delve into the world of online shoe shopping for your big day.
Convenience: Shopping from Your Comfort Zone
One of the biggest advantages of online shopping is the convenience it offers. There's no need to step out of your comfort zone – you can browse through endless options from your living room couch, during a lunch break, or even in the middle of the night. It's your private shopping spree, happening at your pace and on your terms.
Variety: A Plethora of Options at Your Fingertips
Online shopping opens up a world of options right at your fingertips. You can explore shoes from different brands, designers, and even countries without stepping out of your house. Whether you're looking for a classic design, a contemporary style, or a rare find, the digital world has it all.
Attention to Details: Size, Delivery, and Return Policies
While online shopping offers many advantages, it requires a keen eye for details. Always check the size guide carefully, as sizing can vary between brands. Keep an eye on delivery times to ensure your shoes arrive well before the wedding day. And don't forget to check the return and exchange policies, just in case the shoes don't fit or look as expected.
Trusted Online Platforms
There's a wide array of trusted online platforms that offer beautiful wedding shoes. Websites like Zappos or BHLDN provide an extensive range of styles. For designer shoes, websites like Net-A-Porter or Farfetch are great options. For budget-friendly options, ASOS and Amazon have a lot to offer.
Vintage Stores: For A Sentimental Touch
If you're drawn towards timeless styles and love the charm of yesteryears, vintage stores could be your perfect shoe-shopping destination. These stores offer unique pieces steeped in history, each pair waiting to continue its story with you. Let's discover the allure of vintage shopping for your wedding shoes.
Uniqueness: A Class Apart
The beauty of vintage shoes lies in their uniqueness. These aren't mass-produced pieces that you'll find in every other store. Instead, they are unique finds, often characterized by craftsmanship and designs that stand the test of time. Imagine stepping down the aisle in a pair of shoes that's as distinctive as your love story.
The Sentimental Journey: Pieces of History
Vintage shoes aren't just about style; they're about history and stories. Each pair carries a story from the past, ready to intertwine with your own. It's like wearing a piece of history, a sentimental journey that adds a layer of depth to your wedding attire.
Shopping Vintage: Brick-and-Mortar and Online
Well-curated vintage stores can be a treasure trove of classic styles. Each store carries its unique selection, making the experience feel like a thrilling treasure hunt. Don't forget to check the condition of the shoes and ask about their era and background if this information isn't readily available.
If physical stores aren't available in your area or you simply prefer shopping from the comfort of your home, online platforms like Etsy offer a plethora of vintage shoes. They connect you with vintage sellers from around the world, providing a wide range of choices.
Remember: Vintage Sizes May Differ
Keep in mind that vintage shoe sizes can differ from modern ones. It's always a good idea to confirm the measurements, especially when shopping online. Most sellers provide the length and width of the shoes, ensuring you get a perfect fit.
Designer Labels: For a Touch of Extravagance
If luxury and high fashion resonate with you, designer wedding shoes might be just the ticket. These shoes are the epitome of craftsmanship and style, offering a touch of extravagance to your special day. Let's delve into the realm of designer wedding shoes and explore why they might be worth the splurge.
The Allure of Luxury: High-End Fashion at Your Feet
Designer shoes carry a certain allure, a promise of luxury that's hard to resist. They transform your attire from lovely to extraordinary, adding that high-end fashion touch to your bridal ensemble. Each pair is meticulously crafted, reflecting a dedication to style and quality that's synonymous with designer labels.
Craftsmanship and Quality: A Cut Above the Rest
Designer shoes aren't just about the label – they're about exceptional craftsmanship and premium quality. From the choice of materials to the intricacies of design, every detail is carefully considered and executed. The result? Shoes that aren't just visually stunning but also exceptionally comfortable and durable.
Iconic Designer Labels: Making a Statement
Iconic designer labels like Jimmy Choo, Manolo Blahnik, Christian Louboutin, and Valentino have been gracing wedding aisles for years. Their creations are timeless, with each collection bringing something unique to the table. Whether you're drawn towards the crystal-encrusted creations of Jimmy Choo or the sophisticated designs of Manolo Blahnik, these labels promise a touch of extravagance like no other.
Investment and Value: A Lasting Keepsake
While designer shoes can be heavy on the wallet, consider them as an investment. These shoes aren't just for the wedding day – they're versatile enough to be worn for other special occasions, ensuring you get the most value out of them. Additionally, they can become a cherished keepsake, a beautiful reminder of your special day.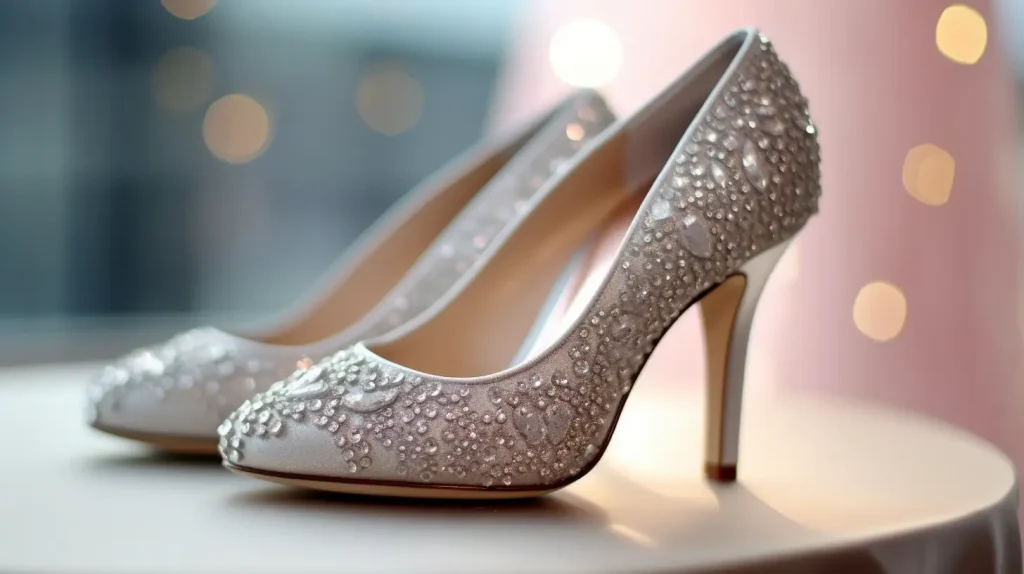 Custom-Made Shoes: Unique as Your Love Story
Sometimes, the perfect pair of shoes exists only in your imagination. In that case, why not bring it to life? Custom-made shoes offer a chance to create something that's as unique as your love story. Let's explore the process and perks of opting for custom-made wedding shoes.
Truly Personal: Reflecting Your Personality and Style
Custom-made shoes offer a level of personalization that's hard to match. Whether you have a specific design in mind, want to incorporate certain elements, or wish to match the exact shade of your dress, custom shoes can accommodate your every wish. It's about creating something that reflects your personality, style, and vision in every stitch and detail.
The Design Process: Crafting Your Dream Shoes
The process of creating custom shoes is a collaborative journey. It begins with a consultation, where you discuss your ideas, preferences, and needs. This is followed by sketches and material selection, and finally, the creation of your dream shoes. It's a process that requires patience and time but promises a rewarding outcome.
Skilled Shoemakers: Finding the Right Match
Look for skilled and reputable custom shoemakers in your area. Check their portfolio, client reviews, and work process. Discuss your ideas and listen to their suggestions. Remember, it's a collaborative effort, so finding someone who understands and resonates with your vision is crucial.
For those who prefer online options, platforms like Shoes of Prey or Upper Street offer custom shoe-making services. They provide an intuitive design interface, a wide range of material choices, and skilled craftsmanship, ensuring your dream shoes are just a few clicks away.
An Investment: Worth Every Penny
While custom-made shoes might require a greater investment compared to off-the-shelf options, they're worth every penny. You're not just paying for a pair of shoes but a personalized experience and a unique product that's crafted to suit you perfectly.
Practical Considerations: Price and Comfort
Finding the perfect pair of wedding shoes isn't just about style and aesthetics – it's about practicality too. Let's delve into two key considerations you should bear in mind during your shoe hunting journey: price and comfort.
Setting a Budget: Balancing Dreams and Reality
It's easy to get carried away and want to splurge on your wedding shoes. However, it's important to set a realistic budget. Remember, the perfect pair doesn't have to break the bank. There are beautiful shoes available at a variety of price points – it's all about finding a pair that fits both your feet and your wallet.
Consider all costs, not just the price tag of the shoes. For instance, if you're opting for custom-made shoes, factor in consultation fees, design costs, and possible alteration expenses. If you're shopping online, consider shipping costs and any import taxes.
Ultimately, a thoughtful budget will guide you through your shoe shopping adventure without unnecessary stress or regret.
Prioritizing Comfort: Dancing Through the Day
While it's easy to be swayed by a gorgeous pair of shoes, don't forget to prioritize comfort. Your wedding is a marathon of beautiful moments – walking down the aisle, posing for photos, greeting guests, and dancing the night away. Trust me, you don't want to be sidelined by aching feet.
When trying on shoes, ask yourself: Can I walk comfortably in these? Can I dance? Do they pinch or rub anywhere? It's a good idea to wear them around the house to ensure they're comfortable for prolonged wear.
Don't compromise on comfort for style. Luckily, there are countless stylish shoes out there that are also comfortable. It's all about finding a pair that marries style and comfort seamlessly.
Caring for Your Wedding Shoes
Once you've danced the night away in your perfect pair of wedding shoes, it's important to give them the care they deserve. After all, these shoes aren't just a fashion accessory – they're a keepsake from one of the most beautiful days of your life. Let's discuss how to preserve the beauty and memories embedded in your wedding shoes.
Post-Wedding Cleaning: Preserving the Beauty
The first step in caring for your wedding shoes is cleaning them post-wedding. Depending on the material, you may need to follow different cleaning methods. For instance, leather shoes can be cleaned with a specialized cleaner, while fabric shoes might need a gentle hand wash.
Always test cleaning products on a small, hidden area first. Remove any dirt or stains carefully, taking care not to damage the material. For stubborn stains or delicate materials, consider professional cleaning.
Storage: A Safe Haven
The way you store your shoes can significantly affect their longevity. Store your shoes in a dry and cool place, away from direct sunlight. This will help prevent material degradation and discoloration.
Consider using a dust bag for storage. Most designer and bridal shoes come with their own dust bags. If not, you can easily purchase them. These bags protect your shoes from dust and potential damage.
Also, if your shoes are leather, consider using shoe trees. These help maintain the shape of your shoes and prevent creases and cracks.
Treating Them with Love: More than Just Shoes
Your wedding shoes are more than just footwear – they're a part of your wedding story. Treat them with love and care. Who knows, they might be the 'something old' in a loved one's wedding someday, or a precious memento to look back on and cherish.
Conclusion: Where to Buy Wedding Shoes
Finding the right wedding shoes might seem like a daunting task, but remember, it's also an exciting part of your wedding journey. Enjoy the process, and don't rush. With a little patience and careful consideration, you will find a pair that's just as extraordinary as you are. As you take those steps down the aisle towards your love, let the shoes be the silent whisper that says – "Here comes the love of your life, in her perfect shoes.
FAQs
Q: Are there any specific stores known for their wide range of wedding shoe options?
A: Absolutely! Some renowned stores known for their vast selection of wedding shoes include Macy's, Nordstrom, David's Bridal, BHLDN, and DSW. These stores offer a diverse range of styles, sizes, and price points to cater to various preferences and budgets.
Q: Can I find unique and designer wedding shoes?
A: Yes, you certainly can! If you're looking for one-of-a-kind or designer wedding shoes, luxury bridal boutiques like Jimmy Choo, Manolo Blahnik, and Christian Louboutin are excellent options. Additionally, online platforms like Etsy and specialized bridal shoe websites often feature a wide range of unique and handcrafted designs.
Q: Are there any budget-friendly options for buying wedding shoes?
A: Absolutely! If you're on a budget, you can still find beautiful wedding shoes at affordable prices. Discount shoe stores like Payless, Target, and Aldo often have stylish options at more budget-friendly prices. Additionally, keep an eye out for sales and promotions at larger retailers, as they frequently offer discounts on their wedding shoe collections.
Q: Can I find shoes for bridesmaids and other members of the wedding party?
A: Yes, many stores that sell wedding shoes also offer options for bridesmaids and other members of the wedding party. This allows for cohesive styling and color coordination among the bridal party. Be sure to inquire about group discounts if you're purchasing multiple pairs of shoes from the same store.
Q: Should I buy my wedding shoes before or after choosing my wedding dress?
A: It's generally recommended to choose your wedding dress first and then select your shoes. This allows you to consider the style, length, and color of your dress, ensuring that the shoes complement the overall bridal look. However, if you find a pair of shoes you absolutely love and want to build your wedding attire around them, it's perfectly fine to start with the shoes and find a dress that complements them.
Q: How far in advance should I buy my wedding shoes?
A: It's ideal to purchase your wedding shoes at least a few months before your wedding day. This provides ample time for any necessary alterations or adjustments and allows you to break them in and ensure optimal comfort. However, if you're opting for custom-made or designer shoes, it's advisable to start the process even earlier to accommodate longer production and delivery times.
Q: Can I find wedding shoes for different wedding themes and styles?
A: Certainly! Whether you're having a beach wedding, a rustic outdoor celebration, or a formal black-tie affair, there are wedding shoe options available for every theme and style. From embellished sandals for a beach wedding to elegant pumps for a classic wedding, you can find shoes that perfectly match your chosen theme and style.
Q: Can I find wedding shoes in a variety of sizes, including larger or smaller sizes?
A: Yes, many retailers offer wedding shoes in a wide range of sizes to accommodate different foot sizes. Some stores specifically cater to larger or smaller sizes, ensuring that every bride can find a comfortable and stylish pair of shoes for their special day. Be sure to check the size availability when browsing online or inquire with the store if you have specific size requirements.
Q: Are there options for comfortable wedding shoes for those who prioritize comfort?
A: Absolutely! Comfort is a top priority for many brides, and there are plenty of comfortable wedding shoe options available. Look for shoes with cushioned insoles, supportive arches, and lower heel heights if you prefer a more comfortable fit. Brands like Badgley Mischka, Naturalizer, and Cole Haan offer stylish wedding shoe collections with added comfort features.
Q: Can I find dyeable wedding shoes to match my wedding color scheme?
A: Yes, dyeable wedding shoes are a popular option for brides who want to perfectly match their shoes to their wedding color scheme. These shoes can be custom dyed to match any specific color, allowing for a cohesive and coordinated look. Some bridal boutiques and online retailers offer dyeing services or provide recommendations for trusted dyeing specialists.
Q: Are there any tips for finding the perfect pair of wedding shoes?
A: Absolutely! Here are a few tips to help you find your perfect wedding shoes:
Consider your venue and wedding theme when selecting the style and formality of your shoes.
Think about your comfort level and choose a heel height that you're accustomed to or can comfortably wear for an extended period.
Take into account the length of your dress and ensure the shoes are the appropriate height to maintain the desired look.
Experiment with different styles to see what complements your feet and overall bridal ensemble.
Don't forget to consider the material and embellishments on the shoes, ensuring they align with your personal style and preferences.
Q: Can I buy wedding shoes as part of a bridal package or bundle?
A: Yes, some bridal boutiques and retailers offer bridal packages or bundles that include wedding shoes as part of the package. These packages often include other bridal accessories like veils, jewelry, or even bridesmaid gifts. Keep an eye out for such offerings when browsing for your wedding shoes to potentially save time and money by getting everything you need in one go.
Q: Can I return or exchange wedding shoes if they don't fit or meet my expectations?
A: Return and exchange policies vary among different retailers, so it's important to review their policies before making a purchase. Many stores have flexible return or exchange policies for unworn and undamaged shoes, allowing you to make adjustments if the shoes don't fit or meet your expectations. Be sure to check the time frame within which returns or exchanges are accepted and any associated conditions or fees.
Q: Are there any specific materials or shoe types that are popular for wedding shoes?
A: Wedding shoes come in a variety of materials and types, allowing you to choose based on your preferences and wedding style. Some popular materials include satin, lace, silk, and leather. Common shoe types for weddings include pumps, sandals, flats, wedges, and even stylish boots for more unconventional weddings. Consider the overall aesthetic you want to achieve and select materials and shoe types accordingly.
Q: Can I find accessories or embellishments for my wedding shoes?
A: Yes, many retailers offer accessories and embellishments specifically designed for wedding shoes. These can include shoe clips, decorative straps, lace overlays, or even personalized charms. These accessories can add an extra touch of elegance or customization to your wedding shoes, making them even more special for your big day.
Q: Should I bring my wedding dress or a swatch of fabric when shopping for wedding shoes?
A: It's generally recommended to bring a swatch of fabric from your wedding dress, if possible, when shopping for wedding shoes. This allows you to better match the color and fabric of the shoes to your dress. If you haven't chosen your dress yet, you can bring a sample of a similar fabric or a photo of your dress to help visualize the overall look.
Q: Can I find shoes for the groom and groomsmen as well?
A: Absolutely! Many stores that offer wedding shoes for brides also carry options for grooms and groomsmen. From classic dress shoes to more contemporary styles, you can find footwear to complement the groom's attire and match the wedding theme. Some stores even offer matching shoe sets for the entire bridal party to ensure a cohesive look.
Q: Are there any additional services offered by wedding shoe retailers?
A: Yes, some wedding shoe retailers provide additional services to enhance your shopping experience. These services may include professional shoe fittings, customization options, or expert advice on selecting the perfect pair. Some retailers also offer shoe care products or recommendations to help you keep your wedding shoes in pristine condition.
Q: Can I find wedding shoes for same-sex weddings or non-traditional ceremonies?
A: Absolutely! Wedding shoe retailers strive to be inclusive and offer options for all types of weddings. Whether you're having a same-sex wedding, a non-traditional ceremony, or simply looking for unique and unconventional styles, you can find wedding shoes that cater to your specific needs and preferences. Feel free to explore different styles and express your personal style on your special day.
Q: What is the average price range for wedding shoes?
A: The price range for wedding shoes can vary significantly depending on the brand, materials used, and level of craftsmanship. On average, wedding shoes can range from around $50 to several hundred dollars. Designer or custom-made shoes can have higher price tags. It's important to establish your budget beforehand and explore options within that range to find the perfect balance between quality, style, and affordability.
Key Takeaways
Wedding shoes are an important part of your wedding attire and should be both stylish and comfortable.
Consider the setting of your wedding when choosing your shoes, whether it's a beach wedding or a church wedding.
Your shoes should complement your wedding dress in terms of style, color, and detailing.
Take into account the time of year and weather conditions when selecting your shoes.
Start early when searching for your perfect wedding shoes to allow ample time for exploration and decision-making.
Prioritize comfort in addition to style when trying on shoes and consider how they will feel during prolonged wear.
Explore different avenues for shoe shopping, such as department stores, boutique bridal stores, online platforms, and vintage stores.
Consider the harmony between your wedding dress and shoes by bringing your dress or a fabric sample when trying on shoes.
Take care of your wedding shoes by cleaning them post-wedding and storing them properly.
There are various options available for wedding shoe shopping, including specific stores known for their wide range of options, budget-friendly alternatives, and options for bridesmaids and other members of the wedding party.
Custom-made shoes offer the opportunity to create a unique pair tailored to your preferences and vision.
Consider practical considerations such as price and comfort when searching for your wedding shoes.
Wedding shoe retailers may offer additional services such as professional fittings, customization options, or expert advice.
Wedding shoes are available for different wedding themes, styles, and ceremonies, including same-sex weddings and non-traditional ceremonies.
Establish a budget and explore options within that range to find the perfect balance between quality, style, and affordability when purchasing wedding shoes.
COPYRIGHT NOTICE
Please be advised that all images, designs, and creative content on this page are the exclusive property of TheIDoGuide.com and are protected under international copyright laws. The images may not be reproduced, copied, transmitted or manipulated without the written permission of TheIDoGuide.com.
Unauthorized use, distribution, display, or creation of derivative works of any images contained on this site, is strictly prohibited and can lead to legal penalties. We actively monitor for, and enforce, our copyright interests.
If you wish to use any of our images, kindly contact us to seek permission. Respect of copyright is not merely a legal requirement but also an acknowledgement and support of the hard work and creativity that goes into producing them.
Thank you for your understanding and cooperation.
© 2023, TheIDoGuide.com. All Rights Reserved.