Attending a wedding shower is a fun way to celebrate the upcoming nuptials of a loved one, but it can be stressful trying to decide what to wear. It's important to find an outfit that is both stylish and comfortable, as you'll likely be mingling with friends and family for several hours. In this article, we'll provide you with tips and outfit ideas to help you dress for the occasion.
Key Takeaways:
The typical dress code for a wedding shower is semi-formal or dressy casual, avoiding extremes like jeans or ballgowns.
It is crucial to adhere to any specific guidelines or themes provided in the wedding shower invitation.
While dressing, it's recommended to avoid white and opt for pastels, bright colors, or prints that suit the season or theme.
Light and airy fabrics like cotton, chiffon, or linen are advisable for wedding showers, especially during the daytime.
Outfit ideas for wedding showers include floral sundresses, lace tops with skirts, jumpsuits, and tailored pantsuits, paired with suitable accessories.
Comfortable yet stylish footwear, such as wedges, block heels, or flats, is recommended, considering you might be on your feet for an extended period.
Accessories and jewelry, like statement earrings or a stylish clutch, can elevate your outfit, but it's advised to keep it simple and not too flashy.
Considering the season and venue is vital when choosing an outfit, ensuring it is appropriate and comfortable for the occasion, such as opting for light fabrics for outdoor summer showers or adding layers for winter events.
Understanding the Dress Code for a Wedding Shower
When attending a wedding shower, it's essential to understand the dress code to ensure you know what to wear. Typically, the dress code for a wedding shower is semi-formal or dressy casual. This means you should avoid wearing anything too casual or too formal, like jeans or a ballgown.
It's important to read the invitation carefully, as the bride or host may provide specific guidelines or a theme for the shower. For example, if the invitation states a garden party theme, you may want to wear a flowy sundress or pastel-colored skirt paired with a blouse.
| | |
| --- | --- |
| Dress Code: | Semi-Formal or Dressy Casual |
| Avoid: | Jeans, Shorts, Athletic Wear, Ballgowns |
| Consider: | Dresses, Skirts, Dress Pants, Blouses, Heels, Flats, Wedges |
When in doubt, it's always better to be slightly overdressed than underdressed. A dress or a skirt paired with a nice blouse is always a safe and stylish option. Avoid anything too revealing or flashy, as the focus should be on the bride and not on your outfit.
In general, it's also a good idea to avoid wearing white, as this color is traditionally reserved for the bride. Instead, opt for pastels, bright colors, or prints that match the season or theme of the shower.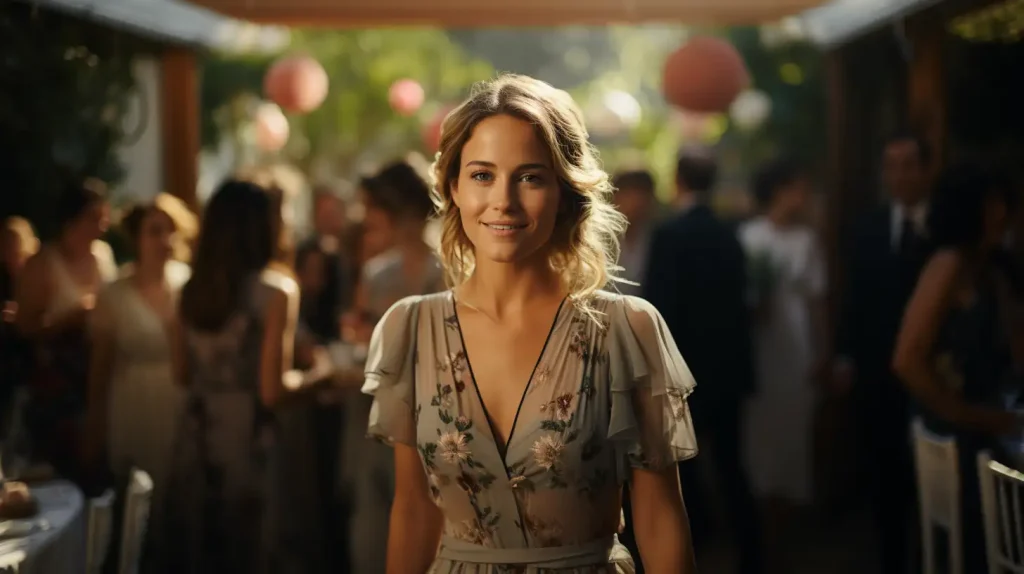 Examples of Outfits for Different Dress Codes
Navigating through the nuanced world of wedding shower dress codes can sometimes feel like deciphering a sartorial puzzle. But fear not, because once you unlock the basic understanding of what each dress code entails, putting together an outfit becomes a delightful endeavor rather than a perplexing chore.
| Attire Type | Description |
| --- | --- |
| Semi-Formal | Women: An elegant dress paired with heeled sandals that whisper sophistication. Alternatively, well-tailored trousers paired with a silk blouse. Men: A crisp, dark suit, perhaps in subdued navy, paired with a light-colored shirt. A tie is optional, but if chosen, it should be understated and classy. |
| Casual | Women: A sundress paired with comfortable flats or sandals, ensuring a blend of ease and style. Men: Chinos paired with a collared shirt, presenting a neat yet nonchalant appearance. Casual attire should embody comfort with a dash of personal style. |
| Themed | Themed attire allows creativity to shine! For a "Tropical Paradise" theme, women might consider a vibrant, flowy dress with playful floral prints, paired with espadrille sandals. Men might opt for a light, breathable linen shirt, paired with khaki shorts or pants, and perhaps a fun tie to add personality. Themed attire should immerse in the theme while maintaining a semblance of the event's overall formality. |
In each dress code, the key is to intertwine comfort with style, ensuring that your outfit allows you to immerse yourself fully in the joy of the celebration. It's about being present, savoring each moment, and doing so with an outfit that makes you feel unequivocally you. So, as you stand before your wardrobe, consider not just the dress code, but also your own personal flair, and weave them together to create an outfit that will make not just a statement, but a cherished memory.
By understanding the dress code for a wedding shower and paying attention to the details of the invitation, you can ensure that you choose an outfit that is both appropriate and stylish.
Dressing for the Occasion: Wedding Shower Fashion Tips
When it comes to deciding what to wear for a wedding shower, it's important to strike a balance between being stylish and comfortable. Here are some wedding shower fashion tips to help you create the perfect outfit:
Stick to light and airy fabrics: As wedding showers usually take place during the daytime, it's important to choose fabrics that are lightweight and breathable. Choose cotton, chiffon, or linen to stay comfortable throughout the event.
Consider a pop of color: While it's important to dress appropriately for the occasion, that doesn't mean you can't have fun with your outfit! Consider adding a pop of color to your look with a brightly colored dress or blouse.
Choose a flattering silhouette: Select a silhouette that flatters your body type. A-line dresses, wrap dresses, and high-waisted skirts are universally flattering options that can work for any body shape.
Accessorize wisely: When it comes to accessories, less is often more. Choose one statement piece, such as a chunky bracelet or statement earrings, and keep the rest of your jewelry simple.
Pay attention to length: As a general rule, it's best to avoid anything too short or revealing. Knee-length dresses or skirts are a safe bet, while maxi dresses can also be a great option for more formal wedding showers.
Don't forget about layering: If you're attending an outdoor wedding shower, bring along a light jacket or cardigan in case the weather turns chilly.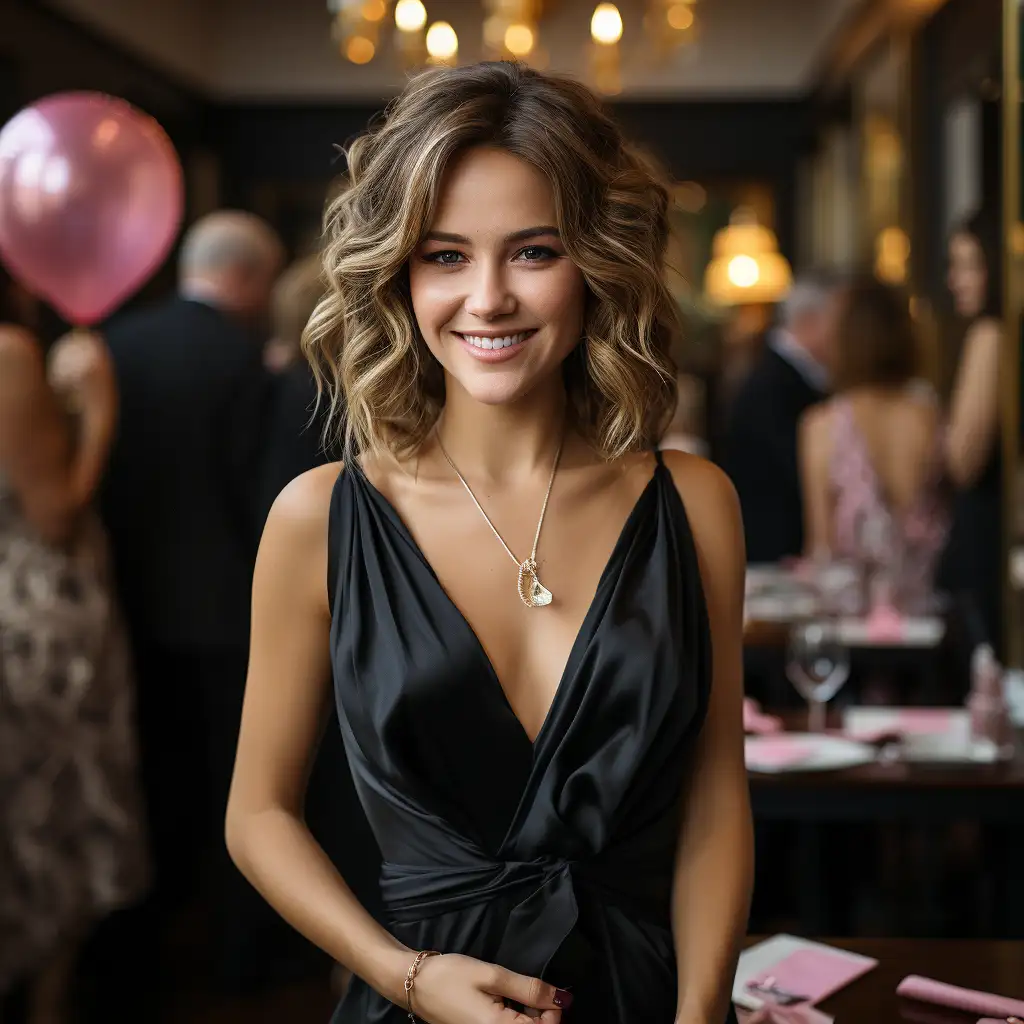 Adapting to Various Body Types
Looking at outfit choices for a wedding shower can sometimes feel like a daunting task, especially when trying to find something that not only adheres to the theme but also complements your unique body type. Every individual brings their own special silhouette to the table, and embracing this diversity is key to feeling confident and radiant at any event.
For those with an hourglass figure, where the bust and hip measurements are roughly equal, and there's a well-defined waist, opting for outfits that cinch at the midsection can beautifully highlight this shape. Wrap dresses and belted jumpsuits are not only trendy but also work wonders in accentuating the waistline. On the other hand, individuals with a rectangle body shape, characterized by similar bust, waist, and hip measurements, might explore outfits that create an illusion of curves. Peplum tops or dresses, ruffled blouses, or anything that adds volume to the upper and lower body while defining the waist can be a splendid choice.
For those with a pear body type, where the lower body is wider than the upper body, balancing the silhouette by drawing attention upwards with embellished tops, off-shoulder dresses, or detailed necklines can create a harmonious look. Conversely, an apple body shape, which tends to have broader shoulders and a fuller waist, might benefit from outfits that elongate the torso and create a more balanced profile. V-necklines, A-line dresses, and tops that fall below the hip area can be both flattering and elegant.
Remember, the essence of fashion lies in expressing oneself authentically and embracing the body with love and acceptance. Choosing outfits that resonate with your style, comfort, and body type will not only elevate your look but also enhance your confidence, allowing your joyous spirit to shine through at the wedding shower.
Following these wedding shower fashion tips means you'll be able to create a stylish and comfortable outfit that is perfectly suited for the occasion.
Outfit Ideas for a Wedding Shower
When thinking about what to wear for a wedding shower, there are plenty of stylish options to choose from. Whether you prefer dresses, skirts, or pantsuits, there's a look that will work for you. Here are some outfit ideas to inspire your wedding shower wardrobe:
| Outfit | Description |
| --- | --- |
| Floral Sundress | A light, flowy dress with a floral print is a great choice for a spring or summer wedding shower. |
| Lace Top and Skirt | A delicate lace top paired with a midi or knee-length skirt is a classic and sophisticated option. |
| Jumpsuit | A chic jumpsuit can be dressed up or down and is a comfortable choice for a wedding shower. |
| Pantsuit | A tailored pantsuit in a neutral color like black or navy is a sophisticated choice that can be worn again for other occasions. |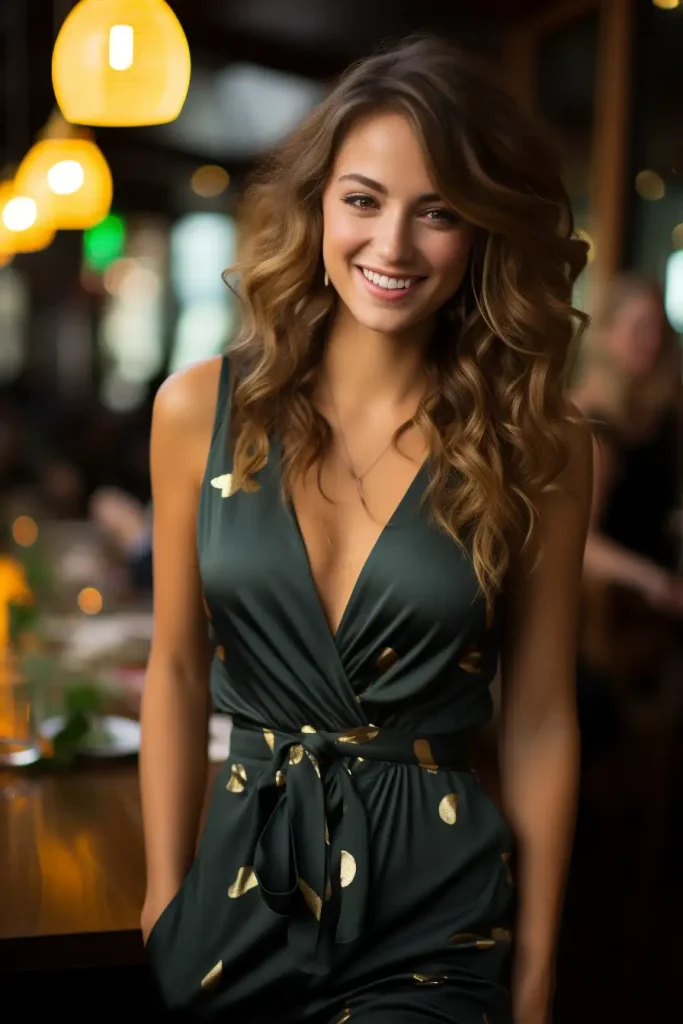 When it comes to footwear, consider a block heel or wedge for comfortable yet stylish support. Accessorize your outfit with a clutch or statement earrings to add some personality.
Inclusive and Adaptive Outfit Ideas
Adaptive clothing, with its innovative and thoughtful design, bridges the gap between fashion and functionality, ensuring that style is accessible to all. Envision dresses with magnetic closures or Velcro fastenings that are not only a breeze to wear and remove but also stand as a testament to chic, event-appropriate fashion.
Moreover, let's weave comfort and mobility into the fabric of our outfit choices, particularly for those who may spend a substantial amount of time seated or those who prioritize ease of movement. Seek out fabrics that are not only soft, stretchable, and breathable but also accommodate a spectrum of movements and remain cozy even during extended wear. Picture a sleek jumpsuit with a forgiving elastic waistband or a stylish A-line dress crafted from a gentle, stretch-infused fabric, each piece marrying fashion with comfort effortlessly.
Footwear, too, should walk the line between elegance and practicality. Consider shoes that envelop the feet in comfort with cushioned insoles, ensure stability with non-slip soles, and offer ease with uncomplicated fastenings. It's a journey where style and convenience coalesce, crafting an environment where every guest, irrespective of their physical abilities, can bask in the celebration with style, comfort, and collective joy.
Inclusivity isn't just a trend; it's a timeless staple in the wardrobe of celebrations. Ensuring every attendee feels acknowledged, valued, and accommodated not only amplifies the joyous resonance of the occasion but also weaves a tapestry of unity and collective celebration. Remember, the ultimate choice of outfit should be a mirror reflecting your confidence and comfort. Consider these outfit ideas as a springboard, propelling you towards discovering that perfect ensemble for your wedding shower, where your presence is the true jewel that adorns the celebration.
Finding the Perfect Wedding Shower Dress
One of the most important aspects of a wedding shower outfit is the dress. It's essential to find a dress that flatters your body type and suits your personal style for this special occasion.
Here are some tips for finding the perfect wedding shower dress:
Consider the dress code: As mentioned earlier, it's essential to consider the wedding shower's dress code when choosing your outfit. If the dress code is formal, opt for a long, elegant dress. If it's more casual, a shorter dress is appropriate.
Think about the venue: If the wedding shower is being held at a beach or garden, consider a flowing floral dress. For an indoor venue, a fitted cocktail dress is a great choice.
Choose the right fabric: The fabric of your dress can make a big difference in how comfortable you feel. Opt for breathable fabrics such as cotton or linen for warmer weather events. For cooler months, consider wool or velvet.
Flatter your body type: Choose a dress style that flatters your body type. For example, if you have an hourglass figure, a fitted dress will accentuate your curves. If you have a pear-shaped body, an A-line dress will balance out your proportions.
Accessorize: Add some personality to your dress with statement jewelry or a pop of color from your shoes. However, avoid over-accessorizing, as less is often more.
Sustainable and Ethical Shopping Options
Embarking on a journey to find the perfect dress for a wedding shower can be a delightful adventure, especially when you weave in the threads of sustainability and ethical shopping into your quest. Imagine stepping into a soiree, not just draped in elegance but also cloaked with a commitment to the environment and ethical practices. Sustainable shopping isn't merely a trend; it's a mindful approach that intertwines care for the planet with your sartorial choices.
When searching through the world of sustainable fashion, you'll encounter brands that have pledged themselves to ethical practices, ensuring that the hands which craft their garments are not only skilled but also fairly compensated. These brands often utilize eco-friendly materials, such as organic cotton, bamboo, and recycled fabrics, ensuring that your beautiful dress leaves a minimal footprint on our planet.
Consider exploring local boutiques and online platforms that curate ethical brands. Platforms like Etsy offer a plethora of options from small-scale designers who prioritize sustainability, providing you with a unique and ethically crafted outfit. Brands like Reformation, People Tree, and Amour Vert also pave the way in sustainable fashion, offering a range of dresses that are not only eco-friendly but also incredibly chic and occasion-worthy.
Moreover, don't shy away from exploring second-hand or vintage shops. These hidden gems can provide a treasure trove of unique, timeless pieces that not only tell a story but also promote a circular economy in fashion. Renting a dress is another fabulous option, allowing you to don a luxurious, high-quality garment for a fraction of the retail price, ensuring it lives a full life of celebrations rather than languishing in a closet.
In your pursuit of the perfect dress, remember that each stitch, fabric choice, and design decision can be a step towards a more sustainable and ethical future. Your choice to opt for sustainable fashion not only adorns you in a beautiful garment but also casts a vote for the kind of world you want to live in, making your journey to find the perfect dress even more meaningful and splendid.
Comfortable and Chic: Shoes for a Wedding Shower
When it comes to choosing shoes for a wedding shower, it's important to prioritize comfort, as you'll likely be on your feet for an extended period of time. However, that doesn't mean you have to sacrifice style. There are plenty of chic yet comfortable shoe options that can elevate your outfit and keep your feet happy.
| Shoe Type | Benefits |
| --- | --- |
| Wedges | The platform design of wedges offers more support and balance than traditional heels, making them a great option for outdoor showers or events on uneven surfaces. Plus, they come in a variety of styles and heights, so you can find the perfect pair to complement your outfit. |
| Block Heels | Block heels provide more stability than stiletto heels, making them a comfortable and stylish option for a wedding shower. They come in a range of styles, from strappy sandals to ankle boots, so you can find a pair that complements your outfit and personal style. |
| Flats | For a more casual or understated look, flats are a comfortable and practical option. They come in a wide range of styles, from ballet flats to loafers, and can be dressed up or down depending on the occasion. |
Foot Care Tips for Long Events
Attending the joyous chaos of a wedding shower requires not just a stylish pair of shoes but also a comfortable one that ensures your feet are pampered and protected throughout the event. The key to achieving this lies in the delicate balance of choosing the right size, style, and additional foot care accessories that elevate your comfort level while maintaining that chic appearance.
First and foremost, selecting the correct shoe size is paramount. A size too small may cause blisters, while a size too large could result in your foot sliding forward, both leading to discomfort and potential foot issues. When shopping for your event shoes, do so later in the day when your feet are at their largest to ensure a fit that will be comfortable all day long. Additionally, consider the width of the shoe and the height of the heel, opting for a design that naturally complements the shape and arch of your foot.
Insoles can be your secret weapon in achieving all-day comfort. Gel insoles or cushioned footbeds can provide that extra layer of comfort, absorbing impact and providing support where it's needed most. For those high-heeled choices, a gel insert that cushions the ball of your foot can make a world of difference, transforming a potentially painful experience into a night of effortless enjoyment.
Moreover, don't forget to break in your shoes before the big day. Wear them around the house with a pair of socks to soften them up and identify any areas that might cause discomfort. If you notice any tight spots, a shoe stretcher can be used to alleviate these issues, ensuring the shoe molds comfortably to your foot.
Lastly, always have a backup plan. Packing a pair of stylish yet comfortable flats can be a lifesaver, offering a quick change when the heels have outlived their welcome. This ensures you can continue to mingle, dance, and celebrate without the hindrance of foot pain.
In the midst of all the celebrations, your comfort should never be compromised. With the right shoes and a few strategic foot care tips, you'll be well on your way to enjoying every moment of the wedding shower, from the first greeting to the last dance.
When choosing shoes for a wedding shower, consider the venue and season. If it's an outdoor shower, opt for wedges or block heels that won't sink into the grass. If it's a winter shower, ankle boots with a block heel can provide both style and warmth.
Remember, your shoes can make or break your outfit, so choose wisely. But most importantly, choose shoes that will allow you to enjoy the celebration without worrying about foot pain.
Accessories and Jewelry: Adding the Finishing Touches
While the outfit itself is essential, accessories and jewelry can take your look to the next level.
Statement earrings are an excellent way to add some personality to your outfit, whether you choose bold hoops or more delicate, dangling designs. If you're wearing a dress with a higher neckline, consider wearing a statement necklace to draw attention upwards and enhance your neckline.
A stylish clutch is a must-have accessory for any wedding shower. It allows you to keep all of your essentials close at hand while adding a chic touch to your outfit. Look for clutches in neutral or metallic shades to ensure they match various outfits.
Delicate necklaces are an excellent way to add some subtle sparkle to your look. Layering different lengths of necklaces creates an on-trend look that is perfect for a wedding shower.
Bracelets and rings can also add some sparkle and shine to your outfit. Bracelets can be simple bangles or more intricate designs, while delicate rings add a touch of elegance to your hands.
Choosing Hypoallergenic Accessories
Finding those pieces that not only elevate your outfit but also respect your skin can sometimes feel like a treasure hunt. Hypoallergenic accessories are those hidden gems that ensure your style doesn't come at the cost of comfort. These are especially crafted to minimize the risk of allergic reactions, ensuring that your day remains itch and rash-free, even while you sport stunning adornments.
When embarking on your journey to find the perfect hypoallergenic accessories, it's pivotal to familiarize yourself with materials that are kind to sensitive skin. Materials like titanium, sterling silver, and 14k gold are renowned for being low-reactive and skin-friendly. Moreover, opting for pieces labeled "nickel-free" can be a game-changer, as nickel is often the hidden culprit behind those unwanted skin irritations.
But let's not forget, choosing hypoallergenic doesn't mean compromising on style. From elegant sterling silver necklaces to chic titanium bracelets, the options are both diverse and enchanting. Remember to explore brands that specialize in hypoallergenic jewelry, ensuring that your choices are both skin-friendly and fashion-forward. And for those heirloom pieces or must-have items that aren't skin-friendly? Consider utilizing jewelry shields or coatings that can create a barrier between the metal and your skin, ensuring you can shine without the flare-ups.
In essence, your journey through the realms of accessories should be both delightful and gentle on your skin. By opting for hypoallergenic pieces, you're not only safeguarding your skin but also investing in quality accessories that will stand the test of time, allowing you to shine at every occasion, irritation-free. So, dive into the world where style and comfort coexist beautifully, ensuring every outfit is perfectly accessorized, with the peace of mind that your skin remains as happy and radiant as you are.
When choosing accessories and jewelry, be sure they match the style of your outfit. If your dress is simple and understated, opt for some bold statement earrings. If your outfit is already busy, consider choosing fewer, simpler accessories to ensure you don't overdo it.
Considering the Season and Venue
When choosing an outfit to wear for a wedding shower, it is essential to consider the season and venue of the event. Dressing appropriately for the weather and location will ensure you feel comfortable and confident throughout the celebration.
For a summer outdoor shower, go for light fabrics and breezy silhouettes that allow for plenty of airflow. Flowy sundresses or skirts paired with sandals or wedges are perfect for keeping cool while looking stylish. In the winter months, consider adding layers to your outfit, such as a cozy sweater or scarf, to stay warm and comfortable.
The venue of the wedding shower should also be taken into account when selecting an outfit. If the shower is being held at a formal venue, such as a fancy restaurant or hotel ballroom, a more formal dress or suit may be necessary. For a laid-back gathering at a friend's home, a more casual outfit, such as pants and a blouse or a sundress, may be appropriate.
| Season | Venue | Outfit Suggestions |
| --- | --- | --- |
| Summer | Outdoor shower | Flowy sundress or skirt with sandals or wedges |
| Winter | Indoor venue | Cozy sweater or scarf with dress pants or a skirt and boots |
| Any | Casual gathering at home | Jeans and blouse or sundress with flats or sandals |
Dressing for Different Weather Conditions
Navigating through the unpredictability of weather, especially for an outdoor wedding shower, can be a delightful challenge when you're armed with the right tips and tricks. Imagine a serene garden party where the weather takes a whimsical turn and sprinkles a light shower – it's not just the plants that should bask in this unexpected surprise, but you too! When dressing for an event, always keep a keen eye on the weather forecast. However, since meteorology has its own whims, it's wise to be prepared for all possibilities.
In the case of a surprise drizzle during an outdoor event, embracing it with a stylish, yet functional, waterproof shawl or a light trench coat can save the day. Choose fabrics that are light and quick-drying, such as chiffon or light cotton blends, which won't weigh you down if they get a bit wet. Footwear, often the first casualty of unexpected weather, should be chosen with care. A chic pair of water-resistant wedges could be your best ally, ensuring you navigate through the soft ground with elegance and ease.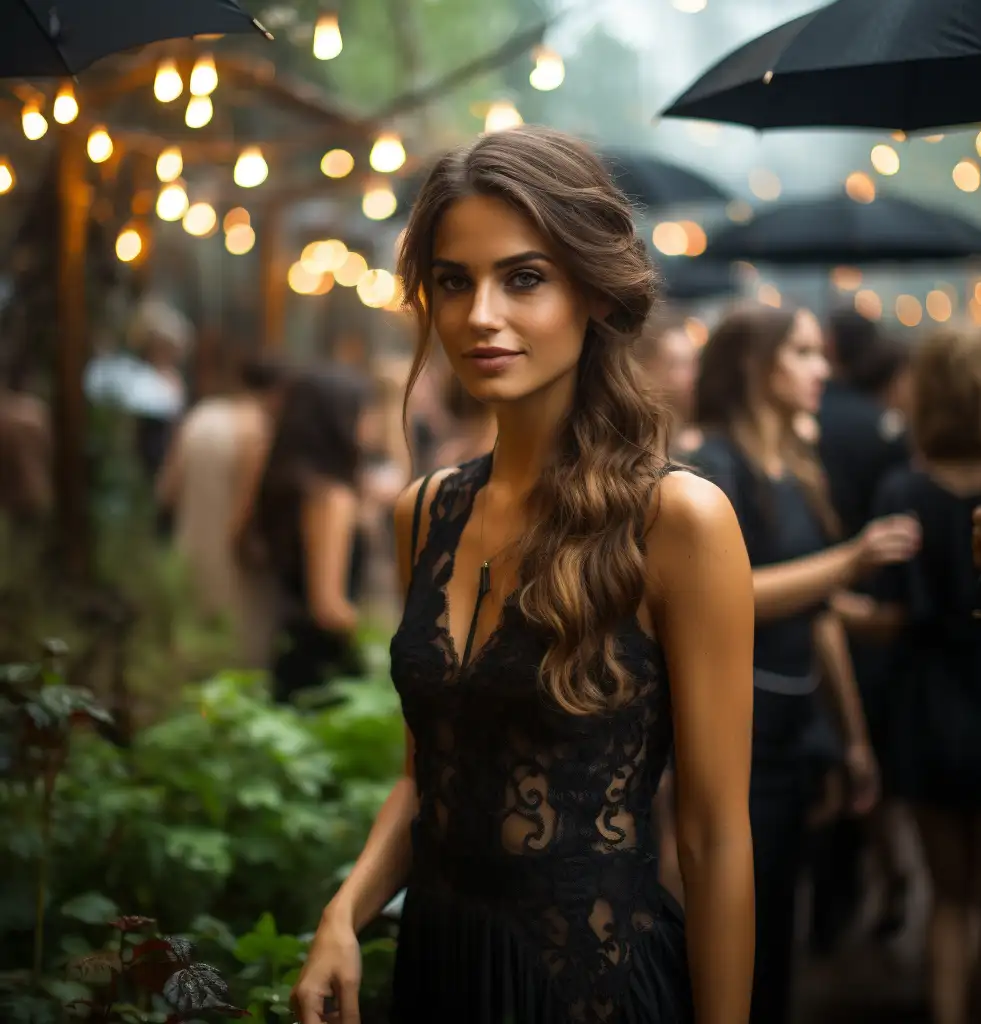 Moreover, consider the power of accessories not just as style statements, but also as practical additions to your ensemble. A beautiful, sturdy umbrella can act as a shield, ensuring you stay dry while also serving as a prop for playful, rainy photographs. For sunny and unexpectedly warm days, a wide-brimmed hat or a dainty parasol can provide shade, keeping you cool while also protecting your skin from the sun's rays.
Remember, the key to enjoying any event is to immerse yourself in the moment, undeterred by unexpected weather changes. After all, a light shower might just add that special touch, turning a lovely event into an unforgettable memory, where the rhythmic patter of raindrops harmoniously melds with the joyous laughter of celebration. So, let's embrace the skies with open arms and a wardrobe that's ready for every adventure!
By considering the season and venue of the wedding shower, you can ensure that your outfit is both appropriate and comfortable for the occasion. Don't forget to also consider any specific dress codes or themes mentioned on the invitation for further guidance on what to wear.
Dressing for Different Wedding Shower Themes
Wedding showers can have various themes, from a chic brunch to a beach party. Dressing according to the theme is an excellent way to participate and feel part of the occasion. Below are some ideas on how to dress for specific wedding shower themes.
Garden Party
For a garden party-themed wedding shower, light and flowy dresses with floral prints are an excellent choice. Go for pastel colors that reflect the beauty of the garden. Pair the dress with wedge sandals or flats for added comfort and a touch of nature with flower crowns or hair accessories.
Brunch
Brunch wedding showers are a perfect excuse to flaunt a stylish yet comfortable daytime outfit. Go for a stylish jumpsuit or a midi skirt paired with a blouse. Choose bright colors or patterns to make a statement. Accessorize with strappy sandals, statement earrings, and a clutch.
Beach
For a beach-themed wedding shower, comfort and practicality are key. Choose light and breezy dresses or a flowy maxi dress. Look for nautical colors like navy, white, or stripes, and accessorize with a beach hat, sunglasses, and comfortable sandals.
Travel
If the wedding shower theme is based on travel, it's best to keep the outfit both practical and chic. Consider comfortable clothing like a pair of high-waisted pants paired with a graphic tee or a denim jacket. Add a touch of wanderlust with travel-inspired accessories like a passport holder or a luggage tag necklace.
Movie Night
If the wedding shower theme is a movie night, dressing comfortably is key. Go for comfortable clothing like joggers and a sweatshirt or a pair of cute pajamas. Add some fun to the outfit with accessories like a popcorn purse or movie-themed socks.
Creating DIY Themed Outfits
Embarking on the creative journey of crafting your own themed outfits for a wedding shower can be both an eco-friendly and personalized approach to event dressing. Imagine walking into a room and receiving compliments for your attire, with the sweet secret that it's a DIY masterpiece lingering in the air. The key to nailing a DIY themed outfit is to embrace the theme wholeheartedly while intertwining it with your unique style.
Start by scouring your wardrobe for potential pieces that can be transformed or paired differently to align with the theme. For instance, a simple white dress from your closet can be the canvas for a 'Garden Party' theme. Consider sewing on floral appliqués, or create a vibrant sash with fabric flowers. If it's a 'Beach' theme, perhaps that sarong you have can be styled as a chic wrap-around skirt, paired with a light, breezy blouse.
Moreover, thrift stores can be treasure troves for DIY projects. Vintage pieces can be upcycled, and often, unique accessories, like statement belts or quirky jewelry, can be found to elevate your outfit. For a 'Travel' themed shower, maps can be transformed into fascinating accessories. Imagine a belt or a piece of jewelry made from old maps, symbolizing the joy of adventures and new beginnings.
Remember, the essence of DIY is not just about being crafty but also about showcasing a piece of your personality through your outfit. It's about telling a story, your story, through the colors, fabrics, and accessories you choose. So, dive into the exciting world of DIY and let your outfit be the conversation starter at the next wedding shower, reflecting not just the theme, but also a snippet of your creativity and personality.
This approach not only ensures you have a one-of-a-kind piece but also speaks volumes about your commitment to sustainability and thoughtful consumption in today's fast-fashion world. So, let's get those creative juices flowing and craft an outfit that's not just theme-appropriate but also a mirror to your innovative spirit and style!
Final Checklist Before the Wedding Shower
Ah, the sweet anticipation of a wedding shower! It's not just a celebration but a moment where every stitch of your outfit tells a story of joy, camaraderie, and the effervescent celebration of love. But let's pause the poetic musings for a moment and dive into the practicality of ensuring that your outfit is not just a visual treat but also a comfortable choice for you to revel in every moment unbridled.
Firstly, let's talk about the outfit. Have you done a comfort check? Try on your entire outfit a few days before the shower. Walk around, sit, stand, and do a little twirl if you must! Ensure that everything fits comfortably and that you can move with ease. Pay attention to the little details: Are there any loose buttons? Is the zipper working smoothly?
Now, let's wander into the realm of accessories. While they add a dash of pizzazz to your outfit, ensure they don't become a bother as the event progresses. Those statement earrings should not start feeling like you're carrying the weight of the world on your earlobes, and that cute clutch should be easy to carry. A quick tip: Pack some emergency items in your bag – a few safety pins, a compact mirror, and perhaps a tiny pack of tissues. You never know when they might come in handy!
Shoes, the silent protagonists of your outfit story. They can either have you walking on air or wishing for a foot massage! If they are new, consider breaking them in a few days before the event to avoid any unexpected blisters. And if you anticipate a day on your feet, perhaps slip in a pair of comfy flats in your bag as a backup – your future self might just thank you!
Lastly, take a moment to reflect. Look in the mirror and ensure that the outfit, accessories, and shoes not only make you look good but also feel good. After all, your comfort and confidence will be the most radiant thing you wear at the wedding shower. So, go forth, celebrate love, laughter, and the joy of coming together. And remember, in every snapshot taken, your outfit will whisper tales of not just style, but also the thoughtful preparation that went into choosing it.
Conclusion
Dressing for a wedding shower can be a fun and exciting task, but it's important to find a stylish and comfortable outfit that fits the occasion. By understanding the dress code, considering the season and venue, and incorporating appropriate accessories and footwear, anyone can create a perfect wedding shower look.
Remember to pay attention to details such as the invitation and any themes or guidelines mentioned. With the help of the outfit ideas and fashion tips provided in this article, anyone can feel confident and look stunning at a wedding shower.
FAQ
Q: What should I wear to a wedding shower?
A: It is important to find a stylish and comfortable outfit for a wedding shower. Consider the dress code, season, venue, and any specific themes mentioned on the invitation.
Q: How do I understand the dress code for a wedding shower?
A: The dress code for a wedding shower can vary, but typically it is semi-formal or cocktail attire. Check the invitation for any specific guidelines or themes mentioned.
Q: What are some fashion tips for dressing for a wedding shower?
A: When choosing an outfit for a wedding shower, opt for colors, fabrics, and styles that are appropriate for the occasion. Consider the season, venue, and your personal style.
Q: Can you provide some outfit ideas for a wedding shower?
A: Of course! For a wedding shower, you can consider wearing dresses, skirts, or pantsuits. Don't forget to accessorize with jewelry and choose comfortable yet stylish shoes.
Q: How do I find the perfect dress for a wedding shower?
A: Finding the perfect dress for a wedding shower involves considering your body type and personal style. Look for dresses that flatter your figure and make you feel confident.
Q: What are some comfortable and chic shoe options for a wedding shower?
A: Opt for comfortable footwear options such as wedges, block heels, or flats. These will keep you comfortable throughout the event while still looking stylish.
Q: What accessories and jewelry should I wear to a wedding shower?
A: To add the finishing touches to your outfit, consider wearing statement earrings, delicate necklaces, or a stylish clutch. These accessories can enhance your overall look.
Q: How should I dress for a wedding shower based on the season and venue?
A: When choosing your wedding shower outfit, take into consideration the season and venue. For outdoor showers, opt for lightweight fabrics and comfortable shoes. For winter showers, consider layering and wearing warm accessories.
Q: How do I dress for different wedding shower themes?
A: If the wedding shower has a specific theme such as a garden party, brunch, or beach-themed, tailor your outfit accordingly. Incorporate elements that reflect the theme while still looking stylish.
Q: What is the importance of finding a stylish and comfortable outfit for a wedding shower?
A: Finding a stylish and comfortable outfit for a wedding shower ensures that you feel confident and enjoy the celebration. It shows respect for the occasion and the couple.